Lisbon belongs to the gems of European capitals. One day in this gorgeous city was of course not nearly enough to explore it, but at least I got a glimpse into some of its treasures and decided to share with you my small Lisbon guide.
My friend Ofelia and I headed to Lisbon from Porto, by train. The return tickets were just 55 Euros, and the ride was very comfortable due to the big leg space. I would only recommend you to have a light sweater or something alike, since air conditioning is quite intensive, and the temperatures are very low inside the train. The snack bar offers several affordable breakfast options. It is best if you travel early in the morning, in order to arrive as soon as possible and also leave late to use your time best.
It makes perfect sense to inform yourself and make a decision of the sights you wish to see in advance. Like this you will be able to make the most of your day in Lisbon. In what follows, I will share with you the plan Ofelia and I made, and my recommendations on how you can organize your daily trip to the sunniest European capital. For other posts from Portugal, check previous articles about Portugal travel tips here and Porto guide here.
1. Jeronimous Monastery in Belem
As soon as we arrived to Lisbon, we used the bus from St. Apolonia train station to go to Belem, the neighborhood in the East of Lisbon, housing some remarkable sights and World Heritage monuments.
Our first stop in Belem was Jeronimous Monastery – one of the world's most beautiful cloisters and an Unesco World Heritage site. The monastery was built in the 1500s in European Gothic style to commemorate Vasco da Gama's journey to India. Da Gama was also buried here. Magnificent outside, as well as inside, with beautiful maritime carvings in the facade, this monastery is something you shouldn't miss in Lisbon. We were amazed by its beauty and distinctive architecture.
Tipp: If you are a student, ask for students's ticket which is meant for Jeronimous Monastery and Belem Tower. It will cost you only around 6 Euros.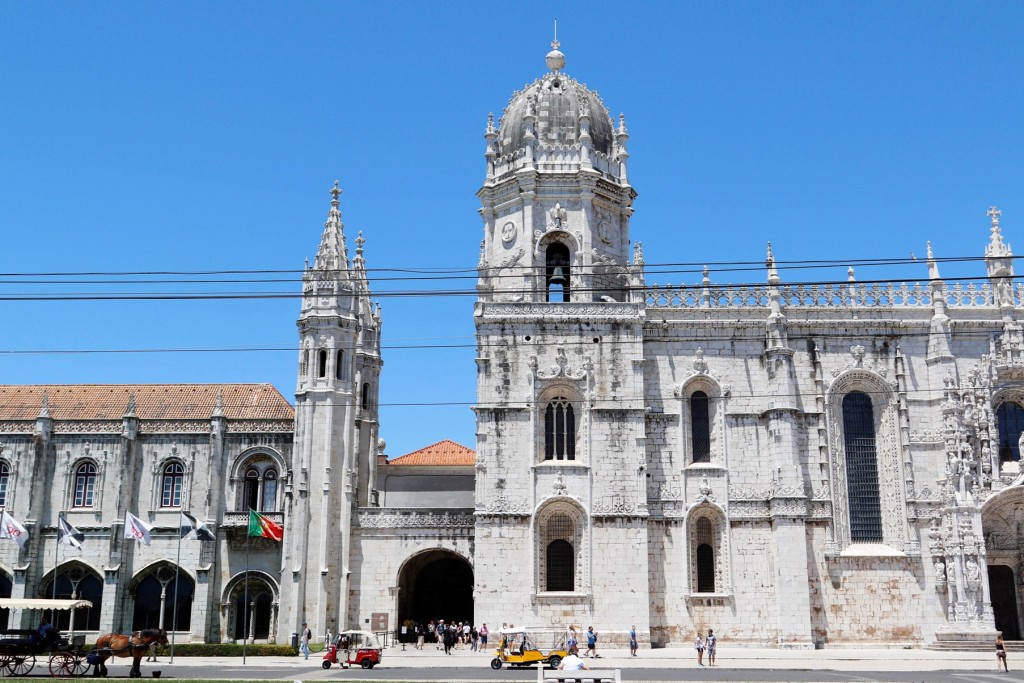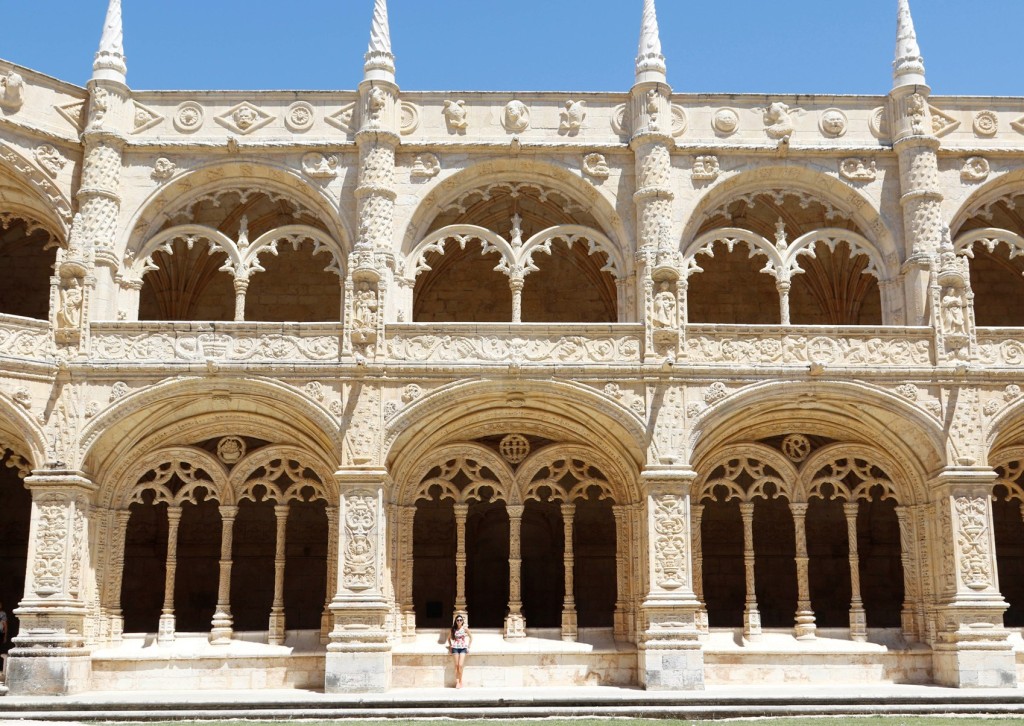 2. Belem Tower
About 20 minutes walking from the Jeronimous Monastery, you will reach another icon of Lisbon and a symbol of the Age of Discovery – Belem Tower. This watchtower was built in the 1500s and declared Unesco's World Heritage site "as a reminder of the great maritime discoveries that laid the foundations of the modern world".
3. Try Pasteis de Belem – desert symbol of Lisbon
Actually before heading to the Jeronimous Monastery, we stopped by at the confectionery "Pasteis de Belem". It was ages ago, when I watched a documentary about Lisbon and started craving for this famous egg tart, so I really wanted to try it before immersing myself in sightseeing. 🙂 Pasteis de Belem were invented in Jeronimous Monastery in 1830s and quickly became the most beloved dessert in Lisbon. After they spread all over the country under the name Pastel de Nata. But it is only here where the original, secret recipe is used and where the best pasteis are served.
You will instantly notice the long line where people are waiting to buy Pasteis de Belem. However I strongly recommend you to skip this, and enter the cafe, which has more than 400 sitting places, so it is hard not to find a spot. Order at least two pasteis per person, since they are very tasty, so one won't be enough! The custard is simple and lovely, but my favorite was the crispy crust. Besides tarts, we also had some delicious savory snacks with different fillings such as cod and duck. Also while siting in, you can order some pasteis as take away, so there is really no need to stand in line.
As the last comment, I need to mention that this place is super affordable, you will be surprised.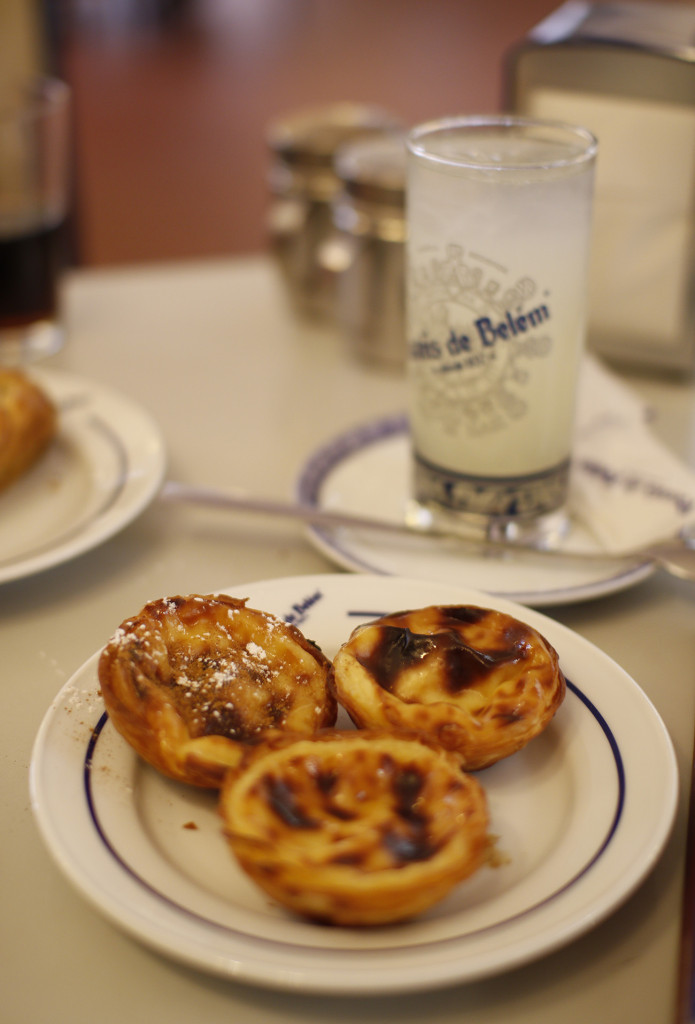 4. St.George's Castle
After having visited the Belem Tower, we used the tram to head to the city center. We shopped for souvenirs and walked up to St.George's castle. The castle is situated in a beautiful surroundings of a lovely park with peacocks, olive trees, and beautiful terraces from where you can enjoy the breathtaking views over Lisbon. The castle itself is more like a fortification, with a small museum, but it is definitely worth visiting for the amazing view. Student ticket is only 5 Euros.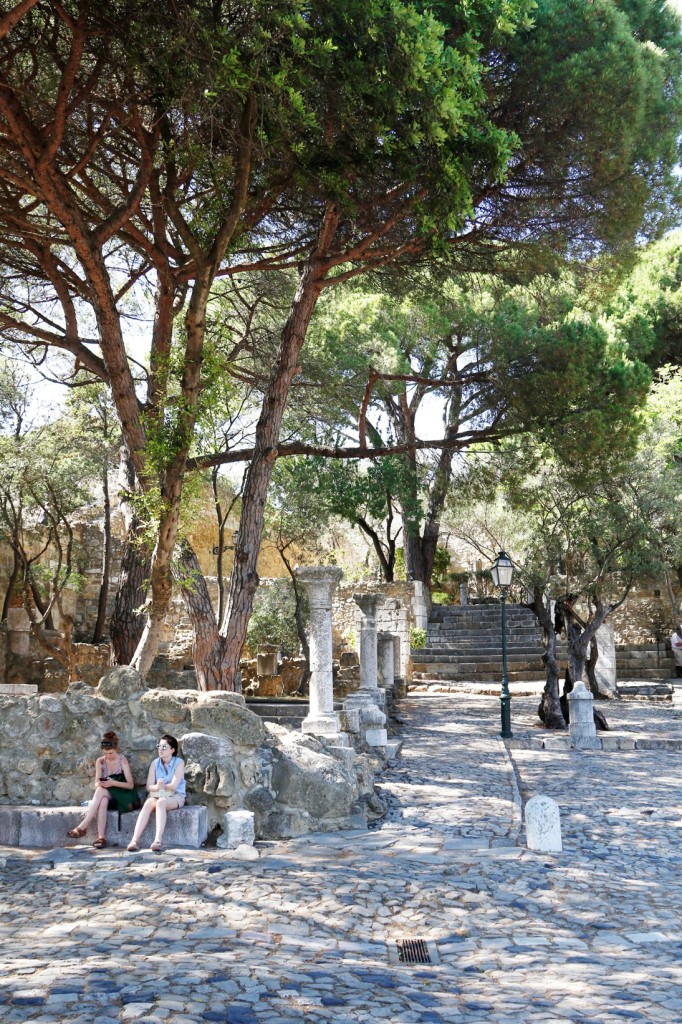 5. Explore the charming streets of Alfama neighborhood
Walking downhill from the castle, we headed to explore the picturesque Aflama neighborhood. This part of Lisbon is also famous for nightlife, fado music, little bars and restaurants, where you can enjoy some delicious food. The medieval streets of Alfama are perfect for photographers, the architecture is very nice, there are many charming squares with gorgeous views.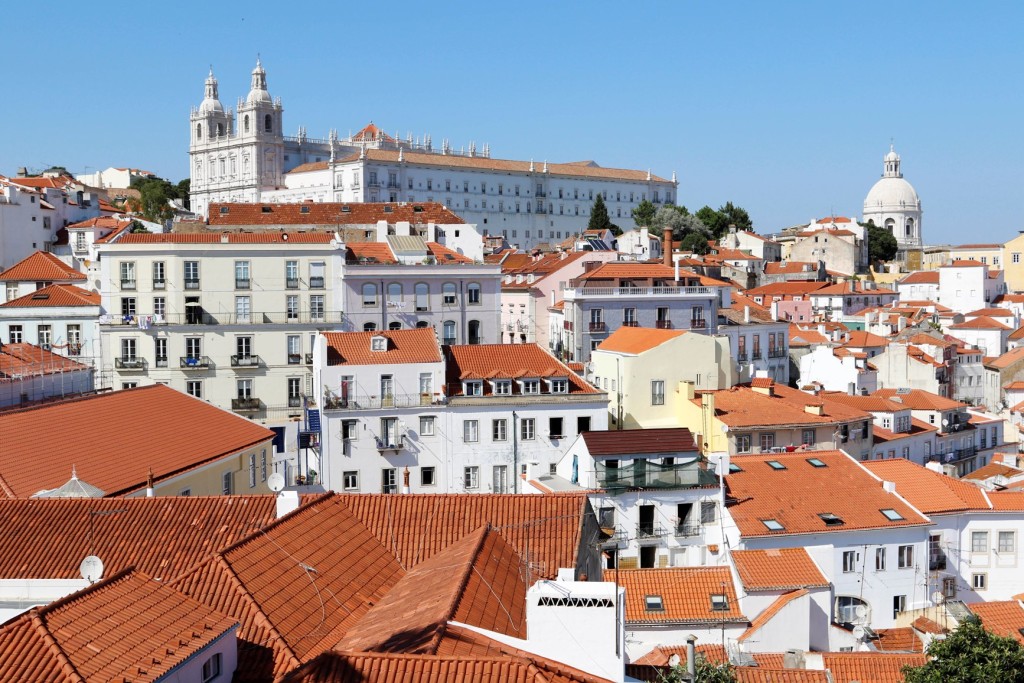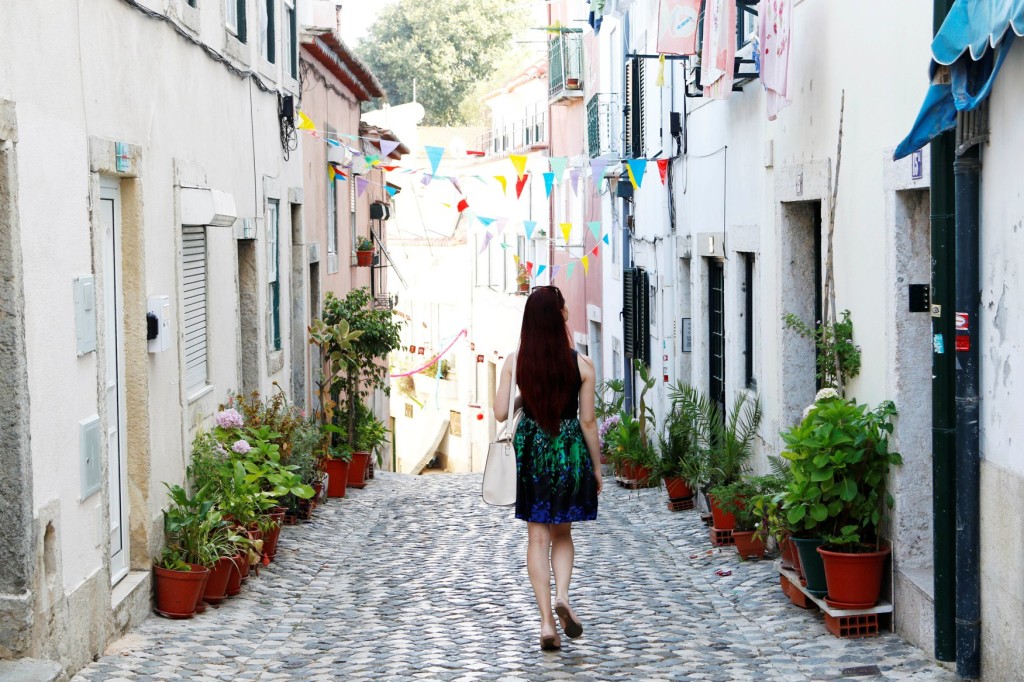 6. Try Bacalhau – the salt cod
The salt cod is the national Portuguese dish and it would be a huge pity not to try it when in Lisboa, or anywhere else in Portugal. There are hundreds of ways to prepare this tasty fish, which you can find in almost every restaurant. It is a huge shame that I didn't remember to photograph the name of the restaurant in Alfama, where Ofelia and I had an early dinner, since it was great. We opted for a fried cod, tempura green beans and grilled octopus. If I manage to find the name later on, I will update the post.
Anyway, just keep an eye on the places where locals eat, and you certainly won't make a mistake! We passed by several restaurants and the food seemed delicious.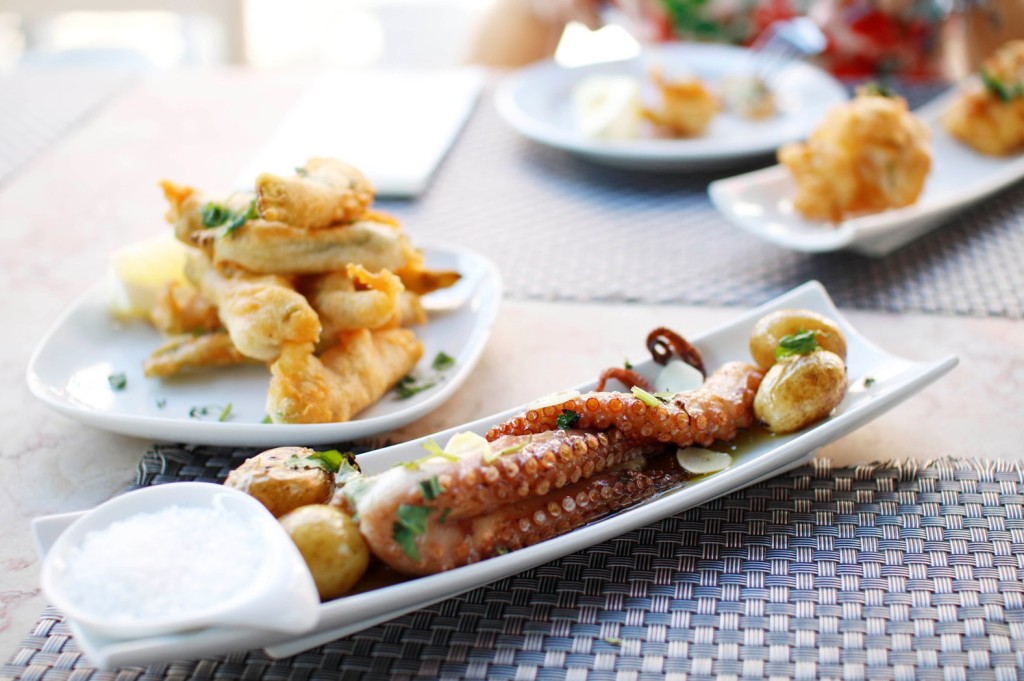 I hope that you enjoyed today's post!
Thanx a lot for stopping by!
xoxo,
Una