In June, I visited Barcelona for the first time, fell in love with the architecture, the spirit of the city and of course food. My lovely friend Ofelia, who has been living in Barcelona for a year, took me to her favorite restaurants and tapas bars during my stay. Most of them were located in beautiful Born area, close to both the city core and the coast. I enjoyed every single one of those places, which I decided to share with you, since they are all places frequented by locals and serving authentic specialties, which I always appreciate.
I am sure that my Barcelona food guide will be useful for many of you heading to this amazing city. Enjoy my tips!
1. Bar Celta Pulperia
Bar Celta Pulperia was the first tapas bar Ofelia took me to, when we arrived to Barcelona. We headed there to eat their boiled octopus, a tapa they are very famous for. I love sea food and this octopus was a perfect choice for me. It was cooked to perfection, so soft and flavorful, sprinkled with olive oil and some powder chili. Besides the octopus you need to try their tortilla! It is the best one I ever had so far (in Barcelona, and best of all I had in Madrid last year) – super fluffy, perfectly seasoned, you will need to order more than one piece.
Bar Celta Pulperia
Address: Carrer de la Princesa, 50 Barcelona 08003 / Carrer Simó Oller, 3 Barcelona 08002
I really love the concept of tapas since it enables you try many dishes and it is a social thing, since tapas are meant to be shared. Bormuth is Ofelia's favorite tapas bar, and I must admit, it became my favorite too. The interior is very rustic and laid back, and I liked the ceramic plates where the food was served a lot. But most of all, I loved all the diverse tapas we had here! Manchego cheese with roasted almonds, fried squid, amazing crispy chicken sticks (if you go there this one is a must-have), ham croquettes and potatoes with Iberic ham and friend egg on top (heavier but delicious tapa) were our choice. It was really difficult to make a decision on what to order since they had so many great options. So just like Bar Celta, Bormuth is on my must visit list for my next trip to Barcelona.
Bormuth
Address: Carrer del Rec nº31, Carrer Plaça Comercial nº1, 08003 Barcelona
Website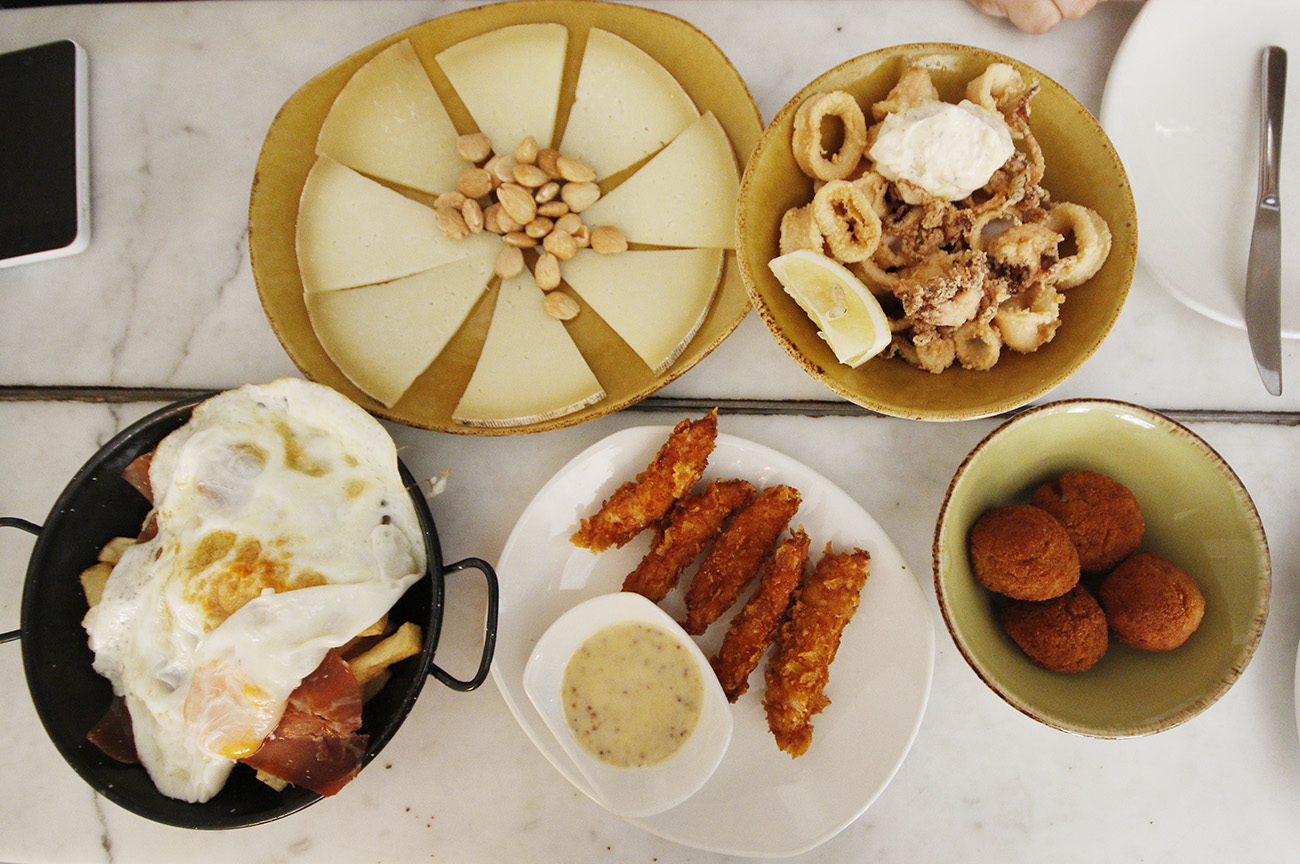 3. Gocce di Latte – the best ice-cream in Barcelona
Every single day during my stay, I visited this ice-cream parlor, since I couldn't get enough of their amazing flavors. I would even order three scoops, which I never do, but this was an exception. The dark chocolate was my absolute favorite, but also others such as pistachio, and many of those with numerous ingredients that I can't even recall at this point, were wonderful and super creamy. According to many people this is the best ice-cream parlor in Barcelona, so don't miss it! I am sure you will be delighted.
Gocce di Latte
Address: Pla de Palau 4, Barcelona
Facebook
Restaurant 7 Portes is a very elegant place, with more than a century long tradition, as it was opened back in 1836. It is officially one of the best restaurants in Barcelona and further, specialized in classical Catalonian-Mediterranean dishes. This is the perfect place to eat an authentic paella and enjoy the classy atmosphere of this beautiful restaurant. Don't forget to put on some nice clothes, since this place deserves it.
It is quite challenging to get a table without reservation here, but with some luck you might get in. Just try to avoid it for the weekends, since the lines are huge. But it is definitely worth waiting!
Restaurant 7 Portes
Address: Pg. Isabel II, 14 – 08003 Barcelona
Website
5. Cerveseria Catalana
Cerveseria Catalana is located centrally, close to Passeig de Gracia. It is a modern tapas bar, with very beautiful interior and tapas display. Here we had several sea-food tapas, which were all simple but flavorful and delicious. There were several other things which I would love to try, but I wasn't hungry enough. 🙂 A great place to stop by if you are in that area.
Cerveseria Catalana
Address:  Carrer de Mallorca, 236, 08008 Barcelona
Facebook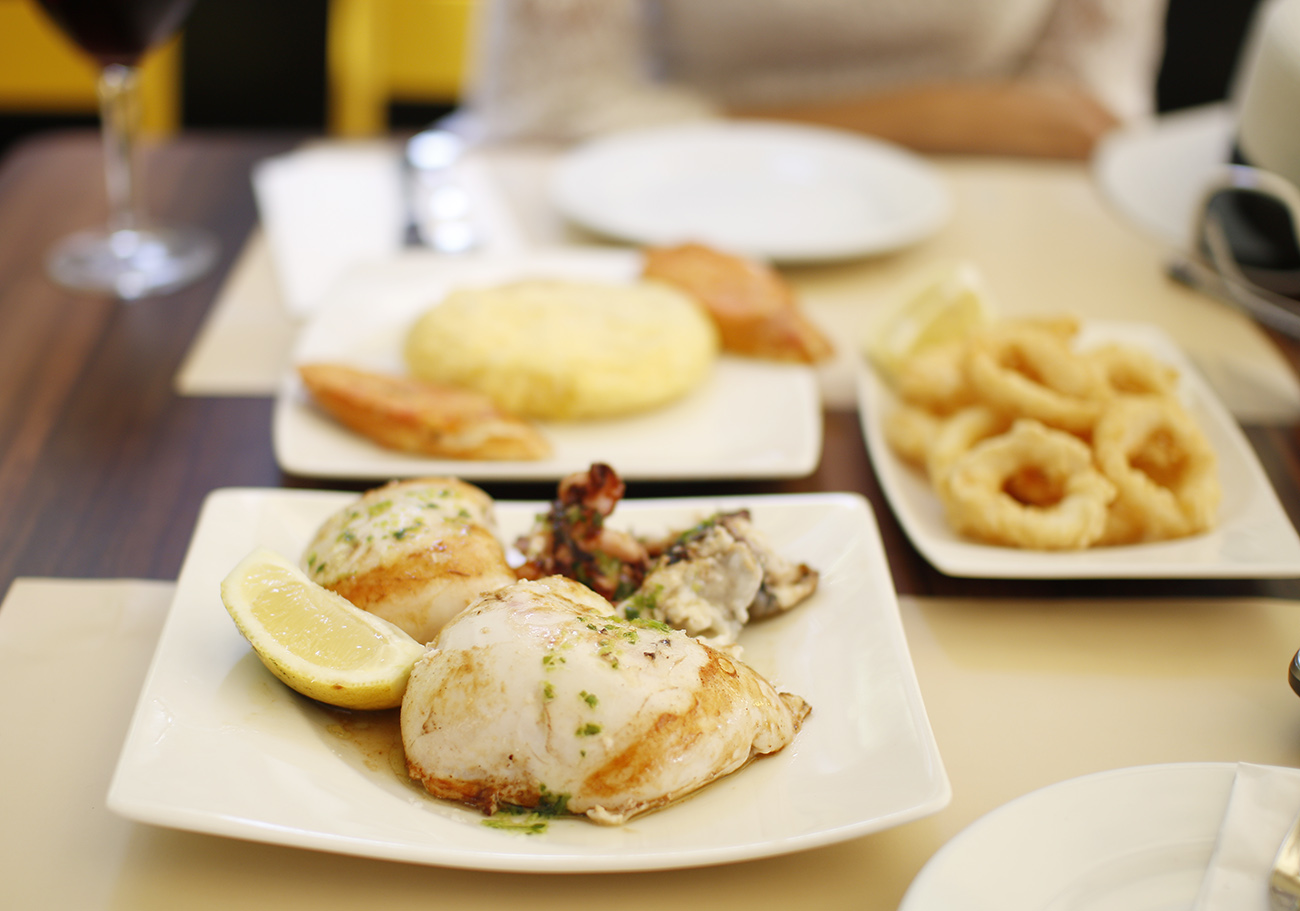 7. Drink Sangria de Cava
Obviously, if you are in Spain, sangria is a must. If you haven't so far, I advise you to try sangria de cava, which is made with sparkling white wine. I liked it much more than the regular one. It is very refreshing and perfect drink choice for a night out in any of the charming Barcelona bars. 



8. Eat churros at La Xocolateria by Oriol Balaguer
Crispy churros, dipped in black chocolate is a perfect snack for me. And something you shouldn't miss when in Spain, as churros are very popular there. Ofelia took me to La Xocolateria, a place with gorgeous interior and many options when it comes to the choice of your proffered chocolate dip, as well as other pastries. I loved it and would definitely visit La Xocolateria again!

La Xocolateria by Oriol Balaguer
Address: c/ Fusina 5, Barcelona, Spain
Website
For big hunger moments, burger is a quick and delicious solution. I was super happy with the burger place Ofelia took me, since meat was top quality! The patty was juicy and well seasoned, just as I like it. I wish that the bun was a bit different, but anyway as I added four cheese sorts and vegetables, along with some fries like a real sinner, all in all it was a really great burger!
Pim Pam Burger
Address: El Born, Calle Rec 18, Barcelona
Website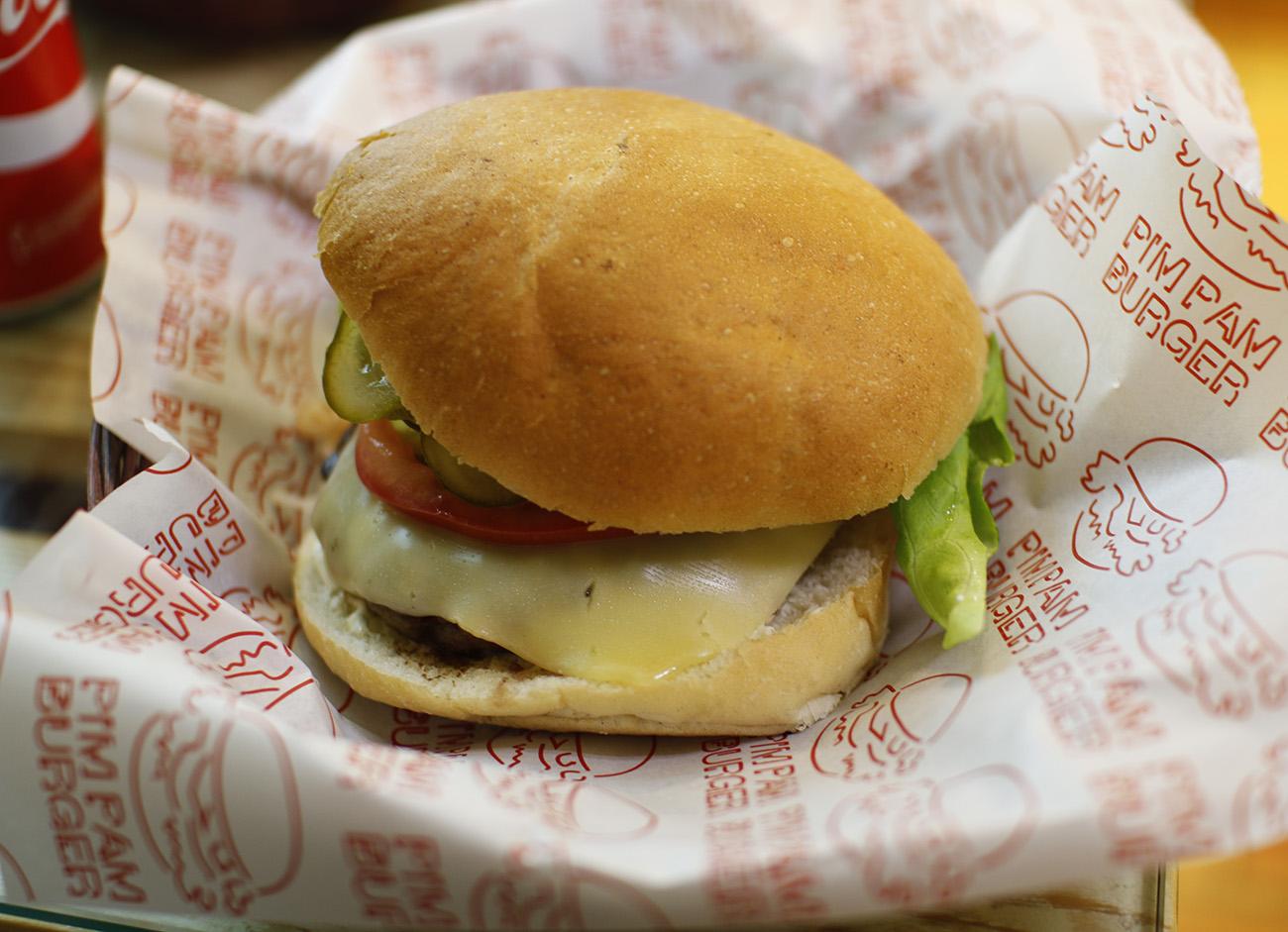 10. Visit La Boqueria
Last but not the least, visiting la Boqueria, the most beautiful market in Barcelona, should be on your must-see list! You will be amazed with the amounts of fruits, vegetables, spices, candies, meat and fish displayed there. At la Boqueria you will find everything you can think of and you will certainly not leave that place hungry! 🙂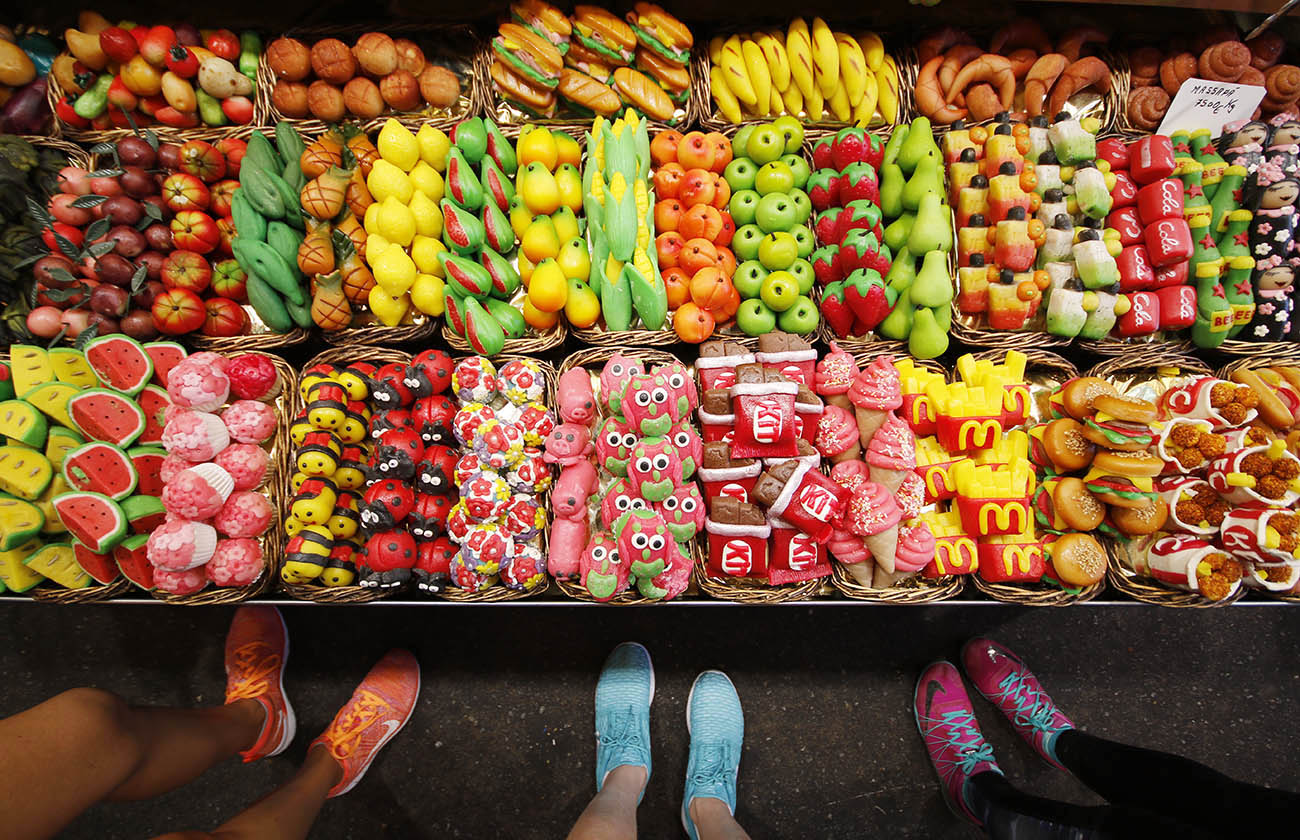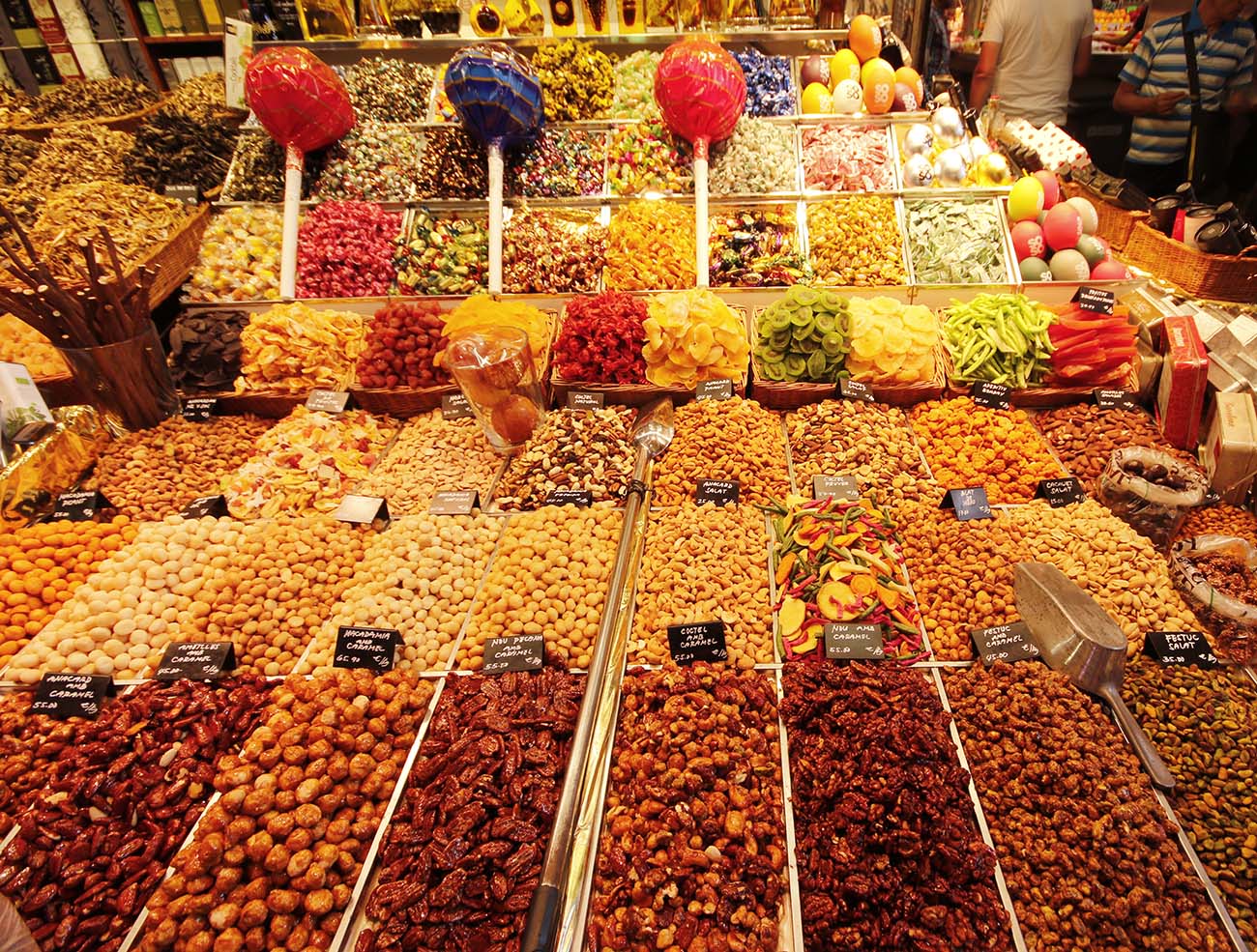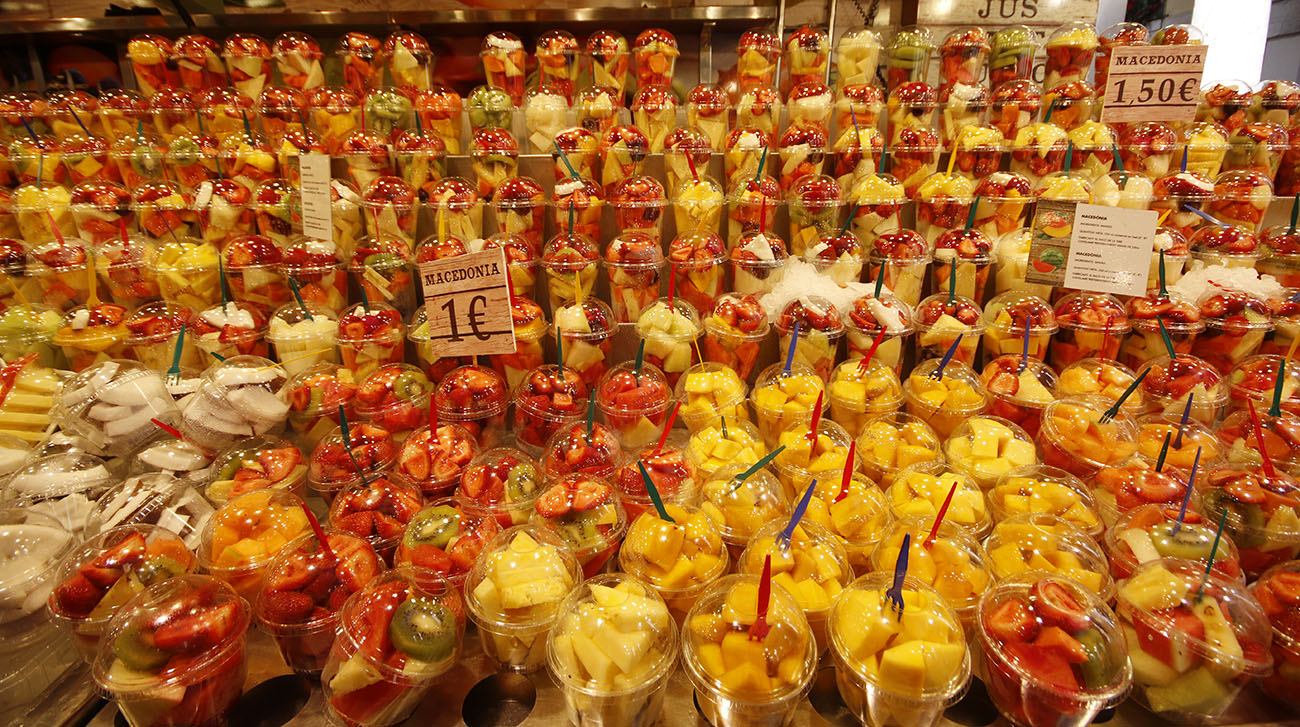 Thanx a lot for stopping by!