Sun, heat, tanned skin, freckled face, light clothes – summer vibes are in the air. As always we are spending our summer at home in Serbia, traveling, hanging out our friends, family and simply enjoying those precious moments with our loved ones. This year we had many guests from abroad over, we went to the seaside in Montenegro, took them on a road trip to the West of Serbia and seen some incredible places, that we will share on our Vienna Insider with you. We also got the chance to meet many new people and work on different projects. And the summer adventure doesn't stop, not even in September, when we plan to visit some gorgeous places in Austria.
Una and I decided to take pictures for today's post on the banks of Sava river in Belgrade. This place known as "Beton hala" or "pristaniste" is one of our favorite places in Belgrade. This is not merely because it is where many great restaurants are located, but most of all because it represents, at least for us, a place that symbolizes new beginnings for our city. A few years ago, this place was abandoned, falling apart. And then it started blossoming, as people started renovating these abandoned buildings, turning them into some of the most beautiful restaurants our city today has. We love the atmosphere here, especially at night time, when the terraces are crowded with people, enjoying good food and drinks, and the live music plays in the backgrounds. Those are pure summer vibes, that are not enough to be put into words, you have to come and experience it yourself.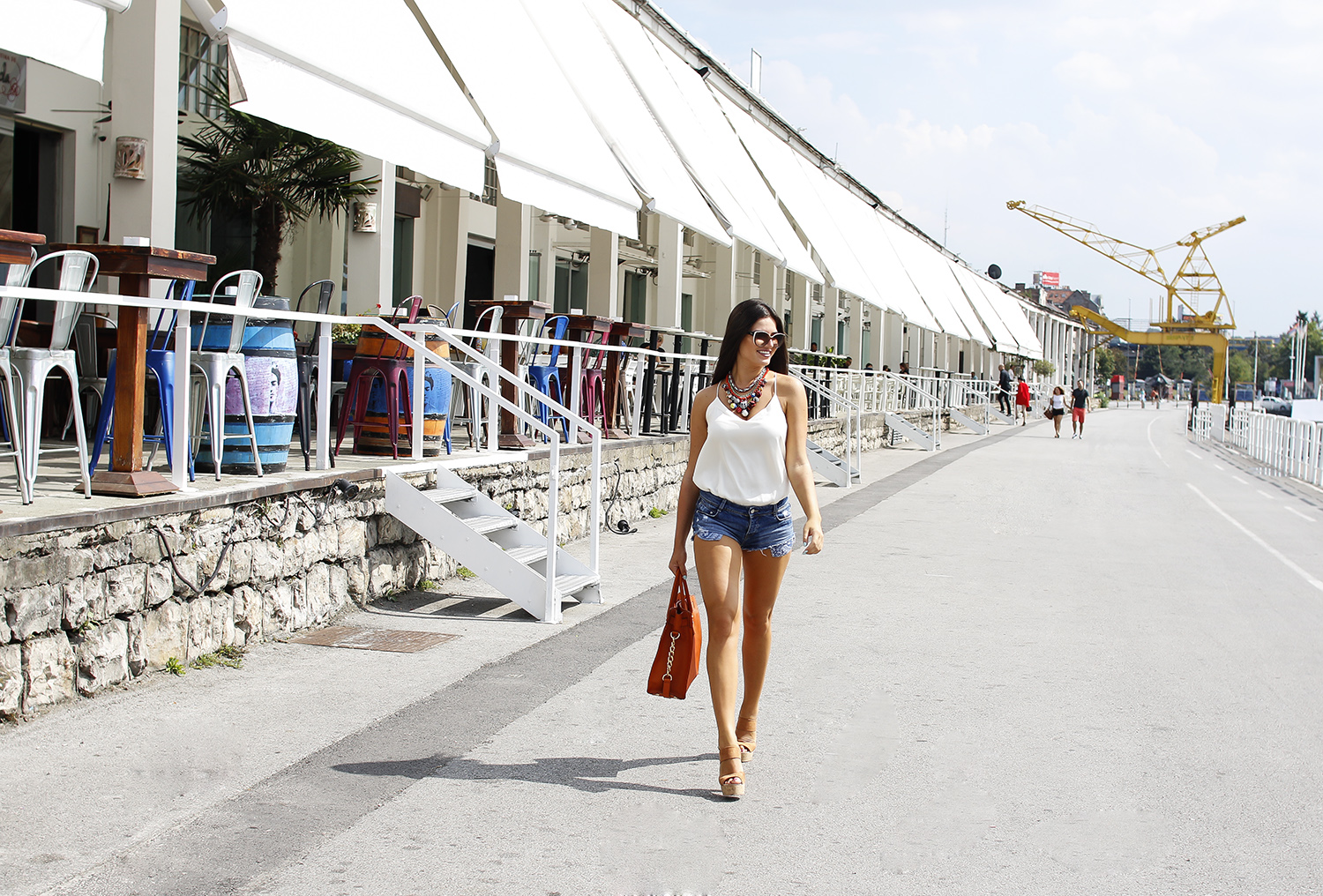 There had to be this longer introduction, because I feel that this post should not be merely about fashion, but about the whole atmosphere that I would like to bring you closer through this article. 🙂
Shorts, sandals and a light blouse is something I most often wear in summer, because summers in Belgrade are really hot. I mean like, burning hot. I try to keep clothes rather simple and add accessories to "spice" things up. And high heels of course. 🙂 This Michael Kors bag in saffiano leather is the only item I own in tangerine color, which makes it a star of any simple outfit. In winter, I wear it with black or grey, in summer usually with cream or white. You can find almost the same model of this bag here. In general, I am a big fan or saffiano leather because it is textured and incredibly durable. Whenever I can, I purchase leather bags done in this technique because they last a lifetime, get no scratches, the shape is preserved and not even rain can damage them. So in case you are want to make a good investment in a leather bag, I really advise you to get one in this finish, preferably bigger and in a neutral color. Go for a neutral color in case you are just starting your bag collection, for practical reasons, because they will match any outfit. However if you already own those basic colors, start piling up all the colors you like! 🙂 On my current wish list is this perfect baby pink Michael Kors bag from Peek & Cloppenburg online store. Isn't it gorgeous? Una and I are so tempted about purchasing this one… I can already envision it in pastel winter outfits. Just a few clicks more and it could be ours… This is what the heart says, but reason screams that we should control our bag mania, at least for a little longer. 😀
I really hope you will feel the summer vibes and enjoy this outfit post! And if you ever visit Belgrade, don't forget to take a walk here, at the banks of Sava river.
xoxo,
Isidora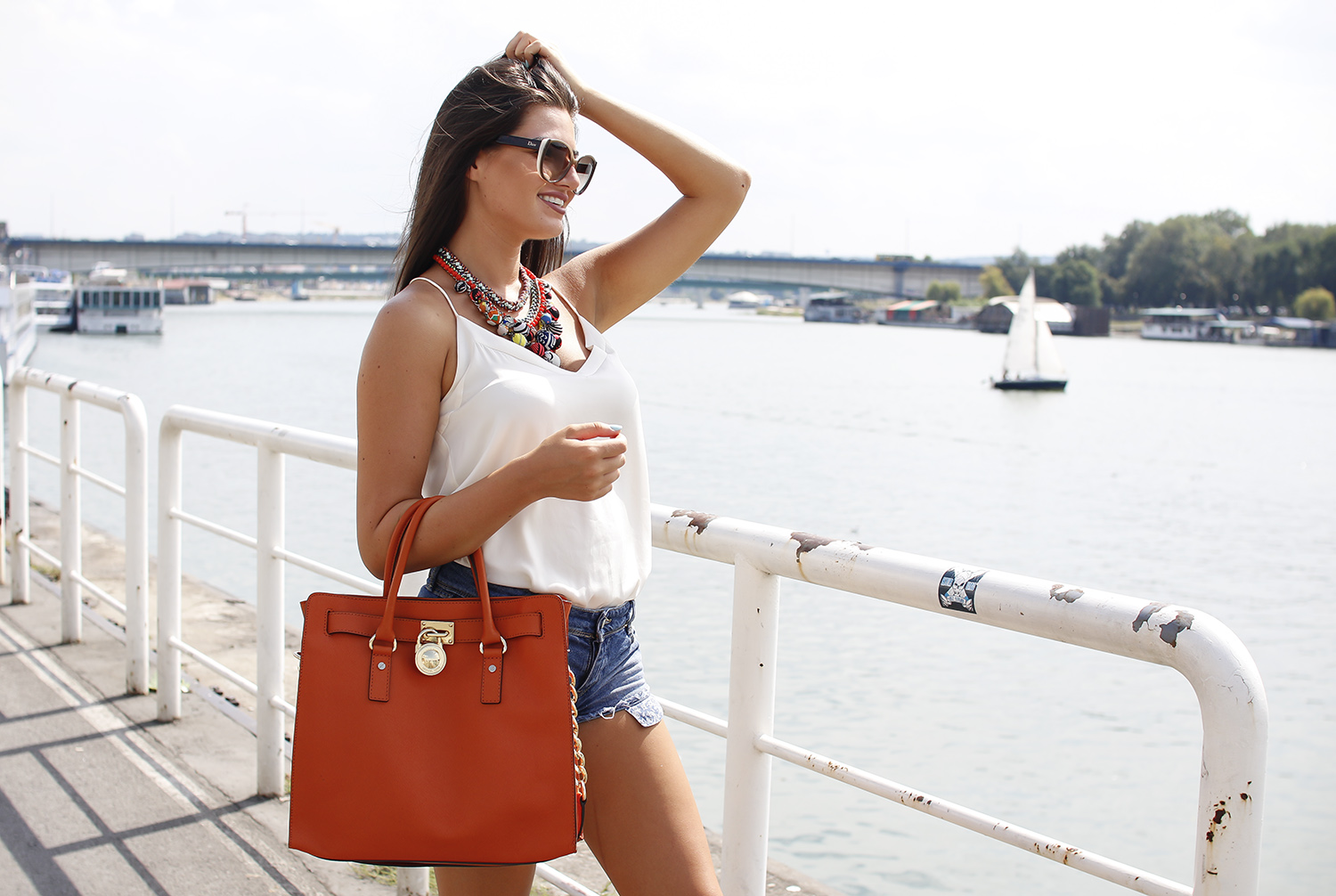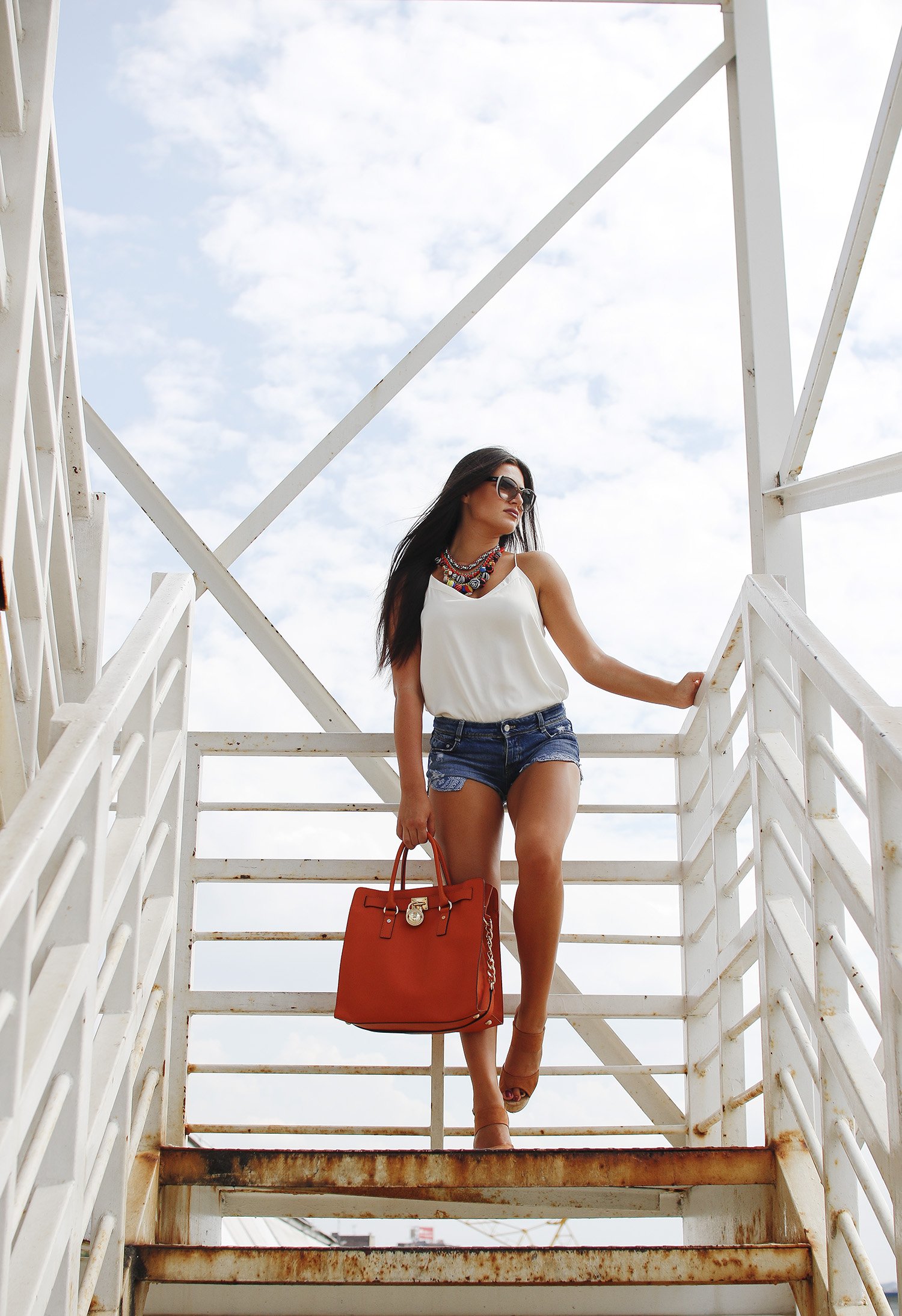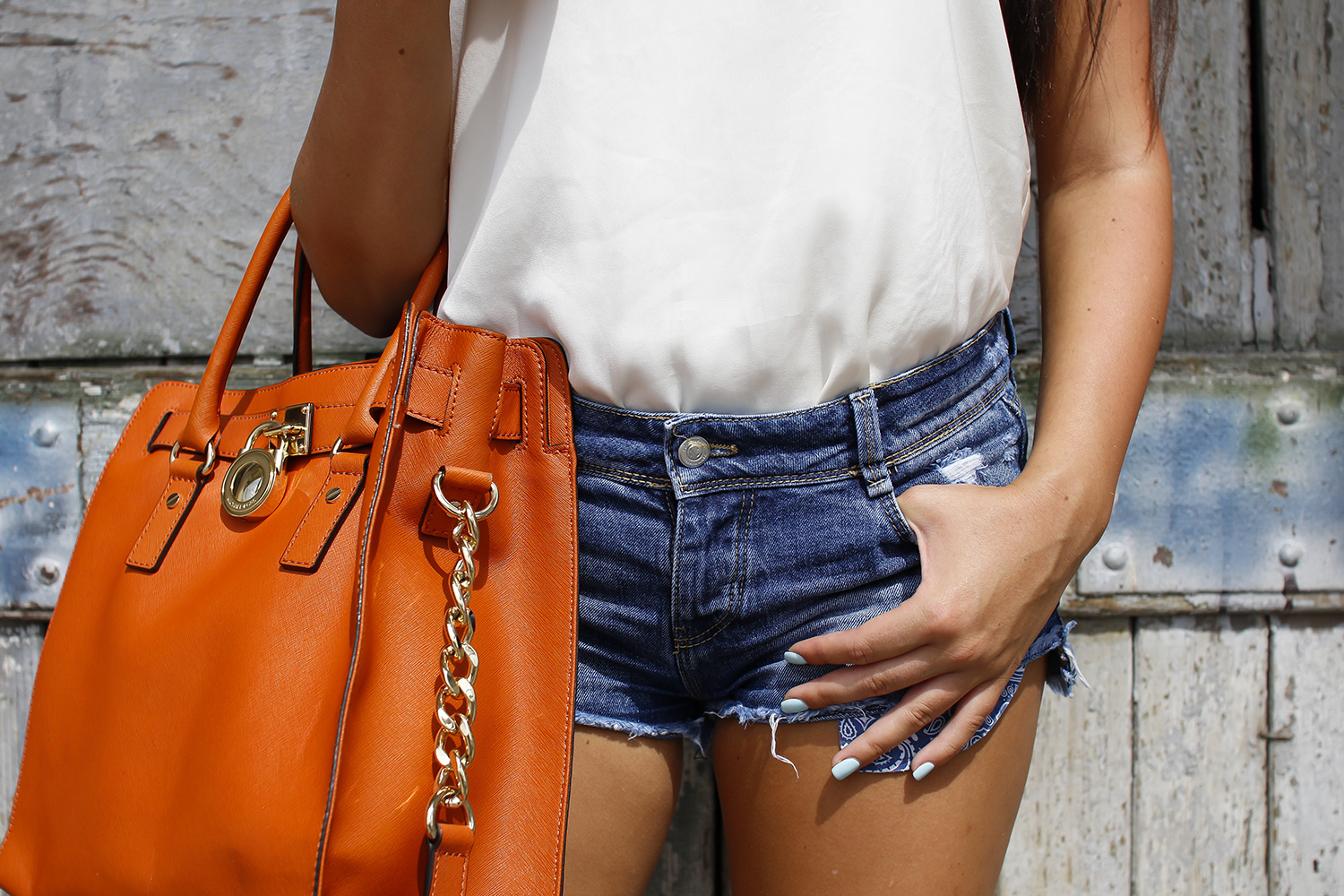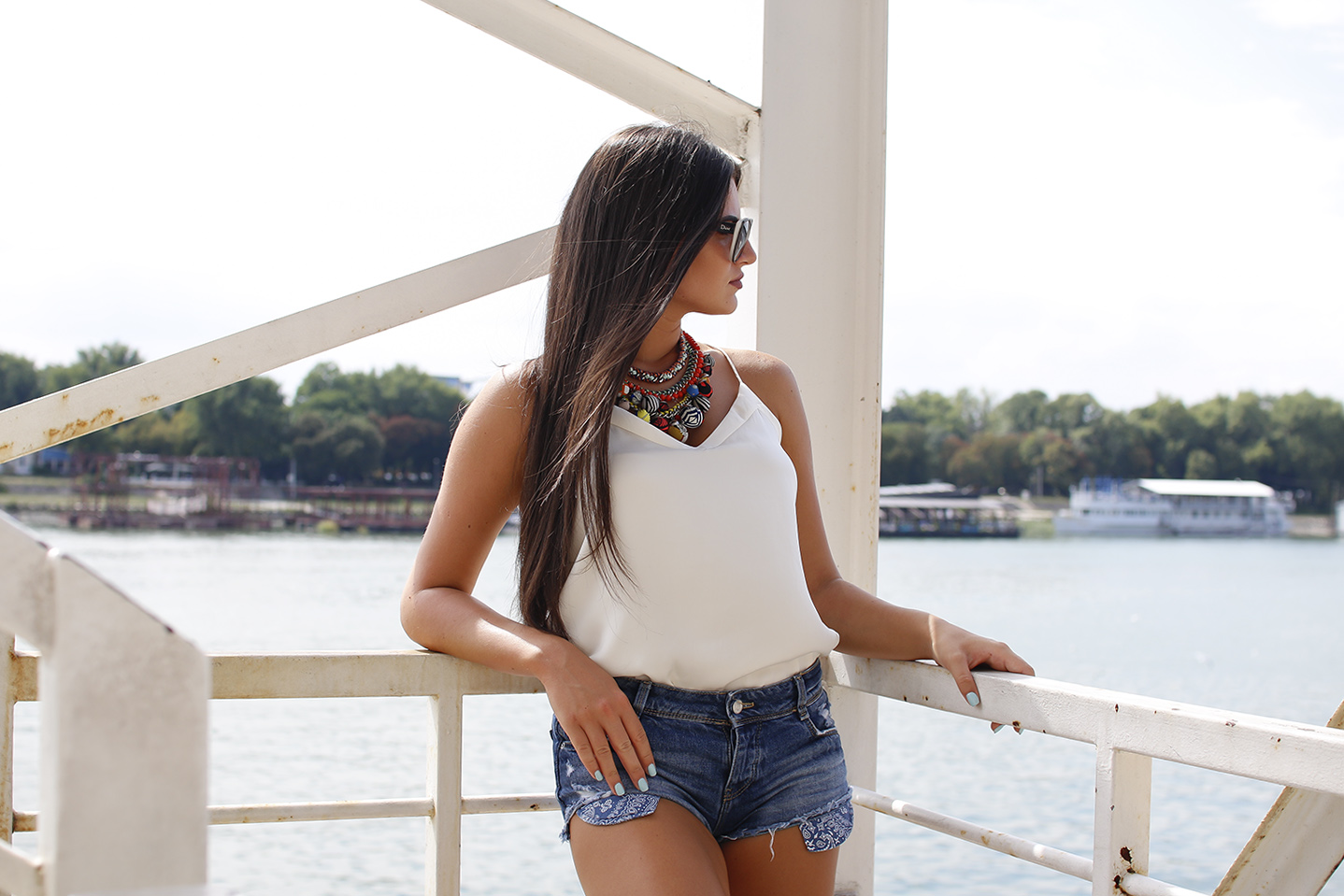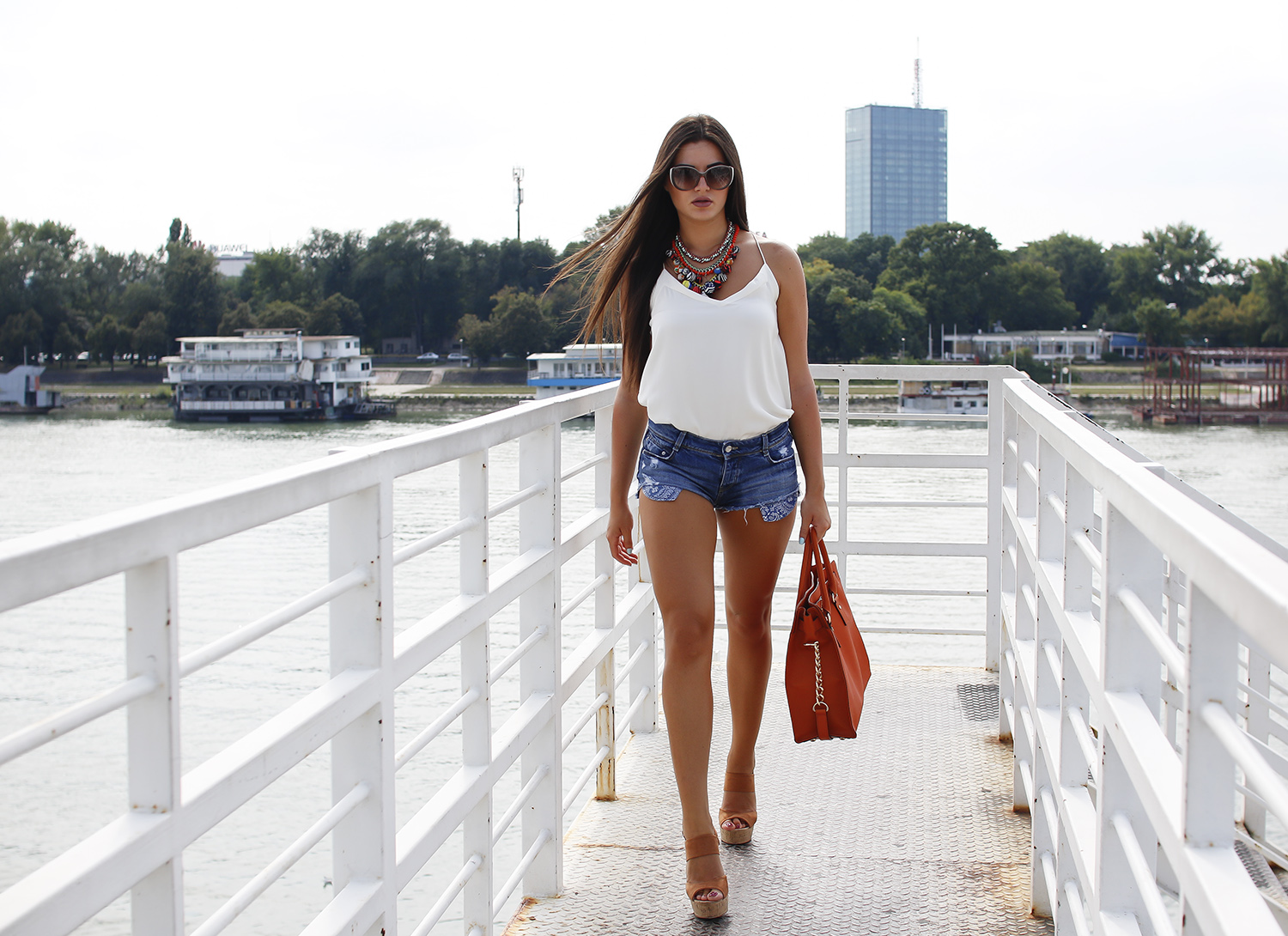 Outfit: Shorts and necklace (Zara), Blouse (Mango), Bag (Michael Kors), Sunglasses (Dior), Sandals (Buffalo)