Readers following us on Instagram know that last year, my husband M and I became parents to our adorable baby Una. <3 So there are now two Unas in our Vienna Insider team. 😀
Parenting is a great joy, but it is also challenging and involves a lot of decision making. Choosing (all that) baby equipment is a theme per se, but I need to confess that I especially enjoy that part! I invest a lot of time in researching brands and looking for premium quality products for my daughter. Looking back, I can say (not that I want to brag), that all that time and effort paid off. I am really satisfied with the choices we made, especially when it comes to our stroller Stokke Xplory X Signature.
Stroller is one of the biggest investments when it comes to baby equipment and it is very important to choose one that will make you 100% satisfied. Therefore I wanted to share my experience and hope that my Stokke Xplory X Signature stroller review will be helpful for some of  you!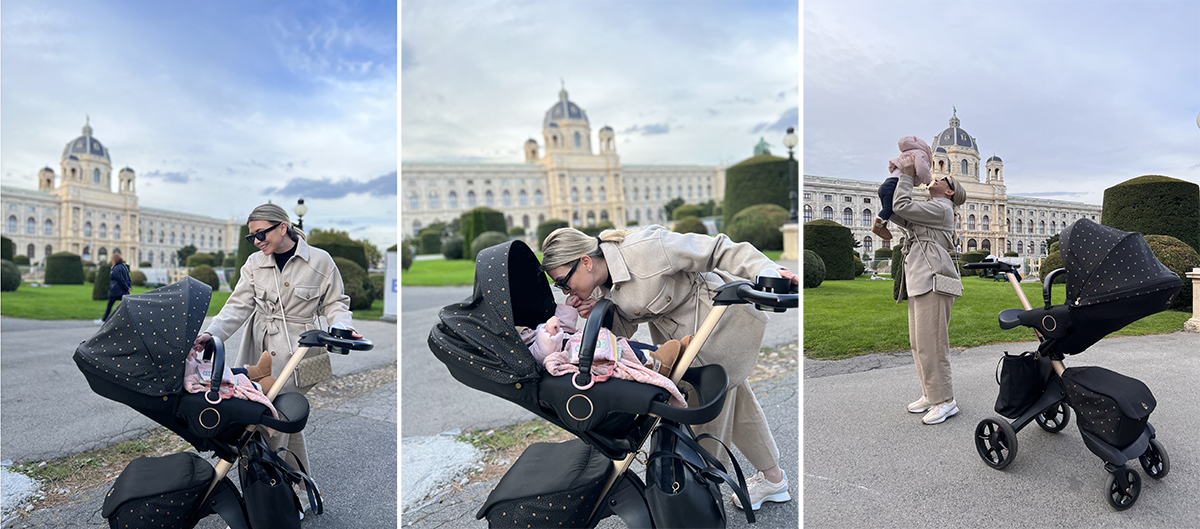 Before moving on, I would briefly like to thank Stokke for partnering with me in this post.
Stokke Xplory X Signature Stroller Review
Here are some general tips to consider when choosing your stroller together with my Stokke Xplory review.
How to choose the right brand?
Stokke won my affection long before I even got pregnant. I used to work with kids during my studies, and that was when I first got in touch with Stokke. They won me for their quality, functionality and design. I know that there are many other brands in the market that fulfill this criteria, but for me Stokke had that IT factor.
Long story short, I always knew that when the day to have a baby comes, I wanted to have a Stokke stroller. The only "concern" was the color.
How to pick stroller color and fabric?
Try to be practical. Think about your lifestyle, things like – how you move around – if and how often will you take your stroller to the public transport, etc. Where and how you move is closely related to the maintenance. Then I guess we all agree that the stroller should be easy to keep clean and tidy. Last but not the least, think about the color that will match your personal style.
In my case, Stokke Xplory X Signature Edition in black with golden chassis was love love at the first (and each and every other) sight! Timeless, elegant, matching with everything and easy to maintain. Totally classy and unique!
Fabric is another important aspect to consider when choosing your stroller. Stokke fabric is produced and dyed in a sustainable way, using recycled materials and reducing the water use in the coloring process. Furthermore:
The fabric is extra soft with UPF 50+ sun protection
Water-repellent with BIONIC FINISH® ECO – based on a fluorine-free recipe (PFC-free)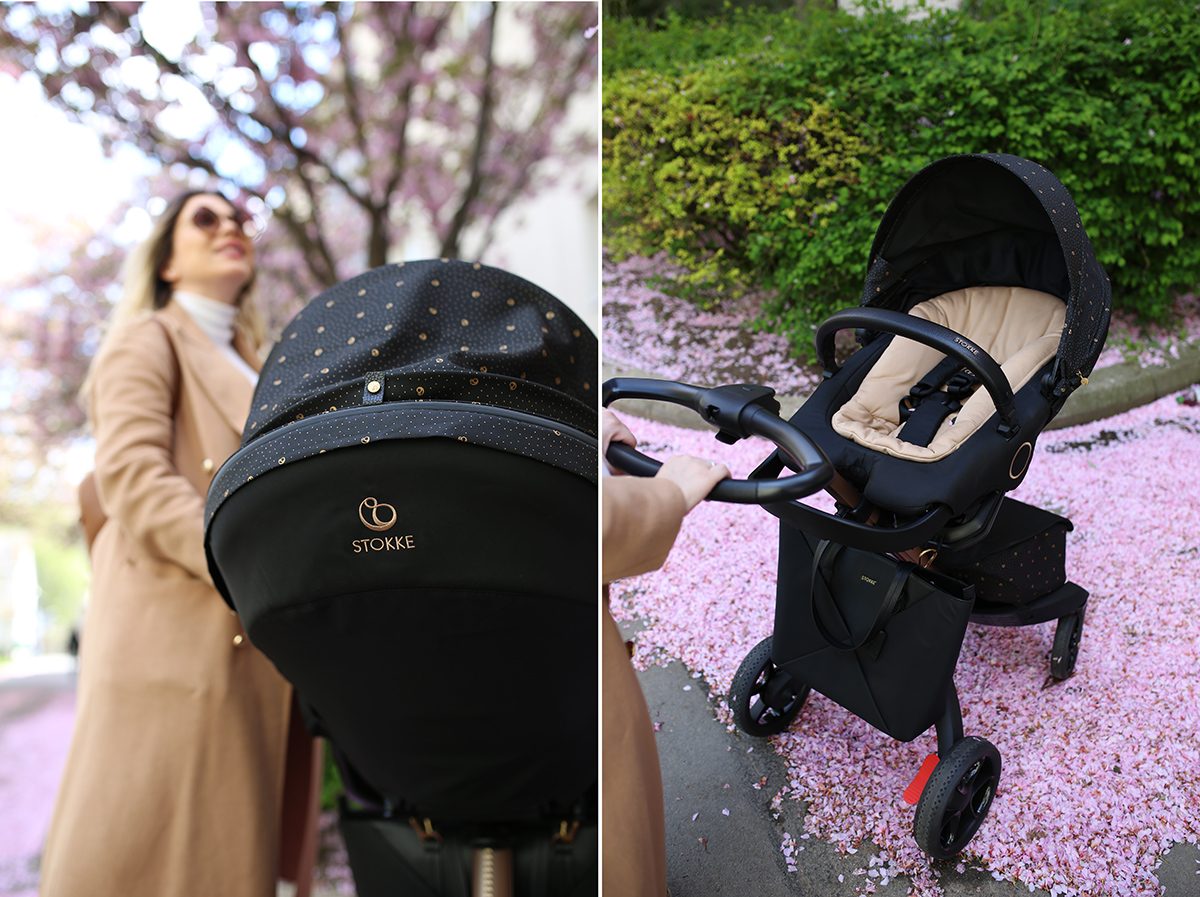 Stroller quality and functionality – what are the key features to look for?
Durability is an especially important factor when it comes to investment pieces. Stokke is mostly known for premium quality, durability and innovative design. Their products are made to "grow" with the child and be passed on from generation to generation.
Seating positions – Stokke Xplory can be used from newborn to toddler up to 22 kg. It has several seating positions to provide maximum comfort to its little users. Three seat recline angles for all-day comfort – sleep, rest, active, a reversible seat with parent- and forward-facing positions​. In addition to this there is adjustable footrest in three positions that gives support and comfort for tiny legs and feet. ​
Another important feature to look for in a stroller is the quality of the stroller push. Stokke Xplory X Signature has a very smooth push, so it feels very pleasant and comfortable for us to move around with it. Here is a reel of our Vienna stroll back in summer, when we were still using the carry cot.
Stroller weight – Despite its robust look, Stokke Xplory stroller weighs only 13 kg. We have been carrying it with us whenever we travel by car. It is quick and easy to assemble and pack with us. Salzburg was the most recent location we visited with our Stokke Xplory.
Storage space – Another thing I love about our Stokke Xplory is that it has many pockets and storage space. This helps me keep things organized and have everything on hand.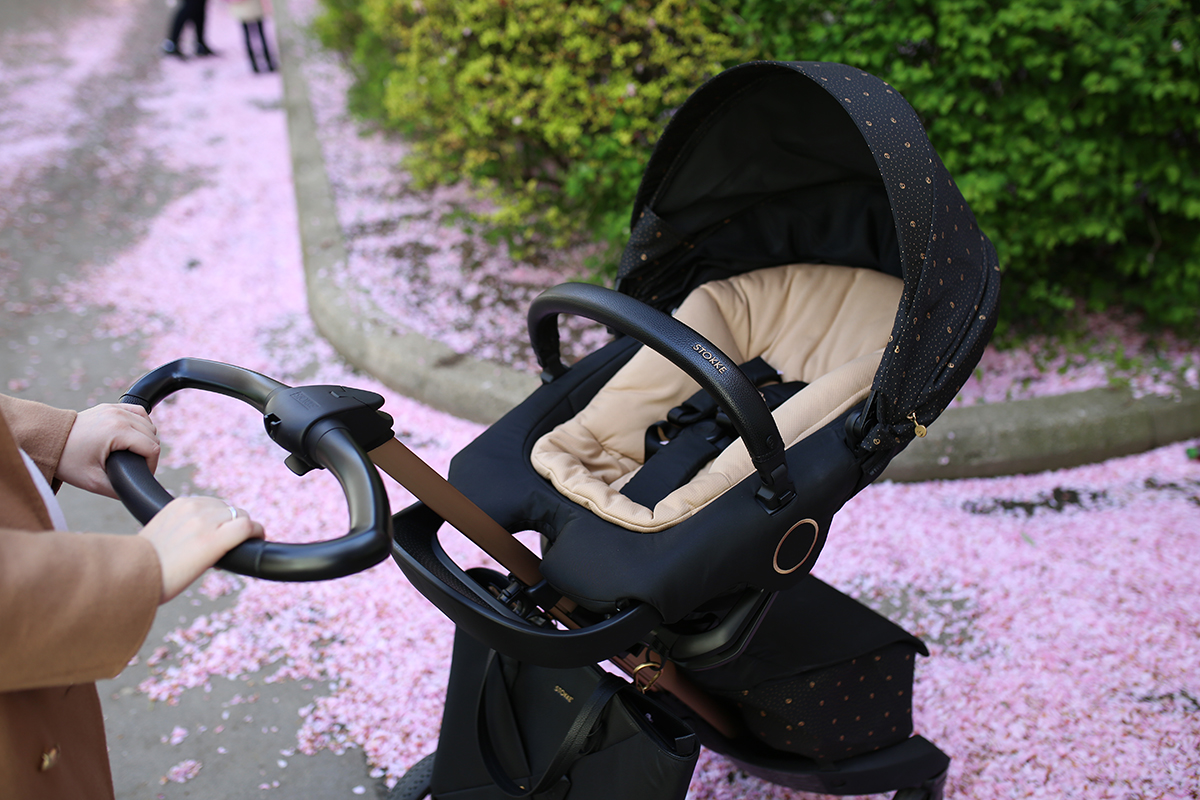 When choosing the stroller make sure that the brand provides safety and quality certificates. All Stokke products are tested and trusted for safety and quality. You will find all the information about the quality and product features of Stokke Xplory X Signature here.
Essential stroller gear and accessories
When it comes to Stokke Xplory X Signature stroller gear and accessories, here are my these are my must haves:
Stokke Xplory X Carry Cot with breathable mattress made of high quality Sorona fibers. We have been using in baby Una's first months, and she loved sleeping and strolling around in her carry cot.
Stokke Xplory Changing bag in black – can be attached to the stroller. Besides being practical, I really like the fashionable design, as it doesn't look like an ordinary changing bag.
Stokke Xplory X Rain Cover – it fits to the carry cot and the regular stroller seat. Quick dry and airy fabric, provides pleanty of ventilation. It has reflectors for added safety and visibility, as well as a large window for easy access to the baby.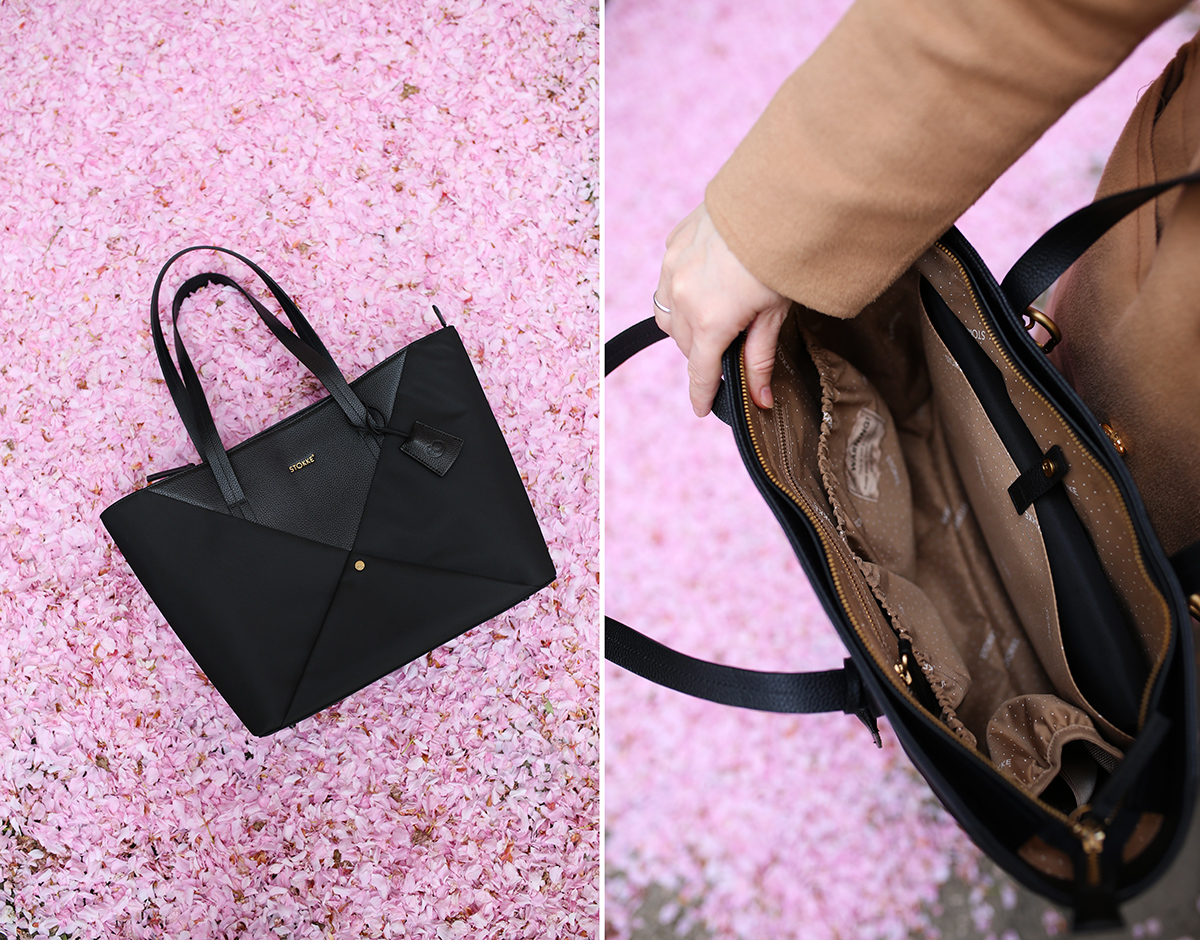 To sum up – I can't recommend you Stokke Xplory X Signature enough! It exceeded all our expectations, in every segment. It will soon be a year since we are using it and it is mutual pleasure – for us as parents and for our baby Una.
I hope that my review will be useful for you and help you make a decision that is best for you. If you have any questions, feel free to dm me on Instagram! For mom-related inquiries via @anjaaleksandra and follow our Viennese Stokke strolls on @viennainsider.
Thanks a lot for reading!
xoxo,
Anja
This post was done in collaboration with Stokke.