For any visual addict like us interiors, small details, and the art of serving matter a lot, when choosing where to go for a coffee, light meal, or something sweet. Good food, service, and picture perfect places, enable us not merely enjoy what we are consuming, but also to capture the moment on a picture and cherish those little things for good. And of course, share it with our friends on social media. Before the Instagram era, who used to snap a picture of everything we were eating?! We think that Instagram really made us more attentive to simple, everyday things.
So today, we decided to share with you some of the most instagramable cafes in Vienna. In fact, not all places listed here are cafes. Some of them are restaurants and even hotels, but we decided for convenience reasons to use the word cafe, because on all these places you are not obliged to eat. You can simply go for a coffee, a drink, or whatever else. We simply thought it would be fun to share, because we know many people like us do care about the photogenic potential of the places they visit. This photogenic potential wouldn't have been there if not for the commercial interior design Billings or elsewhere. The architects and designers have done an awesome job in making these places look like they're out of a movie.
Even if you don't care about taking a picture, but still enjoy checking out nice places, this post will be interesting for you. Another reason is that maybe you are having guests over, and you would like to take them out and impress them with your knowledge of pretty places in Vienna. Or maybe you're trying to get some inspiration for your own cafe? In which case, head over to Atmosphere for some tips on how to improve the atmosphere of your little eatery.
Enjoy our list of 10 most instagramable cafes in Vienna and if you think we missed someplace (and we did for sure), share it with us in the comments! It was fun making this post, and taking in mind how many nice places there are, we have nothing against doing a second part of this post. Don't pay attention to the list itself, nothing is ranked here, we just randomly picked. Enjoy reading and Instagramming! :***
Kleines Cafe
Kleines Cafe probably deserves a separate post on our blog, as it is really an insider, local Viennese place, close to Stephansdom. Located on Franziskanerplatz, a lovely square, Kleines Cafe is picture perfect and whenever we pass by, we simply have to take a picture. You must be lucky to get a table outside on a nice weather day, when it will usually be crowded, but it is worth waiting. We usually stop by for a coffee, but they also serve Austrian food. There are not so many dishes on offer, which is actually a good sign for a small cafe like this. Also, the prices are very fair for the location, and the food we saw on other tables looked quite good. So we will definitely give it a try. Inside, this cafe looks very authentic and cute, but we won't share that picture for now. Let's leave this as a surprise when you go there yourself! 🙂
Address: Franziskanerplatz 3, 1010 Vienna
Gerstner is a well-known Viennese pastry shop, with really delicious cakes. Their cafe, with the view of the Opera, is a true eye-candy! You won't be able to resist snapping a picture before and while treating yourself with a piece of cake. First, you will enjoy the view of the selection of cakes, sweets, and pastries on the ground floor. Then lovely staircase will take you to a chic and beautiful small cafe, with a piano, cozy armchairs, and adorable wall decor. People visiting this place tend to take inspiration from these elegant decors and often find themselves looking for cute wallpapers, similar to the walls in here. The same also goes for their menu, they provide such tempting delicacies that people might want to try them on their own.
Tip: Try their sparkling lemonade! So many delicious flavors and a very aromatic, fresh taste. 🙂 The picture was made with a smartphone, hence the low quality, but anyways, we are sure you get the point. 🙂
Address: Kärntner Str. 51, 1010 Wien, Austria
Cuteness overload from inside and out, it is impossible not to take a picture in Simply Raw Bakery. It has a vintage vibe, is full of cute details and the marble tables make a perfect background for on #onthetable shot from above. And most important of all – everything you try here is raw, vegan and good for you! We love their chai latte made with homemade almond milk, and raw cakes are delicious too. You can read more about it in our blog post here.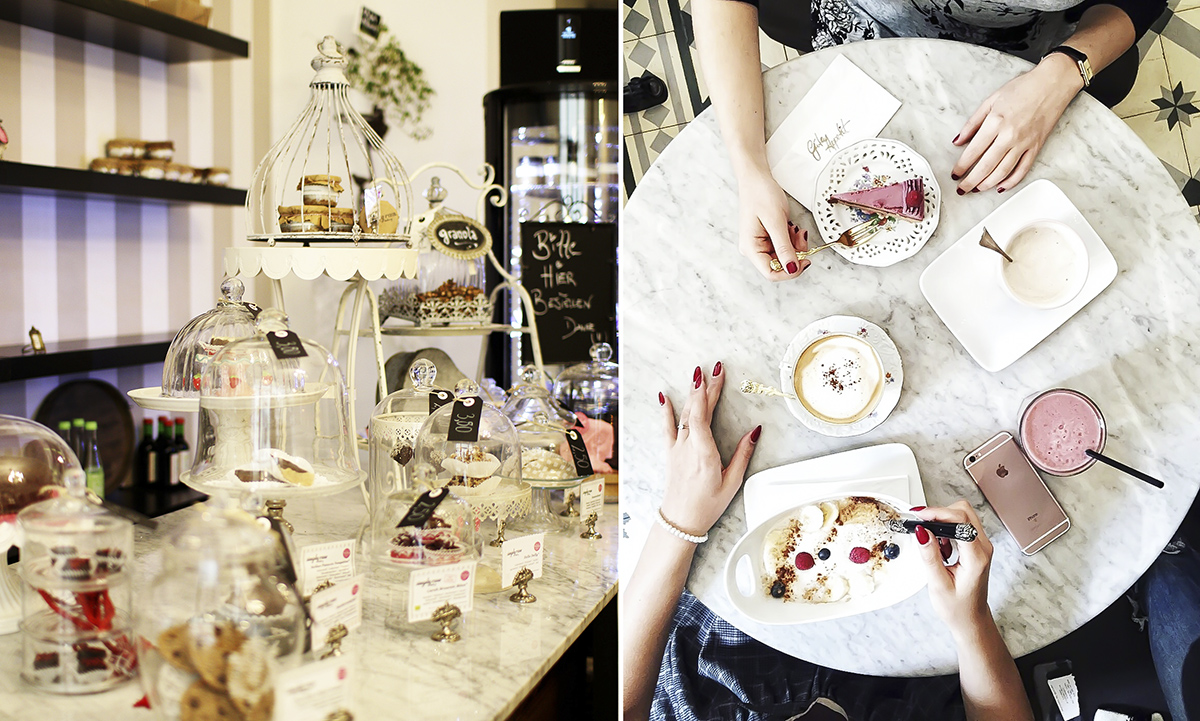 Already the name sounds promising, right? Salon Plafond, it must be some big place, sophisticated and special… And it is so! We were simply mesmerized with the beauty of the light shining through huge windows, the size of this gorgeous cafe-restaurant, their marble tables, and the ceramic dishes in which they serve food. Salon Plafond is actually located within the MAK – Museum of Applied Arts. The first time we have visited it was during a workshop of our friend Daria from U2U, a small company run by Daria and her friend, that organizes lovely creative workshops (for more information, check their FB page here). The flower workshop took part in Salon Plafond and we instantly fell in love with the atmosphere and beauty of this place!
Address: Stubenring 5, 1010 Wien, Austria
Bank Brasserie of Park Hyatt Vienna
Ok, this is not really a cafe, but nothing stops you to order coffee or tea. 🙂 The Bank Brasserie is nothing less than breathtaking! Sophisticated and luxurious, this place is one of the most beautiful interiors we have seen in Vienna. It used to be a bank, hence the marble walls, wall clock and the overall size and appearance of this wonderful space, which got furnished and decorated to perfection. Because of its outstanding beauty (i.e. we took SO many beautiful pictures :D), there will be a separate blog post about it. Until then, here are our two trailers. 🙂
Address: Am Hof 2, 1010 Wien, Austria
Hotel Daniel, close to Belvedere, conveys a really beautiful, bright restaurant in pastel colors. The best thing about it – the swing! Yes, in the middle of the place, there is a couch-style swing, hanging from the ceiling. Sad thing about the swing – whenever we stopped by it was occupied! What a fail, isn't it? So we still didn't get to enjoy this coveted spot ourselves, but maybe you will get more lucky! 🙂 Apart from coffee, we also had lunch here once and it was very delicious. Many people praise their breakfast, but this is still on our list. However no matter what you consume, you will for sure enjoy the atmosphere.
Address: Landstraßer Gürtel 5, 1030 Vienna, Austria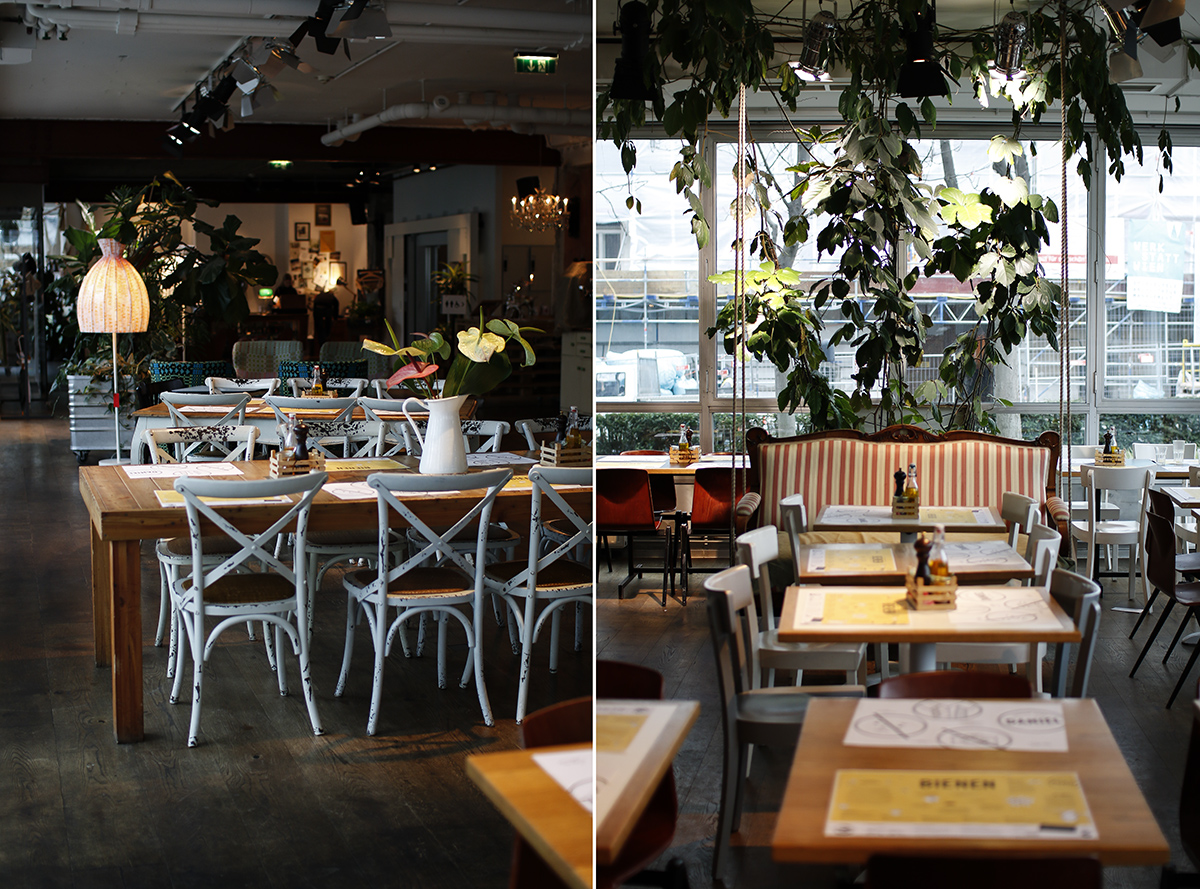 Well, Burgring 1 was already honored on our blog (read about it here), but lets mention it once again, because it really belongs to this list. 🙂 It is a very, very nice place, with beautiful light and different types of furniture, so you can pick where you feel the most comfortable. You will find us at a small marble table next to the window, sipping chai latte. We cannot resist marble, it is so gorgeous. 🙂
Beaulieu is a French cafe, delicacies and pastry shop, where you can get some delicious tarts and eclairs (among other). Located in gorgeous Ferstel passage, Beaulieu has a very special, chic atmosphere. Since it is covered, it is a perfect place to go on a rainy day, or when it is a bit colder outside. Little tables with flowers on top, lovely tiles (so perfect for #ihavethisthingwithfloors picture), decorated with some delicious tarts and there you go, a picture born for Instagram! 🙂
Address: Herrengasse 14, 1010 Vienna (entrance through Ferstel passage)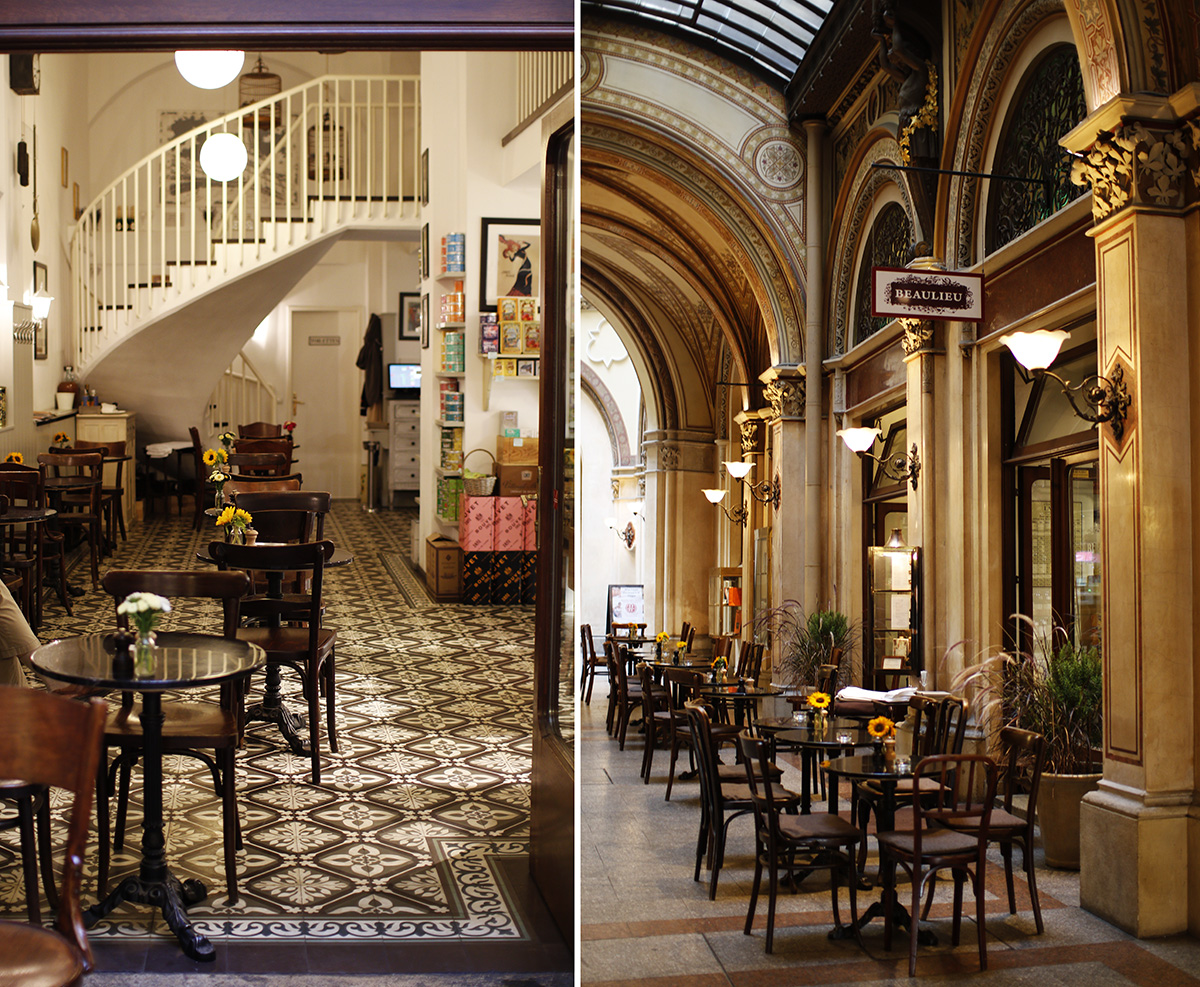 Last but not the least, we are finishing this post with a traditional Viennese cafe. There are many of them around the city, and once there will be for sure a post with that theme. It is not like other places are not instagramable, not at all! As we already said, it is impossible to mention all the beautiful Viennese places in one post. But we picked Cafe Diglas because it has a romantic, girly flair combined with that classy Viennese atmosphere. The chandeliers that look like little pink skirts are what add this girly touch, that we love so much. Also the facade is pink, and well who doesn't like pink?! Ok, we know some people don't, but we do. A lot. And Cafe Diglas, not invaded by tourists, it is really lovely. And you guessed, the tables are marble! Another plus to make your picture #instaperfect. Cafe Diglas is for those dreamy, think-pink mornings, and a melange next to the window. And if you stay day dreaming until lunchtime, you may well order their schnitzel too. It is excellent!
Address: Wollzeile 10, 1010 Wien, Austria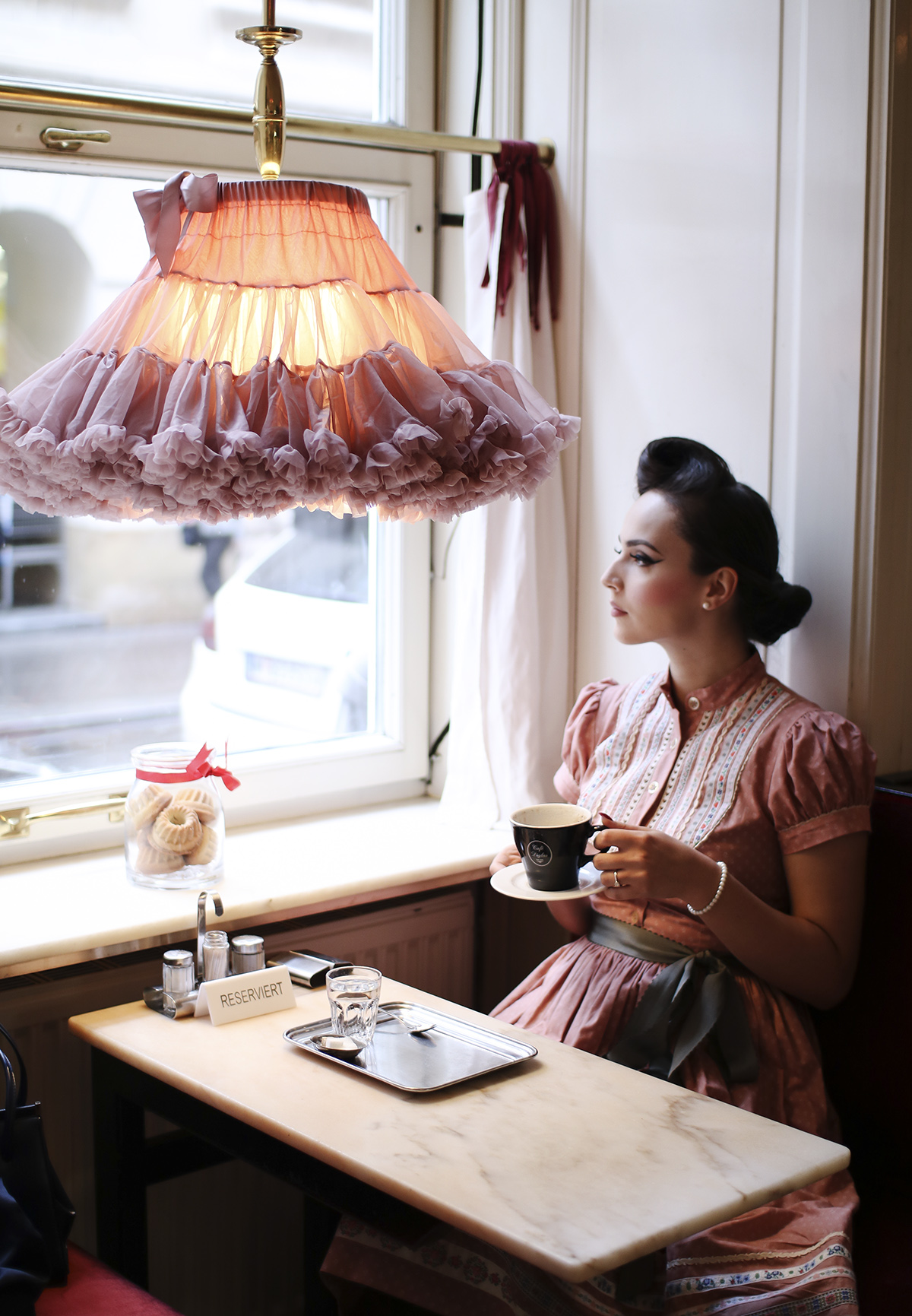 Our gorgeous friend Aida <3[/caption] Thank you for stopping by! xoxo, Una and Isi