We often get questions and emails from some of you who about to spend the New Year's eve in Vienna, concerning the programme in the public places for this special night, as well as the opening times of the stores during holidays. Unfortunately there is nothing we can say about this topic from personal experience, as we always spend the holidays at our home country Serbia. But at least, we can help you to gather information, so this is what this post is about. 🙂
The New Year's Eve Trail 
If you plan to celebrate the New Year by partying in the city center, check the article here (official page of the city of Vienna) which gives you insights into the festive programme for the 31st of December. You can also download the detailed programme as pdf here. From what we have read, the programme is rich with all kinds of events, including concerts (diverse types of music), cultural events and performances. For those of you who are romantic or just want to enjoy amazing views over the entire city, it occurred to us to suggest you to head to Kahlenberg. It is a hill which overlooks the city and according to many sources, this is where you will get the most spectacular views over Vienna with fireworks. Anyways we suggest you to consider this only if you are in the city by car, as it is probably a nightmare to get there by public transport on that special night. Alternatively of course you can go to Danube banks as this is where the views are gorgeous too.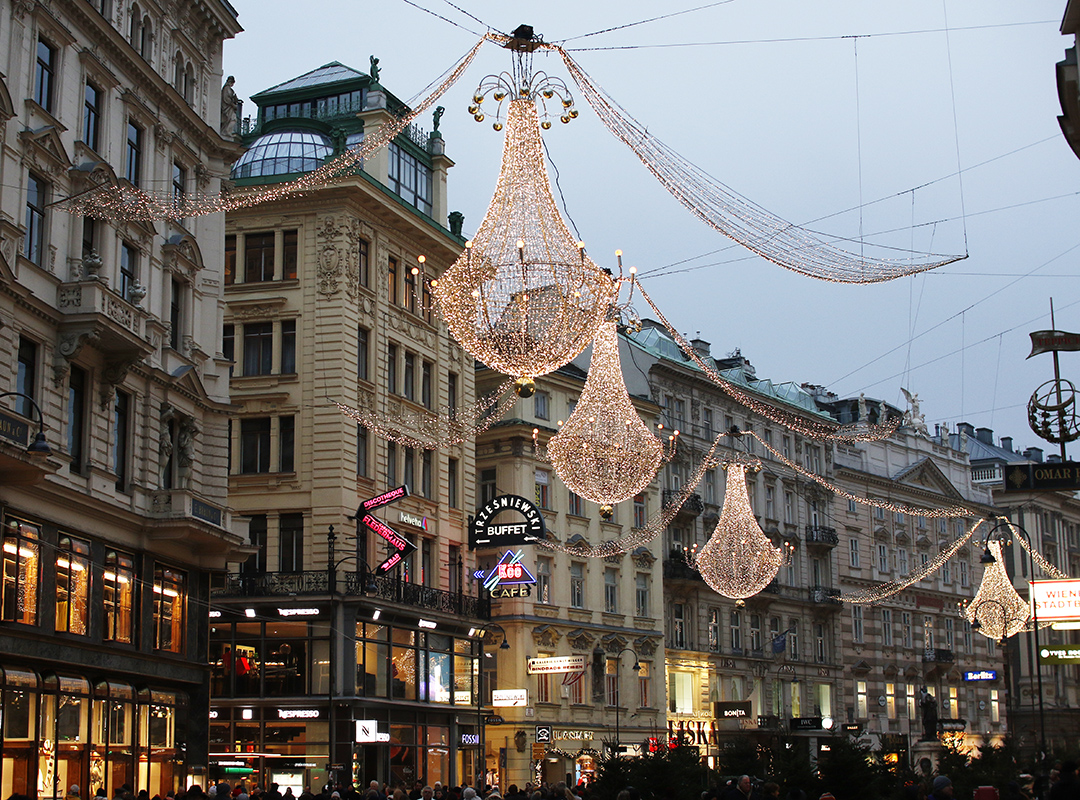 New Year's Markets
Even if you come to Vienna after Christmas, you won't miss the festive markets! There are not so many of them anymore, but still the biggest ones will be standing even a few days after the New Year's. Here are the addresses of the New Year's Christmas markets:
Silvestermarkt, Mahlerstraße, 1010 Vienna
Silvester Village am Maria-Theresien-Platz, 1010 Vienna [we have a blog post about it here]
K.u.k. Silvestermarkt Michaelerplatz, 1010 Vienna
Silvestermarkt in front of church in Mariahilfestrasse, 1060 Vienna
Silvestermarkt, Fußgängerzone Favoriten, 1100 Vienna
Christmas Market Schloss Schönbrunn, 1130 Vienna [our favorite market, blog post about it is here]
Neujahrsmarkt Franz-Jonas-Platz, 1210 Vienna
Store Opening Times
As always this is the most trickiest question to answer, since there are not many rules, it depends from store to store. On the 31st of December, most supermarkets and stores will be open until 15h.
On the 1st of January, almost everything (when it comes to shops and supermarkets) will be closed, apart from some small Turkish supermarkets that are open 24/7 regardless of the holiday. The good thing is that most restaurants will be open and there are also New Year's markets around the city (previous Christmas markets, after Xmas are called New Year's markets) where you can have some street food. So don't worry, you won't end up hungry! 🙂
Don't forget that the 6th of January is also public holiday in Austria, so forget about shopping on that day as well.
Pay Attention
Vienna is a very safe city, however you should never be completely relaxed and careless during festivities and crowded days like the ones which follow. Take care of your personal belongings, don't forget to keep your bags closed and pockets empty, because you never know who may try to sneak in there. Don't let that lack of attention makes you to a victim of pickpockets and ruin your special night in gorgeous Vienna.
Enjoy the most special night of the year! Happy 2016!
xoxo,
Una and Isidora