What to do on a hot day in Vienna? Surviving summer in the city is often a challenge, especially in a city like Vienna where most flats lack (much needed) air conditioner. But there is still a lot to do, so here we go with our tips!
1.Visit a museum, palace or some insider place
Lets start this list in an intellectual way! Vienna is a cultural capital with numerous museums and imperial palaces. For sure you haven't visited every single one of them, right? The temperature inside museums and palaces is just perfect, it might even be slightly chilly, ideal for escaping the heat.
Here are a few lists of the places to visit, we hope you will like them! 🙂
Art: the Art History Museum, Albertina, Albertina Modern, Leopoldmuseum, Mumok (modern art), MaK (Museum of Applied Arts), Secession, Kunsthaus Wien Hundertwasser (contemporary art, Vienna's first green museum)…
Palaces: Schoenbrunn Palace, Palais Liechtenstein (there is the garden palace and the city palace), Belvedere, the Palace of Justice (insider location), Ernst-Fuchs Villa (also known as Otto-Wagner villa – insider place, make sure to google it)…
Other: the Natural History Museum, Weltmuseum, the National Library, Burgtheater (they have guided tours), the Parliament (guided tours), Rathaus (guided tours), Sigmund Freud Museum, Technical Museum Vienna, Sisi Museum…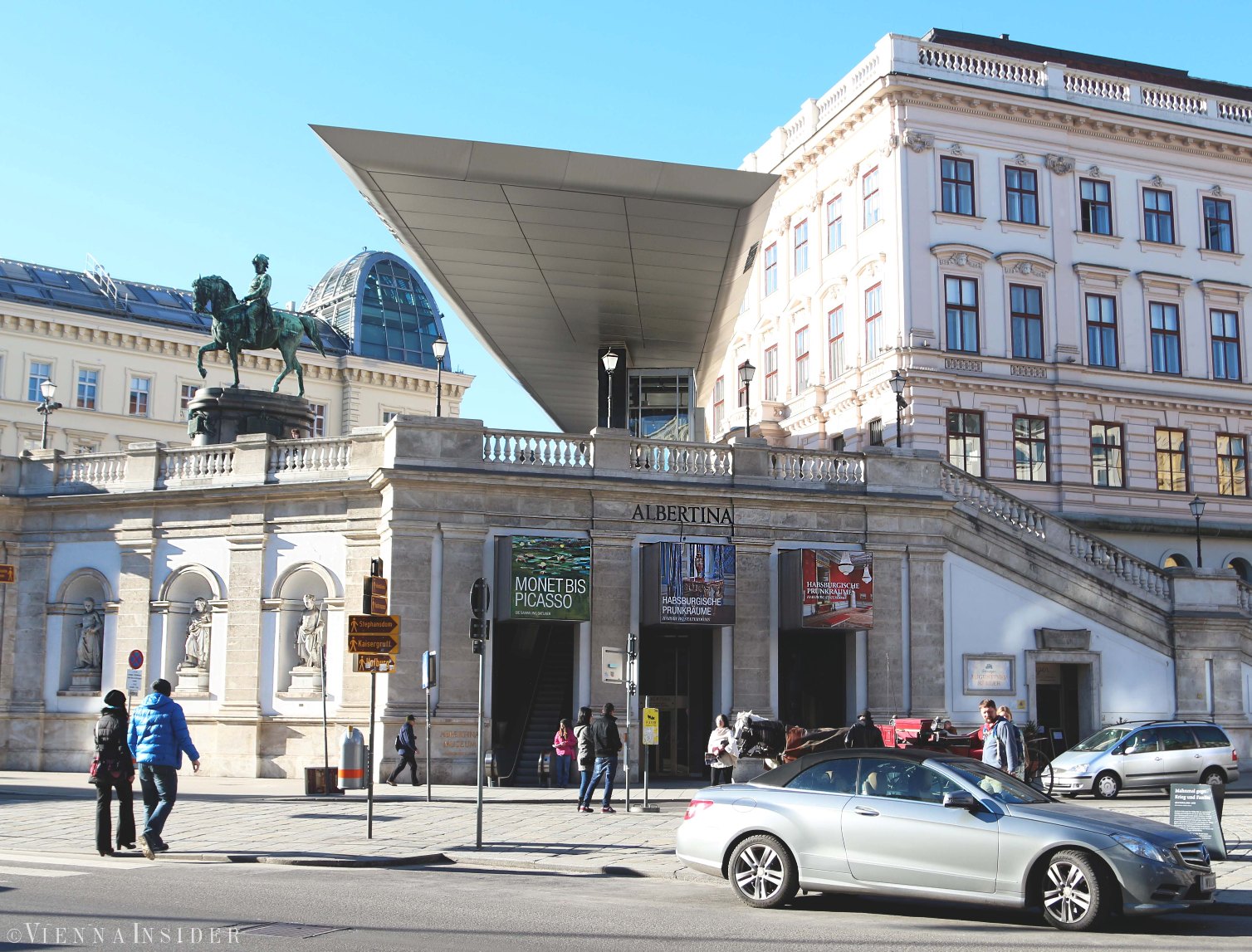 2. Eat looooots of ice cream!
Don't miss treating yourself with at least one ice-cream a day! 😀 Some of our favorite spots ice-cream places are: Gelato Carlo, Gelateria La Romana, Ferrari Natural Gelato, Veganista, Eis Greissler, Tuchlauben, Bortolotti…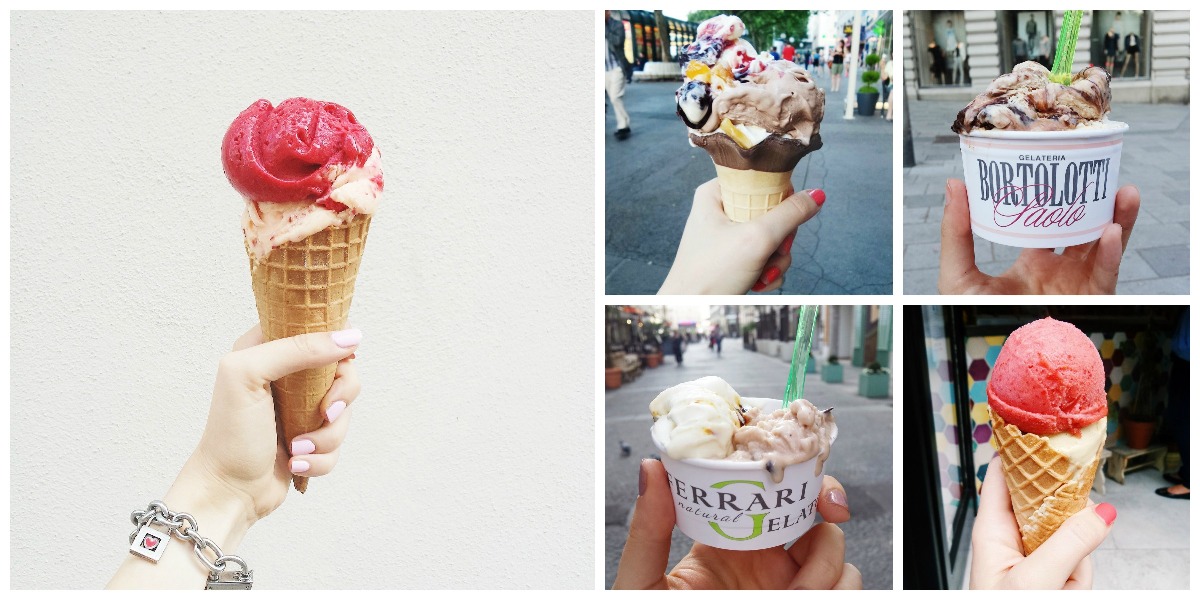 3. Wake up early to explore and take pictures of empty Vienna
Especially if you are a tourist, try to make an effort to wake up earlier and explore Vienna, before the heat becomes unbearable. Walking around Vienna early before it gets invaded by people is truly priceless. Check our post here to see the beauty of Vienna waking up. After the photo walk, treat yourself with a delicious breakfast at the Joseph Bakery, L'Amour du Pain, Salonplafond, Chez Bernard, Hildebrandt Cafe, Paremi or some spot you like. The ones mentioned are some of our favorite spots.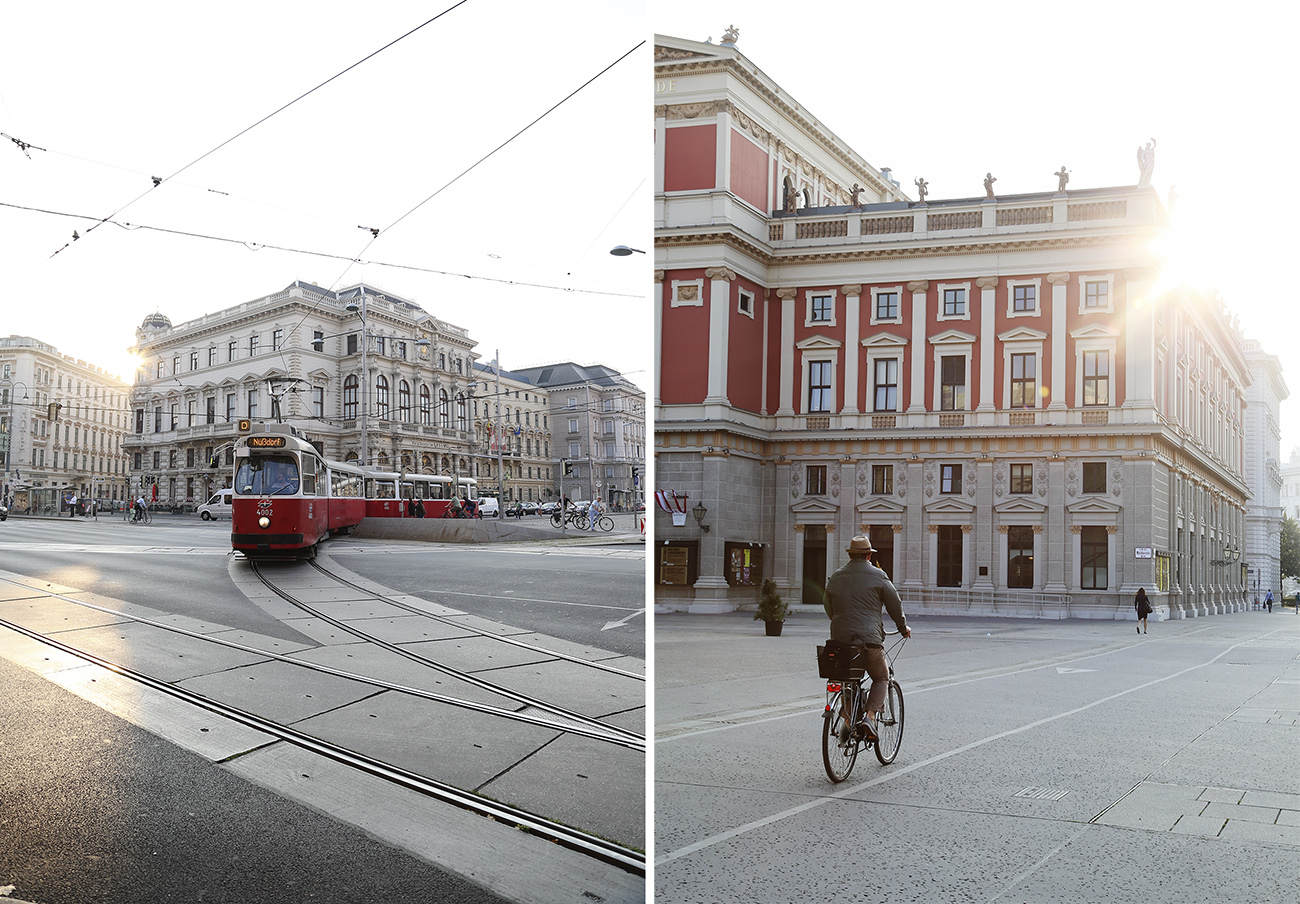 4. Go for a swim in the Danube, ponds or pools around the city
We have to admit that we never went for a swim in the Danube, but it is what most of our friends are doing, if they are spending the summer in Vienna. Also there are many beautiful open air pools around the city. For top tips on where to take a swim, read our blog post about Top Open Air Pools and Ponds in and around Vienna here.
5. Shopping Spree in a mall
Instead of taking an afternoon nap, spend the hottest part of the day in some of the air conditioned shopping malls. Our favorite mall is SCS, but if you prefer something closer to the city center, then Donauzentrum is a great choice. We would advise you to stay away from shopping streets like Mariahilferstrasse or Kaertnerstrasse when it is too hot. You will find exactly the same shops, and even new ones, in shopping malls then the streets. Check more on this topic in our blog post about shopping in Vienna.
6. Spend the day in a spa.
It is always nice to dedicate some time to yourself, and what is better than relaxing in a spa! Therme Wien close to Kurpark Oberlaa are always a good choice. Check more info about them here.
7. Make a picnic or chill with your friends in some of the gorgeous Viennese parks.
Vienna has many beautiful parks and green areas where you can chill, get tanned or make a small picnic. From centrally located parks, we can recommend you Stadtpark, Burggarten, Augarten, or for example Sigmund-Freud Park in front of the Votive Church. And if you want to go to a more peaceful place, head to Prater, the Danube Island, Kurpark Oberlaa, Schwarzenbergpark, Kahlenberg, Japanese Garden Setagaya, or (a park we absolutely love) Poetzleinsdorfer Schlosspark in the 18th district. For more tips and picnic inspiration read our post about top picnic spots in Vienna here.
I (Una) took the photo below in spring in Poetzleinsdorfer Schlosspark, when wild garlic was blooming. The model was gorgeous Olya, that you can find on Instagram here. She has a great blog where she is also sharing her travel and Vienna tips.
8. Visit Lainzer Tiergarten and Hermesvilla.
Lainzer Tiergarten is a huge park belonging to Hietzing, the 14th district. It is a wonderful place, with woods and endless walking paths. You can also spot some wild animals there. This is where Franz Joseph used to hunt, and where he built a gorgeous palace Hermesvilla for his wife Sisi. You can visit the palace, have lunch or picnic in the woods. Any time of the year here is great, especially for both nature and culture lovers.
7. Escape the concrete jungle and explore some wonderful locations close to Vienna.
If you are fed up with the city and have already checked out everything from the list, then gather a friend or two and simply escape! There are many locations less then an hour drive from Vienna which are ideal for a daily trip. We can especially recommend you, the following locations (simply click on bold letters, that will take you to separate blog posts about these places):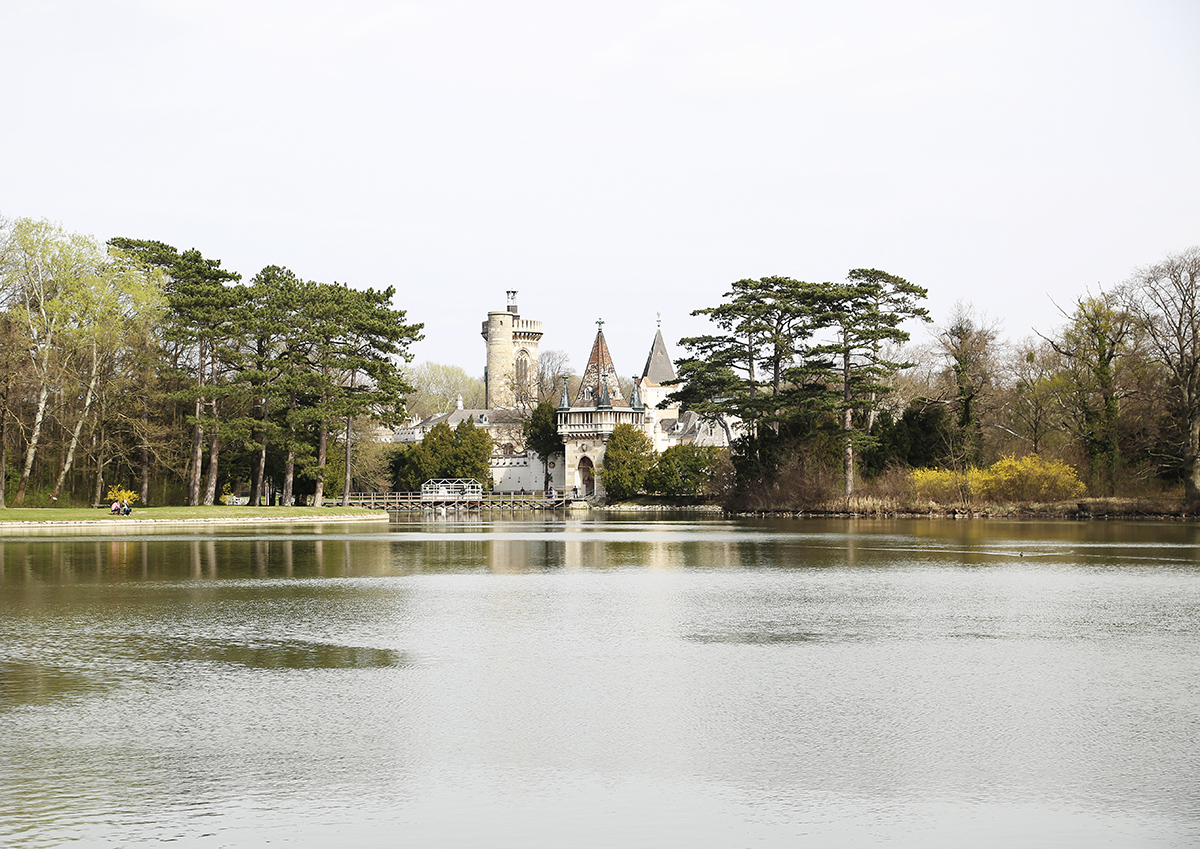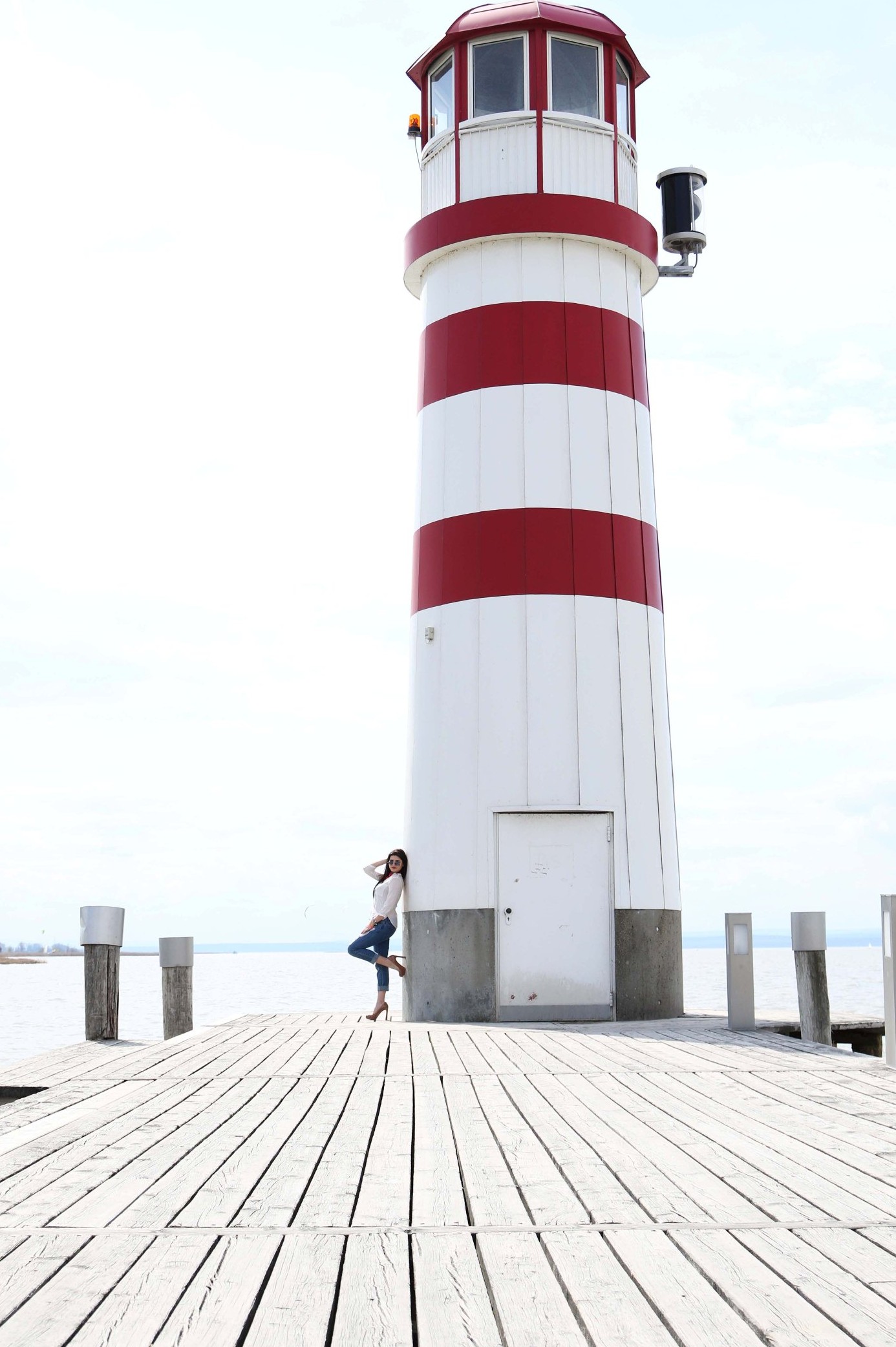 8. Visit Prater – the rides, colors, smell of cotton candy will bring you back to childhood! Adrenalin rush is guaranteed if you go for one of those crazy rides… ? And you will manage to cool off too. 😀 And if you have already been to Prater, maybe you could go to the Böhmischer Prater in the 10th district. This place is according to many totally underrated! It is a small amusement park and event center that has a lot to offer to all generations.

9. Go climbing in Kletterpark Purkersdorf! It is located a bit out of town (almost bordering the 13th district). Many of our friends went there and they loved it! Fun and action all day long!
10. Enjoy the open-air Cinema. Have you been to the Rathaus Film Festival? Nice atmosphere, free entrance, street food, music and many things that will keep you entertained! Other than that, there are numerous open air cinemas around the city. The locations change every year, so make sure to google a bit.
We are hoping that we managed to inspire you with this post! And in case you have other cool tips, please share them in the comments. Lets inspire each other! <3
Enjoy your summer, no matter where you are!
xoxo,
Una and Anja