We gathered here today for a food party, to feast, share some tasty and easy recipes as well as gifts (just keep reading, it's something for you!); and all that because it is a 20th birthday celebration! No, it is unfortunately not mine! I wish I could be 20 again! 😀 Today we wish happy 20th anniversary to Clever! If you live or have lived in Austria or simply have entered any supermarket, without any doubt you are familiar with Clever products and for sure you have consumed some of them. But as our Vienna Insider is also daily introducing dozens of tourists to the Austrian culture, I will briefly introduce this nationwide popular store brand before moving on to the delicious part of the post… 😀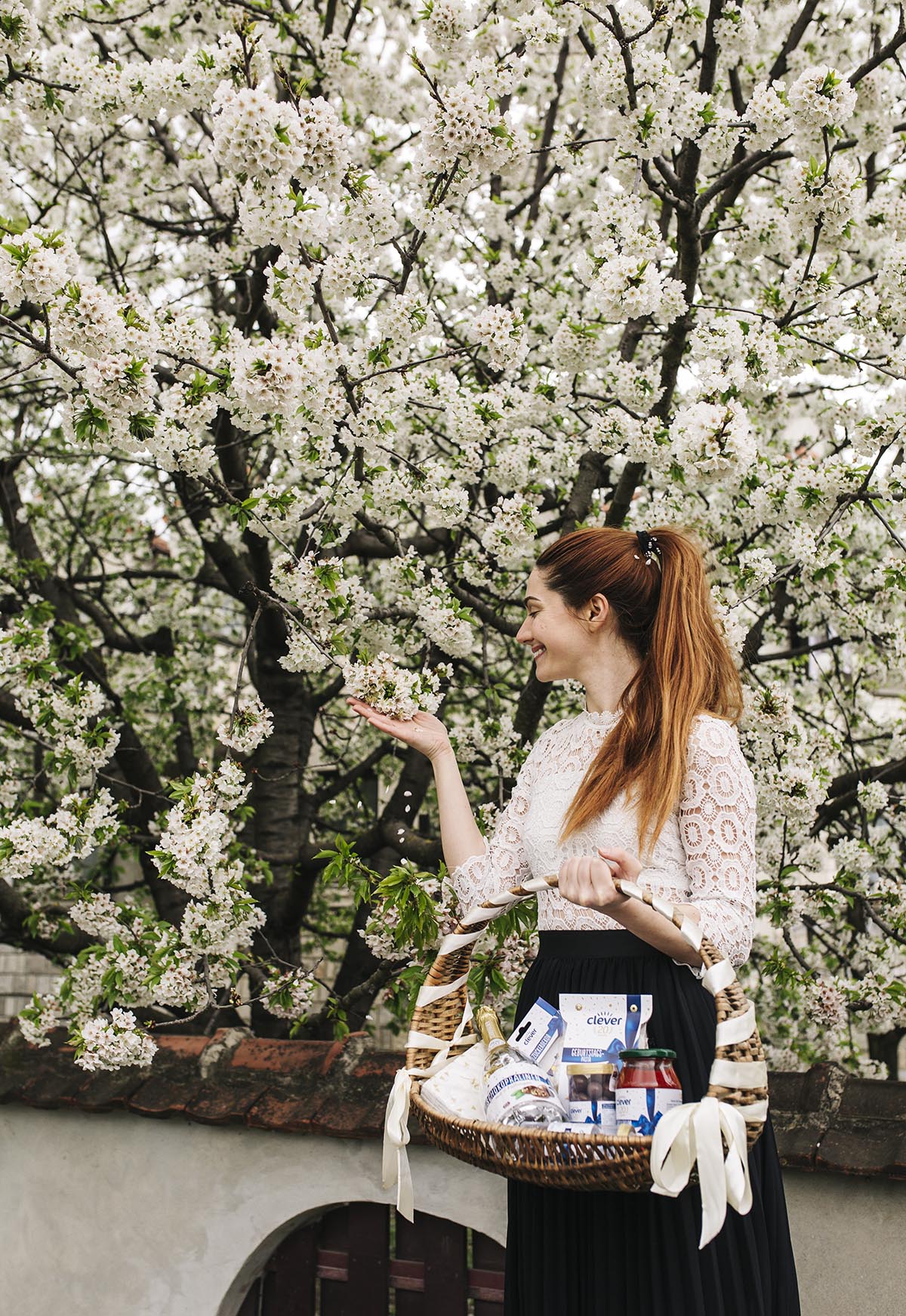 Clever – Alles gute, alles günstig
Since 1999 Clever stands for great quality and affordable products that range from groceries such as fruits, veggies, dairies; and all the way to household items, food for pets, as well as cosmetics. There are more than 550 Clever products today that can meet pretty much every need of a household. Clever enables its consumers to shop smart – it guarantees great quality, certified products, mostly made in Austria, as well as the best price. Simply put – Clever is all about products that are great value for money.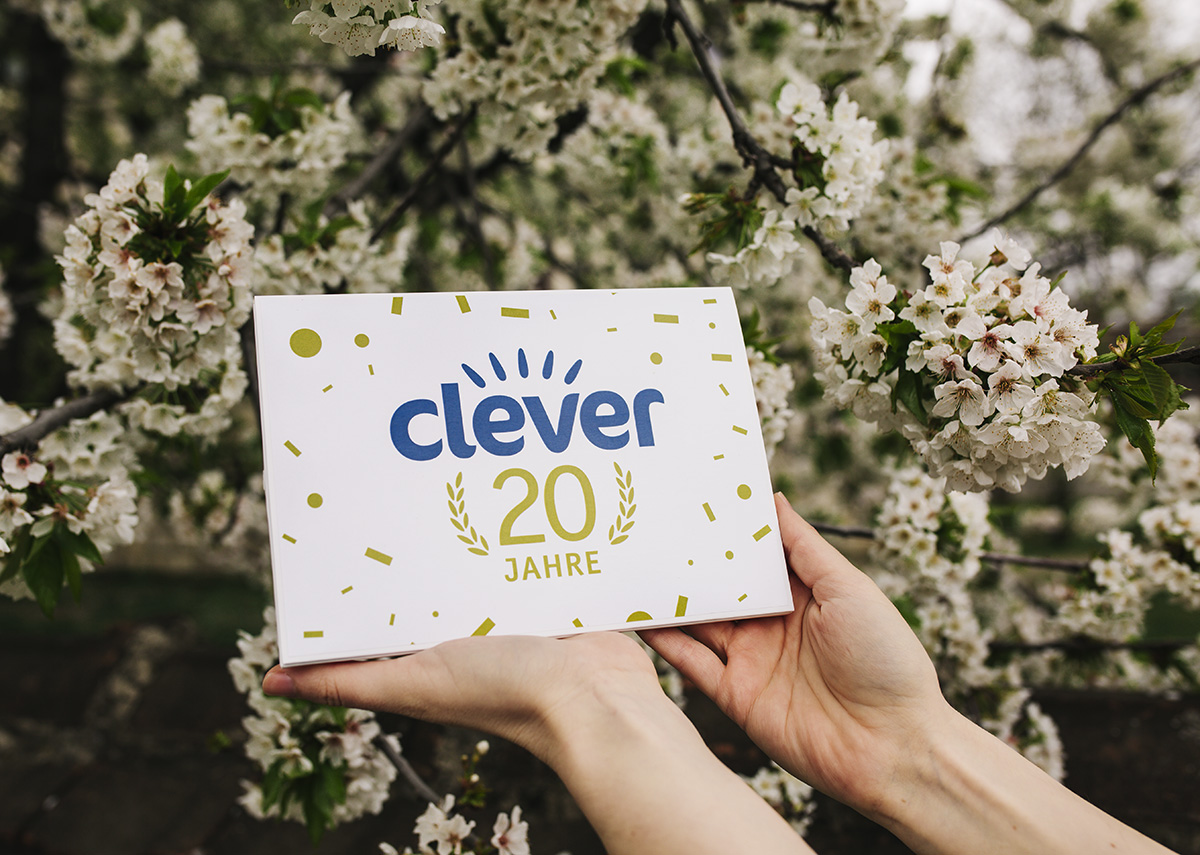 Meet Clever Jubiläumssortiment – Exclusive Limited Edition Products
This year for its 20th jubilee, Clever launched a limited edition product line with exclusive items ideal to make a delicious feast! Like French champagne, smoked salmon, chocolate coated nuts and pralines, champagne ham, delicious sauces and pasta… I also find them perfect for a picnic or home gathering where food is involved! Explore the entire Clever Jubiläumssortiment here.

The limited edition Clever products are available in supermarkets all over Austria in Billa, Merkur, Bipa and Adeg. You will easily recognize them thanks to the festive label. By the way, are you also attracted to limited edition items?  I am always keeping an eye on them, especially when food is at stake. I really enjoy discovering new flavors!
My sister, friends, family and I already had the chance to try many of the Clever limited edition products. Our top three favorites are the Sugo Bolognese (a really perfect tomato-basil sauce, that is always useful to have in your fridge), the chocolate-hazelnut dessert in a glass (perfect as a sweet snack), and the champagne pralines (so delicious and loved the package, so nice for a gift).
And talking about gifts, there is one delicious, festive package, full with limited edition items that Clever prepared for YOU! Take a look at my latest Instagram post, to find out how you can participate. Good luck everyone! <3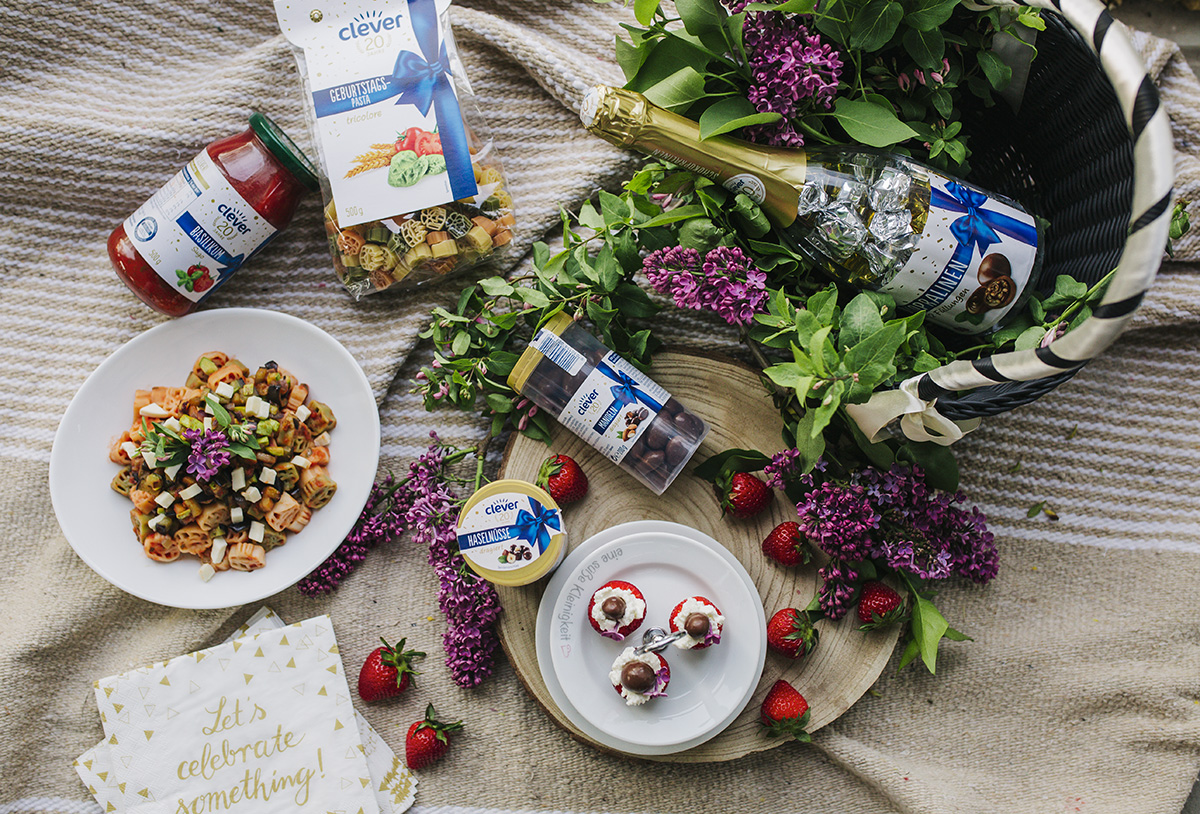 Clever Jubiläumssortiment Feast: Tasty and Easy recipes you got to try
And here we are, at my favorite part of this post! Down below you will find a few tasty and easy recipes that I created using some of my favorite products from Clever Jubiläumssortiment. I hope you will find them inspiring and give them a try! It is nothing revolutionary, just casual dishes, delicious and quick to make.
> B-day Ratatouille Pasta
If you are like me: love melted cheese, veggies, and all things gooey, you will enjoy this colorful pasta dish! Clever Geburtstagspasta has such a cute shape – little gift boxes and cakes, so I can imagine kids will especially love it! The dish is great to take out on a picnic, work, or enjoy right after, and it is quick to make – done in 30 minutes max (due to the chopping, but if you decide to go for frozen veggies it will be even faster)! Obviously you can play with ingredients. But what you, by no means, should leave out from this recipe is the Sugo Basilikum – tomato basil sauce. It is so well seasoned and delicious! I've used it to make even soups, added it to risotto… It is really great!
Ingredients: 250g of Clever Geburtstagspasta (B-day pasta); A couple of spoons of Clever Sugo Basilikum or if you prefer heavier food or are meat lover go for Clever Sugo Bolognese instead; 1 small red onion; 1-2 cloves of garlic; 1 small zucchini; 1 small eggplant; 1 Clever fresh Mozzarella or Soft cheese if you prefer. A bit of olive oil, salt and pepper.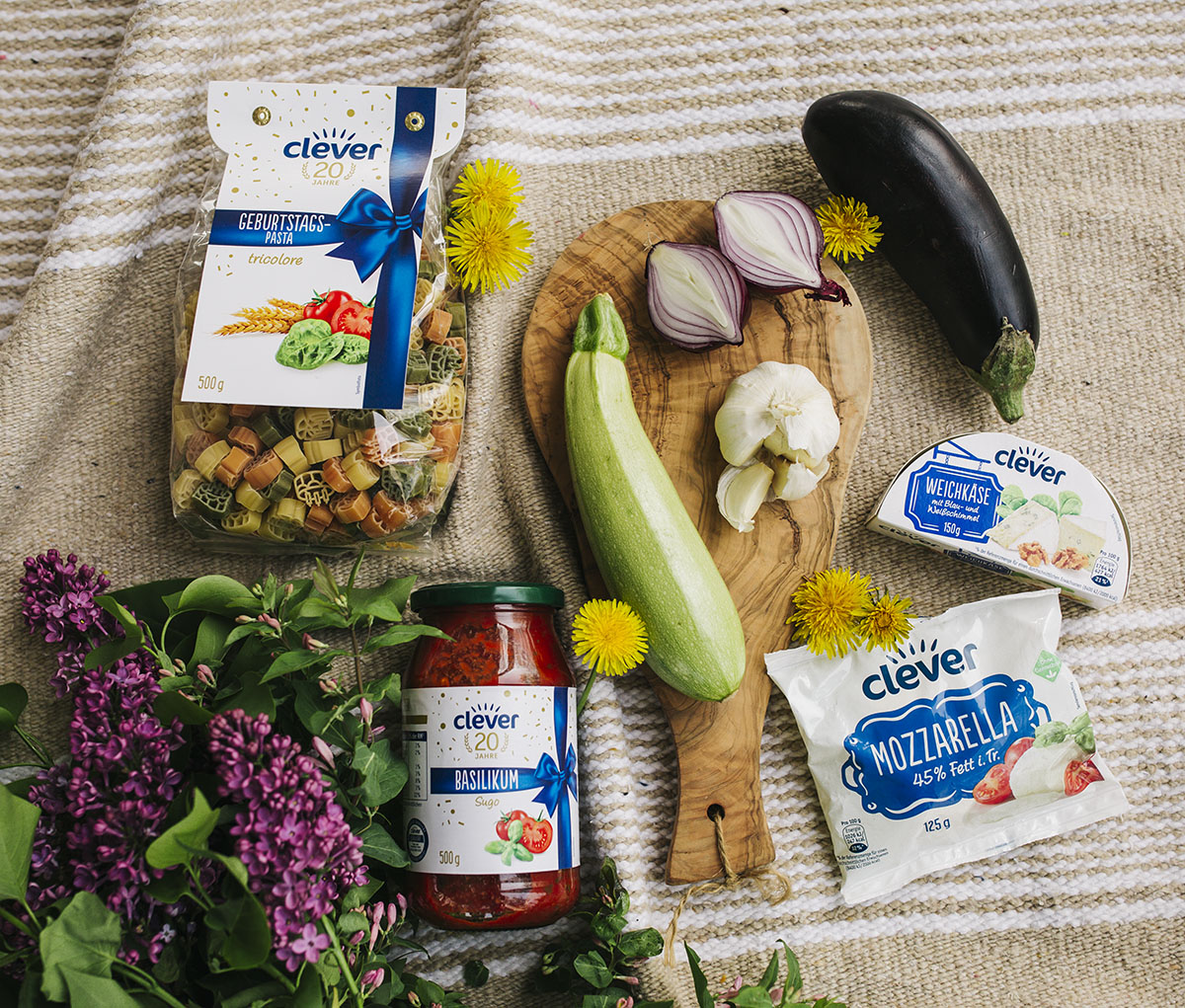 Instructions: Chop all the veggies into cubes and sauté them in a pan, with a little bit of olive oil. When it is almost done, add a few spoonfuls of Clever Sugo Basilikum and let it simmer for a few minutes more. In the meantime, cook Clever Geburtstagspasta. When done, drain and mix a few spoons of Clever Sugo Basilikum into it. This sauce is so well seasoned, that I am sure you basically won't need any extra spices. But if you like it more salty, add some sea salt and then a bit of pepper. Stir well. While the pasta is still hot, add a few cubes of fresh mozzarella to the pasta. This is for extra gooiness (the cheese will melt with the heat of the pasta!). Assemble the dish – pasta and veggies on top and finish it off with some mozzarella cubes.

Alternative 1  – Baked pasta: If you have more time, you can transform this dish into baked pasta! I didn't want to do it this time because I wanted the cute shape of the pasta to be visible at the pictures. In the case of a dish that is suitable for the oven, first add a layer of pasta already cooked (with sauce as explained above). Sprinkle with some more mozzarella. Then add a layer of veggies. Repeat the process until you have used all the ingredients. Finish with mozzarella slices. Bake in the oven on 200 degrees for 15-20 minutes until the cheese has melted. Enjoy this suuuuper delicious and easy dish!
Alternative 2 – 15 minute baked Bolognese: If you are super short on time, but still want to make something gooey and more special, do the following. Preheat your oven to 250 degreees (first turn it on so that it heats while you cook the pasta). Put enough water in a water boiler, add it to a pot, then put it on the stove and leave for a minute – it will immediately boil. This trick with the water boiler I always do, to speed up pasta cooking process. Cook Clever Geburtrstagspasta, drain, mix it with Sugo Bolognese, and layer in the oven proof dish in halves, as follows – first half of the pasta, then mozzarella slices, then the second half of the pasta and then mozzarella again. Put it in the, already hot, oven for 5 minutes and voila! Super gooey, delicious and fastly baked Bolognese is ready to be eaten!
> 3-ingredient Strawberry Crunchy Bites
Whenever it is possible, I love having family or friends over and making some nice feasts and photogenic bites for them. The inspiration for these strawberry crunchy bites comes from my love for cheesecake, but also chocolate and something chocolate-crunchy. Of course Clever Haselnüsse and Mandeln Dragiert are perfect to enjoy just as they are. But this is just an idea on how to use them to make some more complex but fast treats that will wow your guests. You could try to cheat with some whipped cream, but it won't be that nice and compact as with mascarpone. So I encourage you to go for the second one, or some other neutral cheese in the same consistency.
Ingredients: strawberries, Clever Haselnüsse Dragiert (chocolate coated hazelnuts), Clever Mandeln Dragiert (chocolate coated almonds), 1-2 spoons mascarpone, 1 tea spoon of vanilla extract, Agave syrup or honey (to sweeten the cheese to your taste).

Instructions: First mix the mascarpone with vanilla extract and honey or agave syrup to your taste (until it is sweet enough for you). Put the mixture into a piping bag (it is best if you have the ones for single use, or if you don't have one you can use a freezer bag). It will be easier to fill the strawberries with the cream if you have some sort of a piping bag, than with a spoon. Prepare the strawberries buy cutting off the petals and removing the inner part of the strawberry, as well as cutting a bit of the pointy bottom end (so that it can stand). Basically you should make like a little strawberry cup. Then fill them with mascarpone cream and finish off with Clever chocolate coated nuts (Mandeln and Haselnüsse Dragiert). These tiny bites are so easy to make and will for sure impress your loved ones! They will match great with Clever Limited Edition French Champagne!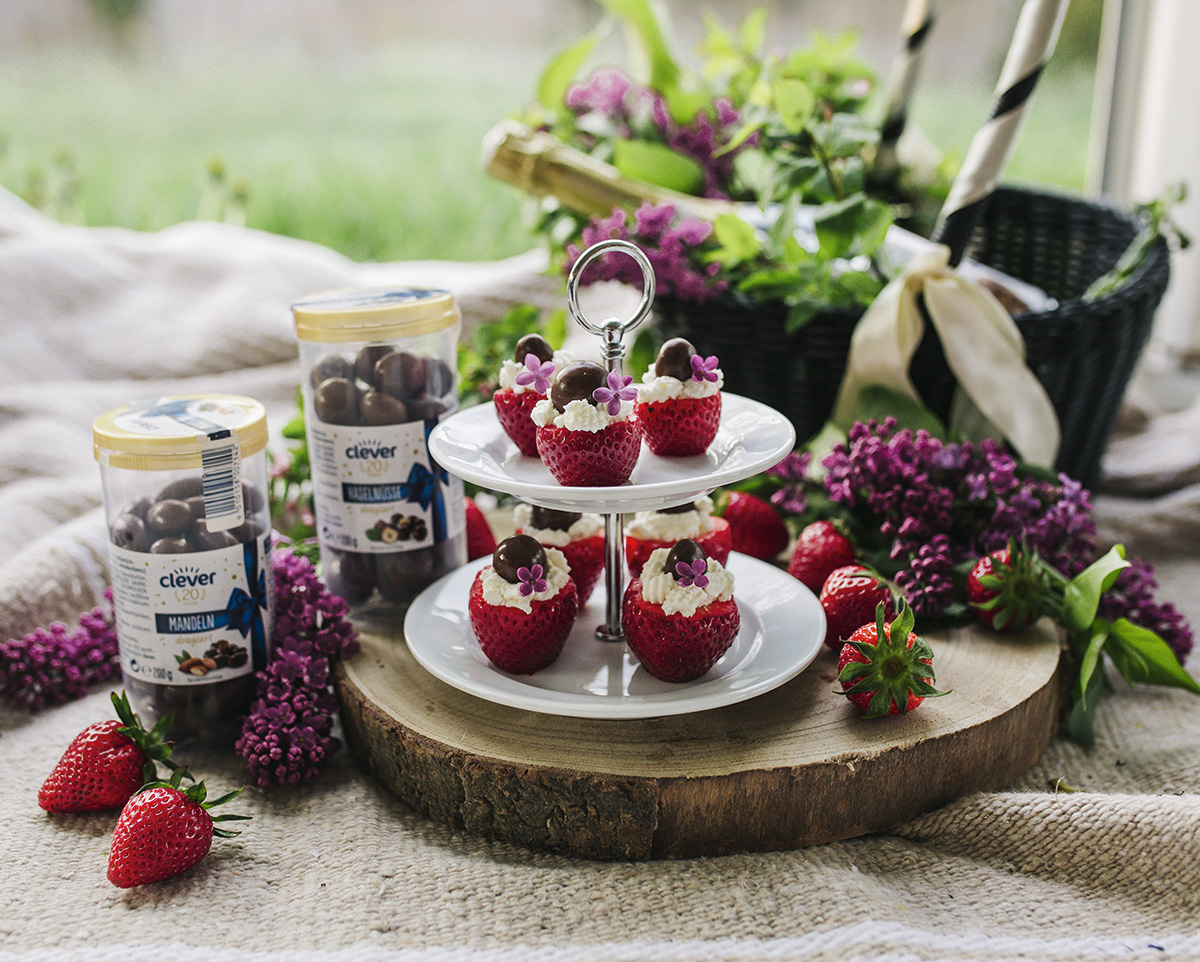 Lazy alternative: if you are super lazy or short on time, there is an even easier treat – simply put the chocolate coated nuts into fresh dates! Remove the pit and replace it with the nuts. It will be more on the sweet side, but delicious as well!
Thanks a lot for reading and good luck in the giveaway! The winner will be chosen on 15th of May.
Xoxo,
Una
This post was done in collaboration with Clever.