Remember Traubisoda? I already told you about this cult Austrian lemonade in a blog post last autumn. Well today I am excited to share with you all about Traubisoda Vintage Mania! It is brand new Traubisoda spring campaign, that you shouldn't miss because there are more than 15 great prizes waiting for you! And I am the part of the main prize! 😀 I partnered with Traubisoda to reward one of you with a professional photo session done by me! Apart from this, you can win many vouchers for one of the coolest vintage shops in Vienna! All you need to do is to create a picture in vintage mood, with Traubisoda on it, post on Instagram, tag Traubisoda and you are in! But keep reading to find out all the infos, as well as my vintage Vienna tips!
About Traubisoda Vintage Mania
Traubisoda, typical Austrian lemonade has been out there since 1930s! The drink itself is vintage, retro, which is why vintage spirit was chosen to be the theme of this campaign and photo contest. Traubisoda Vintage Mania invites you to be creative – to have fun creating pictures while enjoying this legendary soft drink made with grape juice and spring water coming from the Austrian Alps. Especially if you are new in Austria, don't miss trying Traubisoda! As I mentioned there will be 15 valuable prizes as a reward for your creative take on Traubisoda, so the chances to win are high!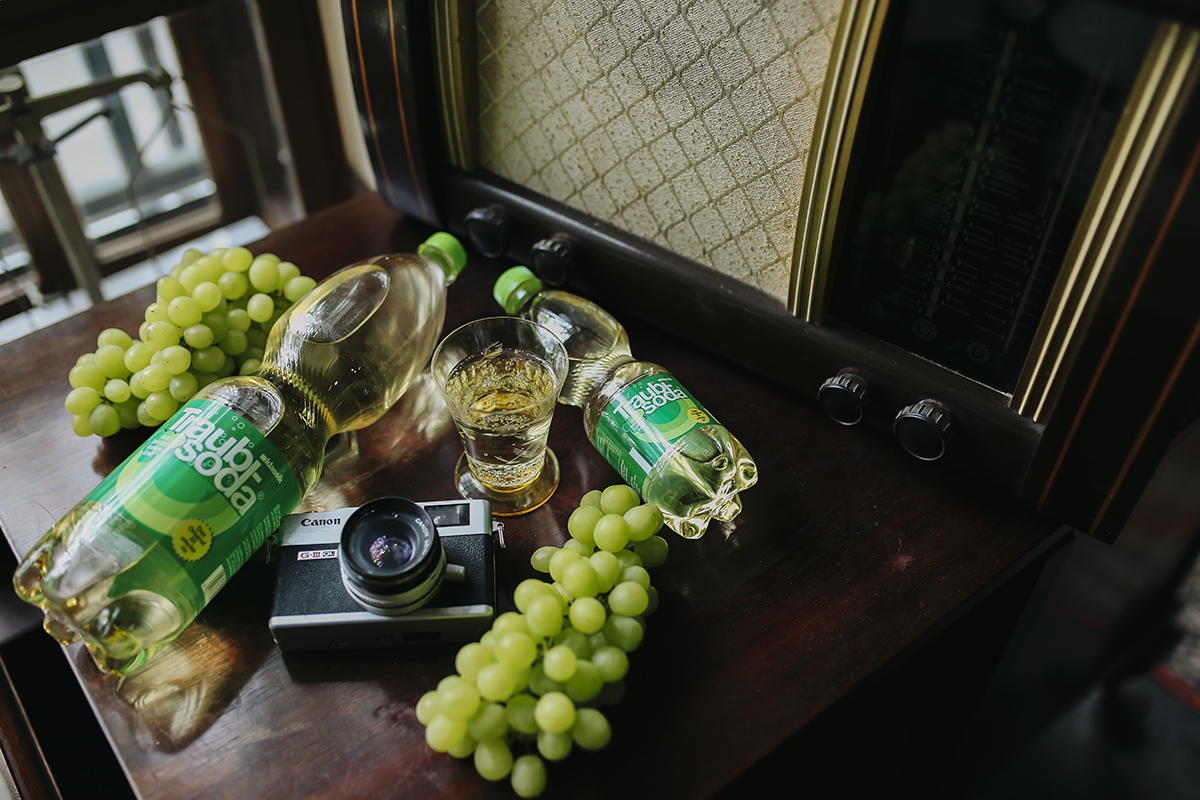 How to enroll – what you need to do?
1.Take a picture of you enjoying Traubisoda while wearing a vintage-inspired outfit and post it on Instagram!
Please don't be worried that you need some real vintage stuff. The idea for the vintage mood is here only as a theme, but no one will be choosing the best outfit here. It is not about any sort of fashion competition, but creativity, fun, of you showing your creative take on Traubisoda as a cult Austrian drink.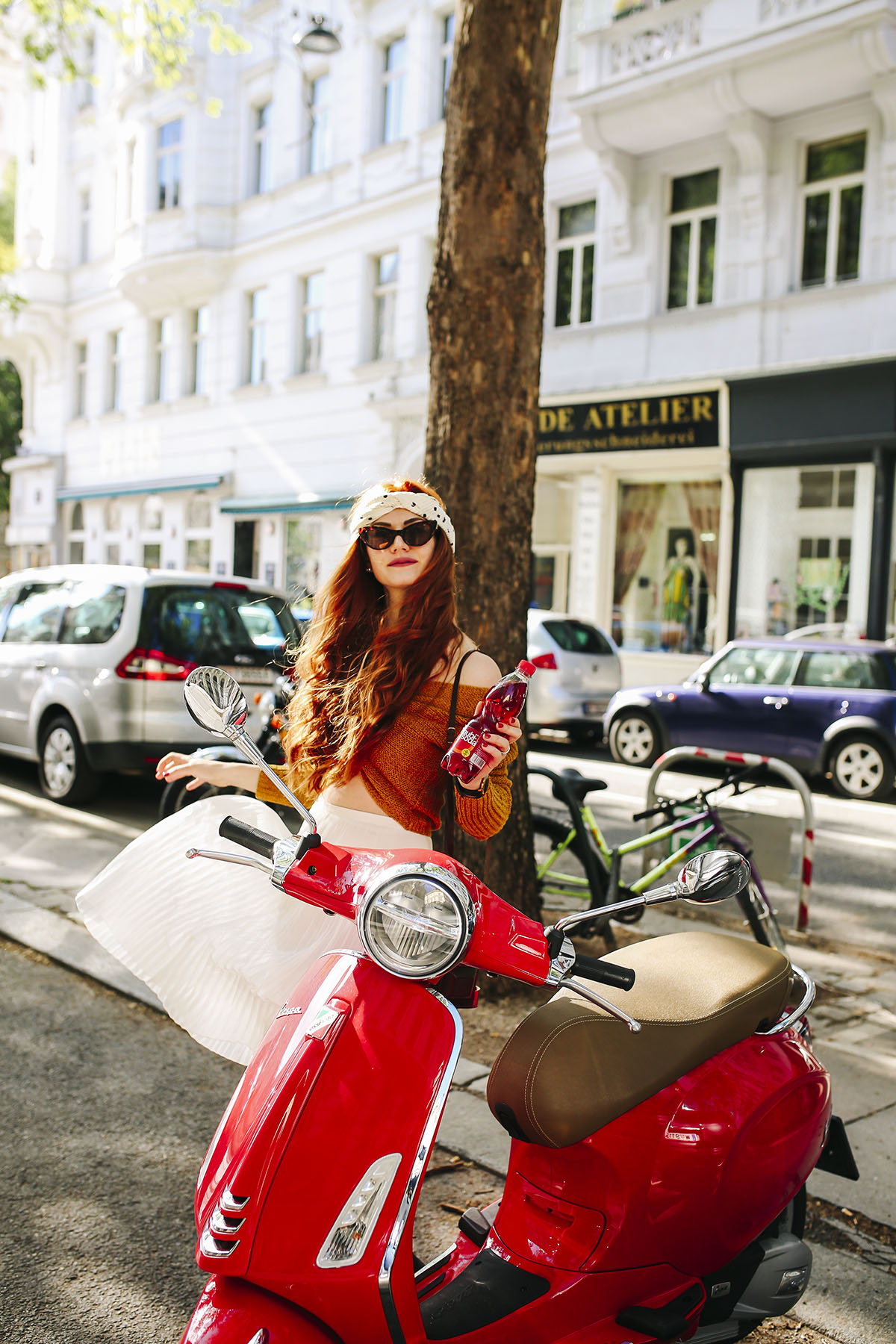 I have no doubt that anyone of you has a piece of clothes or little vintage inspired detail in your wardrobe! It can be a floral dress, a blazer you will borrow from your dad or grandpa, some head scarf, flared jeans, or a mini dress, polka dot print, a west… You can look for inspiration in the fashion of the 70s' and I bet you will discover that you already have something suitable among your stuff. It is also what I did! So the outfits I posted here is something I already had! I searched for some inspiration on Pinterest and Harpers Bazar when googling fashion of the 70's. 🙂 Not sure if this is really 70's but the vibe is there, don't you think? 😀
Or find your inspiration in Traubisoda colors – play with red or green!
2.The most important – don't miss integrating the Traubisoda bottle on your pictures, tagging @traubisoda Instagram account, as well as using #traubisodavintagemania! Tell me red or green, which Traubisoda flavor do you prefer? Mine is red. 🙂
And that is all! Make sure that your Instagram profile is open for public, because otherwise your contribution won't be visible to the Traubisoda team. The deadline for enrolling is 16th of June 2019! So be quick and participate!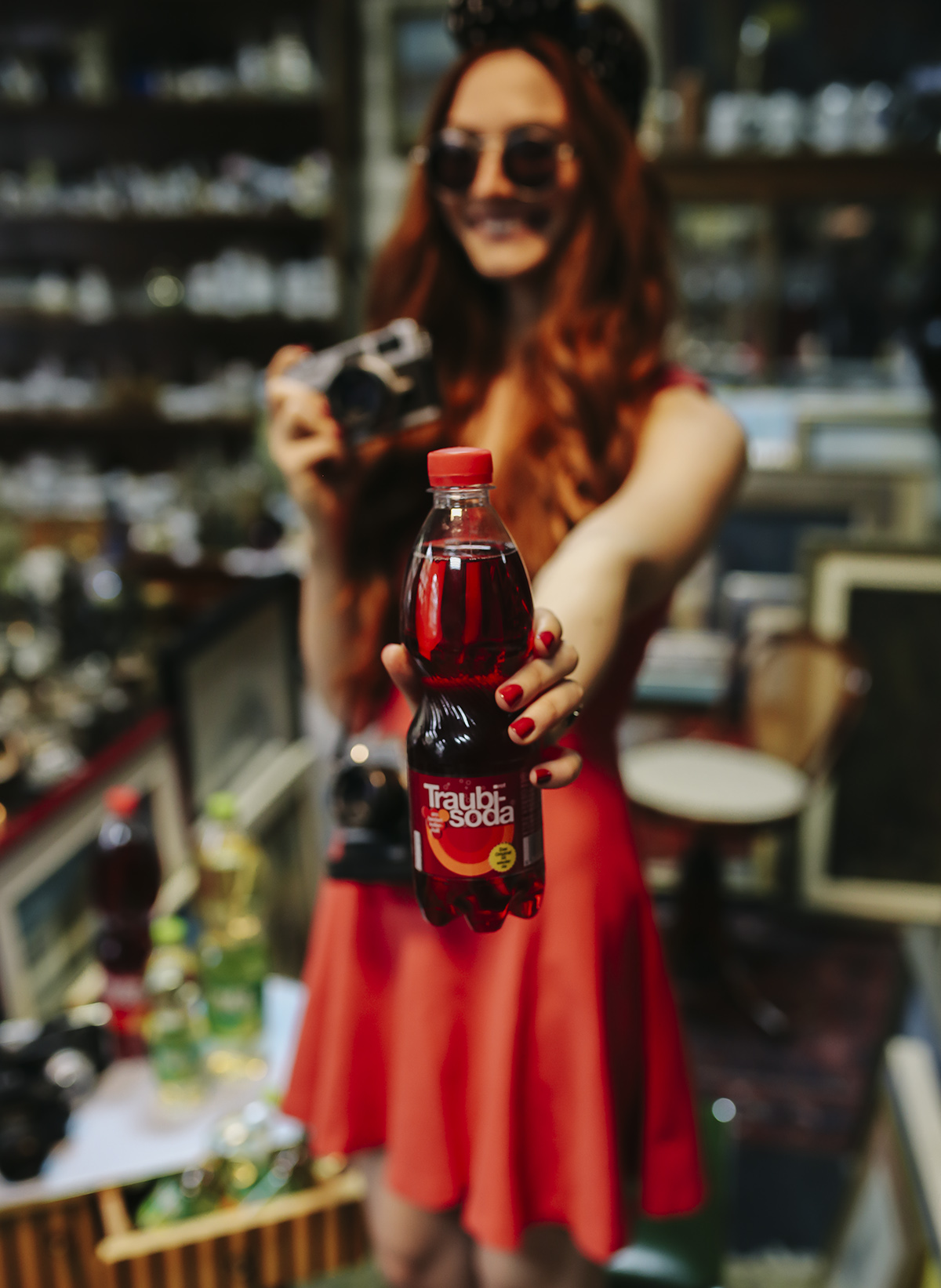 What is there for you to win?
All you faithful Vienna Insider readers already know that among other, I am also a professional photographer and have a huge passion for portraits. I don't have much time to post due to the lack of time and my regular job, but you can see a few of my works on my Instagram profile here, as well as Facebook page here. And all over the blog! 🙂
Some of you already had a photo session with me (hugs to you <3), and if you haven't now you have the chance to win one! When Traubisoda invited me to take part in their campaign, I decided to partner with them and give my contribution to this cool photo contest. I enjoy meeting our readers and would love to create a wonderful Vienna memory for you! And not only for you! If you win this shooting with me, you are welcome to bring someone dear to you! It can be your dearest friend or a few friends, your soulmate, family member, your kids, whoever you want to be part of this moment.
We will together choose some gorgeous Viennese location and experiment with several backgrounds. The session will last for up to one and a half hours, you will get all the pictures from me and can choose up to 20 images you like the most, for professional editing! And the rest dozen of pictures you will of course have for you to keep! Even without editing, you will see that they will be great. So this won't be some 15 minute action, I really want to take time to hang out with you and create you a timeless memory!
But the professional photo session is just a part of the first prize. In the vintage spirit of this campaign, waiting for you are 15 vouchers for one of the coolest vintage shops in Vienna – Uppers & Downers! Besides pre-loved, vintage clothes, you can also find new branded clothes in this shop. So no matter what your style is, I am sure you will find some gorgeous items at Uppers & Downers! Maybe that outfit can be perfect for our photo session! 🙂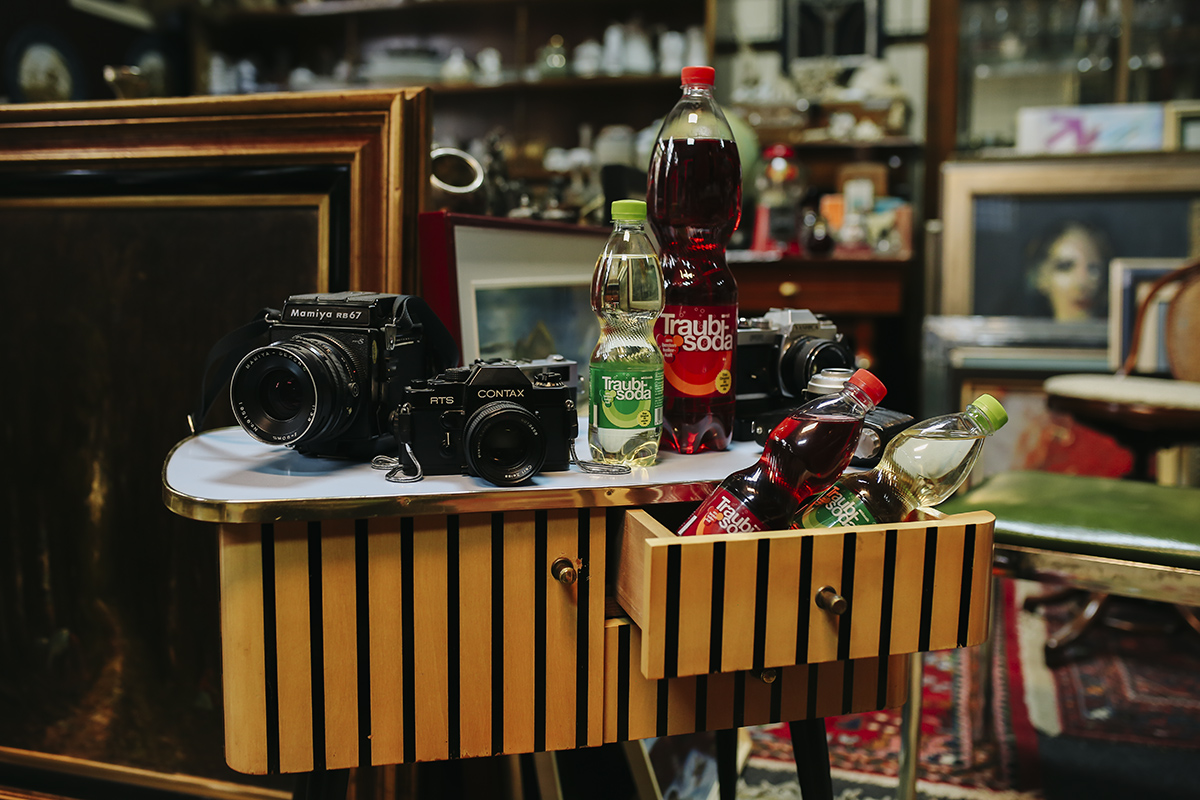 There will be 15 lucky winners, so taking part in Traubisoda Vintage Mania definitelly pays off! A small a recap of the prizes is here:
1st prize – 300 Euro vouchers for Uppers & Downers shop + professional photo session done by me
2nd prize – 200 Euro voucher for Uppers & Downers shop
3rd prize – 100 Euro voucher for Uppers & Downers shop
4th – 7th prize – 50 Euro voucher for Uppers & Downers shop
7th – 15th prize – 50 Euro voucher for Uppers & Downers shop
The jury will choose 15 most creative pictures and then use the random picker to pick the winners. You can read all the official information about Traubisoda Vintage Mania on their website here.
Traubisoda Vintage Mania Inspiration – Vintage Vienna locations 
And just in case, you find it helpful, I wanted to share with you a few tips for some locations in Vienna that have a vintage vibe and can serve as a great backdrop for your pictures! What about – the flea market at Naschmarkt, horses and carriage (that you will find all over town), iconic Franziskanerplatz and Kleines Cafe, Griechengasse in the 1st district, the bim – red tram that i used as well :),  Judenplatz, allies of the 7th district – especially around St.Ulrich's square, Viennese traditional cafes, cobbled streets and little shops, Brunnenmarkt, Yppenplatz… These are just some, but in a city like Vienna, pretty much anywhere you look you will find that picture perfect background!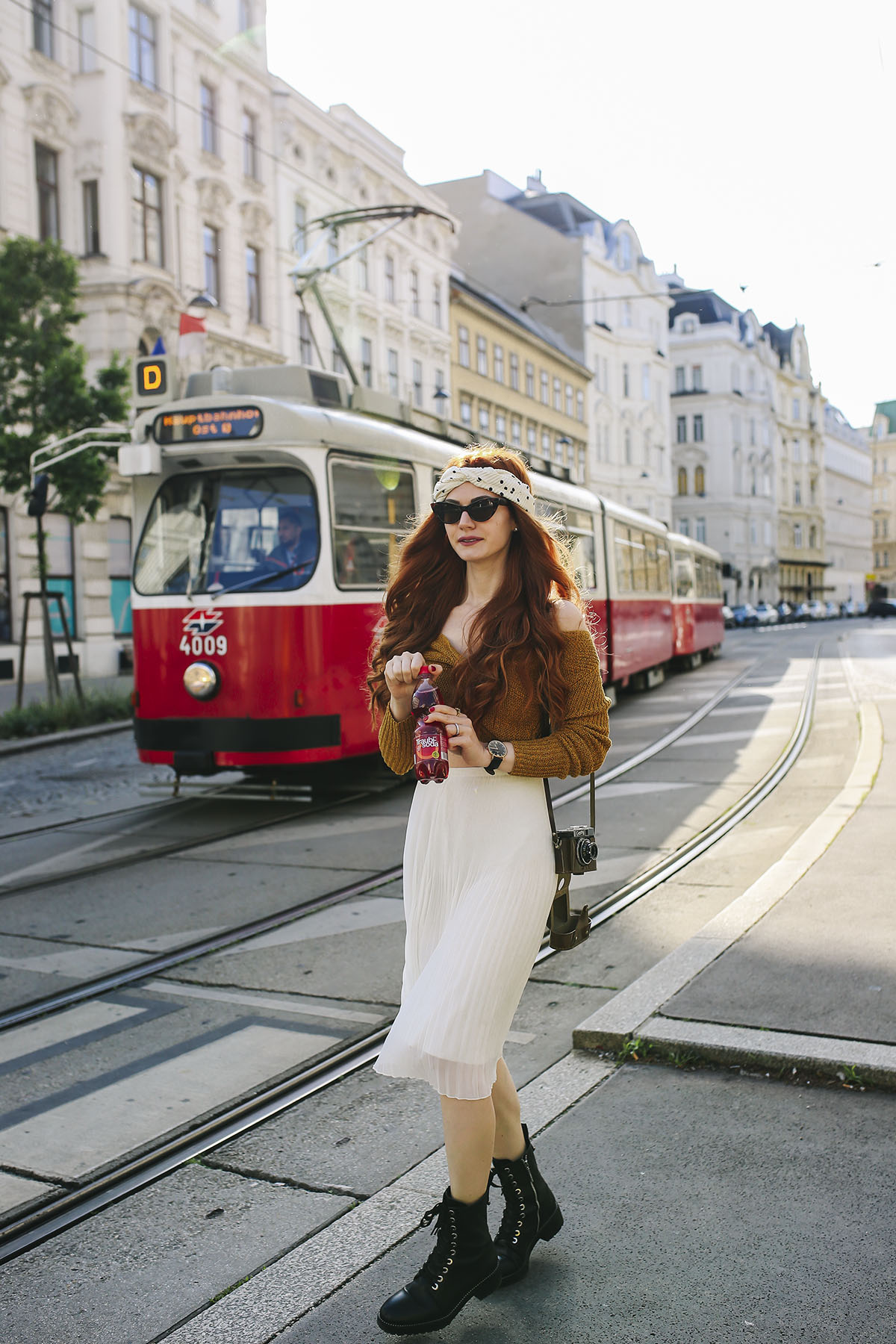 I wish you all good luck, have fun taking part in this photo challenge! I am super excited to see all of your photo entries! And of course can't wait to meet the person that will win the photo sesssion! And also I need to thank my bestie Anja for snapping these pictures of me! <3
Hugs,
Una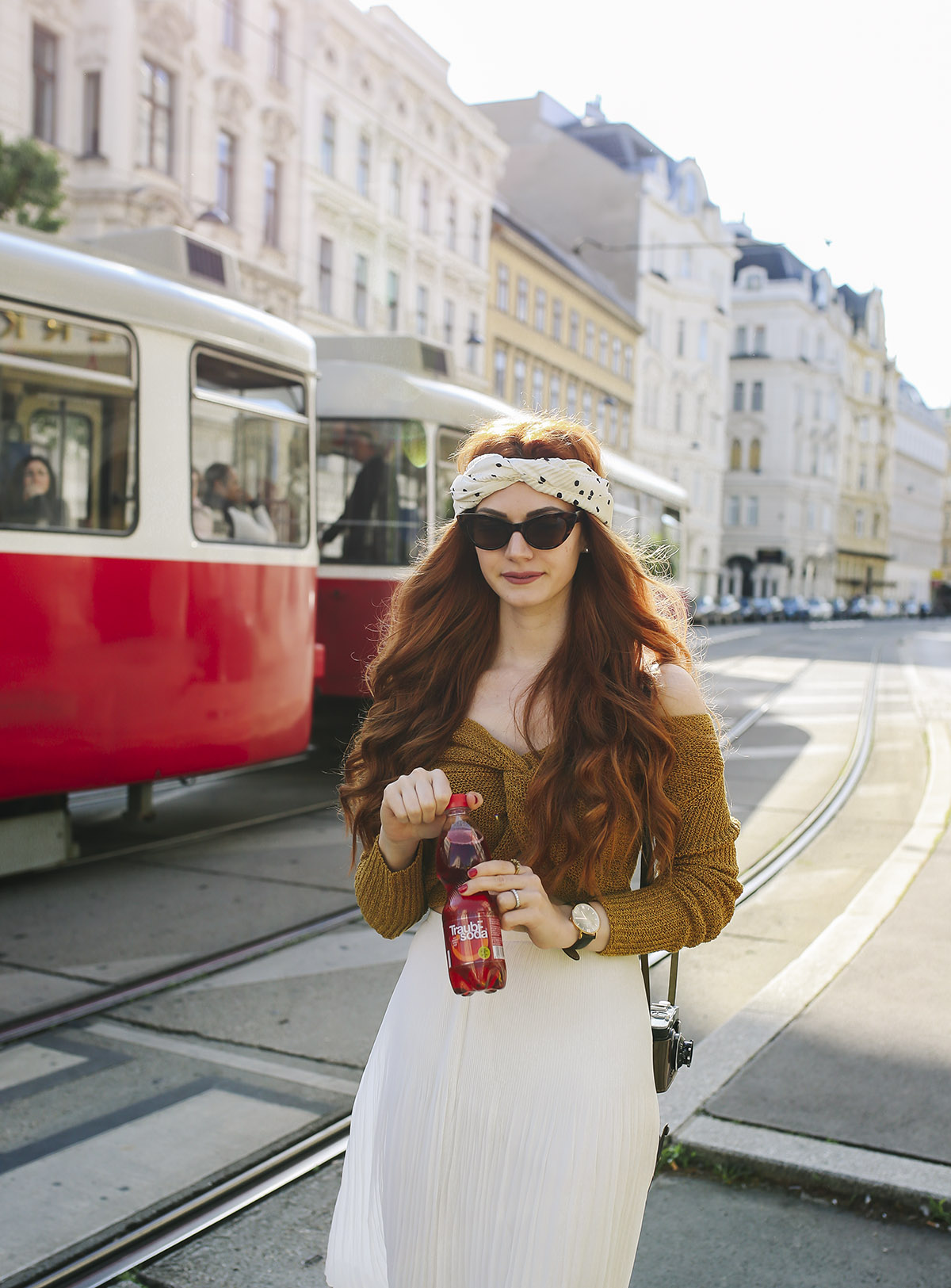 This post was done in collaboration with Traubisoda.