Today I wanted to share with you how you my fashion must-haves for a feminine and chic look, that you can wear from day to night. I got inspired for this post from an article "In Basics We Trust" that I came across on Advize, Zalando's new platform for fashion advice. I definitely agree with the five basic items that blogger Janine mentioned in her article, and started thinking what my fashion must-haves are.
Whereas in my everyday life I usually reach for jeans and sneakers, suitable for running around university, whenever it is a uni free day, there I am, in a dressy outfit, walking around Vienna. No matter if there is a business meeting, lunch with my friends, a little bit or shopping, cocktail night or a party at the end of the day, in an outfit like this, I am ready for almost any occasion a long day can bring. 🙂

So here are my fashion must-haves for a feminine and dressy look, suitable to wear from day to night:
Dressy top is something you always need, since it can make any boring outfit stand out. At the same time it is light and perfect for warmer days, as well as a party in a club.
I love distressed skinny jeans because they look cool, both when worn with sneakers or high heels. Besides adding a casual vibe, I believe that they also make you feel and look younger. Boyfriend jeans would work just as good, in case you prefer something less form fitting.
High heels give any combination that chic touch. Also they affect your posture, making you keep your back straight. However finding a pair of comfortable heels is definitely a challenge! I would advise you to really never, ever buy something that is too tight which will cause blisters, and if you are planning to wear heels all day long, pick some with a heel not higher than 5-6 cm. Ideally they should be 4 cm tall.
Every girl should have a nice blazer in a color which matches your complexion and hair color. I would say that girls with brown or black hair have it easier when it comes to colors, because you can match almost any shade to dark hair. I love yellow, since it brightens up any outfit, and makes my skin glow. Also it is perfect for spring and summer, and looks great with blue jeans. If you are ginger or blond, I would advise you to go for some colder colors, such as blue, pink, purple or green.
As for the (fake) leather jacket, well I must confess that I have a small collection of them… Investing in a cool black genuine leather jacket definitively makes sense, but when it comes to unusual colors, I mostly reach for good looking fake leather (like in this case), because those I know I won't wear as often as the ones in basic colors. Leather jackets will compliment almost anyone's style, whether you prefer something rocky, dressy or casual.
Large bag in some neutral color. Bags are my absolute passion and in a perfect world, you should have a bag in any color and size. But back in real life, a bigger bag in grey, black or beige, where you can fit almost everything, is something you should always have on hand, since you can match it to any outfit.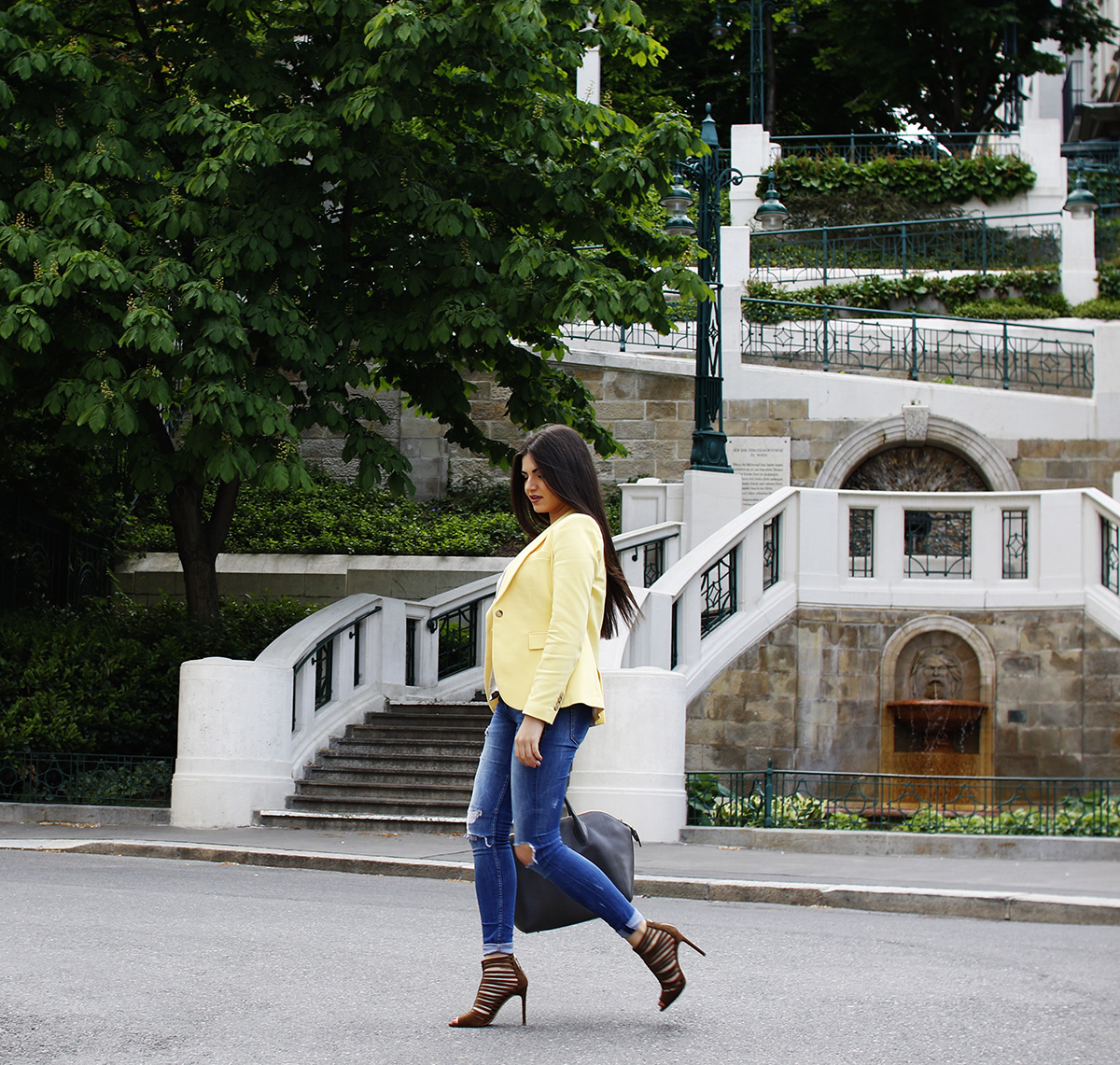 So when I know that there is a long day ahead, I simply put on the jacket in the morning to keep it casual, but bring the blazer along. I keep it in my car until the time has come to go to some more elegant or formal occasion and that is it! As for accessories, when I'm in a hurry, I always tend to grab some shiny bracelets (like the ones available at Rastaclat and similar ones) to spice up the outfit. In case I know I will be running late or will need to walk for a long time, I put sneakers on, but bring the heels with me too. So if you are not comfortable walking around in heels, you can simply change. And voila, there you have an outfit in which you will look stylish all day long and ready to change for different occasions quickly and on the go. Of course, you can also make everything even more simple by choosing either the jacket or the blazer.
What are your fashion must-haves? Hope you will like mine and that the post will inspire you to create your own outfits!
xoxo,
Isidora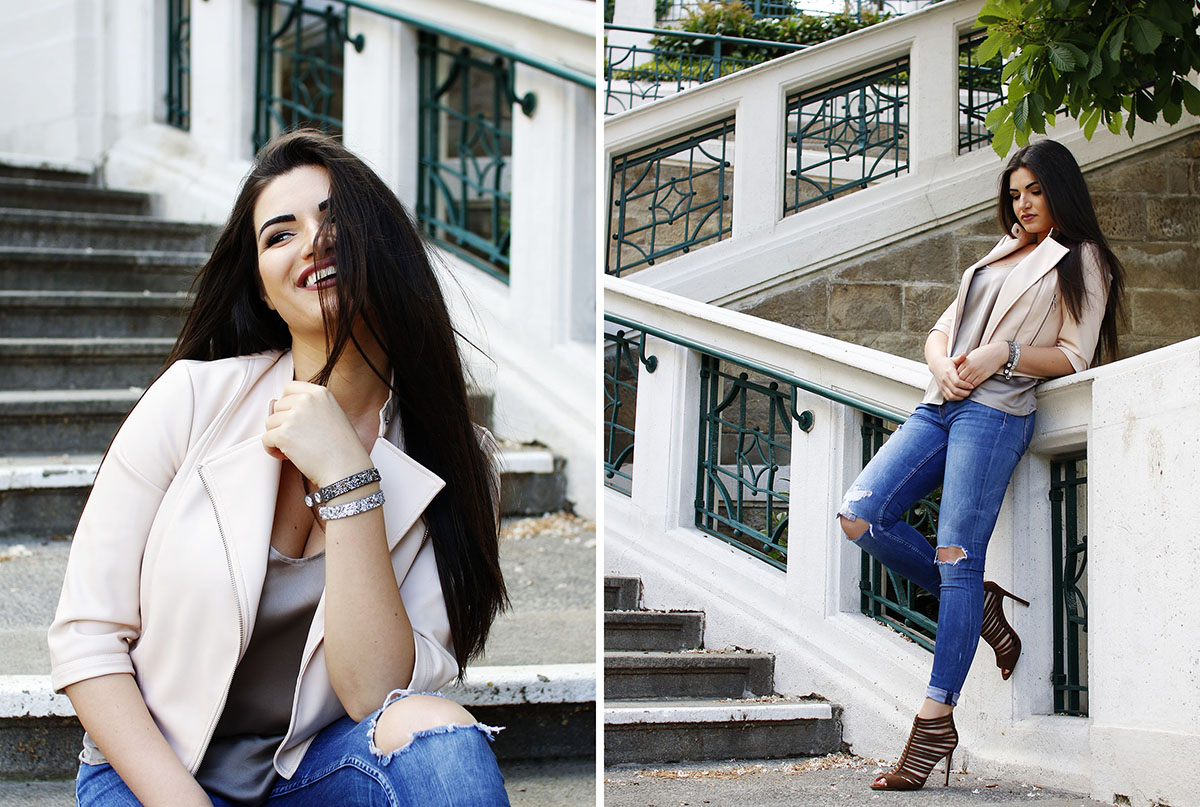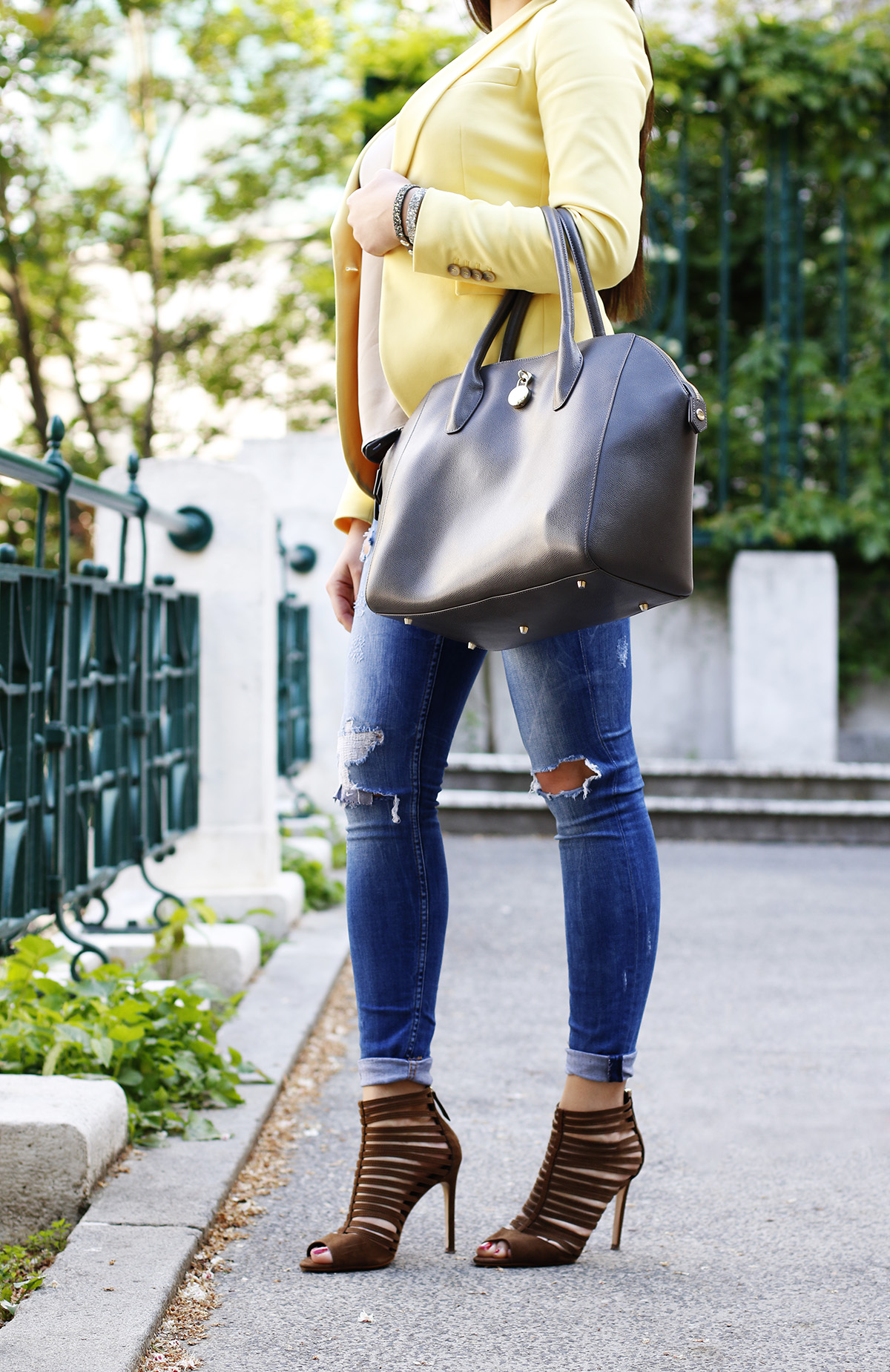 Outfit: Everything Zara (yes, I am one of their biggest fans :)), except from the Bag (Furla) and bracelets (Swarovski)