Did you know that Vienna is surrounded with around 700 hectares of vineyards? It is from up there, the hills surrounding the city, where you can enjoy the breathtaking view over entire Vienna and beyond, hike, have a picnic. But how to get to the Viennese vineyards and when is the best place to visit? All about that is finally on our Vienna Insider blog! 🙂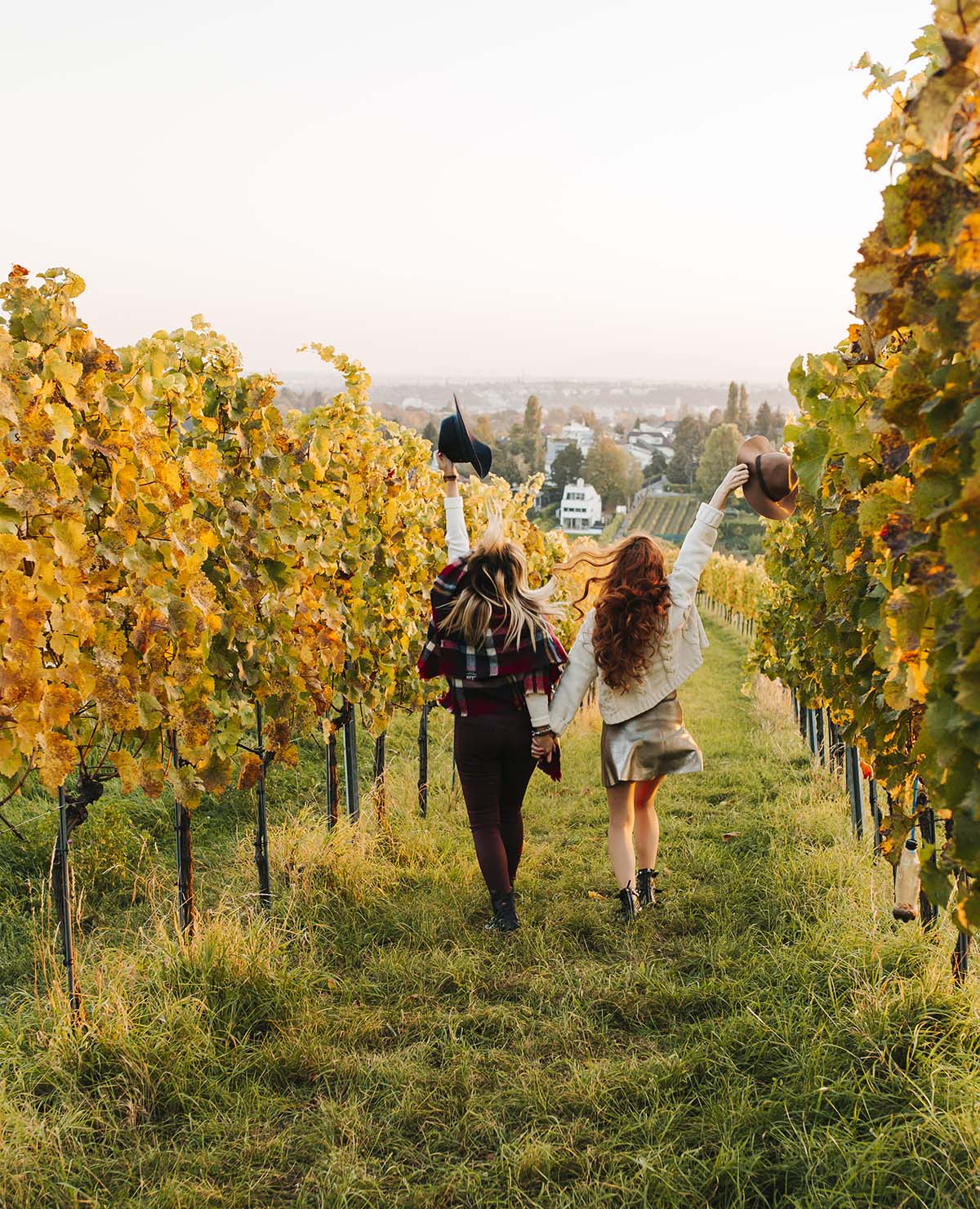 Even though any time of the year seen from Nussberg or Kahlenberg has its charm, for me the best time to visit the vineyards is autumn. The golden vineyards endlessly stretching in front of your eyes and the Vienna view, especially if you end up there at sunset time is a priceless moment that you will remember for good. It was exactly this moment of autumnal glory, that I wanted to capture for a project I did together with Traubisoda, well known Austrian soft drink.

This classic Austrian soft drink has been out there since 1950s. You can inform yourself about its history here. Traubisoda is made of fresh grape juice and spring water. I love that it is bubbly, fruity and tastes so refreshing! It comes in two sorts, the classic being made of white grapes, and my personal favorite – red Traubisoda, made of Isabella red grape sort that comes from Styria. You can get Traubisoda in pretty much any supermarket in Vienna (and whole Austria). Especially if you are a tourist or a foreigner in Vienna and like trying something authentic Austrian, add Traubisoda to your list!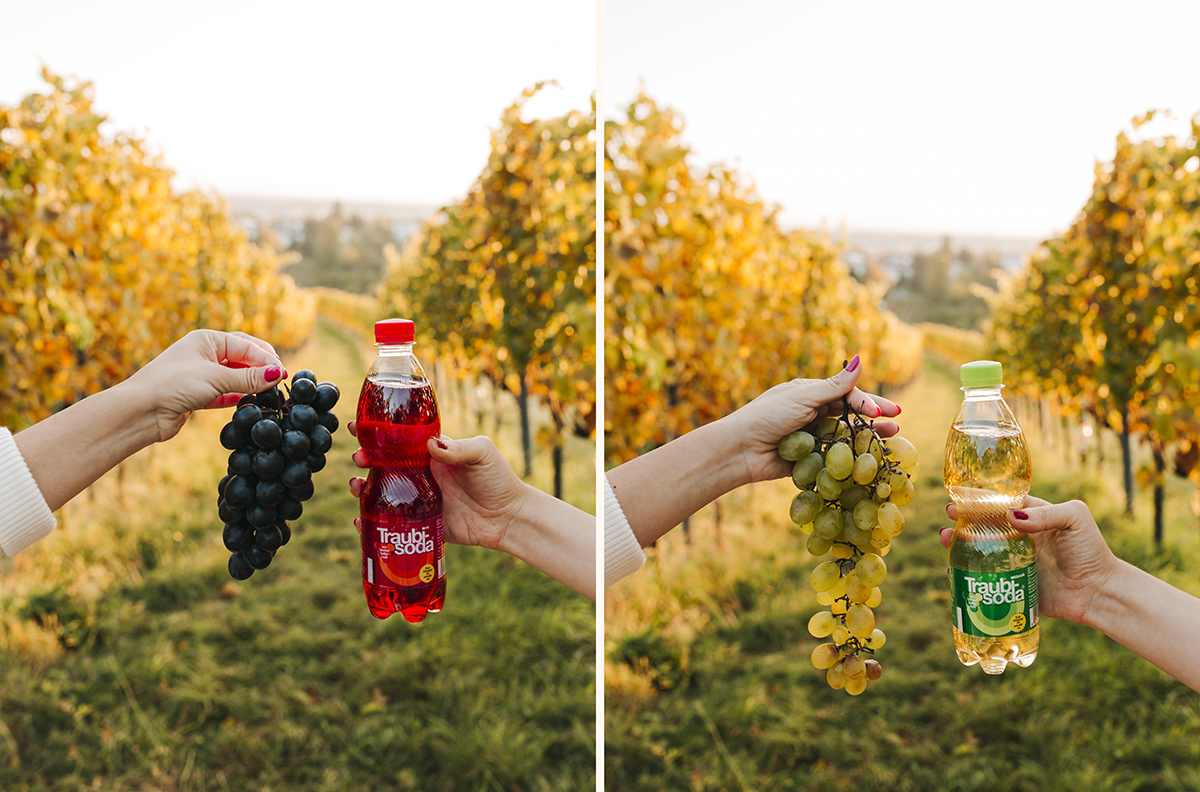 If you are Austrian, try asking your parents or grandparents, if they have heard of this cult drink! I bet many of them will tell you that this was the drink of their youth! I checked that with some of our older Austrian friends already. And the stories coming after my questions were pure nostalgia! So much fun to listen and be impressed how certain flavors take us on a memory lane. So one day in 20 years, when I am old and wrinkled, I can just sip Traubisoda, look at these pictures, remember my youth and all the craziness behind this shooting I did with my dear friends Anja and Senka.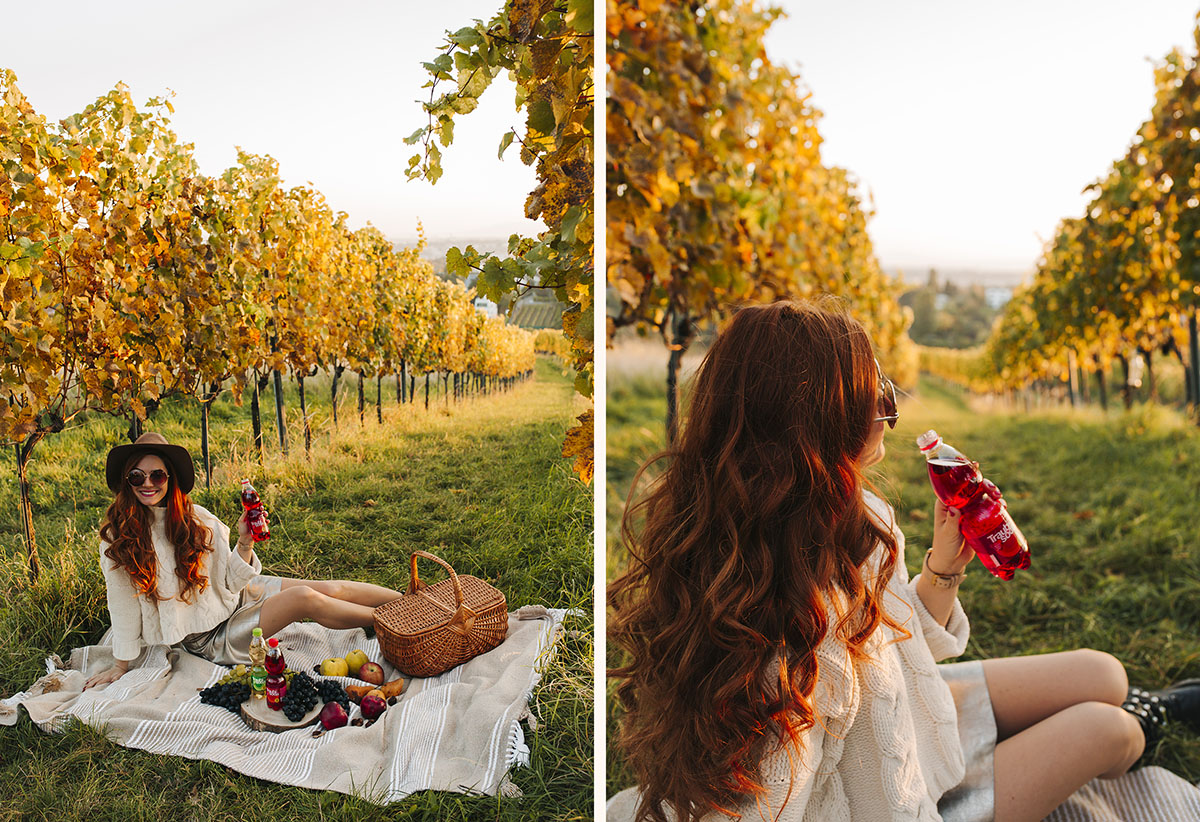 It took us forever to find a suitable shooting spot because I had a very particular scene in mind – need the sun to come from the back of the vineyards and a convenient place to park, because with the amount of picnic load we had with us, no hiking could come in question. You know those days when everything goes wrong? It was that day. Our plan was to go early, take a few shots and then just sit there for hours, snack on autumn fruits, drink Traubisoda. Carpe diem kind of afternoon. But we ended up driving around for almost two hours (I admit it was my fault, as a driver, I should have prepared myself better). The sun was almost out, and I was about to give up and do it the next day, but then Anja took over and saved the day. Her intuition lead us to this location at Nussberg, that was exactly what I invisioned for this day. What can I say, I am so thankful to have a bestie and Vienna Insider team member like my Anja! <3 She also snapped all the pictures of me that you see here and I say her a huge thanks for that! <3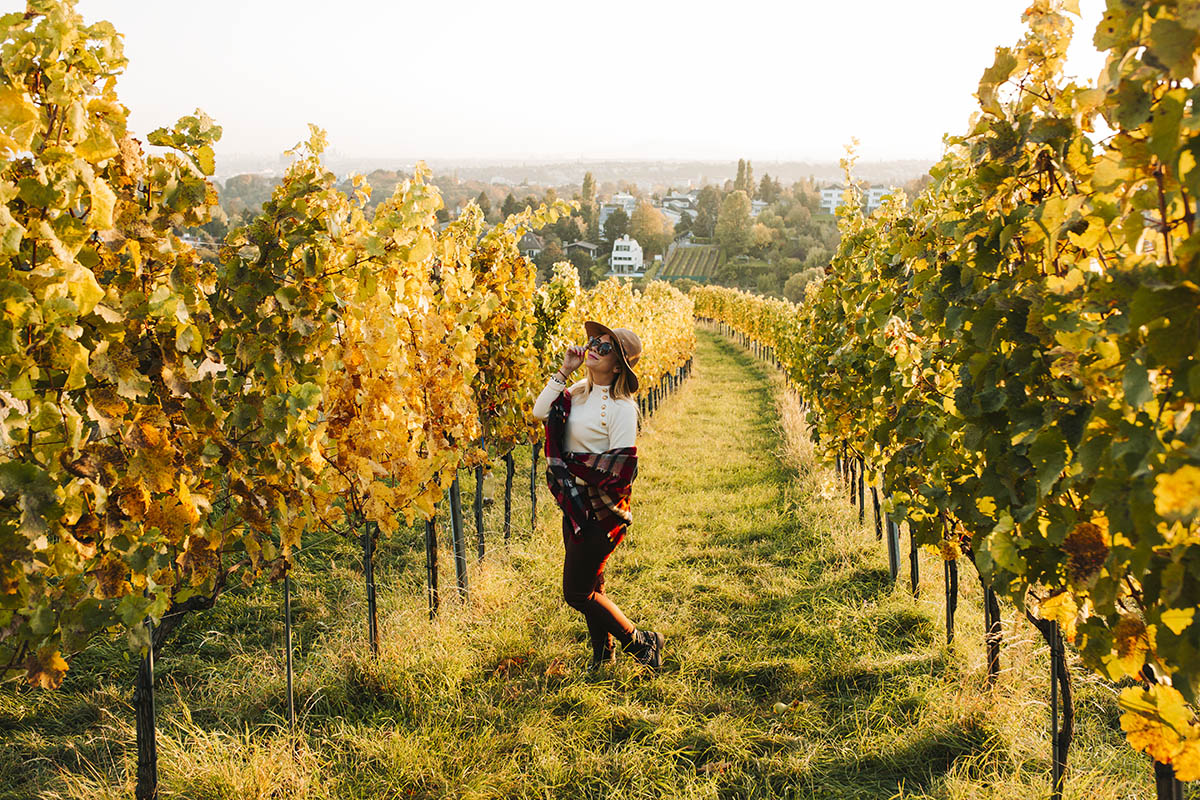 Anja <3
HOW TO GET TO THE VINEYARDS? UP TO NUSSBERG AND KAHLENBERG
So now the practical information! In case you are not going up by car, you should simply take the bus 38A. It is a public line that takes you all the way up to Kahlenberg. If you want to go to the highest point, drive to the last stop and just follow the crowd. In like 10 minutes from the bust stop you will find yourself in front of the most gorgeous Vienna view. If the weather is nice, you will even be able to spot Schneeberg from there! It is where the Viennese spring water comes from.
Nussberg can also be reached with the same bus, you just need to take off earlier. But then prepare yourself for a bit longer hike.
By car you should go up Kahlenbergstrasse and during your drive, you will see many vineyards, even some with convenient parking opportunities from where you can start the hike.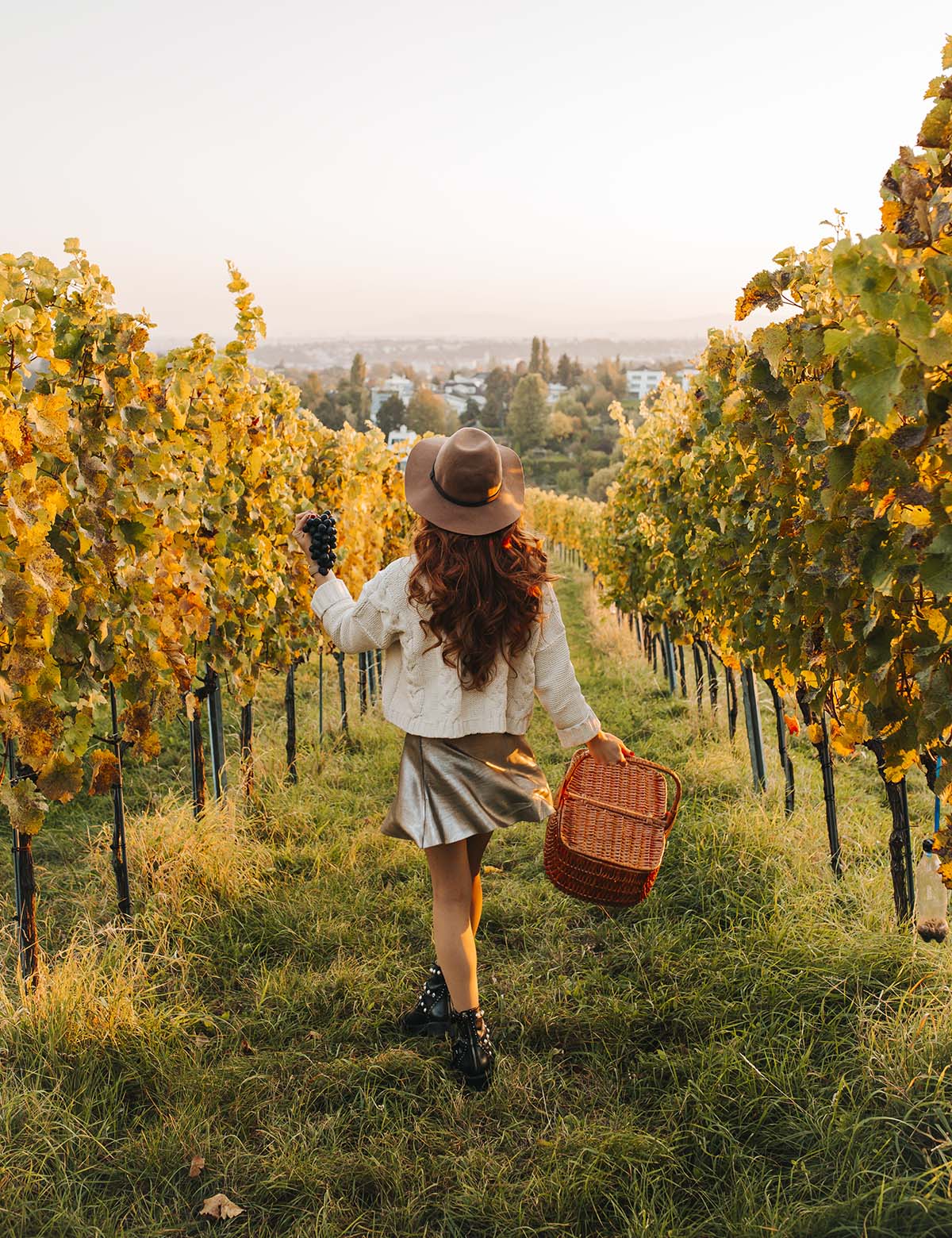 If you are more into panoramic sightseeing of the vineyards and the city in general, I advise you to take the tram 41 and drive to the last stop called Pötzleinsdorf. From the stop Schottentor it will take you about 25 minutes to drive to the last stop and the drive itself is gorgeous, because you get to see the beautiful 18th district, that is residential and very green.
Hope you enjoyed this post!
xoxo,
Una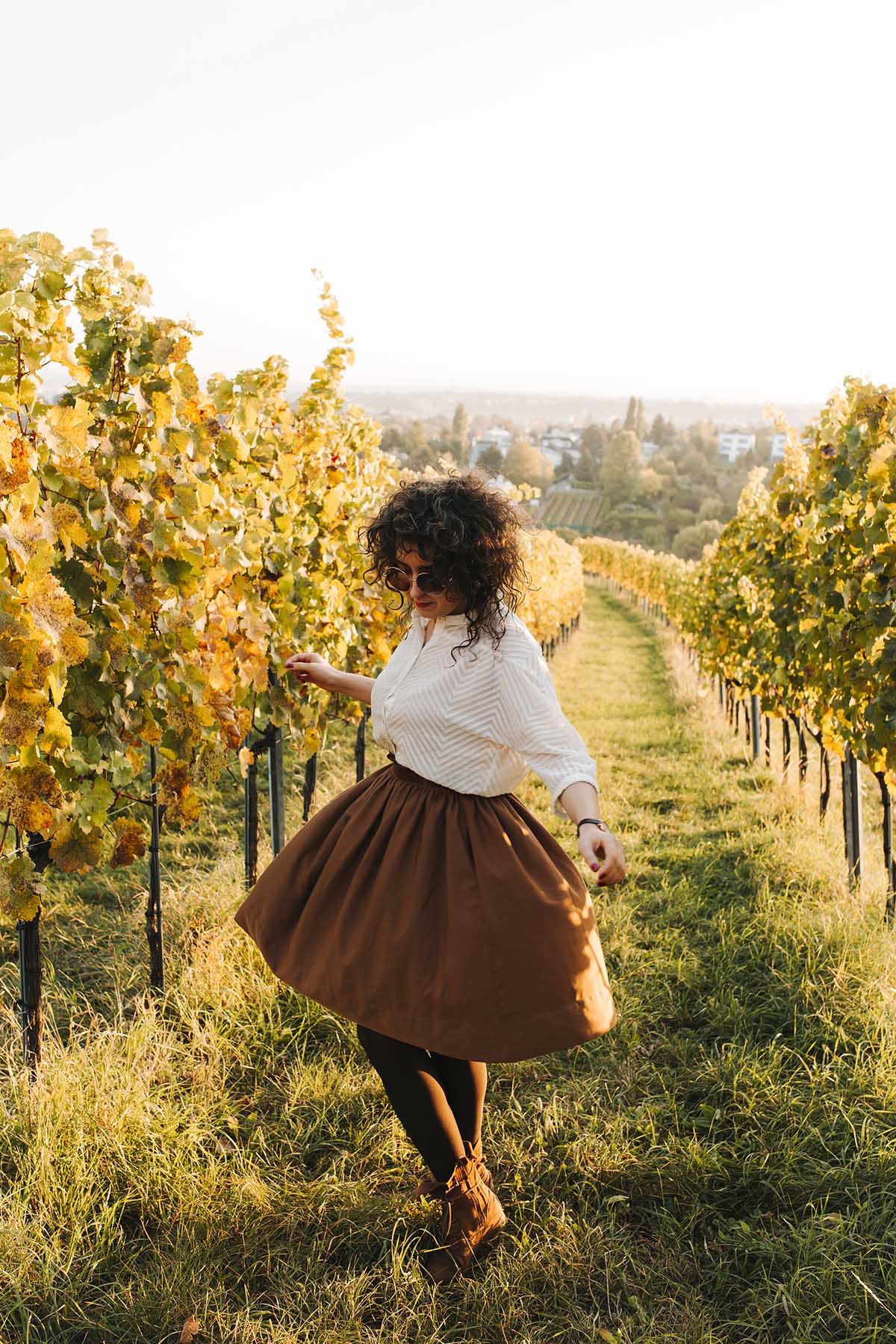 Senka in her perfect, autumnal outfit <3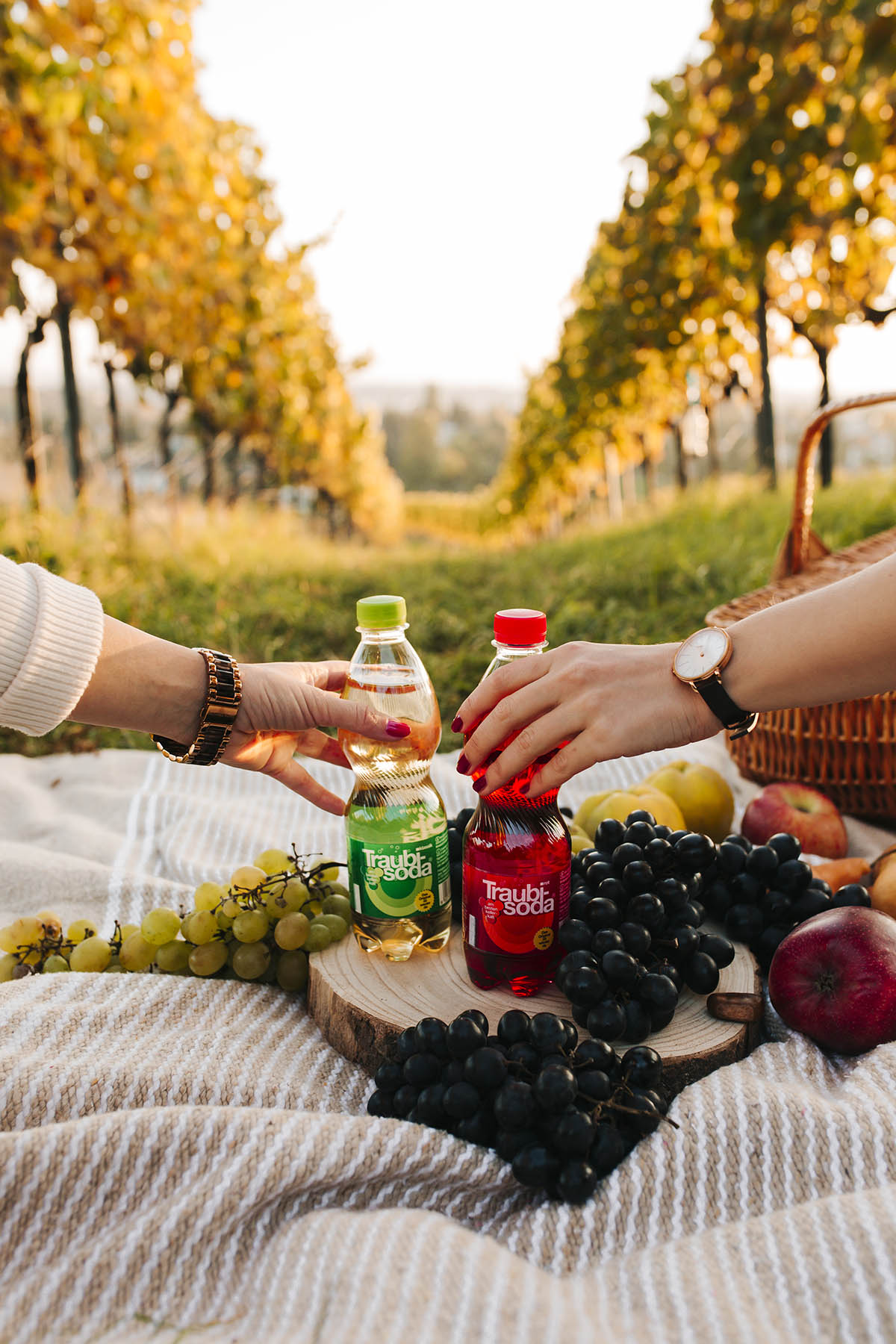 This post was done in a friendly collaboration with Traubisoda.