Apple strudel is a Viennese classic, perfect to enjoy during the colder seasons. It is light and crispy, with delicious apple-cinnamon filling.
Have you ever wondered how it's made? Last week we saw the apple strudel making process process at the Apple Strudel Show held in the Imperial Bakery at Schoenbrunn Palace. This event takes place every hour, and includes the presentation of the making process, as well as the sampling. The bakery is also a store, where you can purchase diverse products, mostly made of apples. There is even a ready-made canned traditional apple strudel filling on sale!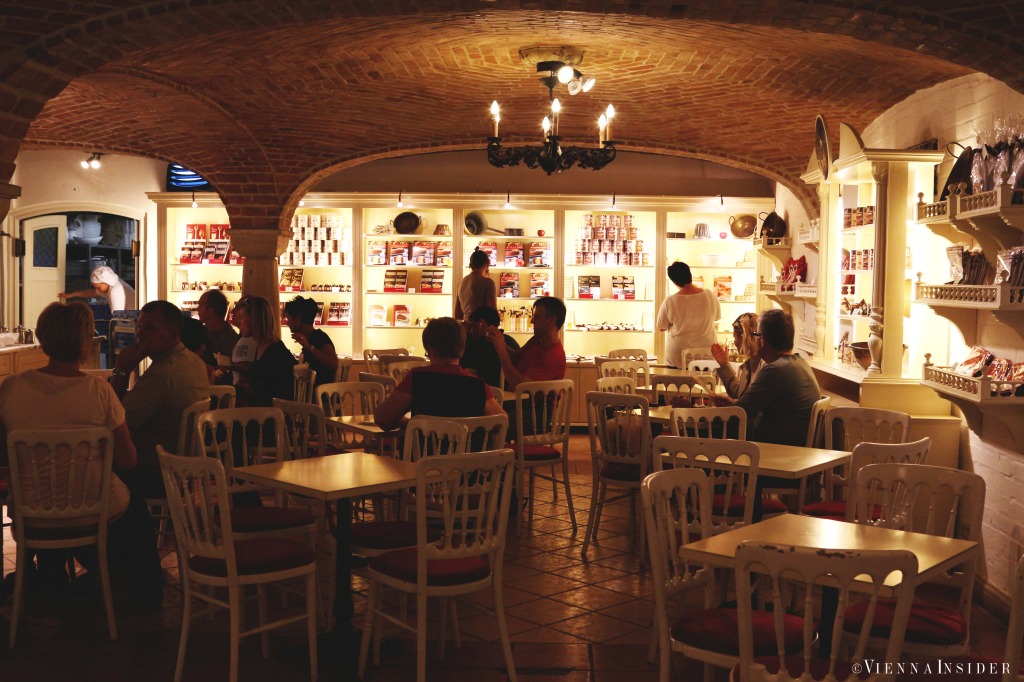 We have also got the brochure with the original strudel recipe, which we decided to share with you below. Please let us know if you try it out! 🙂
Original Viennese Applestrudel Recipe [source: Cafe Residenz website]

Strudel dough:
250g plain flour, 2g salt, 50g eggs, 100g lukewarm water, 20g oil.
Knead all the ingredients into a soft dough until the dough no longer sticks to the hands or table surface. Form the dough into a ball, brush with oil and let sit for 20-30 minutes. Then roll the dough out into a rectangular square on a floured cloth. Flatten the dough out very thinly by hand and brush with melted butter.
Buttered breadcrumbs:
100g breadcrumbs, 50g butter.
Melt the butter in a heated pan, add the breadcrumbs and cook until golden brown.
Cinnamon suggar:
140g fine crystal sugar, 10g cinnamon.
Mix the dry ingredients.
Filling:
150g breadcrumbs, 150g cinnamon sugar, 170g raisins, 10g lemon juice, 1kg peeled-cored-sliced apples, one shot of rum.
Mix ingredients thoroughly.
Cooking:
Spread the filling on the flattened-out dough rectangle, trim any uncovered edges of the dough, using the cloth as support, carefully roll up the dough. Cook on a buttered baking tray at 190 degrees centigrade until golden brown.
Tipp:
Brush the strudel with butter after removing from the oven.


The Apple Strudel Show is the perfect way to end your visit of Schoenbrunn Palace! After the long walking tour, have a seat and treat yourself with a piece of Apple strudel, while watching the process of making this delicacy.
Wishing you a nice weekend!
xoxo,
Una and Isi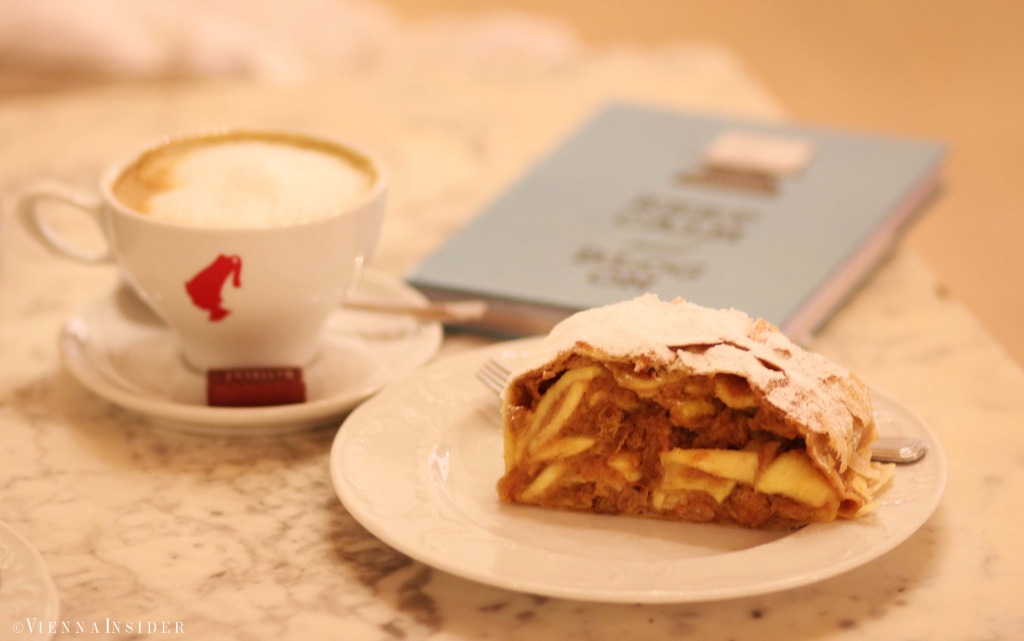 Štrudla sa jabukama je klasičan i veoma popularan desert u Beču. Topla štrudla, i ukusi jabuka, cimeta i oraha asociraju na zimu, tako da je sada pravo vreme za uživanje u ovom specijalitetu. Ponekad se služi sa sosom od vanile, mada je tradicionalna varijanta samo štrudla, sa malo šlaga pored i uz obaveznu šolju kafe. 
Ukoliko ste ljubitelji štrudle sa jabukama, i pitate se kako se pravi, obavezno posetite Kraljevsku pekaru u Šenbrunu gde možete da vidite ceo proces stvaranja ove poslastice. Pekara se nalazi u podrumu kafea Residenz, u prijatnom, autentičnom ambijentu.

Strudelshow se održava na svaki pun sat, a karte se kupuju u samoj pekari (kada udjete kroz glavnu kapiju palate, skrenite levo i ugledaćete ovaj kafe). Pored prezentacije, imaćete priliku da probate pravu bečku štrudlu od jabuka! Ako izaberete ulaznicu od oko 5 evra, dobićete manje parče štrudle na kraju prezentacije, a ako imate veći apetit možete da izaberete i skuplju varijantu od oko 9-10 evra, u koju je uključeno celo parče štrudle i kafa ili čaj po izboru (sve će vam u tom slučaju biti servirano unapred, tako da možete da jedete i gledate show istovremeno :)). Pekara je ujedno i prodavnica u kojoj možete kupiti razne proizvode od jabuka, kao i spremno punjenje za štrudlu u konzervama.
Posle prezentacije smo dobile po flajere sa originalnim receptom za štrudlu od jabuka, koji vam prenosimo u potpunosti (preuzet sa sajta). Javite nam ukoliko isprobate recept! 🙂
Tradicionalna Bečka Štrudla sa Jabukama
Testo
250 g brašna 2 g soli, 50g jaja, 100g mlake vode, 20g ulja.
Sjedinite ove sastojke i umesite testo. Gotovo je kada se ono lako odvaja od ruku i posude u kojoj mesite. Napravite lopticu od testa i položite je u činijicu sa uljem na jedno 30ak minuta. Ono ce učiniti da se testo kasnije ne lepi i da bude elastičnije. Razvaljajte testo u pravougaonik, preko jedne veće krpe ili čistog stoljnjaka. Rukama razvucite testo, da bude što tanje, toliko da možete novine kroz njega da čitate. Premažite testo istopljenim puterom.
Mrvice sa puterom
100g prezle, 50g putera
Istopite puter u tiganju i dodajte prezle. Przite dok one ne postanu zlatne boje.
Šećer sa cimetom
140g finog šećera, 10g cimeta
Pomešajte ova dva sastojka.
Pečenje
Rasporedite fil na testo (kao na slici iznad), udaljeno oko 10-15 cm od kraja pravougaonika. Uz pomoć krpe, pažljivo urolajte štrudlu. Pecite na podmazanom plehu sa puterom, na 190 stepeni dok korica ne postane zlatasta. Testo je vrlo tanko, tako da češće proveravajte kako napreduje pečenje, da vam štrudla ne bi zagorela.
Savet
Premažite štrudlu puterom, pošto je izvadite iz rerne.
Predlažemo na kraju duge šetnje kroz palatu Šenbrun ili nakon obilaska vrtova, predahnete uz parče štrudle i kaficu, i zabavite se gledajući kako se ova poslastica sprema. Ko zna, možda će vas to podstaći da isprobate recept i kod kuće! 🙂
Uživajte u vikendu!
xoxo,
Una i Isi