Breakfast, as probably most important meal of the day, should be taken seriously. 🙂 It should be balanced, healthy, homemade, delicious, in ideal case organic. Exactly like breakfast at Joseph Bistro in the 3rd district. Actually Joseph is four goodnesses in one: it is a bakery (where you will find all sorts of bread and delicious pastries), a store with organic products from certified farms around Austria (a variety of dairies, jams, sauces, honey, juices and many sorts of gourmet food), a patisserie, and a bistro where you can have a lovely breakfast or lunch. On top of this everything is high quality, homemade and organic!
We had a baked pumpkin omelette (with dried tomatoes and cheese) and Landstrasser Breakfast (soft boiled egg, vegetables, cottage cheese with pesto, honey and the most amazing apricot jam, butter and a selection of bread), and for drinks a cappuccino (which was excellent by the way) and a pomegranate-hibiscus-fig tea-lemonade. The breakfast was perfect and we will definitely come again, as there is a lot more deliciousness to try!
Thanx a lot for stopping by!
xoxo,
Una and Isi
Joseph Bistro
Address: Landstraßer Hauptstraße 4, 1030 Vienna
How to get there: U4 or U3 Landstrasse – Wien Mitte
Contact: Website, Facebook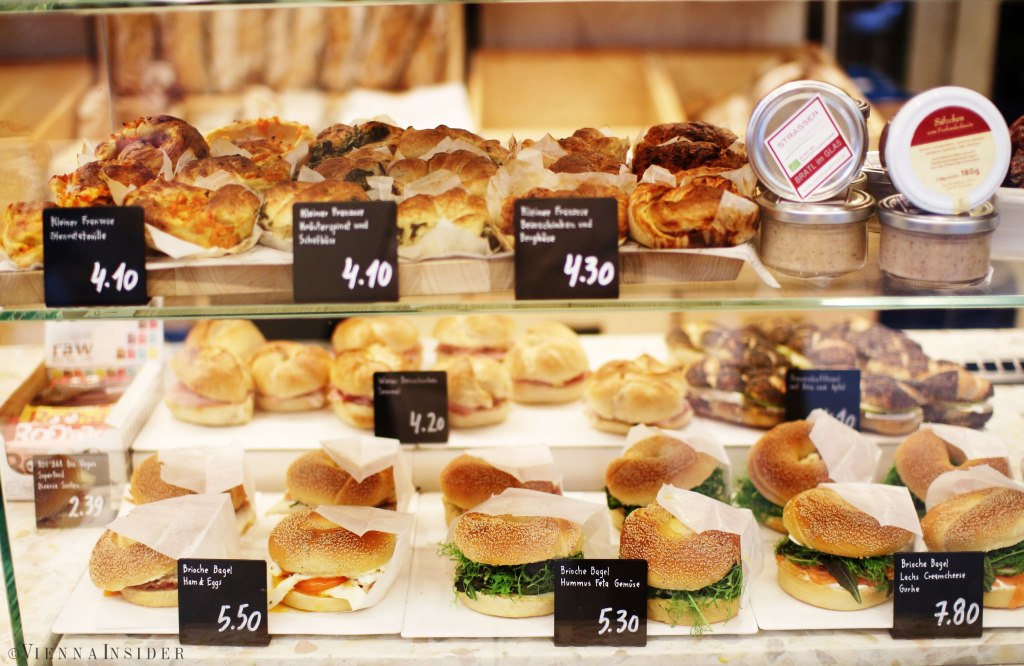 Ako spadate među one osobe kojima je doručak omiljeni obrok i volite da pojedete nešto domaće, zdravo i spremljeno od pažljivo odabranih proizvoda, onda je Joseph Bistro u trećem becirku pravo mesto za vas. Joseph Bistro je mnogo više od običnog kafea – ovo mesto je pekara, piljarnica, poslastičarnica i kafe-restoran u jednom. Ovde možete kupiti razne vrste hleba i peciva, zatim izvrsne sendviče, kolače, ali i mlečne proizvode (mleko, puter, sireve, jogurt), zimnicu poput džemova, namaza, meda i mnogih drugih proizvoda. Ono što je svakako najbitnije je kvalitet i poreklo namirnica koje stižu iz cele Austrije, sa isključivo organskih farmi. Baš svaki sastojak korišćen u pripremi proizvoda i jela u Joseph Bistrou je organskog porekla, što se ogleda i u ukusu proizvoda, posebno kada su u pitanju jaja i drugi mlečni proizvodi.
Mi smo probale pečeni omlet (dakle iz rerne, sa bundevom, sušenim paradajzom i sirom) i Landstrasser doručak (koji sadrži meko kuvano jaje, sveže povrće, beli sir sa pestom, zatim fantastičan domaći džem od kajsije, med i puter, uz nekoliko vrsti hleba i peciva). Što se tiče pića probale smo kapućino koji je bio stvarno izuzetan kao i neobičan čaj od nara, hibiskusa i smokve. Sve je bilo zaista odlično, tako da nameravamo da se vratimo 🙂
Ako ste već posetili Joseph Bistro, podelite sa nama šta vam se najviše dopalo. A ako pak to učinite nakon ovog posta, javite nam vaše utiske! 🙂
Hvala na poseti!
xoxo,
Una i Isi
Joseph Bistro
Adresa: Landstraßer Hauptstraße 4, 1030 Beč
Kako da stignete: U4 or U3 Landstrasse – Wien Mitte
Kontakt: Website, Facebook