Benvenuti to Il Melograno – the most exclusive Italian restaurant in the heart of Vienna! Restaurant recommendations are one of the most requested questions we get from you dear readers, so I am happy to share this gastronomic gem with you! A true Vienna Insider tip!
Cheers to the chef, that looks so much better than me xD How I look after the pouring rain had ruined my hair and makeup. No retouch. Voila. xD
Il Melograno is a family-run restaurant, specializing in Southern Italian, to be precise Apulian cuisine and dishes made with rare, exclusive ingredients. I guess you can get a feeling of what I am talking about here if I tell you that family d'Atri has been in the gastronomy business since 1820s! Behind Il Melograno is almost 200 years of passion for food, experience in gastronomy, so much knowledge that has been passed on from generation to generation. All this tradition and family legacy are reflected in the taste, the highly professional service and entire gastronomic experience that waits for you at Il Melograno.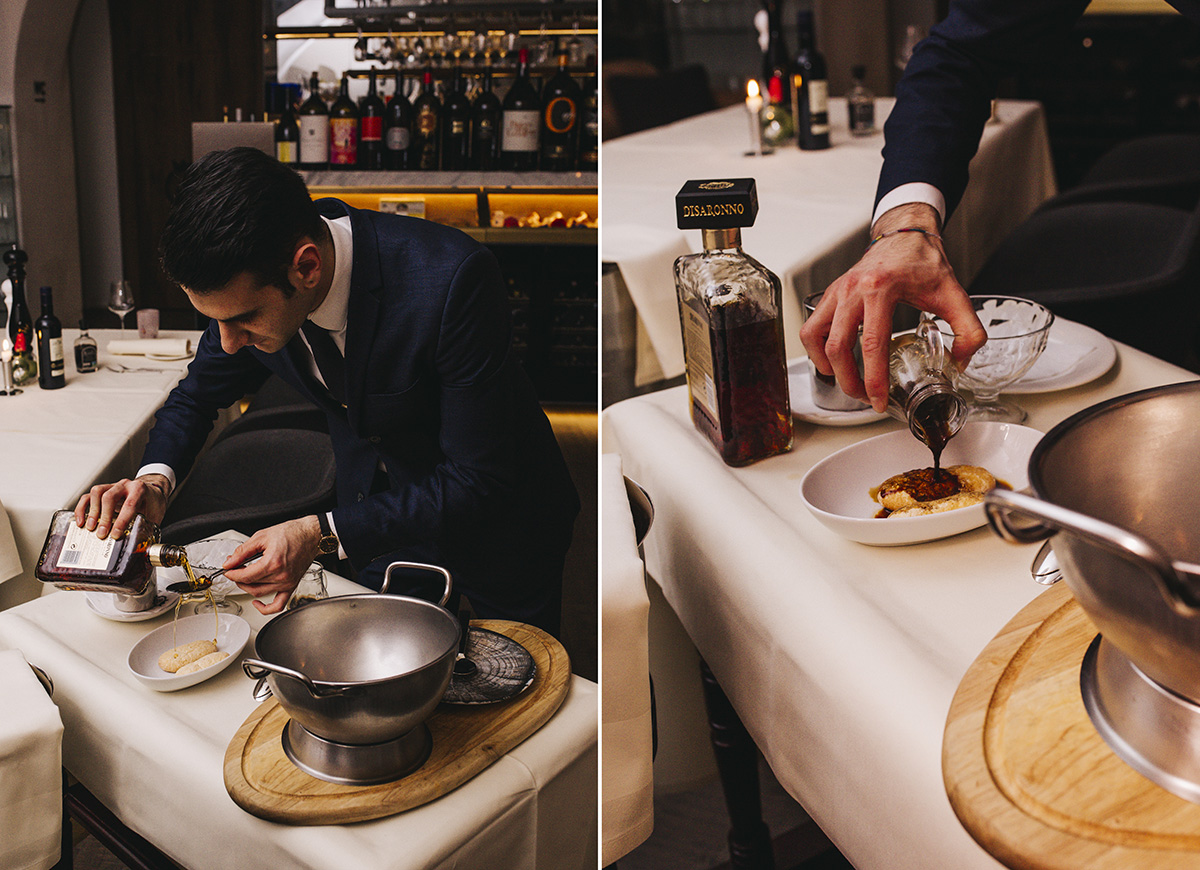 Before we move on, let me shortly demystify you the meaning of the name, in case you are still puzzled. Il Melograno is Italian word for pomegranate. A fruit symbolizing love, health, prosperity, fertility, meaningful in so many cultures. It is also one of my favorite fruits, so I admit it the name made me an instant fan of the place I will tell you about today.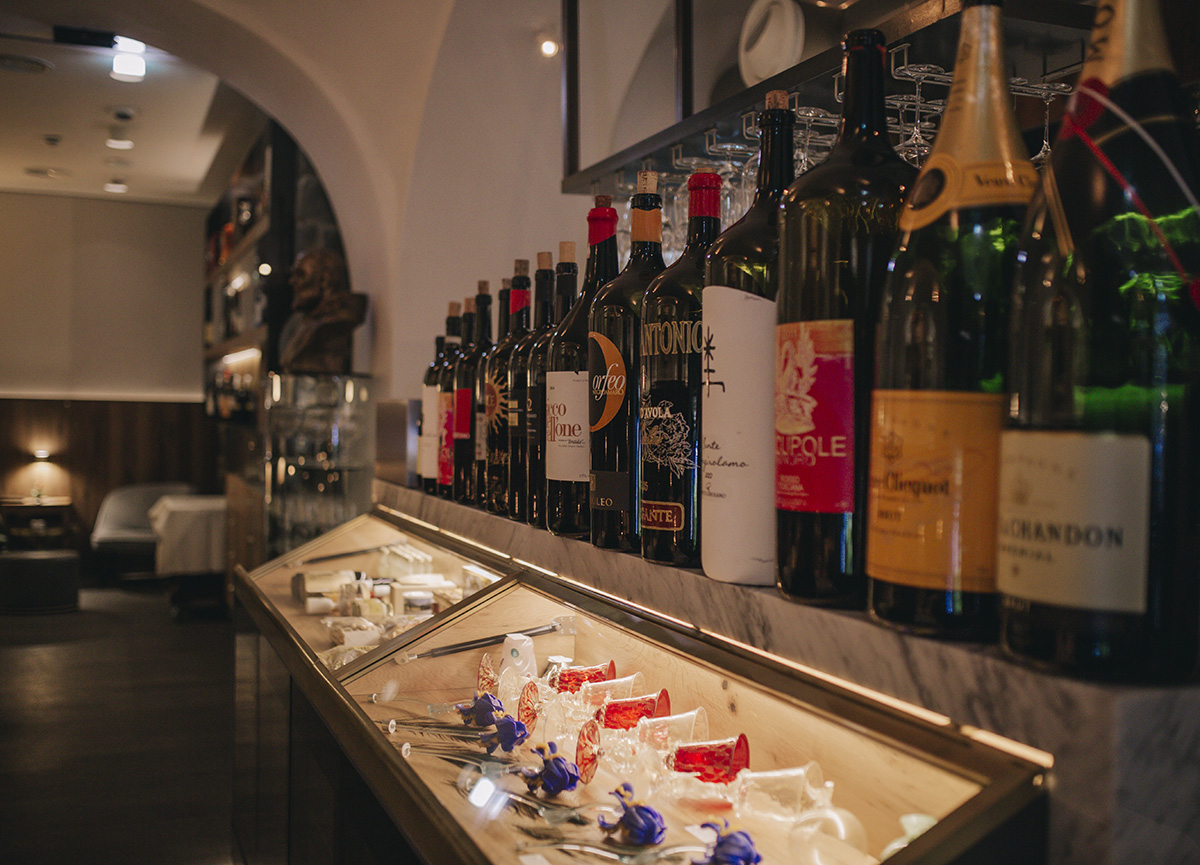 It has been a few weeks since my friend Aleks and I have been dining in Il Melograno, but the fascination with the whole dining experience doesn't fade.
Enjoy discovering our Il Melograno highlights and the reasons why you have to treat yourself and your loved ones with a visit to this restaurant, that is so much more than merely dining. It is a gastronomic escape to Italy, an unforgettable experience for all your senses!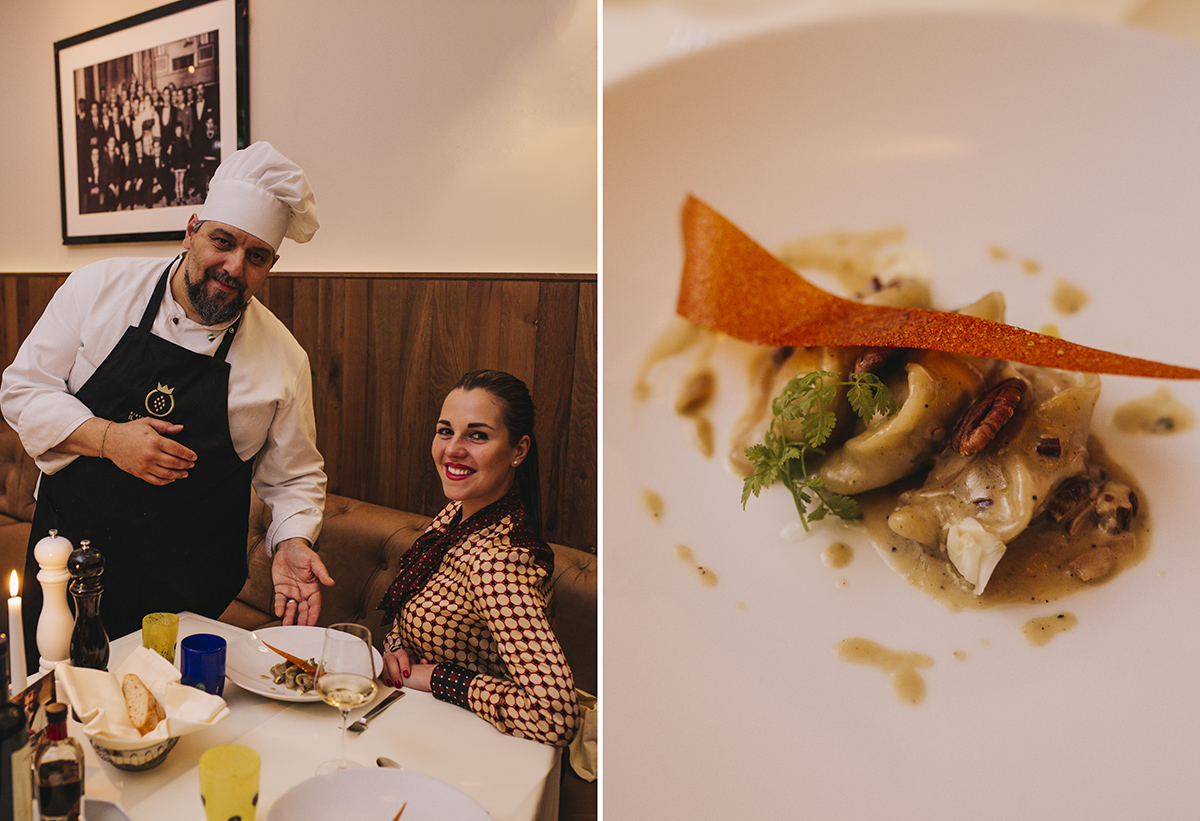 Alex and chef Cristiano, that just brought us the best ravioli ever! They are of course handmade and are called "Cjarsons". Filled with raisins and plums, and refined with light buffalo gorgonzola cream, with Piedmontese walnuts on top!
Southern Italian specialties made with rare and most exclusive ingredients
Indulge in extraordinary specialties of the Apulian cuisine, made with ingredients you won't get anywhere else in Vienna! Premium quality, homemade, natural ingredients is what Il Melograno stands for. Wild caught fish, fresh every day, exclusive cuts and sorts of meat, of course homemade pasta and buratta, giant prawns (also exclusively available at Il Melograno) and oysters, tiramisu made from scratch in front of the guests, to name just a few. By the way, all of you passionate about cooking should check Il Melograno cookbook (you can purchase it directly in the restaurant)! It contains many family recipes and cooking secrets revealed, as well as stunning pictures.
Il Melograno specialities Alex and I tried were beyond phenomenal! Under photo descriptions you can read the exact dish descriptions of everything we tasted.
For the starter we had: I CALAMARI – Hand cut squid rings, lightly fried in extra virgin olive oil, with homemade pomegranate-mayonnaise and lemon from Sorrento; and IL CRUDO DI SCAMPI – Wild langoustine served raw with dulcet lemon from Sorrento, mint freshly picked at the table and our fruity extra virgin olive oil extra virgin from Tenuta Sassicaia/San Guido.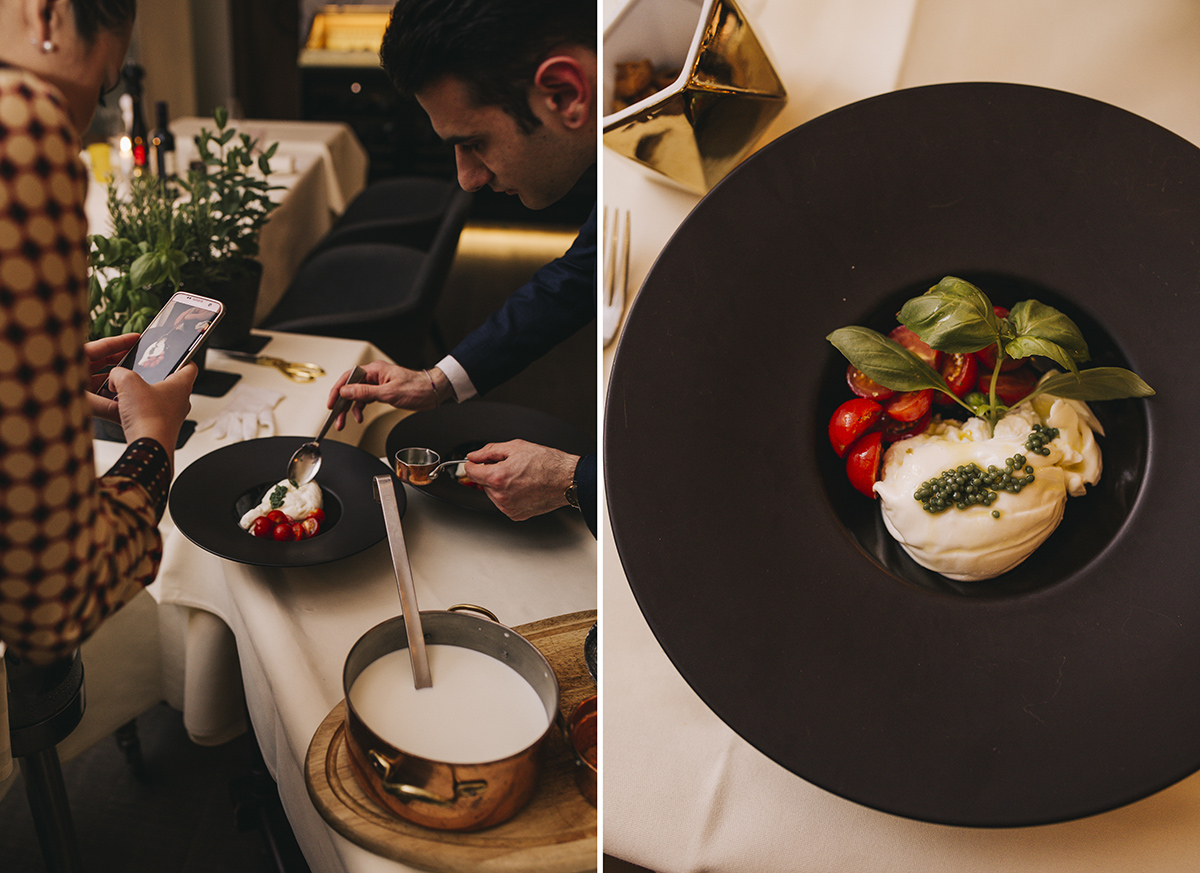 The moment we went into cheese heaven: LA BURRATA. Hand-drawn Burrata from Andria, the birthplace of the original Burrata in Apulia, served with sweet honey tomatoes from Sicily, basil caviar and basil leaves freshly picked at the table. It doesn't get any better and creamier than this!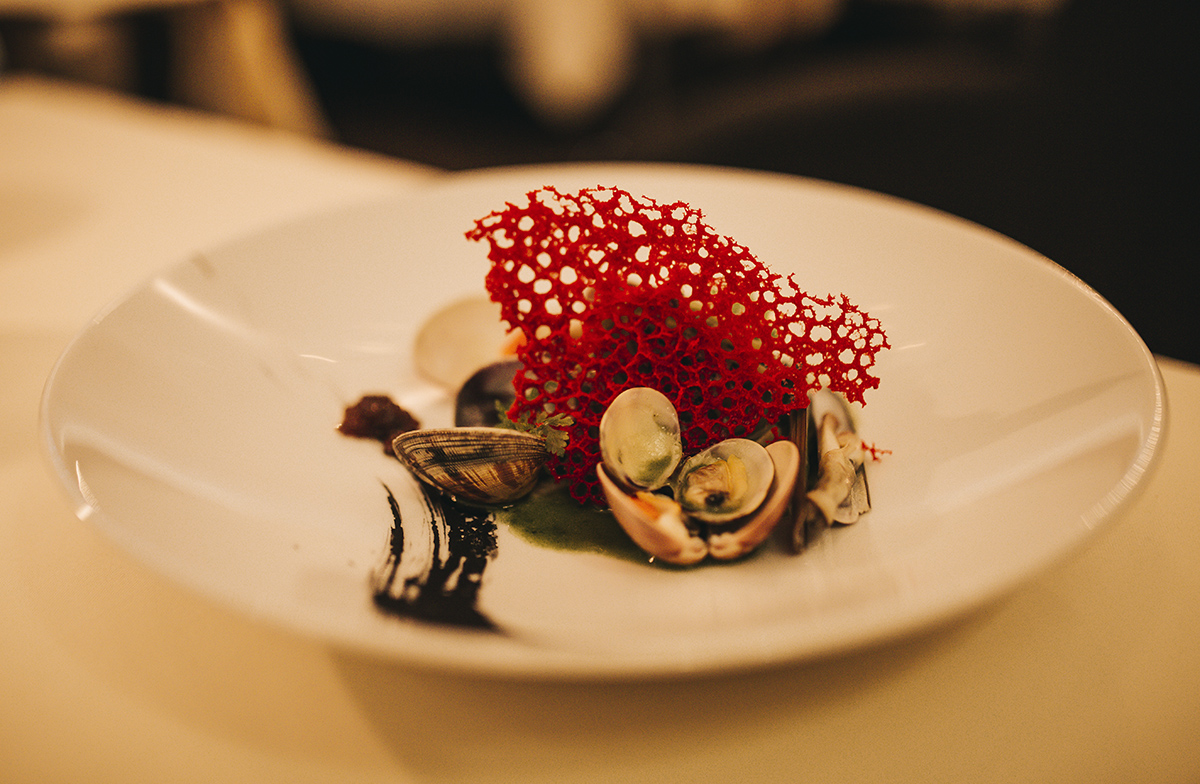 Stunning presentation and taste: LE LINGUINE Linguine with marine plancton, fresh seafood and a perlage of Cetara anchovies. The rustic Fara San Martino Linguine are produced in Abruzzo and widely used in the worldwide gourmet industry.
If I had to choose a few favorites like must trys for you it would be – I Calamari (this is something I always eat in Italy – crispy prawns and squid), the Ravioli (the best one I had in my whole life! Filled with plums and raisins, with buffalo gorgonzola cream), I Gamberoni (the giant prawns, that I could eat way more often :D) and the BEST, most authentic tiramisu ever! I can already see myself enjoying it in with friends at Il Melograno garden, along with pistachio ice-cream that I still need to try.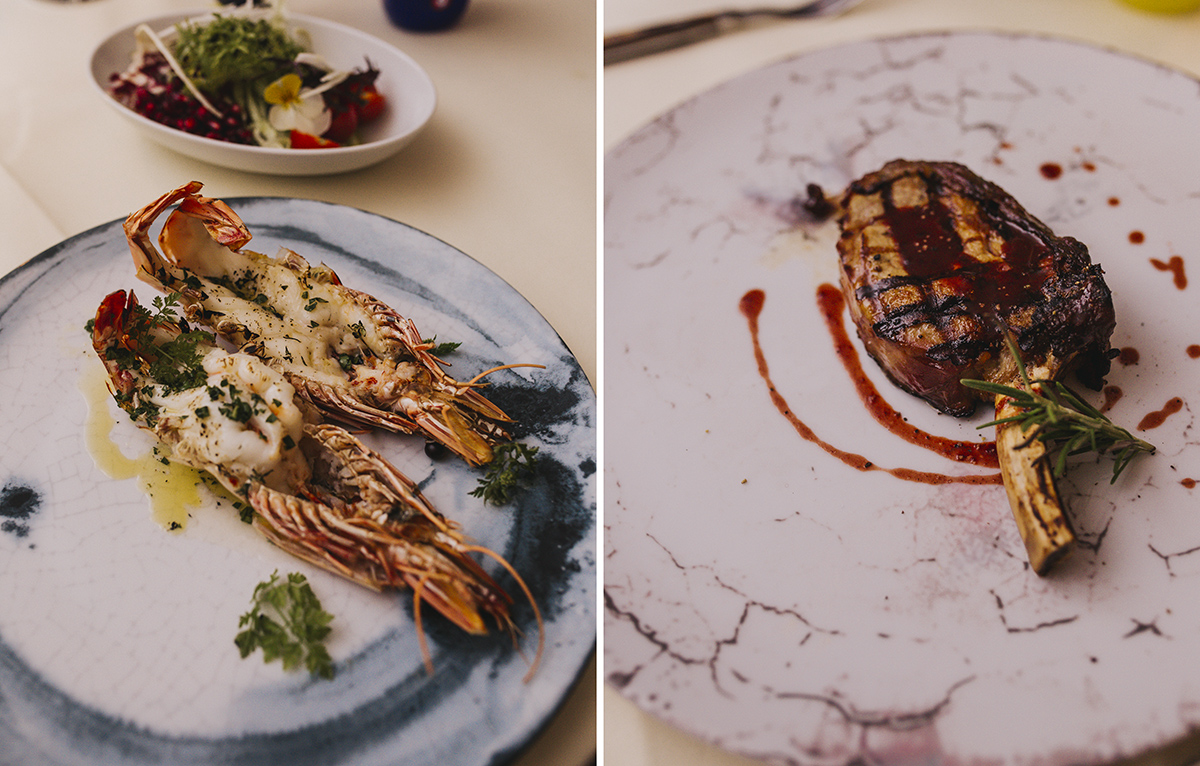 Main course: I GAMBERONI. Giant prawns from the Atlantic Ocean grilled on a lava stone with parsley and lemon-vinaigrette and a mixed salat. This shrimp is not only the largest and juiciest, but also the most strictly limited of its kind-exclusively at the Il Melograno; and LA FIORENTINA. Probably the most famous Bistecca in the world: The Fiorentina of the Chianina cattle, grilled on a lava stone, served juicy.
Luxurious interiors that tells a story of Italy and family legacy
Il Melograno dining experience takes place in the sophisticated interiors that radiates an authentic Italian vibe and the attention to detail is just remarkable. Every corner tells a story, that I had the chance to hear from Mr. Robertro d'Atri himself. By the way, true to the Italian tradition, Mr.d'Atri is present at the restaurant, to greet and welcome the guests.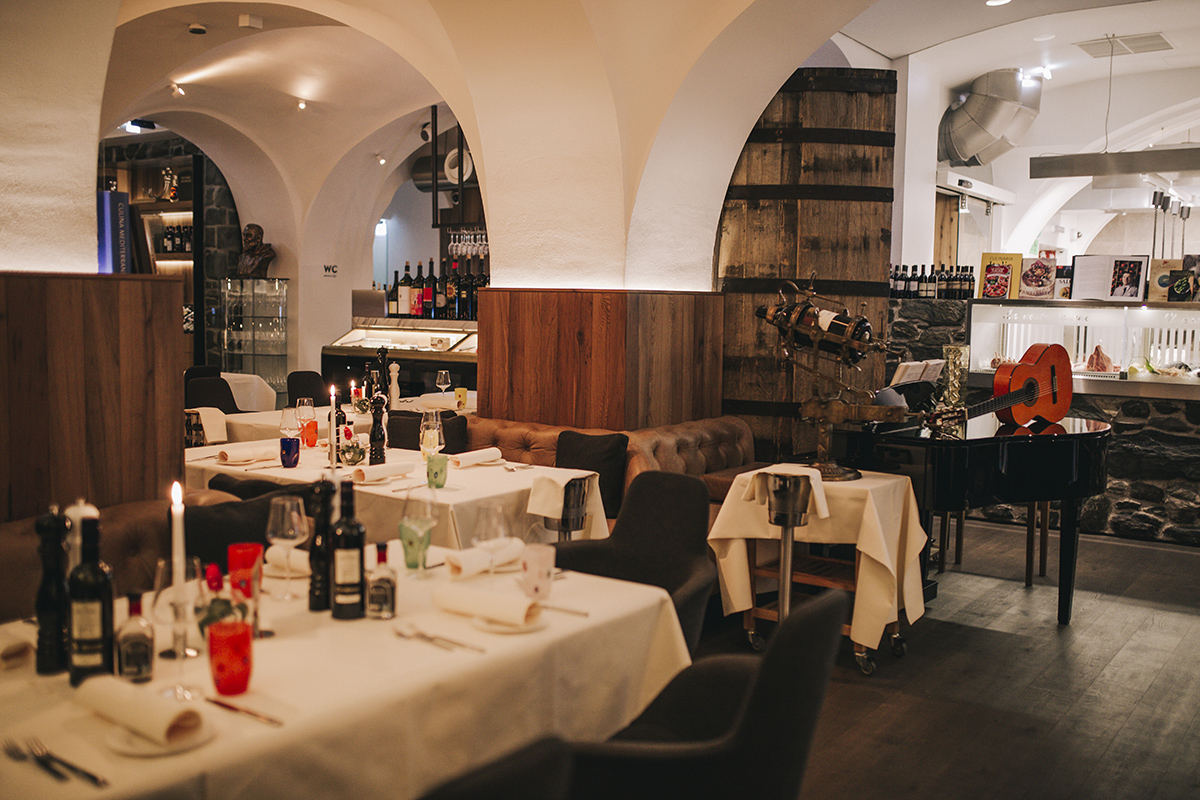 It would take another blog post to tell you everything, so I will reflect upon a few most interesting details, that you should pay attention to when you visit Il Melograno:
beautiful lounge area called Duomo di Parma – the highlight of this space is the perfect reproduction of stunning frescos decorating the dome of Parma cathedral. A wall featuring a collection of wine bottles, rare sorts of cognac, grappas and other spirits, as well as selection of cigars is dominating the room. You will also notice there a genuine Roman wine amphora!
Murano chandeliers and glasses as another symbol of the Italian craftsmanship. At the very entrance you will even spot a collection of pomegranate made of Murano glass!
Genuine Roman artifacts, the wall decorated by natural stone that was brought all the way from Italy, a piece of giant wine barrel, a concert piano, family portrait, are all part of the sophisticated main room at Il Melograno.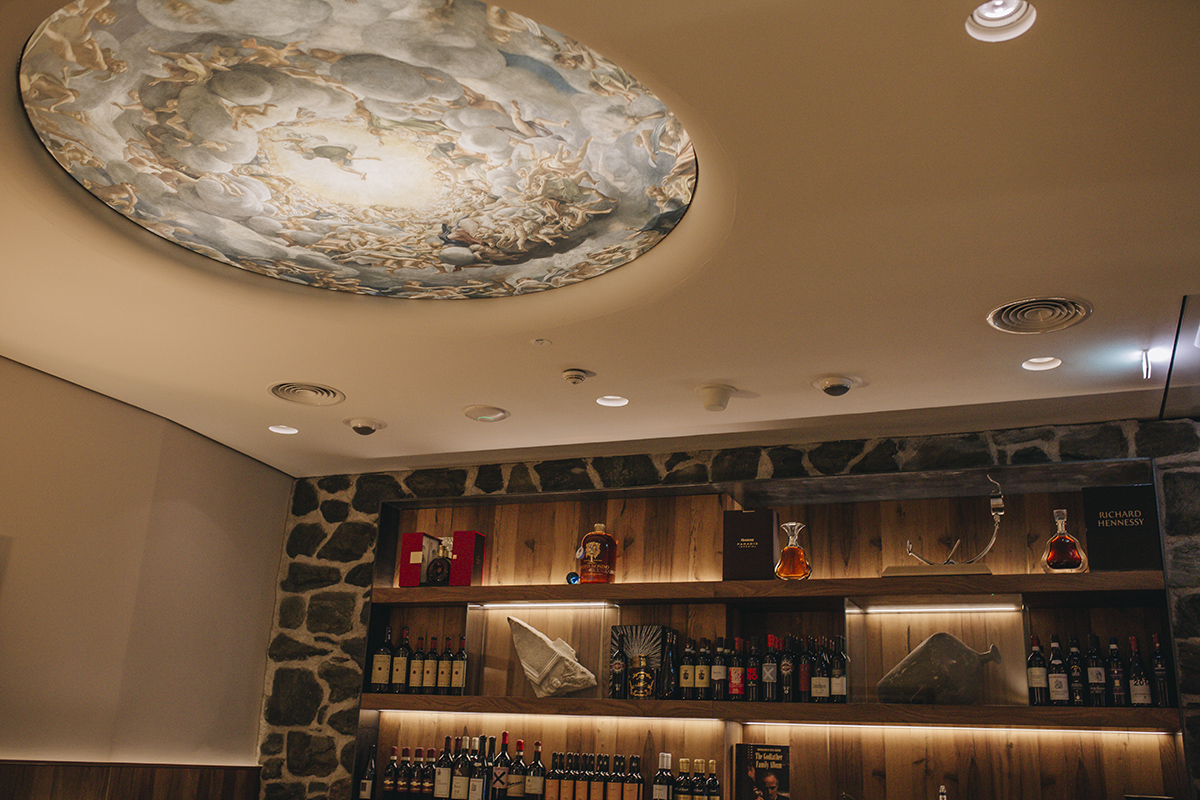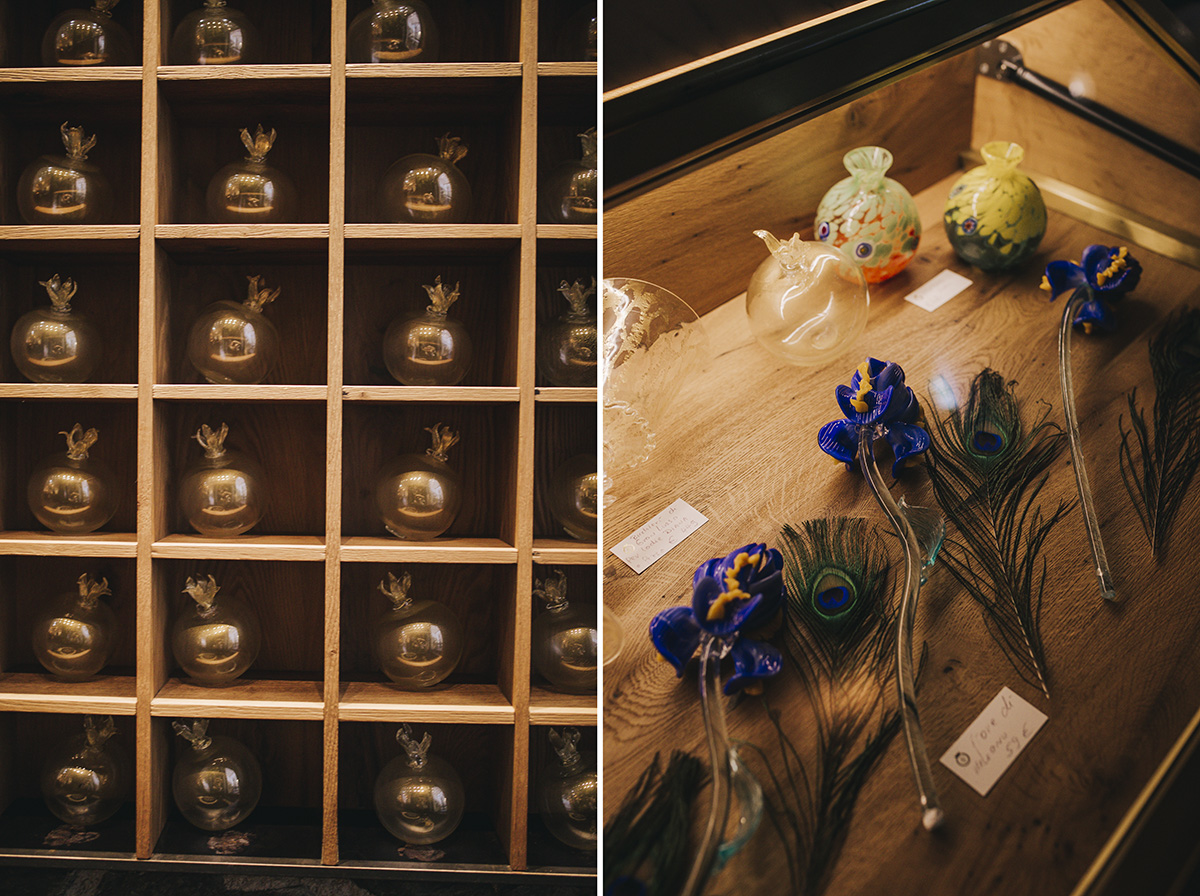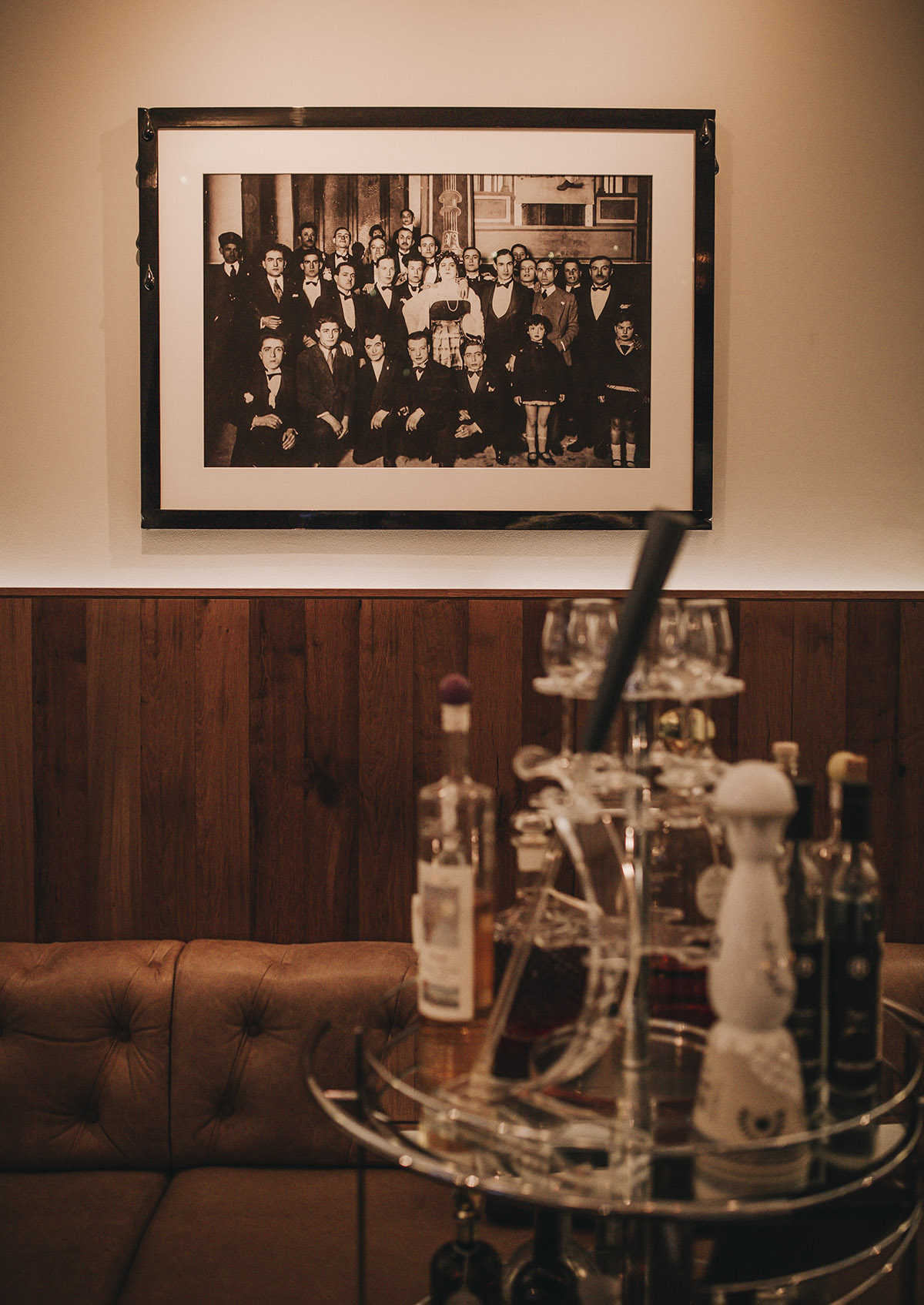 Singing chef – get enchanted by Cristiano Amoroso
Just when you think, your senses can't take any more beauty, from the ambience, the flavors, the way food is served, here comes a surprise for your ears and that directly from the kitchen! With the same love and passion he prepares the food, Il Melograno chef Cristiano also sings and plays the guitar! Made me think how much talented one can possibly be? Every night chef Cristiano Amoroso (no wonder for this addition to the name) treats the guests with an Italian classic. The way this man sings from the heart, will make you fall in love. With the present moment, with life happening now. Right there, in a hidden alley in the heart of Vienna, while savoring the finest Italian specialties, sipping exquisite wine in the luxurious ambienc, feeling welcome and pampered, and getting enchanted by chef Cristiano's voice. It was a genuine moment of carpe diem. A romantic moment that touches directly to the heart. Even to the hearts of people like me, that are romance-proof! 😀 My friend Alex on the other hand, had a tiny little tear in her eye. PS: I know there are Alex secret fans reading this article today, so make yourself a note about Il Melograno! 😀 Also don't miss checking my Instagram highlights to see all the videos I posted from Il Melograno!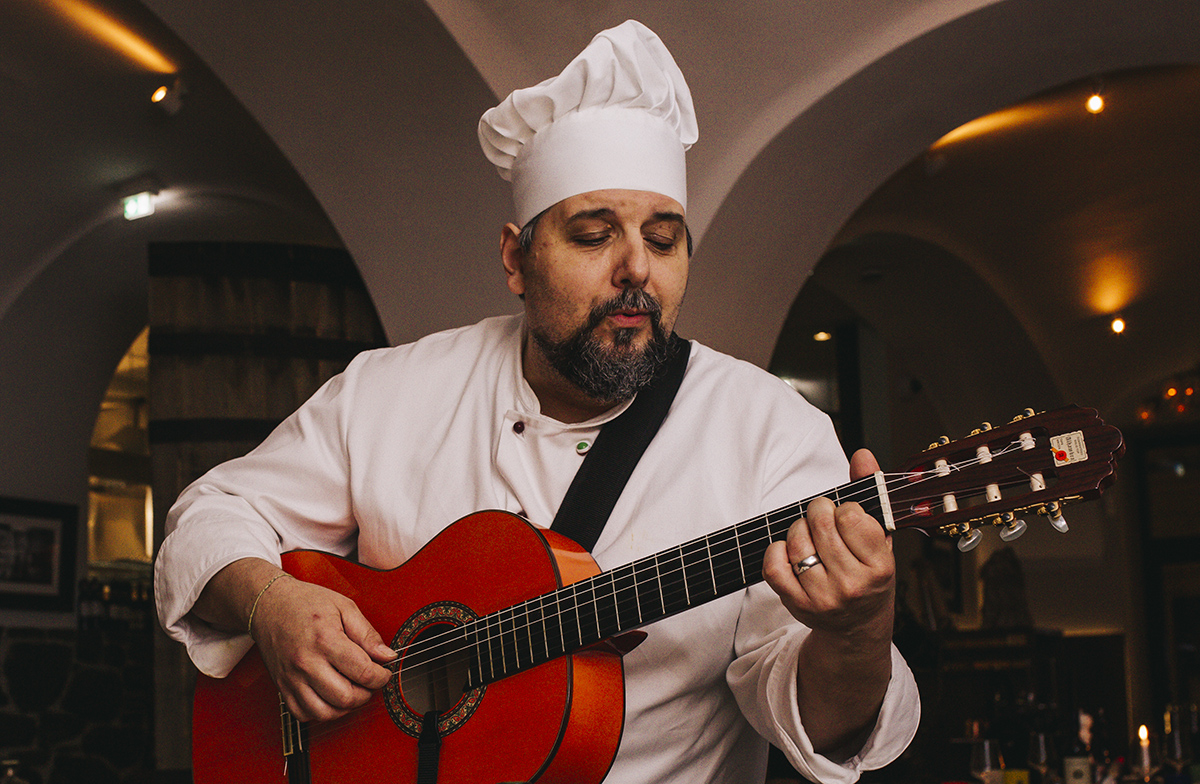 A restaurant for the most romantic date ever
All in all, love birds, you can thank me later for discovering you Il Melograno. There is no a better dinner place to impress your soulmate! Especially if you are a true gentleman. You take your love to Il Melograno, where she will be given a ladies menu with no prices listed (please don't even think of splitting the bill!), get a royal treatment by the professional staff, enjoy the food, and in the end even get surprised by the singing chef. Honestly, what can top this version of an ideal date? Maybe a proposal? 😀 Or a surprise date at your own home with Il Melograno touch and individual menu conceptualized especially for you? I am not joking, Il Melograno team has it all for their guests, and private cooking at home is an option too! Inform yourself about this service here.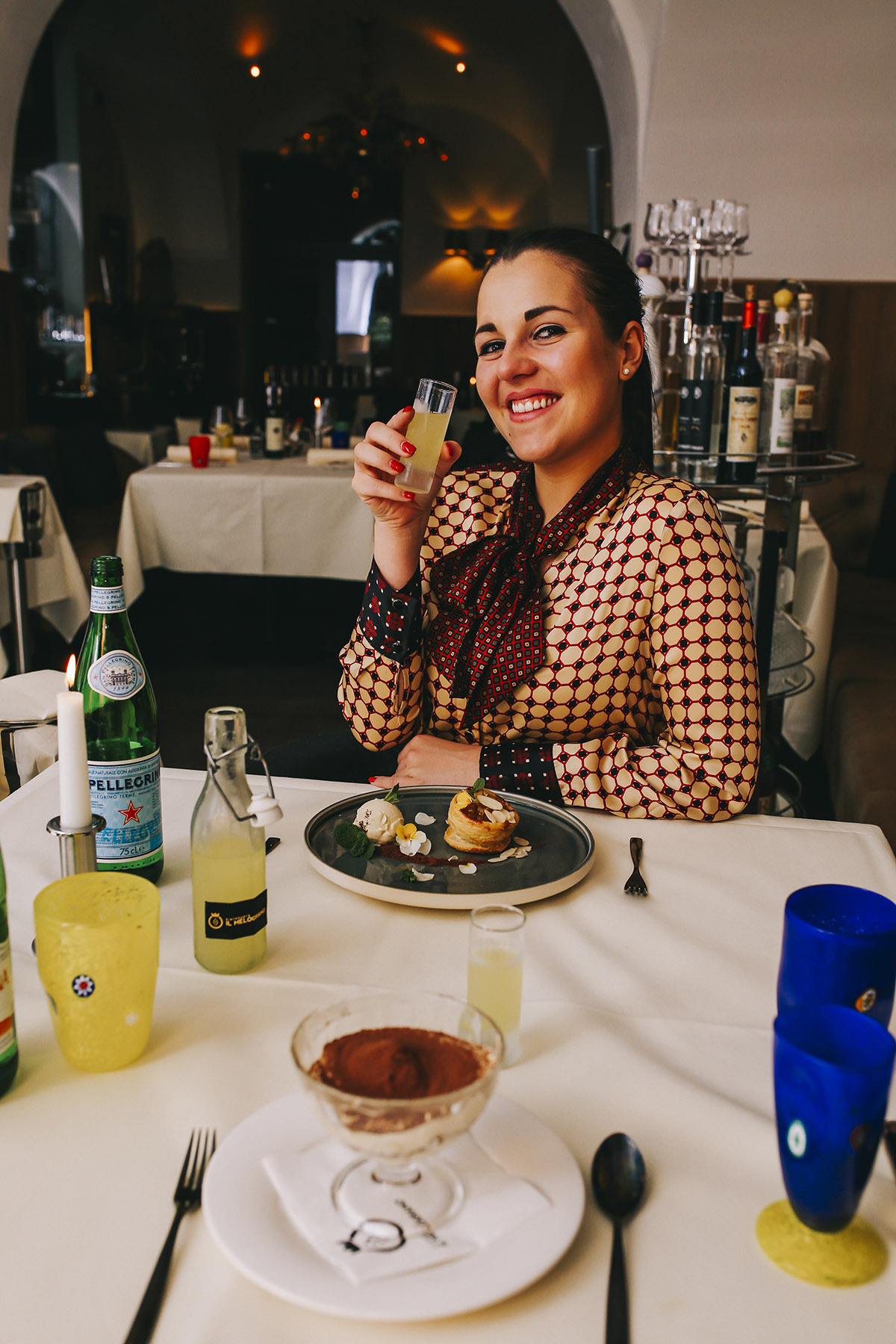 Cheers to friendship with a homemade limoncello! Alex is one of my dearest, closest friends. Our dinner in Melograno was the best we had together so far! <3
A place for gatherings with the dearest ones
Don't worry it is time to change the romantic topic, as Il Melograno experience is not merely for those in love. It is a family place. You know when you travel to Italy, go to a restaurant and see huge families, gathered around a table? Bonding over food, chatting, the grandmas, kids, all the generations are there. Seeing such scenes with friends and family makes my heart burst of joy. And then add this scene to Il Melograno story setting. The service and all the components of Il Melograno experience can only result in unforgettable memories with the people you love the most. There are only a few of such restaurants in Vienna, where I cannot resist to take my dearest people to, and Il Melograno definitely made it to the list.
Talking about gatherings, if you want to make a larger private event such as family or business gathering in the exquisite setting of Duomo di Parma lounge at Il Melograno, check the link here.
Luxurious and homey in one
And while being a place where only the best of the best ingredients will be served at your plate, you will drink freshly squeezed pomegranate juice from Murano glasses (this little detail just wowed me!), the service is beyond professional, the entire feeling Il Melograno gives you is definitely not what you might expect when you think of fine dining. It feels warm and welcoming. The way you are greeted from the moment you step in, the respect, the friendliness, there must be a special formula to the approach to guests at Il Melograno.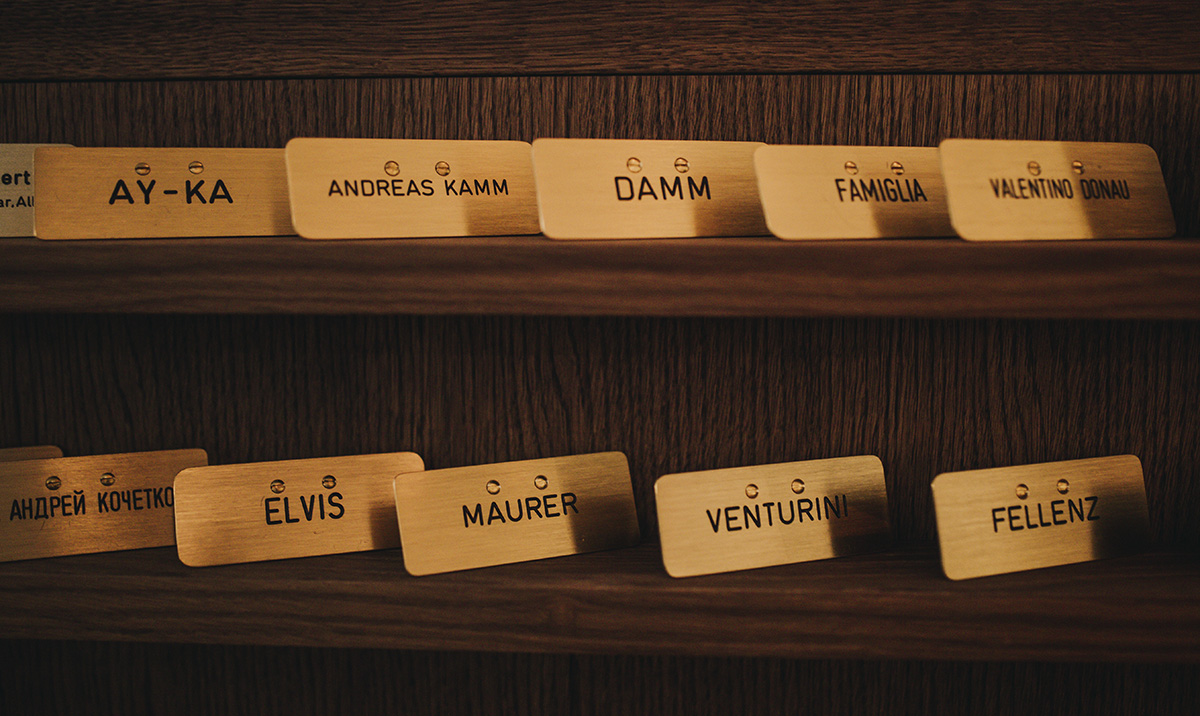 Impressive attention to guests: Every guest who ate in Il Melograno for 100 times, gets a golden plate! <3 It is the Italian spirit and this entire family-run concept evolving around gastronomy for almost 200 years, that gives the most unique touch to Il Melograno. To us as guests, it gives a touch of Italian dolce vita. Of Carpe diem. Of family warmth. A touch of bella Italia in the heart of Vienna. And a truly unforgettable dining experience, that was a huge pleasure to share with you my dear Vienna Insider readers.
Hope you enjoyed reading this story and that you will soon treat yourself a visit to Il Melograno!
Tanti baci,
Una
PS: Before I leave I would like say grazie mille on my own and behalf of my dearest friend Alex to the entire Il Melograno team for the wonderful dining experience! Keep scrolling for even more pictures. 🙂
Il Melograno
Adress: Blumenstockgasse 5, 1010 Wien
Opening times: Tuesday – Saturday: 12:00 – 15:00 and 18:30 – 23:30 pm
Kitchen: 12:30 – 14:30 and 19:00 – 22:00 pm
Days of rest: Sunday and Monday. Open on public holidays.
For more information: www.ilmelograno.at
Connect with Il Melograno on Facebook here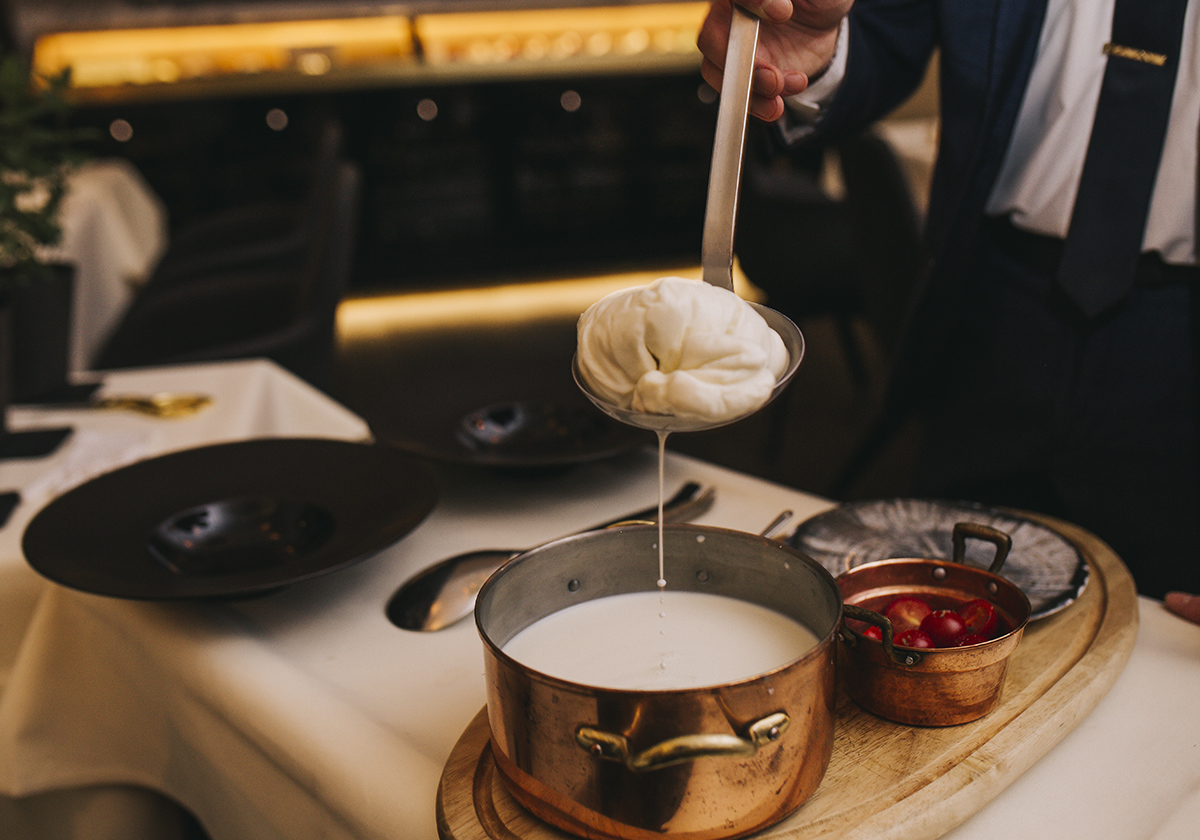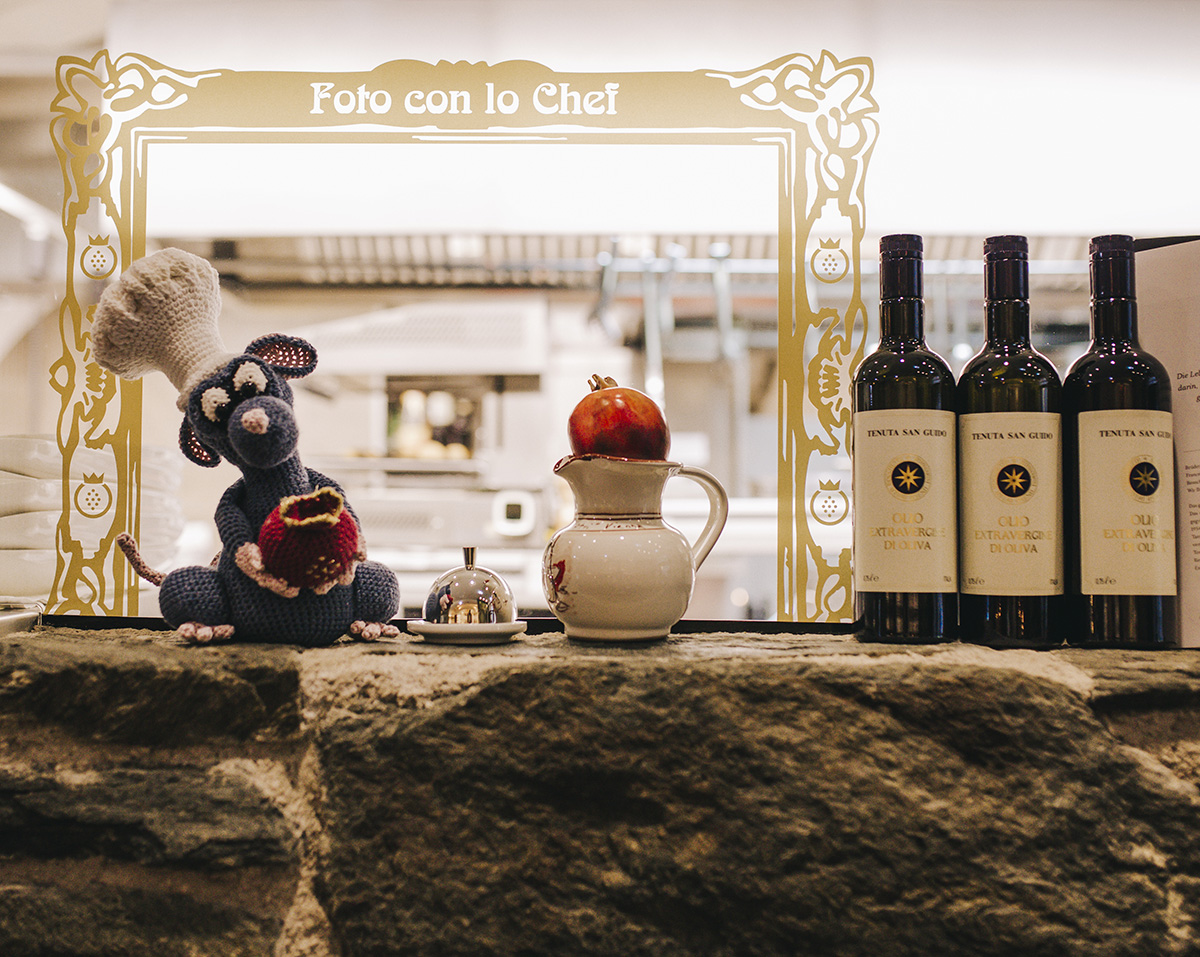 The best of the best – IL TIRAMISÙ ESPRESSO with hot espresso and Sardinian sponge fingers-a special recipe from the d'Atri family.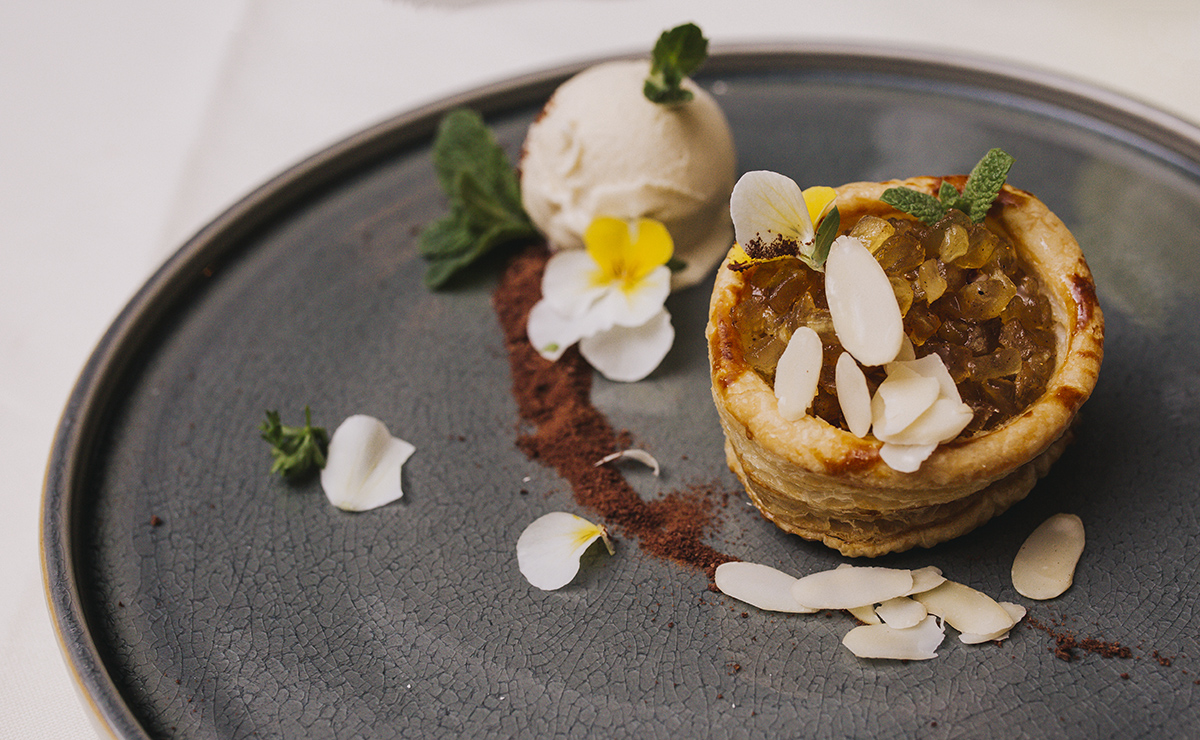 And last but not the least – LA TORTA. Homemade apple-caramel tartlet with homemade Tahiti vanilla ice cream.
This post was done in collaboration with Il Melograno.