Hello dear readers!
Today (sorry for being so late), we are starting a new topic on the blog – the monthly favorites! It will be sorted out in the random category, where we will write about different themes we find interesting. Also, we would be very happy to hear your suggestions and what you would like to see more on our blog!
Off we go, here is the list of our January favorites:
1. Canon 7D Mark II
We are beyond excited and happy for welcoming the 7D Mark II to our photo-gear family! We have been using Canon 650D ever since 2012 and even though we were quite satisfied with it, it was about time to go a bit more pro. 7D Mark II has a lot of amazing options, especially when it comes to capturing pictures in motion [it can make up to 10 frames per second in continuous shooting mode!]. We are still learning about all of its functions and we love the outcomes!
Dragi naši čitaoci,
Sa zakašnjenjem danas započinjemo novu temu na blogu – sa mesečnim postovima preporuka naših omiljenih stvari i mesta u Beču. Postovi ovog tipa će biti objavljivani u kategoriji "Random" (sve i svašta), u kojoj će se osim toga naći i razni drugi postovi na različite teme koje su nam interesantne. Takođe bismo volele da čujemo vaše pregloge o tome šta biste još voleli da vidite na našem blogu! :  )
Ovo su bile naše omiljene stvari/ mesta u Beču u januaru:
1. Canon 7D Mark II
Moramo da podelimo sa vama našu radost zbog novog člana naše foto-opreme – aparata Canon 7D Mark II. Od 2012 godine smo koristile Canon 650D, i iako smo veoma zadovoljne sa slikama koje smo pravile sa njim, fotografija je naša velika ljubav i želele smo da pređemo na nešto ozbiljnije. 7D Mark II ima mnogo fenomenalnih opcija, posebno kada se radi o fotografisanju radnji u pokretu (može da napravi 10 slika u jednoj sekundi!). Još uvek učimo da radimo sa novim aparatom i do sada smo prezadovoljne rezultatima!
2. Personal Organizer "Uredjeni Haos"
We love planning and in order to keep track of everything we should do, we always need an organizer! Planeri Uredjeni Haos, proudly made in our home country Serbia, are perfectly meeting all of our needs and we love them. They have different sections which really help you organize your time better and make sure not to forget anything. They are also very colorful, with different sections, and it is always a pleasure to use them. You can order them via Facebook, by contacting Marija – the creative founder of this brand.
2. Planeri Uređeni Haos
Pošto uživamo u organizaciji, planeri su oduvek bili nezaobilazan deo naše svakodnevnice. Prošle godine smo imale tu sreću da preko bloga naše omiljene blogerke iz Srbije Branislave (blog Brans's Divine World) saznamo za domaći brend "Uređeni Haos". Ovi planeri su nas potpuno osvojili, što zbog lepih korica, što zbog njihovog šarenila i raznolikosti rubrika, koje vam omogućavaju da na vrlo pregledan način vodite brigu o raznim segmentima svakodnevnog života. Ponosne smo što je ovaj kreativan brend iz naše Srbije! Od srca preporučujemo svim ljubiteljima planiranja, ili pak onima koji teže uređenju svog haosa, da sebe počaste nekim primerkom planera "Uređeni Haos".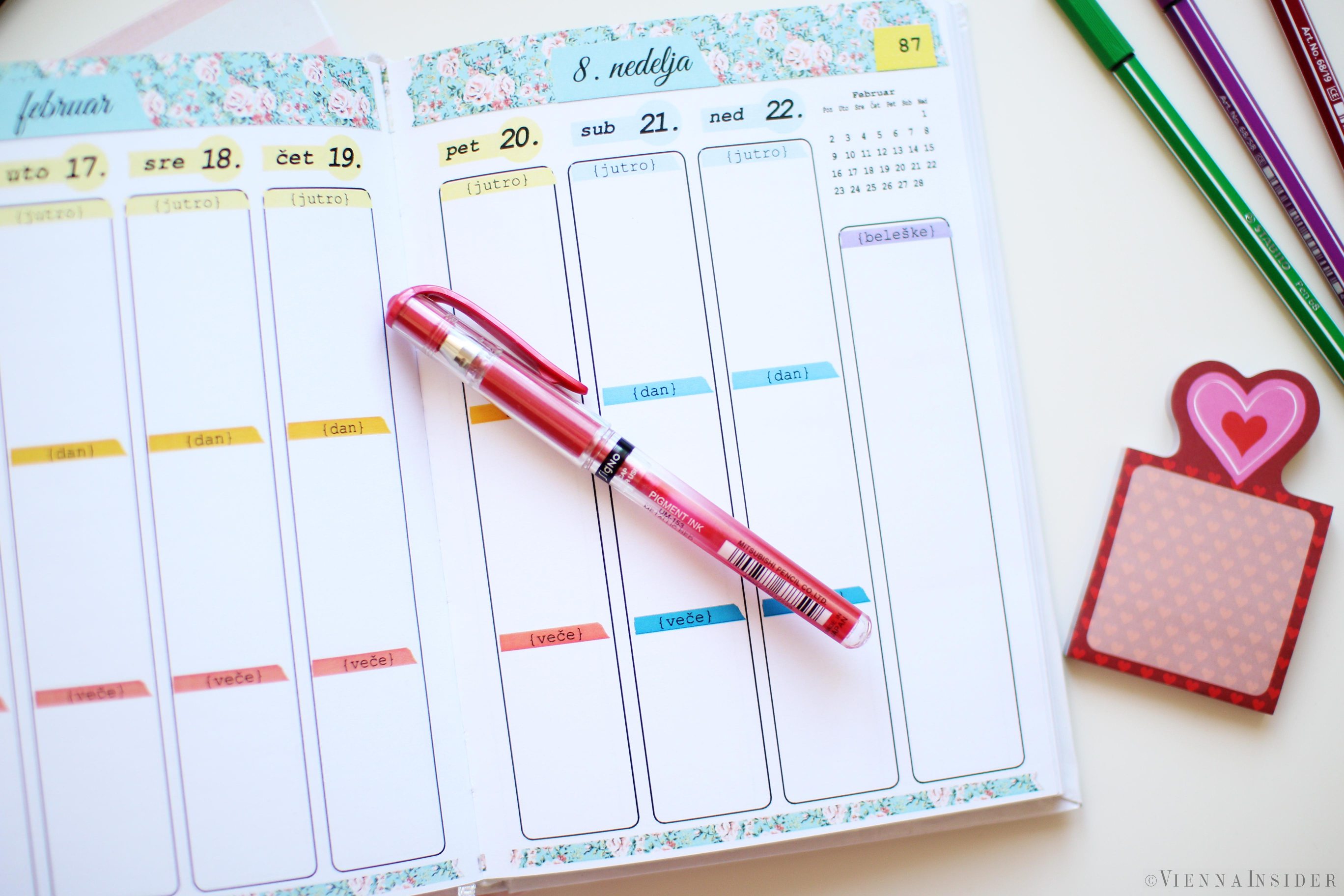 3. Restaurant
Fish and sea food restaurant Nautilus at Naschmarkt is our absolute January favorite! You can read our detailed review in this post.
3. Restoran Nautilus
Definitivno restoran koji nas je najviše oduševio u januaru je bio Nautilus – mesto gde možete uživati u izvrsnim jelima sa ribom i morskim plodovima. Za više informacija, pogledajte prethodni blog post ovde.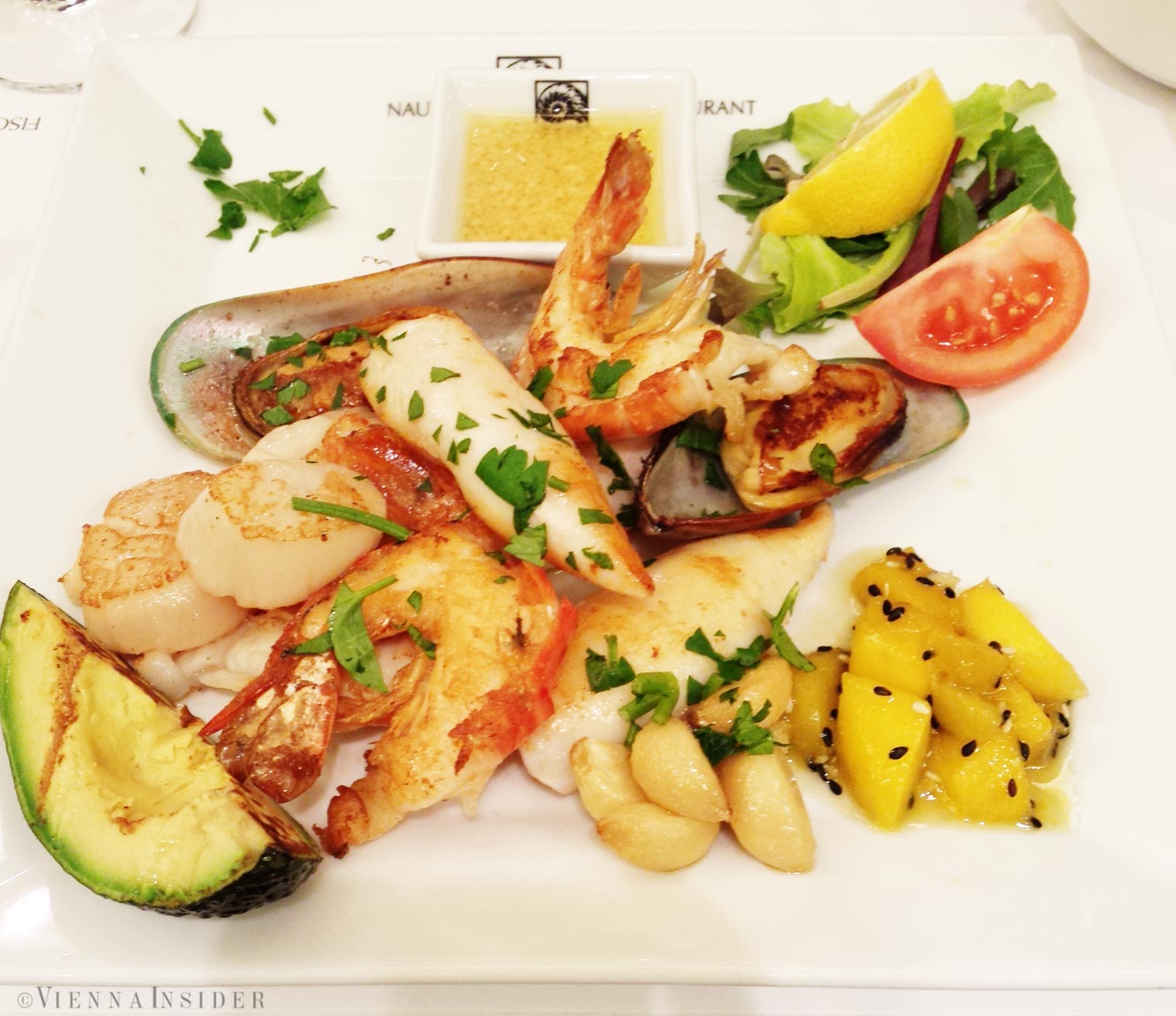 4. Fashion
Zara is definitely one of our favorite brands! Their winter collection was full of stunning pieces and we bought quite a few of them. This light grey coat and plaid scarf (blanket-size!) were what we wore most during January and what kept us warm.
4. Moda
Zara je jedan od naših omiljenih brendova! Kolekcija jesen-zima je bila jedna od najboljih do sada, a ovog meseca naši omiljeni komadi bili su topli karirani crveni šal i svetlo sivi mantil.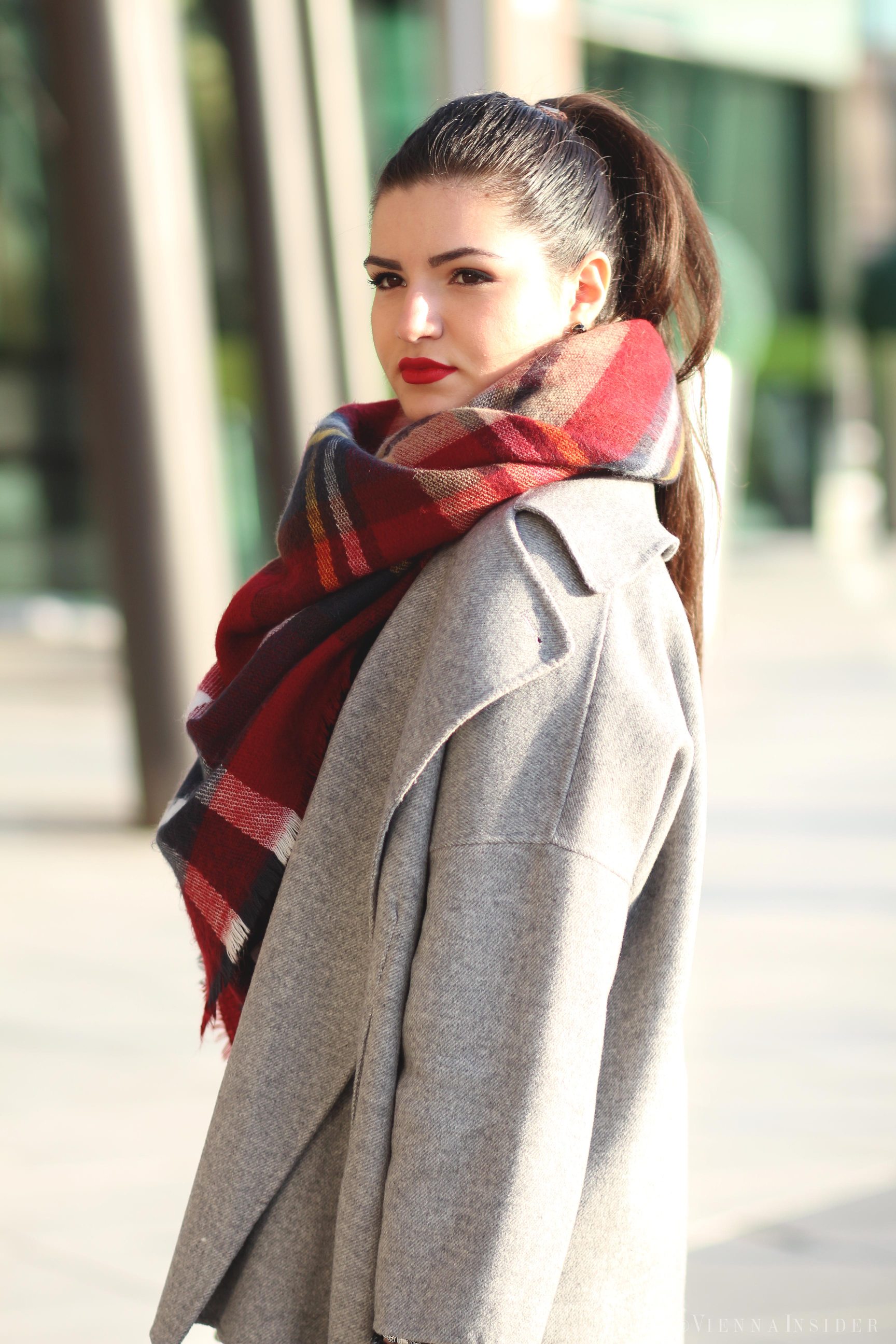 5. Breakfast place
Motto am Fluss – a must visit when in Vienna! Their lovely pancakes, egg dishes, sandwiches, desserts the interior and overall pleasure of spending time in this vibrant, creative cafe.
5. Doručak
Naše omiljeno mesto za doručak u januaru bio je Motto am Fluss. Ako ste u Beču, obavezno posetite ovaj fenomenalan kafe-restoran, gde ćete uživati u sjajnoj hrani i prijatnom ambijentu.
6. Movie
Home Alone – our all time January favorite! A movie we have seen numerous times and never get tired of it. It would be impossible to think of the holiday season without Kevin! : )
6. Film
"Sam u kući" – favorit za sva vremena, bez koga bi januar bio nezamisliv!
7. Recipe
Besides photography, we love cooking and baking. We follow many food bloggers and often try their recipes. Our favorite in January (we made it 3 times) was the one for Snowflake bread, which you can see here, on a great blog – "Kuhinja Zaposlene Žene", written by Tanja. Just scroll down for English version! If you carefully follow the instructions, it will certainly turn out perfect. The dough is easy to make and the folding and cutting was an enjoyable process. The only thing did differently than Tanja, was to use butter instead of margarine (since we are huge butter fans).  The Snowflake bread looks and tastes amazing, and it is perfect for the cold season! Give it a try! : )
7. Recept
Pored fotografije, naša velika ljubav je kuvanje. Pratimo mnogo food blogera, pretežno sa naših prostora i često isprobavamo njihove recepte. U januaru smo čak 3 puta napravile pogaču Pahulju po receptu Tanje, autorke sjajnog bloga "Kuhinja Zaposlene Žene". Iako deluje komplikovano, ako detaljno pratite Tanjina uputstva ova pogača će vam sigurno uspeti (mi smo u prvom izvođenju napravile malu grešku u koracima, ali je drugog i trećeg puta ispala kako treba, kao na slici ispod). Jedino što smo mi u receptu promenili je što smo koristile puter umesto margarina. I ukus i izgled ove pogače je savršen, tako da vam je obavezno preporučujemo, posebno u ovom zimskom periodu.
PS: Nažalost nije dočekala da je lepše aranžiramo i slikamo, ali sledeći put : )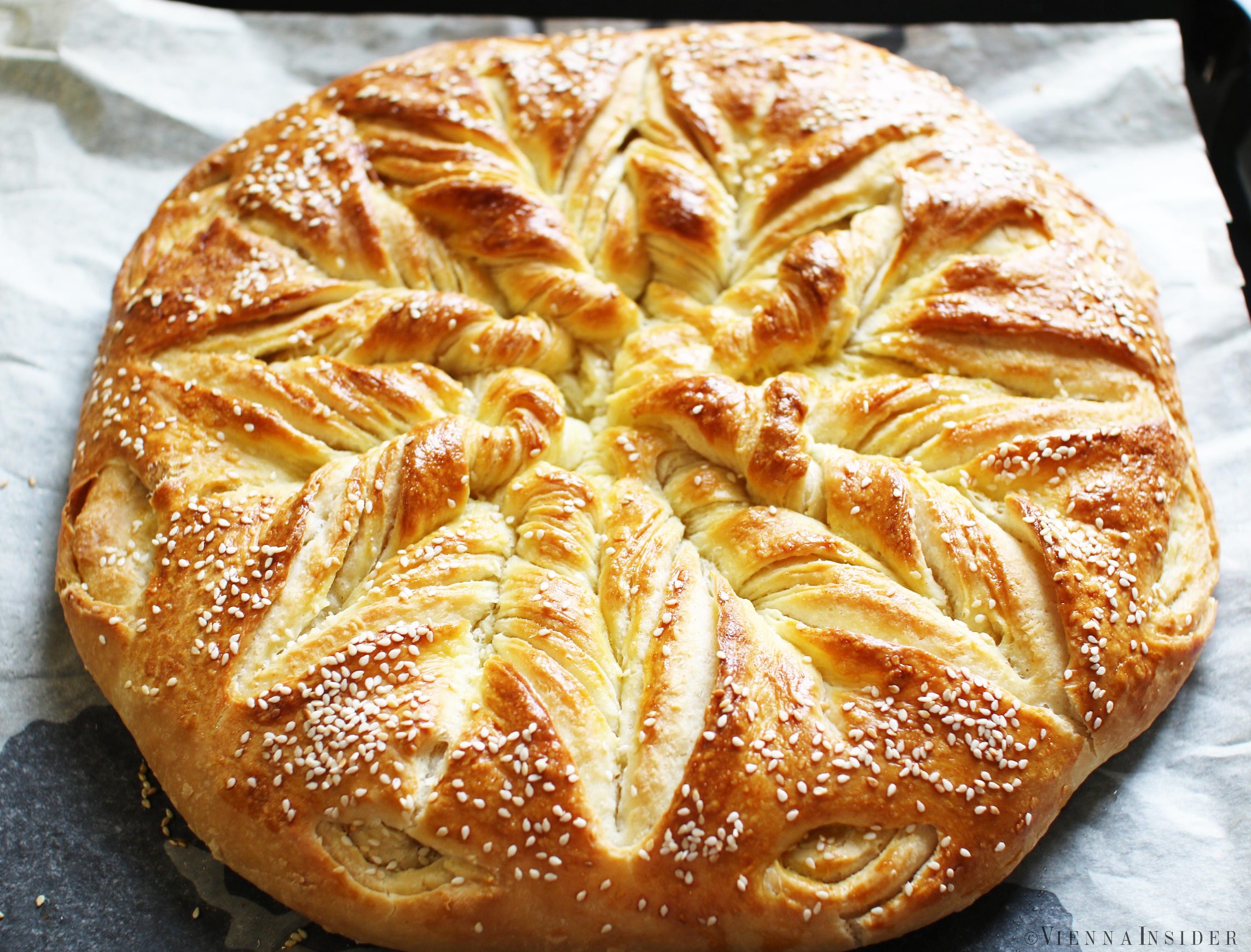 8. App
VSCO Cam – our reliable helper for editing pictures we post on Instagram. The pictures you see in collage below were all edited with VSCO Cam.
We hope that you liked this post!
xoxo,
Una and Isi
8. Aplikacija
VSCO Cam nam je nezamenljiva aplikacija za retuširanje slika koje pravimo mobilnim telefonom i postujemo na Instagram. Isprobajte je i bićete iznenađeni rezultatima! : )
Nadamo se da vam se ovaj post dopao!
xoxo,
Una i Isi