When will you realize, Vienna waits for you? Gorgeous, colorful Vienna, that you cannot stop looking at. Vienna for you, or someone dear to you. If you love Vienna, you will need this, I have no doubt – a museum quality, limited edition print, painted by a genuine artist! I am more than thrilled to introduce you to Wolf Art Studio and two wonderful people behind it – extraordinary painter Vuk Vuckovic and his charming wife Iva. Vuk and Iva belong to one of the kindest and most professional people that I have met during this entire blogger journey and you simply need to know more about them! And before we move on, awaiting for you in this post is also an exclusive promo code that gives you 10% off anything from Wolf Art online shop. Just keep reading!

Vuk is a Serbian artist, that became famous for his mesmerizing art series called the Exciting Cities. And even at the first glance, I am sure you will agree that Vuk's cities are exciting, and much more than that. The vivid colors, buildings that are so true to reality and the attention to detail is just mind-blowing! With his unique technique, artistic vision and immense dedication, Vuk is truly bringing the cities to life on his canvas. And this vividness goes beyond canvas. It connects to you.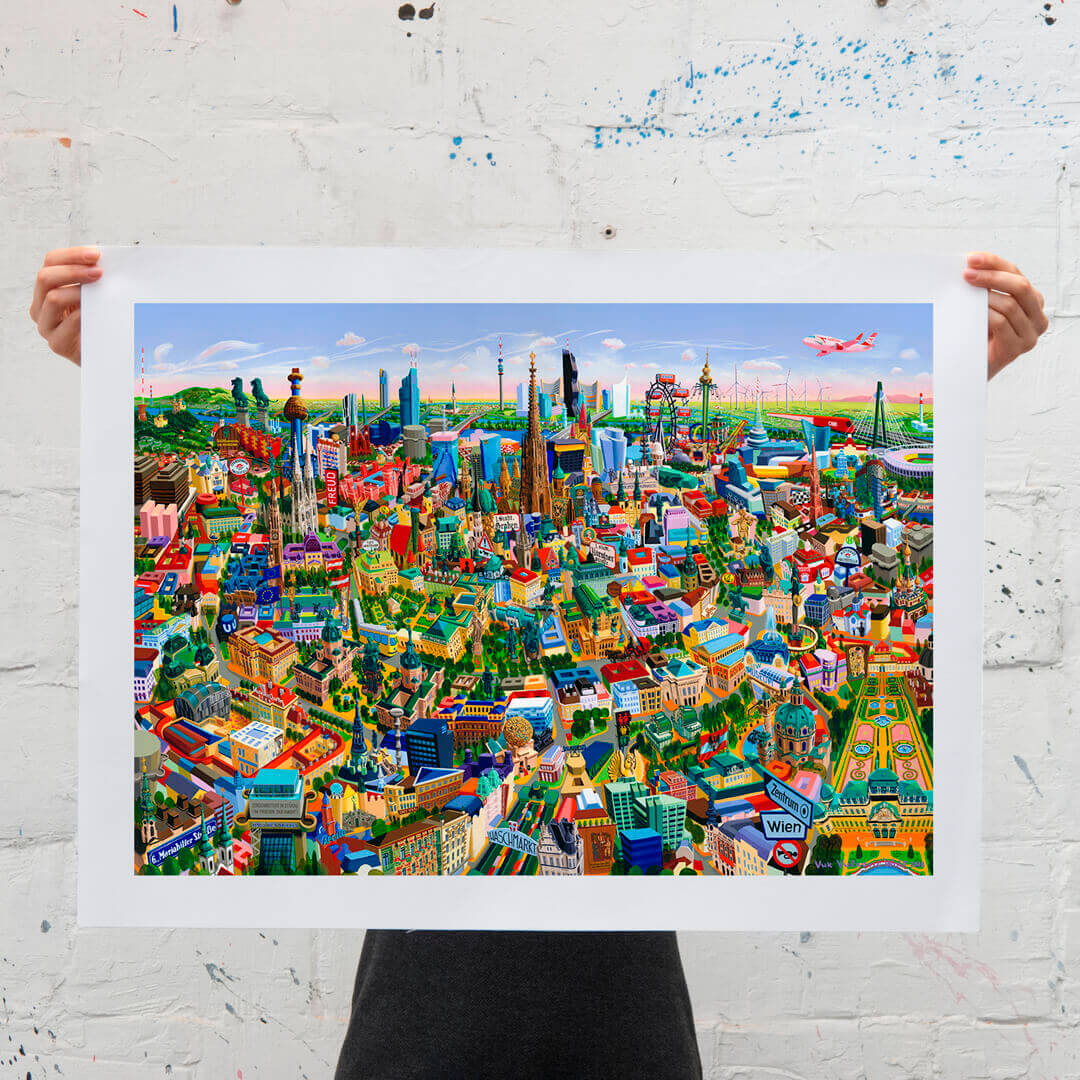 Photo credit: Wolf Art Studio
I mean, take a look at Vuk's Vienna. What does it evoke to you? To me, each and every corner depicted here, brings endless memories. Of me discovering all those streets, cafes and restaurants, going to uni, working, making memories with my sister and friends, meeting so many people, creating this blog, taking thousands of pictures… It reminds me of how my Vienna story started and developed. Of my personal achievements, of everything I learned. It reminds me of the unbreakable bond that I created with this city, that I as a foreigner, happened to get to know better, than any other city where I lived so far. And when I observe Vuk's Belgrade, my hometown, I get flooded with even more special emotions.
It is this power of art – we all look at the same canvas, but we all see something different. At Vuk's Exciting Cities, each of us sees their own, personal story. You see your life in a city where you were born, in a city that became your home, city that you miss, where you lived, studied, fell in love, had your best trip ever… Maybe even you are looking at a city that you invision as your future home. With your eyes, you see the architecture, but at the same time, with your heart, you see yourself. How you changed and evolved in that particular city. By observing Vuk's paintings you get to feel and realize how remarkable and intimate is the connection between people and places. Only you know your story.
Photo credit: Wolf Art Studio
Shopping and shipping: Wolf Art on your wall
No matter where you are in the world, you can get yourself a premium print of Vuk's art! Browse his great online shop here. And please don't even think of comparing these prints to some random, mass-made posters. Vuk's is an artist with a degree, and the prints he sells are truly valuable. These are museum quality, limited edition reproductions of his paintings, signed by the artist and each comes with a certificate of authenticity. You can choose between print on paper or canvas. Even though the paper prints are superb quality, I prefer canvas prints. They look like oil paintings! The print quality will impress you. If you're like me and love canvas prints, you may also love Blue Horizon Prints in Australia. You could take a look into them if you have 10 minutes to spare, their work is amazing!
If you are also a fan of canvas prints, you can look for custom canvas impressions, which allow you to use any photo of your choice. It could also make an excellent gift for any of your friends or family members. They not only liven up any space, but they are also an artistic way to update a room. We're used to photo printing on paper, so we know what to expect. The smooth surface shows more details, which is important when reproducing smaller prints. Yet canvas prints, with their contemporary gallery-wrapped edges, complement a wide range of decor styles. Canvas is a more affordable option for large prints that also outlasts paper due to the durable plain weaving. If you want the cheapest canvas prints, you can contact Canvas Design or a similar company.
In regard to this, Iva and Vuk made a special offer for our Vienna Insider readers! If you decide to purchase any of the prints, simply use the code viennainsider and you will get 10% discount on your order! The code is valid until 25.09. Happy shopping!
This is how my package arrived, all safe and thoughtfully packed!
All the products are carefully and professionally packed, to make sure that the prints reach you in a perfect condition, and at the same time to make for a wonderful gift, as all of them include beautiful gift boxes. Besides the certificate of authenticity, each print includes a map of all the places depicted at the paintings.
Photo credit: Wolf Art Studio
If you have any questions, feel free to contact Vuk or Iva, they are both proficient in English and I assure you that the purchase and delivery are 100% reliable. It might just take a while for the package to reach you, depending on where in the world you live.
Gift a city: The statement gift for thousand occasions
Wolf Art prints are perfect choice if you want to gift an authentic, unseen, valuable gift, something that will make you stand out and be remembered. I already purchased several of them to give to my dearest friends and everybody was really delighted! What is super practical is that Wolf Art prints are great to gift to guys and ladies, and people of all age. I bet no one will come to a more original gift idea, as a print with a city that is connecting you and the person you are gifting the print to!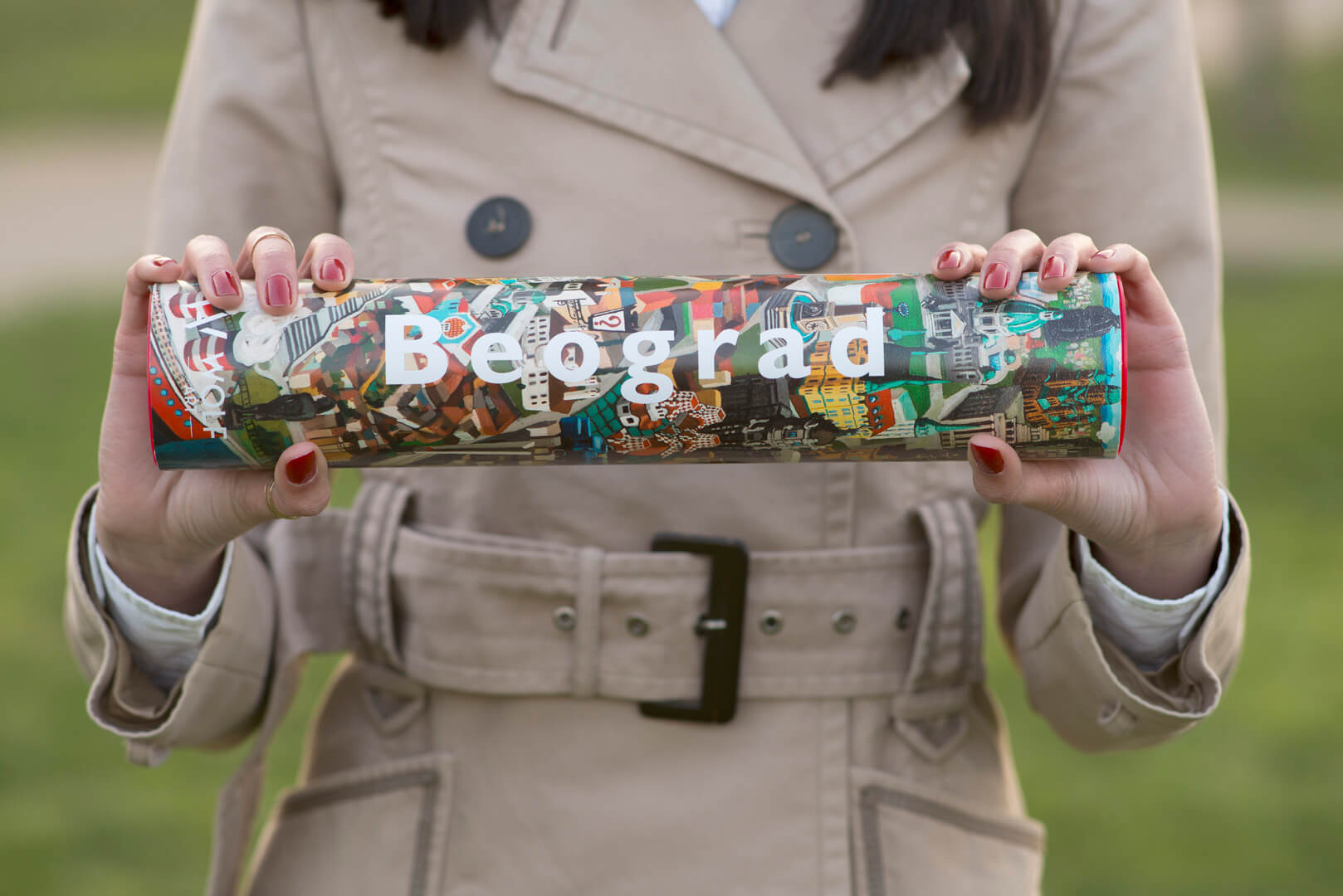 Photo credit: Wolf Art Studio
So here are a few occasions for inspiration for which I already gave Wolf Art prints to my dearest people. Hope you will find these tips useful too!
Wolf Art prints are perfect as: wedding gift (or as an addition to it), birth day gift, gift for moving in, gift for expats (in case one of the cities painted is a hometown of the person you are giving it to, or even the town where the person is living), for business partners, art lovers… For pretty much anyone and everyone that you want to impress with a unique memory, loaded with symbolic, home or office decor!
And needless to say, these prints are perfect to gift to yourself! Besides the symbolic value, they are very versatile and will bring life to any interiors!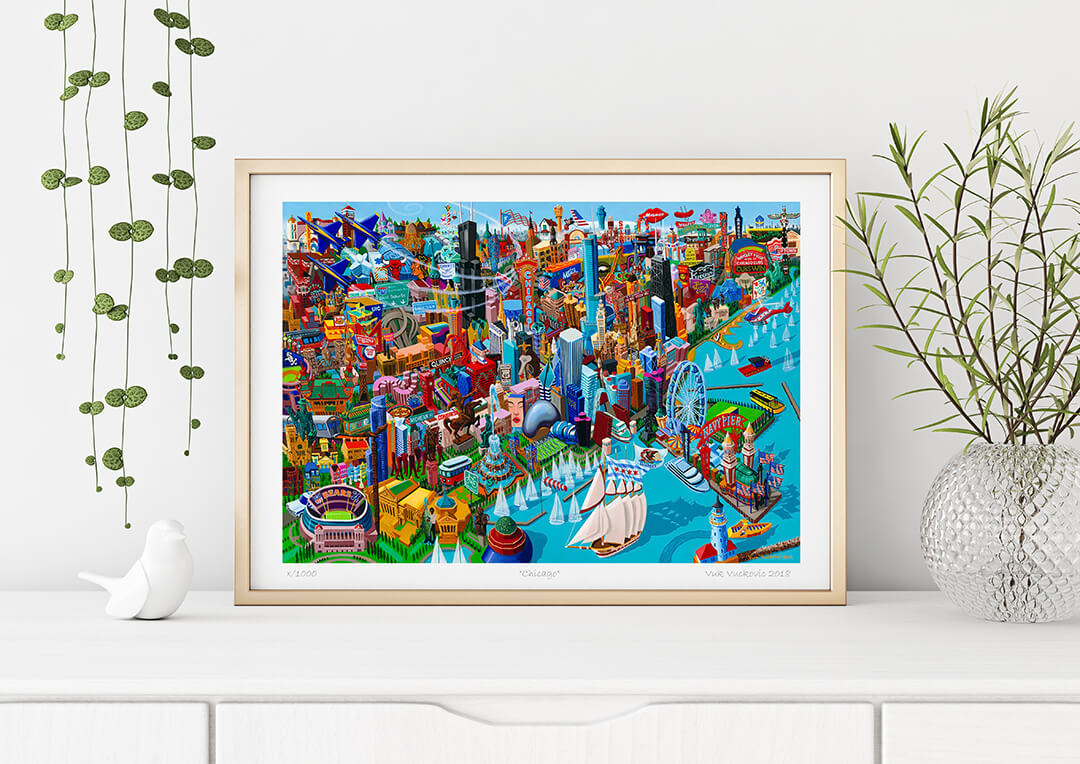 Photo credit: Wolf Art Studio
What about the originals?
Most of Vuk's original paintings are already sold. London and Novi Sad are still available, so in case you are a genuine art lover, or maybe a business owner, and would like to inquire more for information, you can contact Vuk here.
Besides the series Exciting Cities, Vuk is also painting abstract paintings, great for interiors. If you like his work and would like to connect, make sure to check his website!

Isi and I had a pleasure to see many of Vuk's artworks live on his exhibition in Belgrade, last November.
Wolf Art around the world
I am very proud to spread the word about Wolf Art Studio and Vuk's stunning artwork here on our blog, not only because of the whole idea, talent and work quality itself, but also because Vuk is an artist from my home country Serbia. I discovered Vuk's work many years ago and once I found out that he also painted Vienna, I knew I had to approach him, because every Vienna lover should know about his impressive paintings and prints. And I have no doubts that most of our international readers will be interested in his art!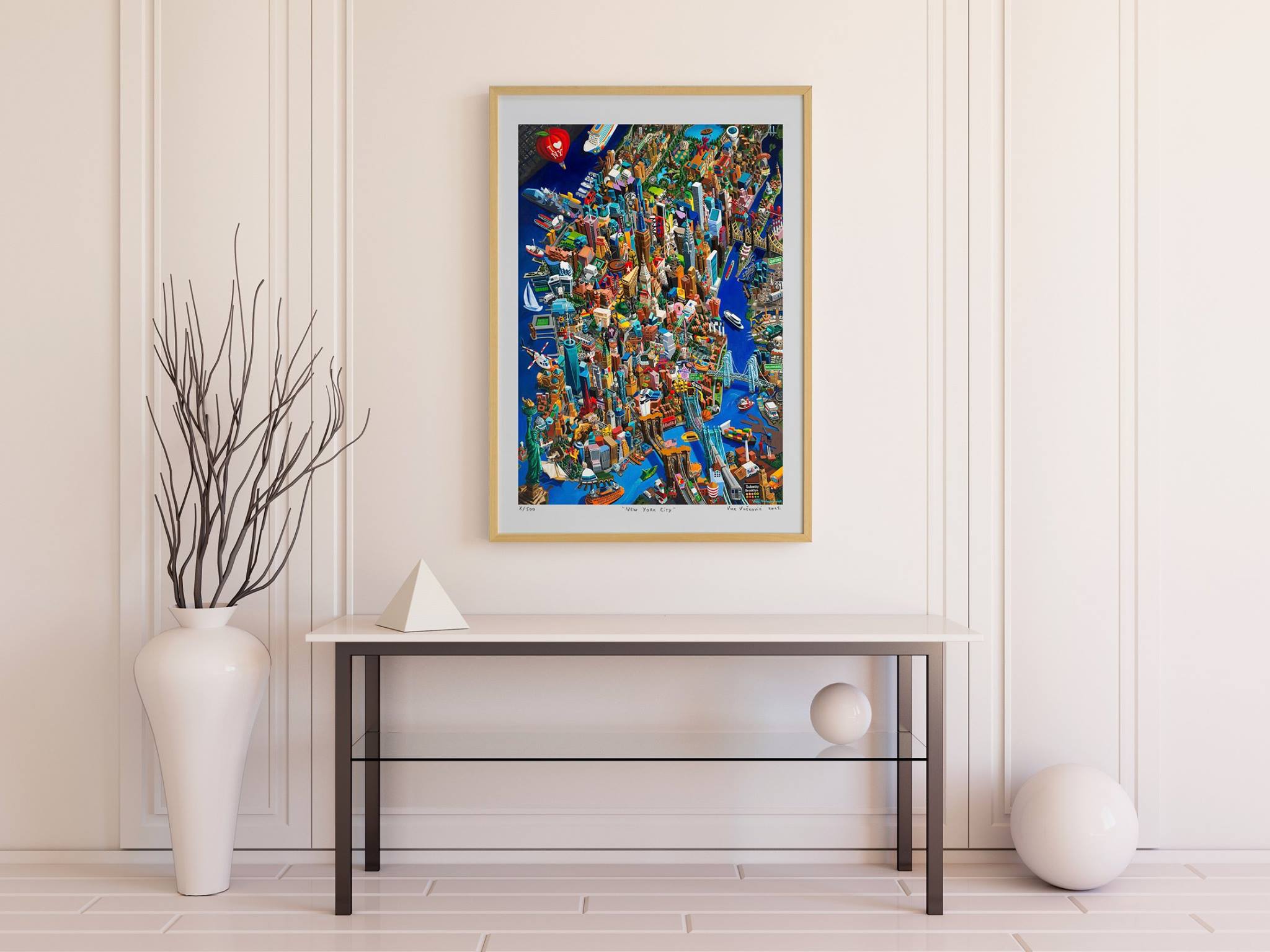 Photo credit: Wolf Art Studio
Don't miss visiting Wolf Art website to learn more about the artist and the entire intricate process of creating Vienna, as well as all other city pictures.
And if you happen to know about any other Serbian, Balkan, Austrian or worldwide artist, whose art or works are somehow Vienna related and therefore relevant for the readers of our Vienna Insider blog, feel free to email me at viennainsider@gmail.com. I am always happy to spread the word about young artists and people with a vision!
Hugs,
Una
Photo credit: Wolf Art Studio
Vuk Vu?kovi? was born in 1986 in Pan?evo, Serbia. He graduated in 2010 from the Faculty of Fine Arts in Belgrade, where he started his doctoral studies in painting the same year. Since 2015, he has been the co-founder of the art studio "Wolf Art".
Vuk has been exhibiting his art since 2007, and so far he has exhibited at 20 solo and more than 100 group exhibitions, for which he has received numerous awards and recognitions. Vuk's works can be found in numerous collections and in public spaces.
Due to his many achievements, Vuk Vu?kovi? is one of the most successful young artists in Serbia.