Surviving summer in the city is not easy. Especially in a city like Vienna, where 98 percent of the flats have no AC… Even if you want to buy it on your own, you will most likely get a big, fat NO from your landlord.
The best way to cool off in those cases is to take a swim somewhere, or just leave the town. I have to say that I usually go for the second option, because I am personally not a fan of pools, sun and all those summer outdoor activities. I am an autumn – winter child. And I have a confession to make – I have never visited any of the Viennese pools.
But, there are many of my friends and Insta buddies who did! And the tips I will share here come from them – my friend Spoki, Alex, blogger Justyna, The Cosmopolitas girls – bloggers Timo, Sara and Kaja and Insta-blogger Melis. Even before we start, I would like to thank all these great girls for helping me create this blog post. Be so kind and give them credits for sharing their tips, by visiting their blogs/Insta feeds. <3 This post was made upon request of many of our Vienna Insider Blog readers, who emailed us asking about top pools in Vienna. However we won't be limiting ourselves to the pools only! This post is about top pools, lakes and ponds in and around Vienna.
I hope you won't mind that I don't have photos of the locations of my own to share this time. But what matters here is insider information and tips that will help you enjoy summer in Vienna to the fullest. Please mind that the post is not about rankings, the tips are listed according to district numbers and random order.
xoxo, Una
EDITOR'S NOTE: the first version of this post has been published in summer 2018. I pushed it forward now, to serve you as inspiration during summer, all the tips are of course still useful and legit. Just please don't miss checking the eventual new rules and regulations, that might occur due to Covid-19. Take care and stay safe!
Off we go!
TOP POOLS, LAKES AND PONDS IN AND AROUND VIENNA
1.Schönbrunner Bad, 13th district
Tip by lovely Melis, Vienna based Instagrammer. Follow her perfect Instagram feed here, and enjoy her Vienna, lifestyle and travel adventures. IG name @fraumelis.
"As I don't enjoy swimming pools as much as I enjoy a nice sea, I am very picky about them. I like to check how clean they are and sometimes even look into if they definitely had their pool barrier inspections, as I have come across many pools in my time that don't look safe. Once I'm convinced they're not dirty or dangerous, or both, I am happy to use them. When it gets too hot in Summer in Vienna, there is nothing else to do than going for swimming, either to a lake or to a pool. This summer for the first time, I have tried Schönnbrunner Bad and it became my favorite swimming pool right away for several reasons: first of all, it is pretty and historical. It is small and cosy. I, personally, do not like those swimming pool areas that are huge, they might offer more things but that also means more people to me. Another nice thing about this pool is that it was very calm and not so loud, but if you do not like sitting in the sun the whole day then I would recommend to come early and get one of the rare spots that are in the shade the whole day because almost everywhere in this pool area gets the sun. One con is that entry fees for this beautiful swimming pool are more expensive than usual – 13 euro for a full day, 10 euro for students. However, the price goes down to 11 euro after 13:30 and 8 euro after 17 o'clock. Even if these prices seem high, you get a kick for the buck, as Schönbrunner Bad stays open until 22 o'clock!"
For more information about Schönbrunner Bad, check the link here.
2.Krapfenwaldbad, in the 19th District
Tip by great girls Sara, Kaja and Timo, bloggers from the lifestyle-fashion blog The Cosmopolitas. Don't miss checking their blog here, as well as their beautiful Instagram feed here for fashion inspiration, fitness, travel and lifestyle topics. IG name: the_cosmopolitas. <3 "Krapfenwaldbad is one of the places with the best view over Vienna. It is very easy to reach it with public transport, and the price is in the range with other city pools. Apart from this, it is perfect for families, since it has a playground and one pool for kids and grown ups. There are all together 4 pools at Krapfenwaldbad, which is a big plus, especially in season, when it can get crowded. It is also very spacious, and you can chill without having to lay down directly next to someone else." For more information about Krapfenwaldbad, check their website here.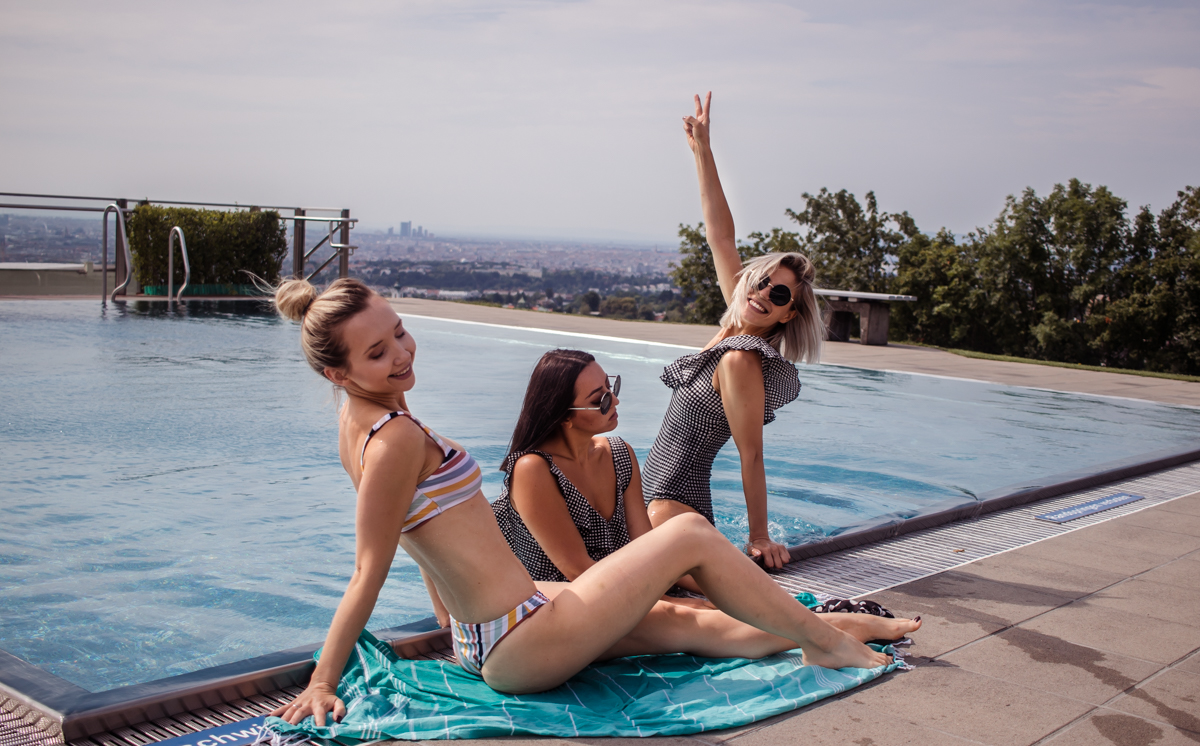 Photo credit: @the_cosmopolitas <3 3.Strandbad Gänsehäufel, 22nd District.
Next few tips come from our dear friend Spoki, who is very sporty, loves swimming and has visited almost all the pools in Vienna.
"Strandbad Gänsehäufel has sand beach and access both to the Danube and to the pool. This is what I love the most about this place, because I can take a swim in the river, or in the pool. Another advantage here is that the pool has no stairs, you can go in step by step (there is a slope inside). Just like with most Viennese pools, every hour or so, they let the waves go. This is such a fun thing, that everyone loves and rush into the water to enjoy the waves. The surroundings is really beautiful nature, so you can rest looking into the green. There are many small stands where you can buy food, beverages, coffee, ice cream. Apart from this, it is allowed for you to bring your own snacks and beverages, so you are basically not obliged to shop there. On site, there is also a volleyball terrain, and some other sports activities that you can do, not only swimming. The only disadvantage about this, as well as all other pools during summer time, is that it can get really crowded. But even in such case, you always have the Danube."
For all the info about opening times, prices, etc about Strandbad Gänsehäufel, please check the link here
Photo credit: https://www.hellofamiliii.at/ort/strandbad-gaensehaeufel/, click here to visit the website and read about this pool in German.
4.Badeteich Hirschstetten, 22nd district
Tip from genuine insider – dear Justyna, native Viennese girl, that runs a plus size fashion blog Jus Curvy. Justyna is also a photographer, marketing specialist and a body positivity advocate. Follow her on Instagram where you will find curvy fashion inspiration, travel and personal stories here. Instagram name: @jus_curvy<3 "Are you looking for a place to cool off? I have an ultimate tip for you - bathing pond Hirschstetten in the 22nd district. This is a natural bathing pond in the middle of Vienna. Since I was a little girl, I used to spend my whole summer here with my family andd this was where I learned how to swim. Hirschtetten bathing pond is also a place ideal for dog owners that spreads on all together 215 000 square meter and as such it offers a huge area where dogs are welcome. The infrastructure itself is very versatile - there are many spots where you can get some drinks and food, restrooms, a playground for kidns, spot for playing volleyball as well as bocce. Even people who prefer a more peaceful surroundings can find for themselves a more isolated spot in the green. Many trees planted around provide enough shade and the water temperature is really plesant. Don't forget your water mattress and cool off at bathing pond Hirschstetten!" Read more info about Badeteich Hirschtetten here.
5.Natural Lake Wienerberg / Wienerbergteich in the 10th district
Another tip from our dear friend Spoki. <3 "If you are looking for a place that is really in the nature, and a little bit "wild", you will love Wienerberg lake. I love to come here, because it is never crowded and I can relax. The atmosphere is quite intimate, you can easily find a nice spot to take and enjoy this natural beauty. The water is also nice and clean, but it is a natural lake so you can expect the grass and other things that you find in the nature. A small note, there is a part of the lake reserved for nudists. So take this info either to make a mental note to be aware, or as an info so that you can join is nudity is your cup of tea. 😀 Wienerberg lake is very popular among dog owners, that bring their pets there to take a swim. So again, in case you have a dog, this is good to know, and in case you don't have one, or feel uncomfortable if you are nearby dogs, maybe in that case, you should better go somewhere else." For more information about Wienerberg lake click here.
6.Thermalstrandbad Baden / Thermal pool Baden, located in Baden, 40 km from the center of Vienna
Tip from our dearest Alex, native Viennese girl, lady boss and huge sun, ice-cream & summer lover. <3 "This is my favorite pool because it has a real beach vibe. Strandbad Baden has the largest sand beach in entire Austria. It really makes you feel as if you were somewhere at the seaside. The architecture surrounding the pools is really beautiful, and contributes to the unique atmosphere of this place. The water is perfect and comes from a thermal spring nearby. There are many pools on site, so there is something for anyone - grown ups, kids, older people. Talking about infrastructure, there are two restaurants on site, various terrains for sports, as well as plenty of parking spots. Fun is guaranteed at Strandbad Baden that also has a water slide, geysers and many other water activities. Even though I live in Vienna, this is my place to go in summer days, when I want to relax and cool off." Inform yourself further about Strandbad Baden at their official webpage here.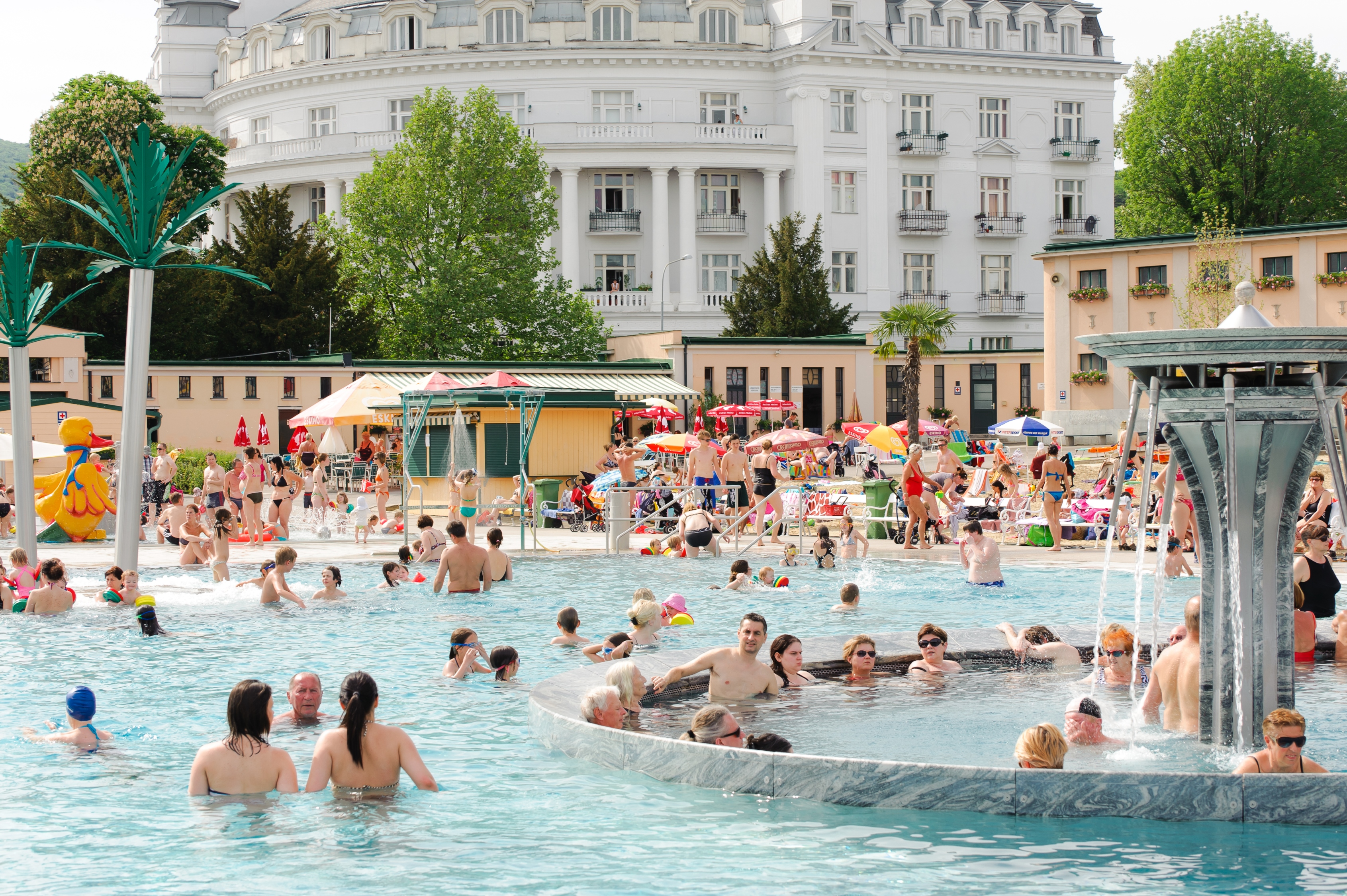 Photo credit: Thermalstrandbad Baden official website. For all the info take a look here
7.Thermal Bad Vöslau, Bad Vöslau, 40 km away from Vienna
And our last tip is again from Spoki, because she is the ultimate pool insider! By the way, I really love this place, and I think I will check it out in the near future. <3 "Thermal Bad Vöslau is my favorite place to go for a swim. It is located in Bad Vöslau, around 40 minutes away from the center of Vienna. What makes this place unique is that you are swimming in pure mineral water, that is coming from a spring nearby. It is a pefect place for a chill, and I just love swimming in the spring water. Peaceful, ideal for relaxation, and the wonderful view to the hills surrounding it, Thermal Bad Vöslau is always a good idea. Also one interesting fact - this was the first public pool in Austria, that was open for women and where they were learning how to swim. Encouraging ladies from 19th centrury!" For more information about Thermal Bad Vöslau, visit their website here

Photo credit: Thermal Bad Vöslau Webpage here.
This is it for now! If you have personal tips or feedback on this topic, you are most welcome to share them in the comments! <3 Thank you for reading! <3