Magnolia dream, now in the middle of hot summer, while we are eagerly waiting for the next spring. All thanks to the magic of photography and frozen moments in time. Magnolia is by far my favorite tree. This nature masterpiece is impossible not to admire. There are many gorgeous Magnolia trees around Vienna, but the most well known and photographed is for sure the one in front of Votive cathedral.
I really wanted to do a portrait shooting including magnolia and a natural beauty. Some things clicked and I got to connect with Nejla –  a gorgeous ginger girl from Sarajevo, who is now finishing her masters in Vienna. Nejla's face was very well familiar to me for many years, as she was photographed by several talented photographers, whose work I love. I was really very excited to meet Nejla in person and capture her beauty with my lens.
Nejla and I met one early, chilly Sunday morning in front of the beloved Magnolia tree. It had to be early, because we wanted to avoid the passengers invasion of our shooting location. The shooting itself didn't take long, because Nejla is a true professional and one of those few people that feel the moment and know how to pose in a very natural, and yet expressive, emotional way. It was a true pleasure for me to photograph her, but even more to learn more about who she is during our long chat over coffee after the photo session. Looking at these pictures, you may see a gorgeous, young natural beauty, but I will reveal to you that you are also looking at one incredibly smart and kind person. Nejla is soon going to graduate in Quantitative Finance, a very complex master studies at WU. So who knows, maybe we are looking here in a future professor? In any case, I am sure that a big and successful career awaits this wonderful young lady.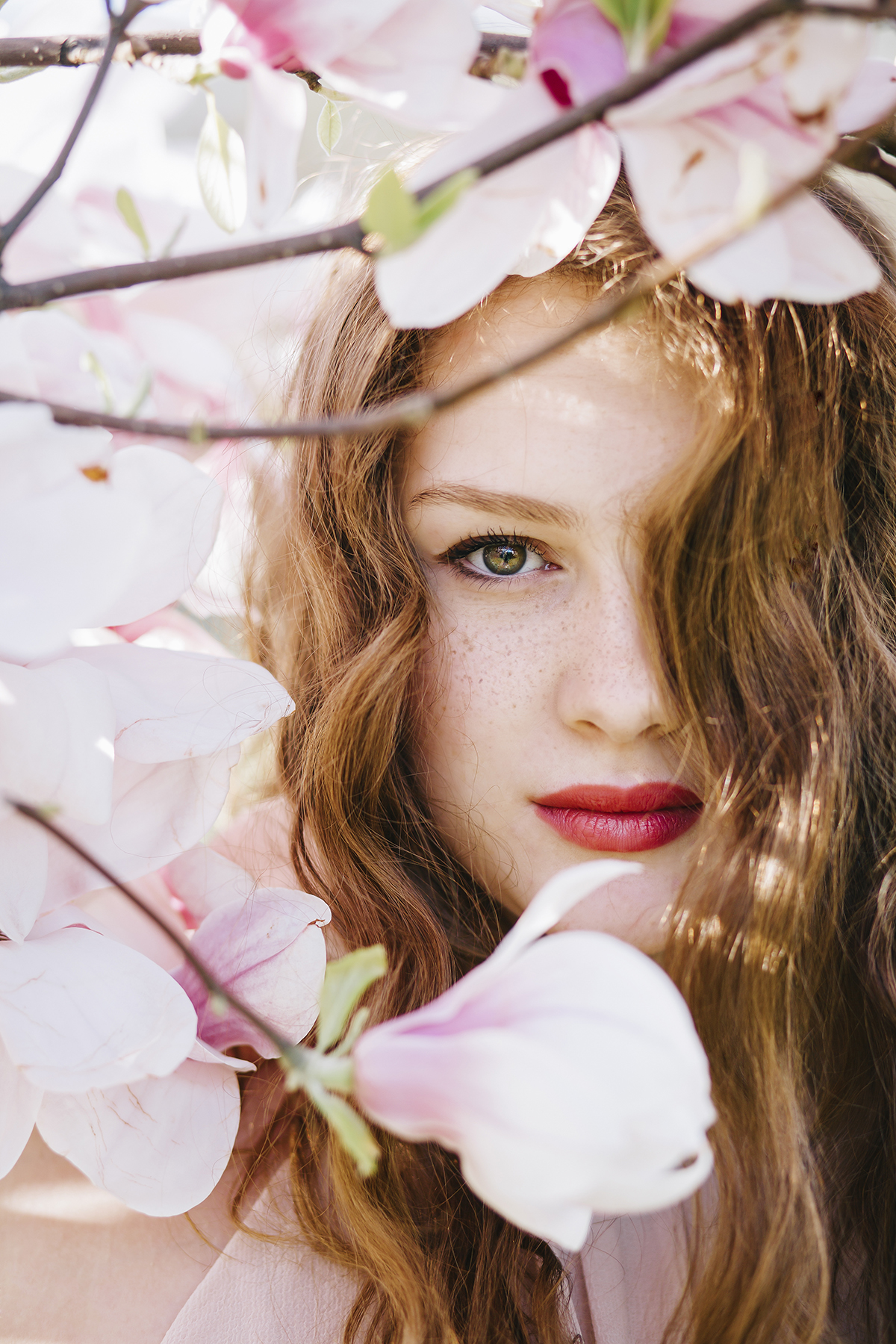 Now, let me say a few words about the shooting itself, for those of you who might be interested in technical information. The camera I work with is Canon 5D Mark III. I have many lenses, but for this shooting I used Canon 85mm, f 1.8. Prime lenses are my favorite to work with. I had Canon 85mm, f 1.8 for quite a long time, and was very happy with it. If you are relatively a beginner and into portrait photography, I would say that this is a great option for a start.
However if your budget is bigger, and you want to do photography professionally, I can totally advise you to upgrade to Canon 85mm, f 1.2. I got myself this lens a month ago and I am delighted! Wish I had it on this shooting, but I hope that this won't be our last collaboration. In some of the upcoming photography posts I will share some of my other works with the killer lens. 🙂 But something that I would like you to remember is that if you love what you do and have ideas, any equipment is great. People create magic even with their smarphones. If you love photography, just do it. Don't be obsessed with expensive gear, just practice with what you have.

Regarding other technical details, for some pictures I used a small reflector (this you can get for around 10 euros on Amazon). And the rest of the magic was done with wonderful morning sunlight. And Nejla of course, she was the absolute star of the shooting! By the way, if you are maybe interesting to work with Nejla, you can contact here via Facebook here.
Last but not the least I will use this post to tell you that I am always looking for ginger models. Or you don't need to be a model, just an interesting person with naturally ginger hair. Or any hair color, but maybe you have something specific, like long blond or curly black hair, face filled with freckles or big blue eyes. It is just that I always mention ginger people first, because as you can maybe guess based on my own hair color, ginger wanna-be is talking here. 😀
I do different kinds of photography, like family, food, weddings and so on, but portraits are my passion, and for personal projects I am always hunting for special people. And if you would like me to photograph you or want us to work together on some of your projects, you can always send me an inquiry via email on [email protected], or write me through other social media such as Facebook or Instagram.
I hope that you enjoyed this post and if you have any questions or feedback, feel free to leave them in the comments!
xoxo,
Una
Notice: All pictures posted on this blog are protected by copyright and owned by Una Stefanovic, unless stated otherwise. If you want to share, use or purchase some of the pictures, you are obliged to ask for permission by emailing [email protected].