When is the cherry blossom time in Vienna? When can I see cherry blossoms, where to find cherry blossom in Vienna, when do Magnolias in Vienna bloom… These are the questions we have been getting each spring, so of course, we had to write a blog post for all of you blossom hunters out there! What you read here is an updated article, from the first version that we wrote back in 2017. Since it is one of our most popular posts, we decided to update it with more information and locations you haven't seen before! 🙂
Blossom fans should also take a look at our post about magnolia trees in Vienna. 
Disclaimer – please bear in mind, that we are no botanical experts. What we are saying here is the result of pure observation throughout the years. And also we checked the dates when we took all the mentioned blossom shots, so the information are reliable.
Cherry blossom time in Vienna starts usually mid March. How long do they last depends on many factors, mostly weather conditions. Our friend Dusan, Master Engineer of Horticulture (so yes, a true expert!), once explained us that the warmer the weather, the sooner the blossoms bloom. Blossoms are (sadly) to be replaced by leaves. So as soon as you see more leaves appearing around the blossoms, hurry up with your shootings. If you wait too long, the blossoms will eventually fall off. The good thing is that cherry blossoms in Vienna bloom at different times. So you might get lucky to capture them, no matter when you visit. As long as that is between mid March and mid April. After that, it is hard to find them. But you will for sure encounter some other flowers, there are indeed many of them around the city. We will also address that topic in some of the upcoming posts.
Editor's note: Please mind, the first version of this post has been published in April 2017. We update the posts each year. Enjoy shooting!
Where to find cherry blossom in Vienna?
Obviously, they can be encountered all over the city, but in order to help you, we will share some locations that we visited so far.
7. In the little park in front of uni BOKU (Gregor-Mendel-Straße 33, 1180 Wien, Austria) in the 18th district is this gorgeous white blossom tree. Many of you asked me on Instagram, where it is, so there you go! In front of the uni there is also a gorgeous magnolia, and close by is Turkenschanzpark, where you will find more blossoming trees, so there you go a reason to visit this park!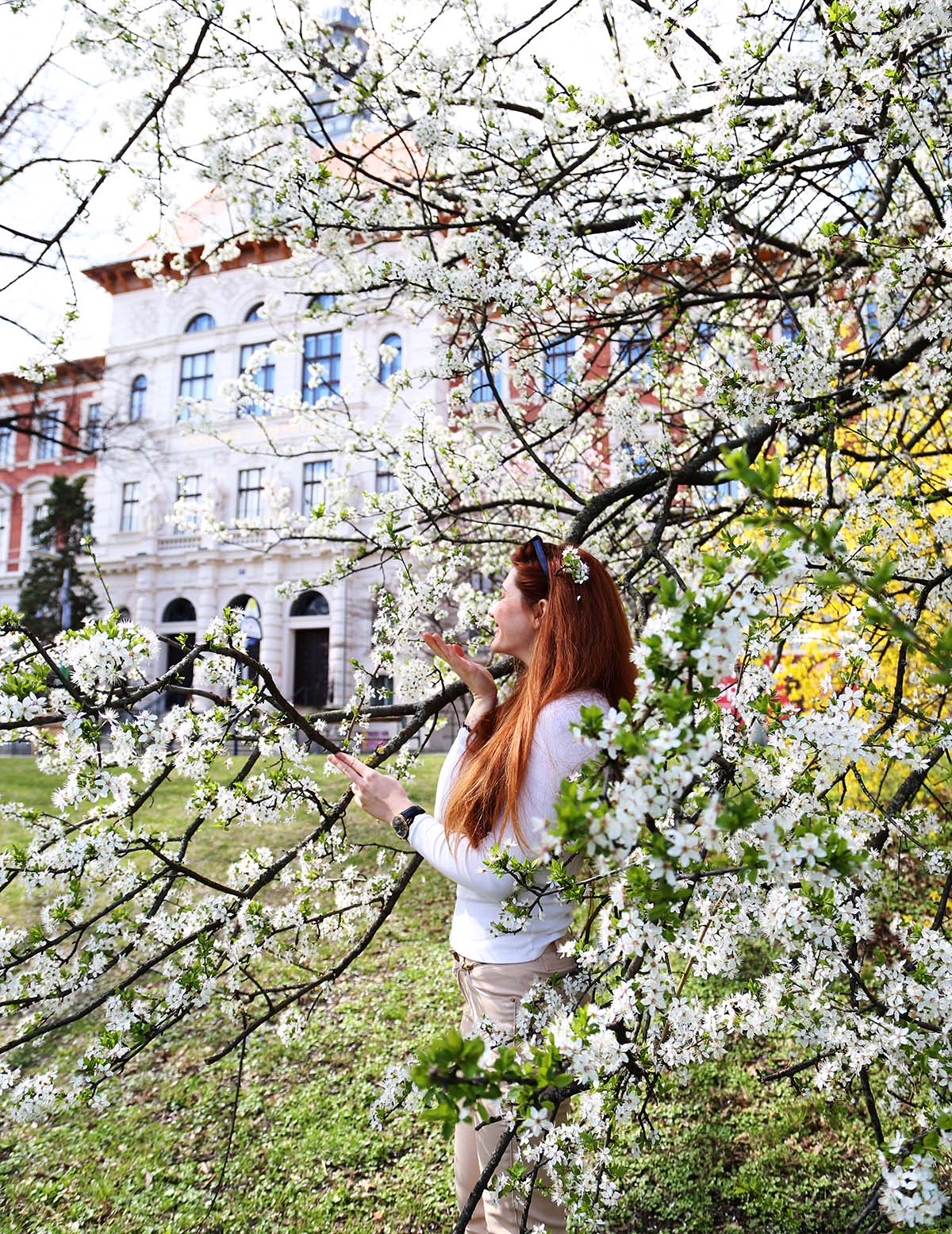 8. Around Doebling – as I already mentioned in a blog post about magnolias in Vienna, there are many blossoms around this gorgeous district. Magnolias are leading, but then again there are cherry blossoms too. Such as for example in Blaasstrasse. There is an embassy at the corner of this street however, so be considerate when taking pictures, not to capture the building, because photographing embassies is often prohibited. Keep an eye on the signs to avoid potential unpleasant situations.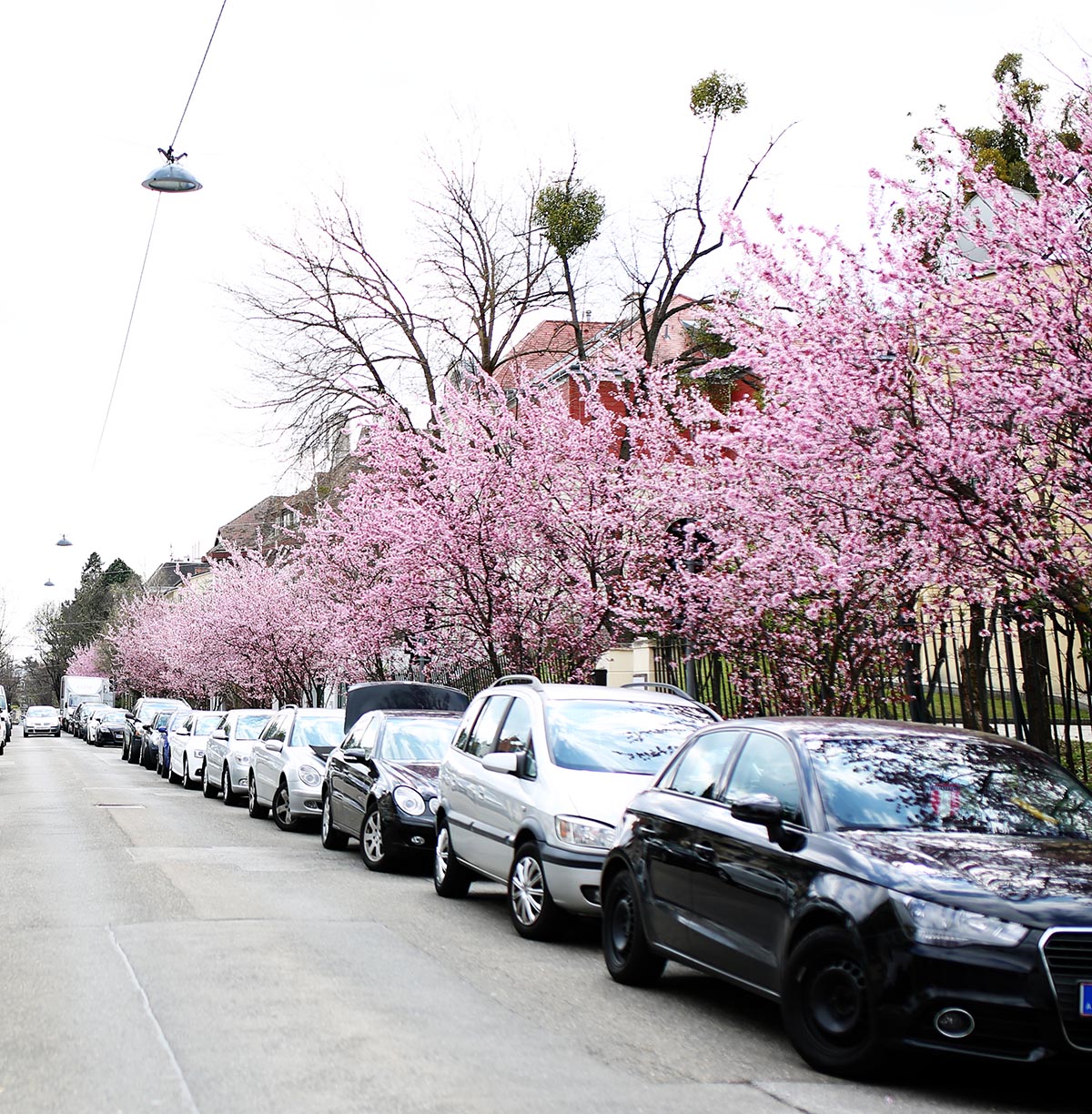 So we guess, this would be more or less it, when it comes to cherry blossoms in Vienna for now. But once we discover some new places, we will update the post. 🙂
Also we strongly advise you to check two great blog post about the most instagrammable blossom trees in Vienna, that Irina wrote. Irina discovered many new cool trees, that we haven't photographed before. But this year hopefully, we will make it! So part one of Irina's post is here and part two here.
Enjoy shooting one of the most beautiful scene, that the nature creates! And if you know about some other place with cherry blossoms, magnolias or anything pretty, don't be selfish and share them with us in the comments. You know how they say – sharing is caring. 😀
xoxo,
Una and Isi