It is not so easy to decide which is the best ice-cream in Vienna! There are many great places and constantly new parlors opening, so it is challenging to keep up the pace and stay updated with all the newcomers. This article is not about ratings, it is just about our personal preferences, after having visited numerous ice-cream places in Vienna. This post first came out back in 2015, when we published a list of top 5 ice-cream places in Vienna. Now we decided to update this post, since in the meantime a couple of more places that deserve a mention on our blog Vienna Insider!
Enjoy our list of top 10 best ice-cream in Vienna! Have in mind, that we listed all our tips in random order. This post is not about rankings, we simply share the places that we like.
1. Veganista
Ok, Veganista is not a random first choice, because it was the first ice-cream that amazed us in Vienna. Creamy, delicate, flavorful, great sorts which make us change our route and head to the seventh district, only to treat us with this heaven. You would never guess this ice-cream is completely vegan! So it is even healthy, guilt free, appropriate for any diet and lifestyle. We always take our friends from back home to Veganista, and so far it never disappointed anyone! Our favorite taste is raspberry. Sometimes they have ice-cream sandwiches, called in-betweener, which are a-m-a-z-i-n-g! Chocolate biscuit, filled with peanut ice-cream is our favorite so far!
PS: Keep in mind that Veganista's scoops are huge. You can therefore also order one scoop half-half. So basically you get a scoop with two different flavors.
Address: Neustiftgasse 23/3, 1070 Vienna is the one we usually go to, but since 2015, when this post was first published, they opened numerous Veganista shops around whole Vienna. So best check their website to see which one is closest to you. You see, we knew they will become so successful!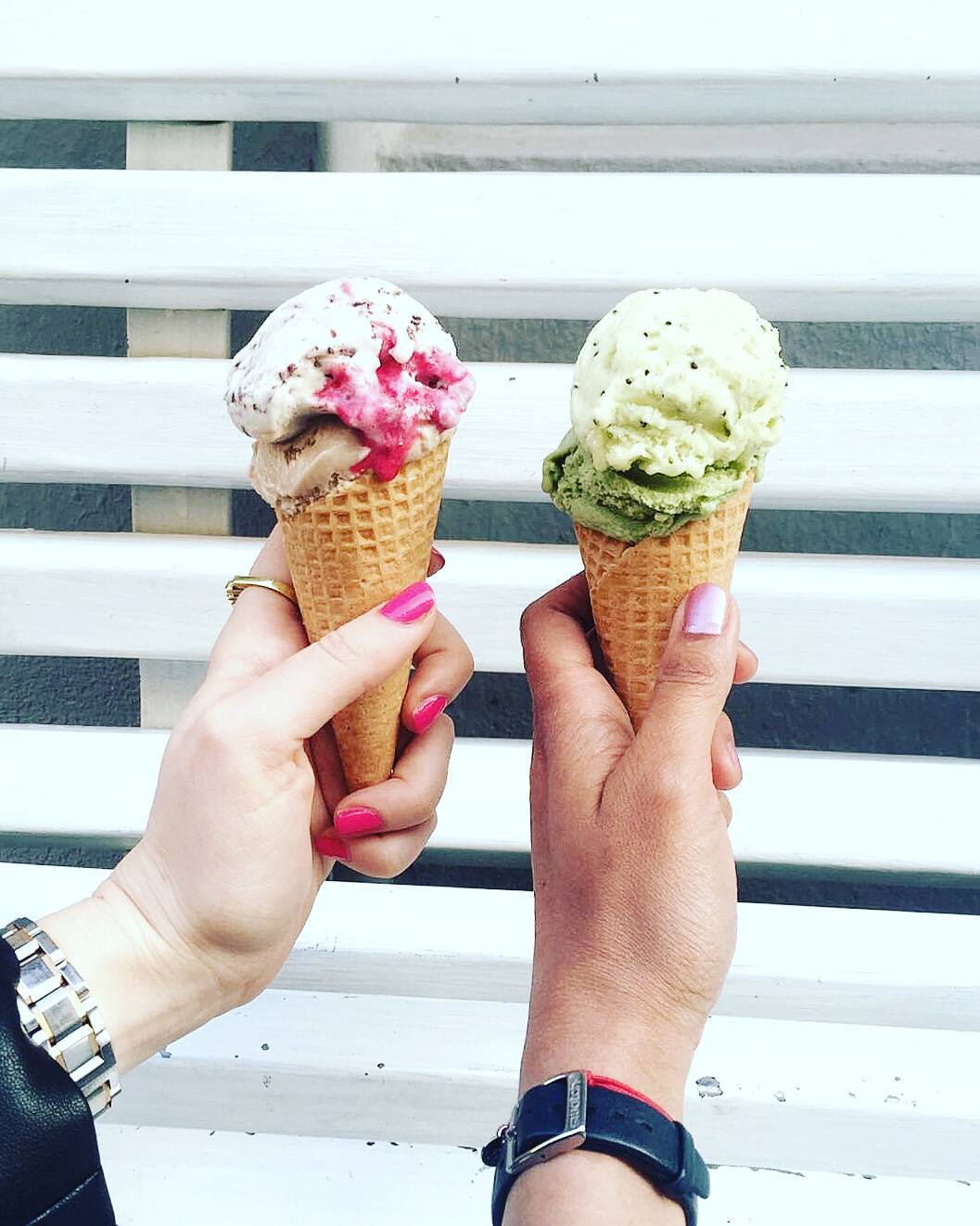 2. Paolo Bortolotti
Shopping in Mariahilferstrasse never goes without stopping by at Bortolotti, where they have three parlors. Especially when we are around with our dear Anja (our friend you for sure already know, as she is part of our Vienna Insider team). This ice-cream is an Italian classic, produced in Vienna for longer than 50 years. The ice-cream is natural, with no artificial colors or flavors used to enhance the taste, which is obvious as soon as you try it. They have myriads of sorts, including vegan options. Nutella is our favorite here. Also Mr.Nico (which is a bit like Snickers) is great for the ones who prefer "heavier" sorts. 🙂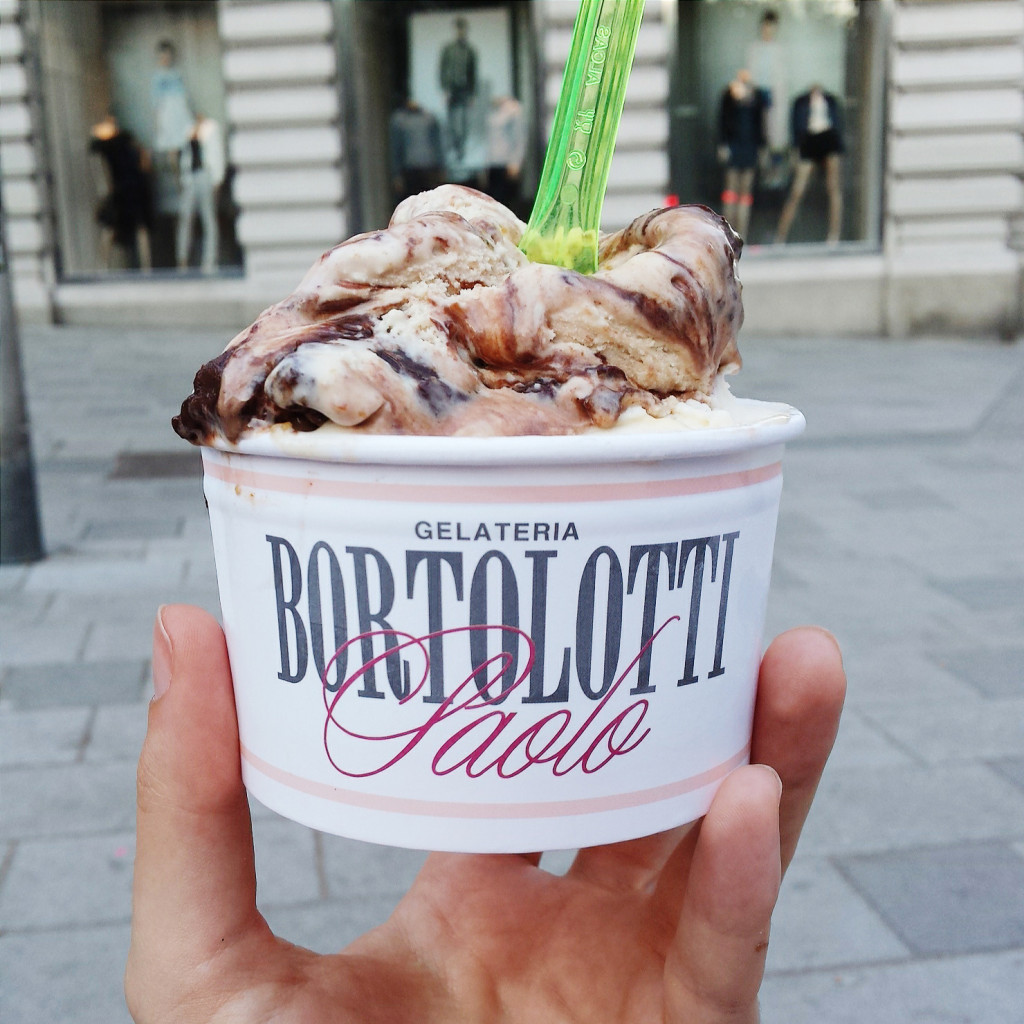 Check our their website to see all the locations and their opening times.
Tichy Eissalon is the Viennese legendary ice-cream place. They are most for their iconic Eismarillenknoedel – or basically a "dumpling" – vanilla ice-cream ball filled with apricot (not the actual one but it is something between a sorbet and jam, tastes like genuine apricot, sooooo good), and rolled in nuts. The Eismarillenknoedel is their bestseller, but they also have them in different flavors such as raspberry filling, wrapped in poppy seeds, and a few more. Tichy is well known also for its ice-cream desserts, such as all sorts of coops and cakes. Their daily offer consists of around 10 flavors, and it changes on a daily basics. Classics are always there, but on some days  you will also find Achanti (peanut ice-cream), or Apricot, Mango and so on. Must try flavor here is hazelnut (insanely good) and Eismarillenknoedel of course!
Address: Reumannplatz 13, 1100 Vienna

Tichy is a true, old-school ice-cream place, favorite of our dear Alex, that is faithful Tichy customer since her early childhood. Alex is by the way the greatest ice-cream lover we know, so if she says it is excellent, you got to believe her! It is our tradition to go here with her, and we just love it.
If we would need to tell you which is the most "Viennese", typical ice-cream palace of them all, we would tell you to head to Tichy.
As soon as the sun comes out and you spot a long, super long like of people in Rotenturmstrasse, don't think they are giving anything for free. No, no, all these people are waiting for their daily dose of Eis Greissler. And you should join them too. Than this is another really must-try ice-cream place, typical for Vienna. Eis Greissler is organic, and they are well known for some funky flavors, among whom is also Pumpkin seed ice-cream. Pumpkin seed oil is one of those emblematic products of Austria, so the guys from Eis Greissler had a great idea to transform it to an ice-cream too. And it really tastes unexpectedly great!
Another flavor we love here is butter cookie.
Address: Rotenturmstrasse 14, 1010 Vienna and Mariahilferstrasse 33, 1060 Vienna. For more info, check their website.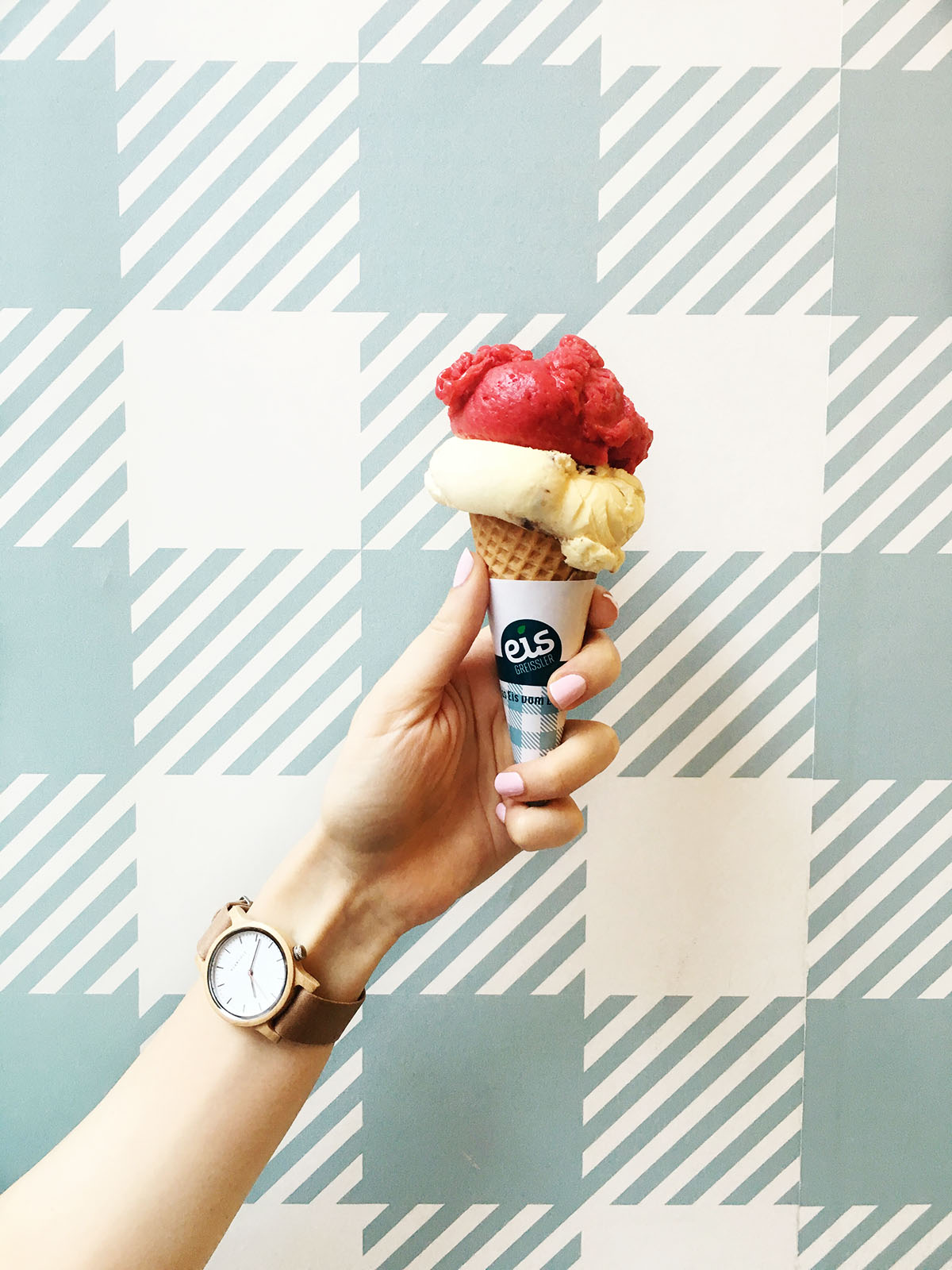 You pop out of the tram in front of the Opera and simply your eyes get hypnotized on the sigh across the street saying – Tuchlauben. It is some sort of magic, that invites you for a scoop of creamy goodness. Our friend Borjana swears in Tuchlauben and she is a seeerious foodie friends… So you can rely upon her… And also upon us, Tuchlauben ice-cream is really good. They daily have special sorts, of usually some chocolate-related creations (which we prefer, we are both not the fruit ice-cream girls much). You can make no mistake with Tuchlauben!
Address: Tuchlauben 15, 1010 Vienna is their flagship store. Check their website for more info here.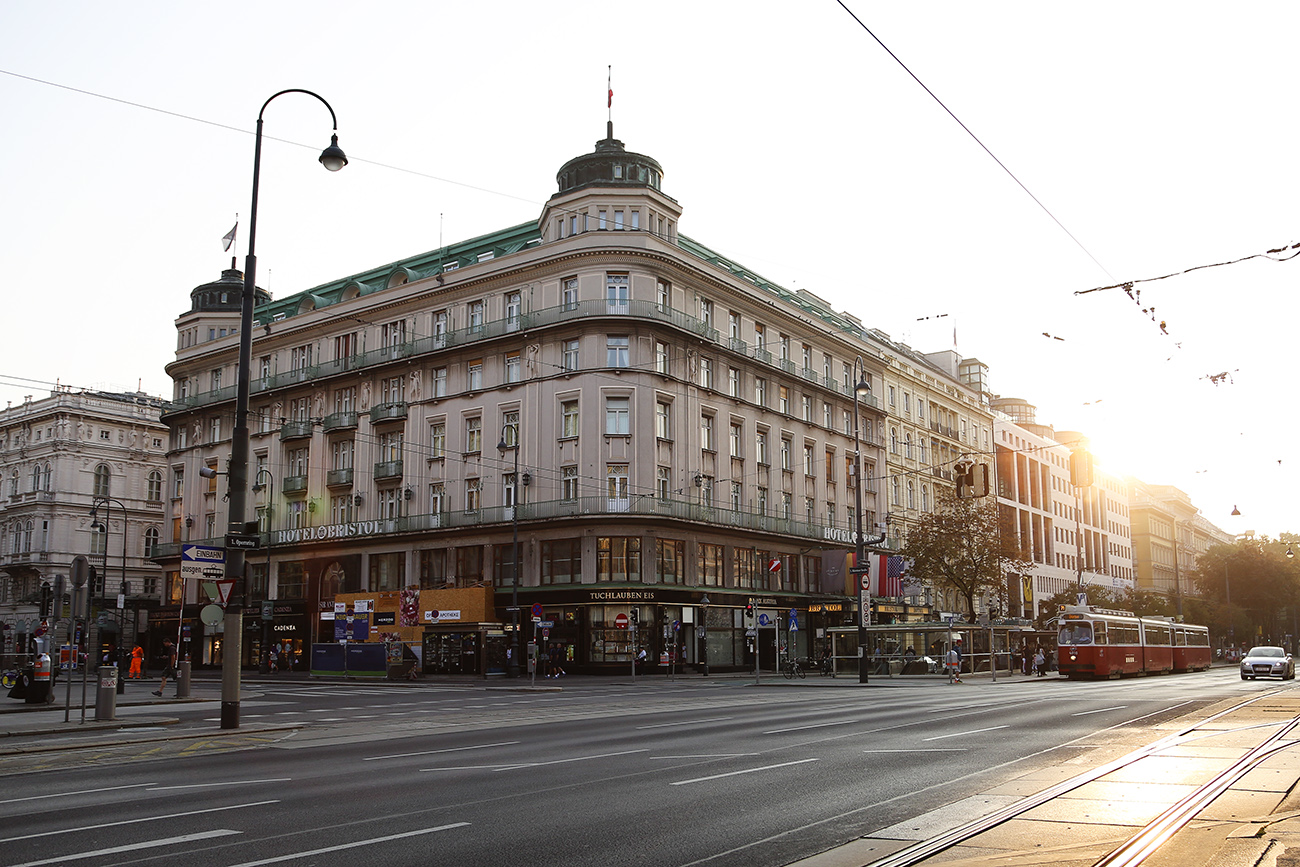 The ambiance of Gelateria de la Romana is beautiful and has a very Italian vibe. You can also sit in their garden and enjoy diverse gelato creations – so not only plain ice-cream but also served in a pastry, pancakes, cheesecake… Avoid this place, especially if you are trying to loose weight, since it will be lethal for your diet. 😀
Biscotti della Nonna is our favorite flavor here.
Address: Stiftgasse 15-17, 1070 Vienna
Photo credit: Our friend and favorite Viennese foodie S. (we need to keep her name a secret!) known as Vienna Eats <3 We couldn't find any of the pictures we took there, so until that is updated, here we will borrow this great pic (click here for the original). <3 If you are interested in all about food in Vienna, make sure to follow Vienna Eats, she is simply the first, best and most honest Viennese foodie out there! Insta name: @viennaeats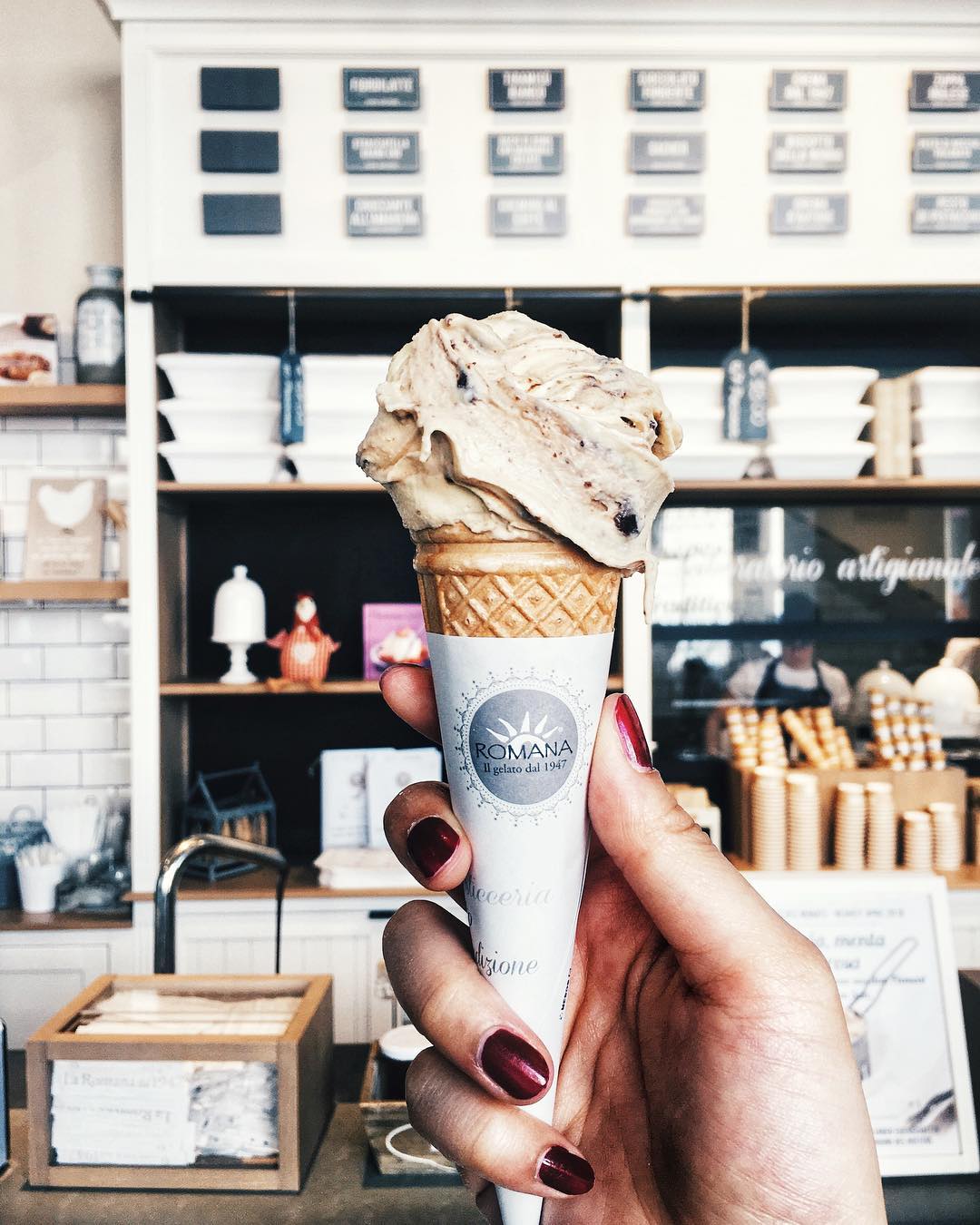 7. Schelato
Schelato is to be found in the 8th district. It is a great ice-cream, with very natural taste. So far we tried strawberry, pistachio, caramel (unlike any other caramel we had so far, if you are a fan, this one is a must), vanilla, pear-rosemary and cucumber, everything was like a dream. If you are looking for something out of the box and special, you should definitely head to Schelato.
Address: Lerchenfelderstrasse 34, 1080 Vienna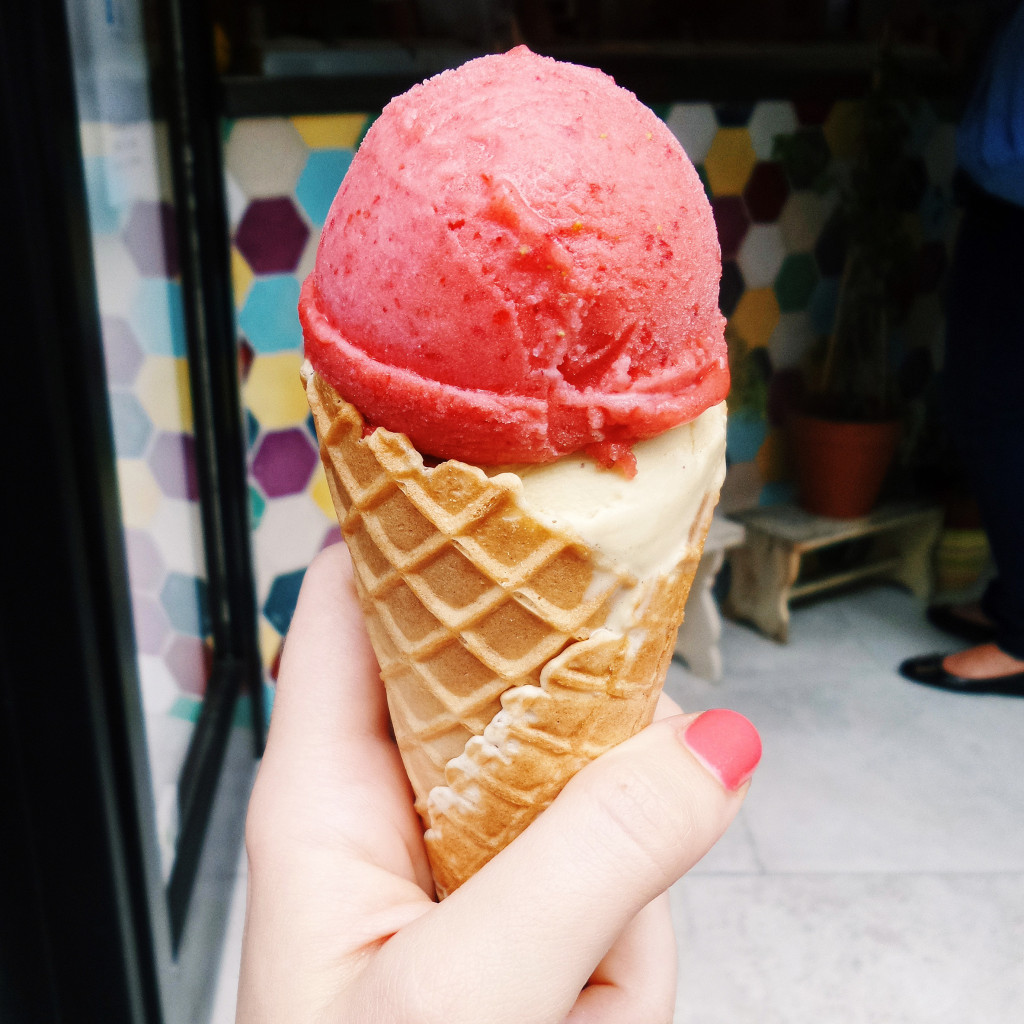 8. Schwedenplatz Eissalon
This, oldest ice-cream parlor in Vienna from 1886, make us visit one of the places we dislike in Vienna – Schwedenplatz. Whenever something annoying happened to us in Vienna, it was at this square, so we really always try to avoid it. 😀 But, it is because this delicious ice-cream that we break our superstitious habit. As usually in the classical ice-cream places, they have many sorts of creamy ice-cream, with very intensive taste and often some tasty toppings and chunks (such as cherries, other fruits, chocolate, nuts…) inside, which we love.
Besides classical options, they have vegan ice-cream, and many creative sorts which change on an everyday basis. For more information about this, check their website.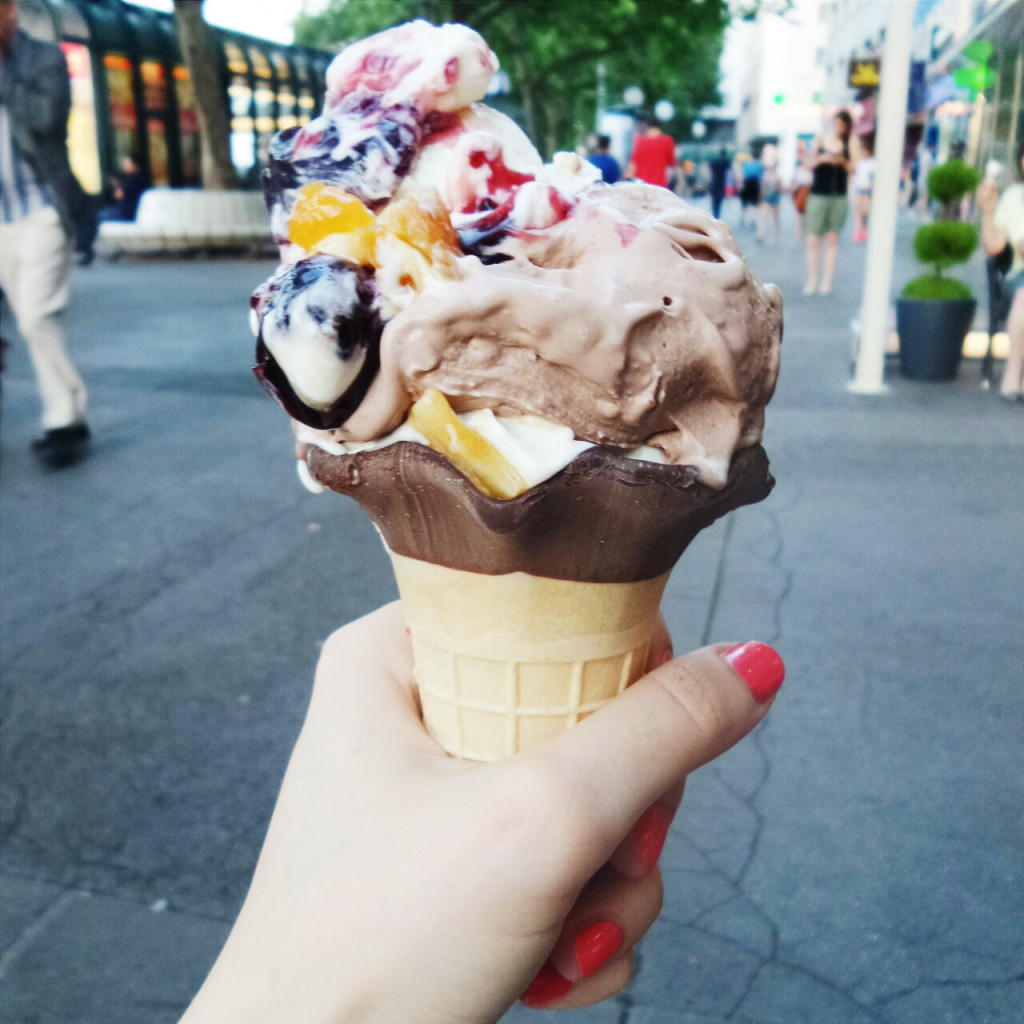 9. Ferarri Gelato
In the first district, close to the Opera house is another perfect ice-cream parlor – Ferrari Natural Gelato. We actually discovered it through our foodie guru, Vienna Eats.
Their ice-cream is gourmet and there are a lot of innovative combinations with high quality ingredients. This ice-cream tastes quite different than the other ones we mentioned, since it usually consists of mix of flavors. It is very intensive in taste, but very refined as well. The only disadvantage are relatively small scoops (update: we haven't been there for a while, so maybe they changed this, hopefully :)).
Address: Krugerstraße 9, 1010 Wien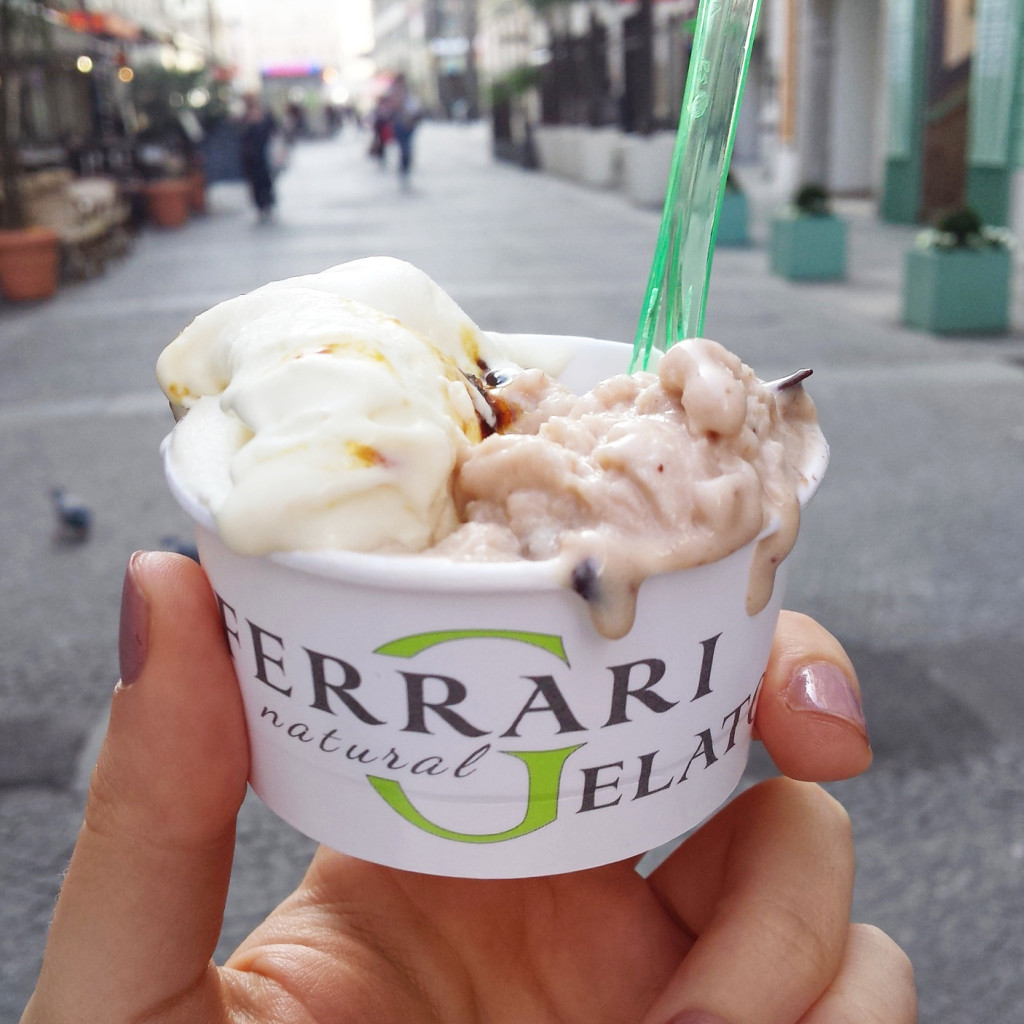 10. GROM
Last but not the least, here we have to have to mention our beloved GROM. They still don't have a parlor in Vienna, but you can find it in selected supermarkets (for a list check our post here). It is for those days when you want to enjoy some gelato at home, with your friends, or on a picnic. What we love about GROM is the intensive flavor, it is insanely creamy and delicious. Whoever tried it from our friends got addicted, so be aware. Our favorite sorts are Crema di GROM (that is sold out in most of the cases, so if you spot it do feel lucky) and pistachio.
What is your favorite ice-cream in Vienna? Share it with us and our readers. Lets help each other get that strong summer body by an ice-cream diet! ;D
xoxo,
Una and Isi