This post my friends, is about a revelation. An illumination. A revelation that there is a t-shirt, that does good to your skin. Its name is GREY, and it is made of a revolutionary fabric, that nourishes the skin, while you wear it. I am a proud owner of this magical t-shirt and I am happy to share it with you today!
In the era of almost unavoidable polyester, I really need to say that I am beyond impressed that to find out that there is a fabric such as vitadylan. I know, you have probably never heard of it before, but today is the day! 🙂 I will first go into some key facts, and then show you how my day in GREY looks like. Off we go!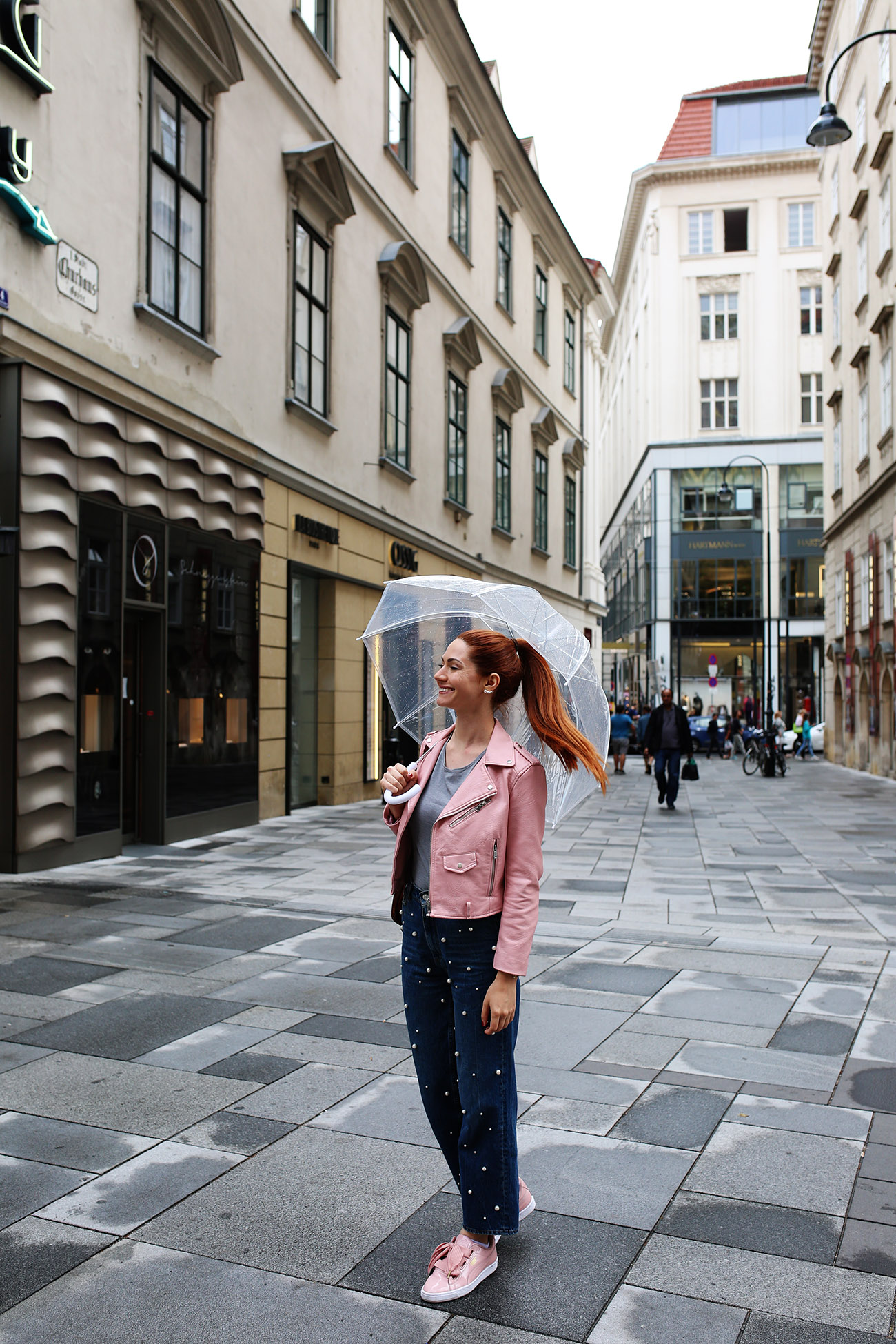 Key facts about GREY:
It is made of Vitadylan – the world's first cosmetic fabric that nourishes and cares for the skin. It contains Icelandic algae and medical zinc. You can read more about this revolutionary fabric here.
It is incredibly soft! Twice as soft as cotton. Wearing it feels like caressing the skin. So I warn you, GREY might mess up the relationship with all other t-shirts you have worn before. 😀
GREY hydrates the skin – the fabric releases natural vitamins A, C and E, as well as minerals from Icelandic seaweed. Basically you don't need to use any lotion, wearing GREY acts like skincare. While you wear it, the minerals and vitamins contained in the fabric itself, are absorbed by the skin. Sounds like magic, right? But as long as you get to wear it longer, you will feel what I mean.
The production of GREY is done in a sustainable way – with 97% less water use, as well as less CO2 emission, caring not only for the skin, but also for the environment. For the sake of comparison – it takes 2700 litars of water to produce one single cotton shirt. To produce one GREY shirt on the other hand, only 70 liters of water is used. No chemicals are used, it is eco-friendly, resource sustainable and biodegradable.
All GREY products are 100% made in Germany and Europe – from the fabric, to the finishing touches. The team behind this brand stands for fair working conditions and guarantees exquisite quality and very durable products. The brand is from Berlin and since I spent so much time there and have wonderful memories, this fact made me feel even more special about GREY.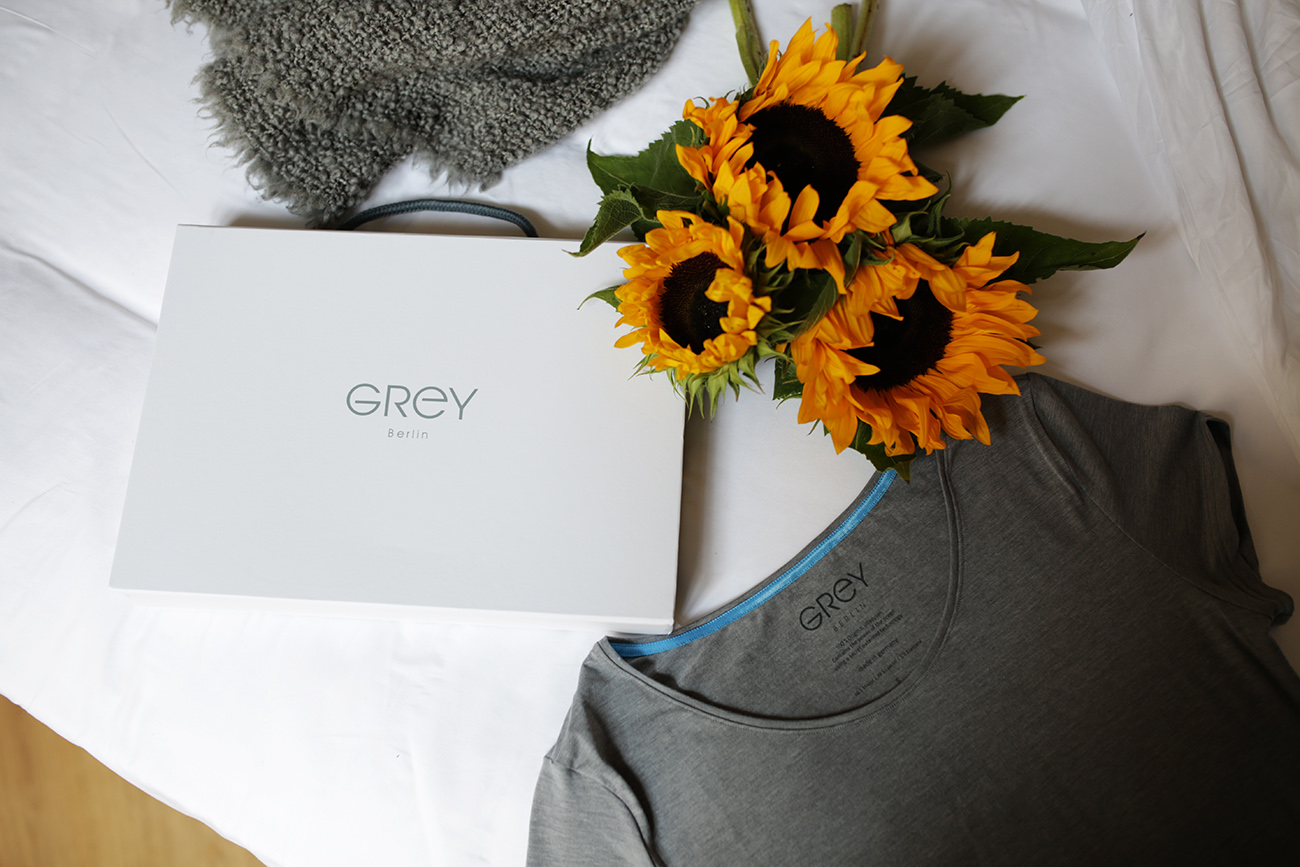 Now, let me show and tell you how I spent my day in GREY! This is also how my ordinary days mostly look like. Minus the morning, and you will see why.
I woke up in GREY in Hotel Altstadt Vienna. I don't wake up there every day of course (but I wouldn't mind haha). I took it there with me, because I knew it will perfectly match our suite. All grey everything!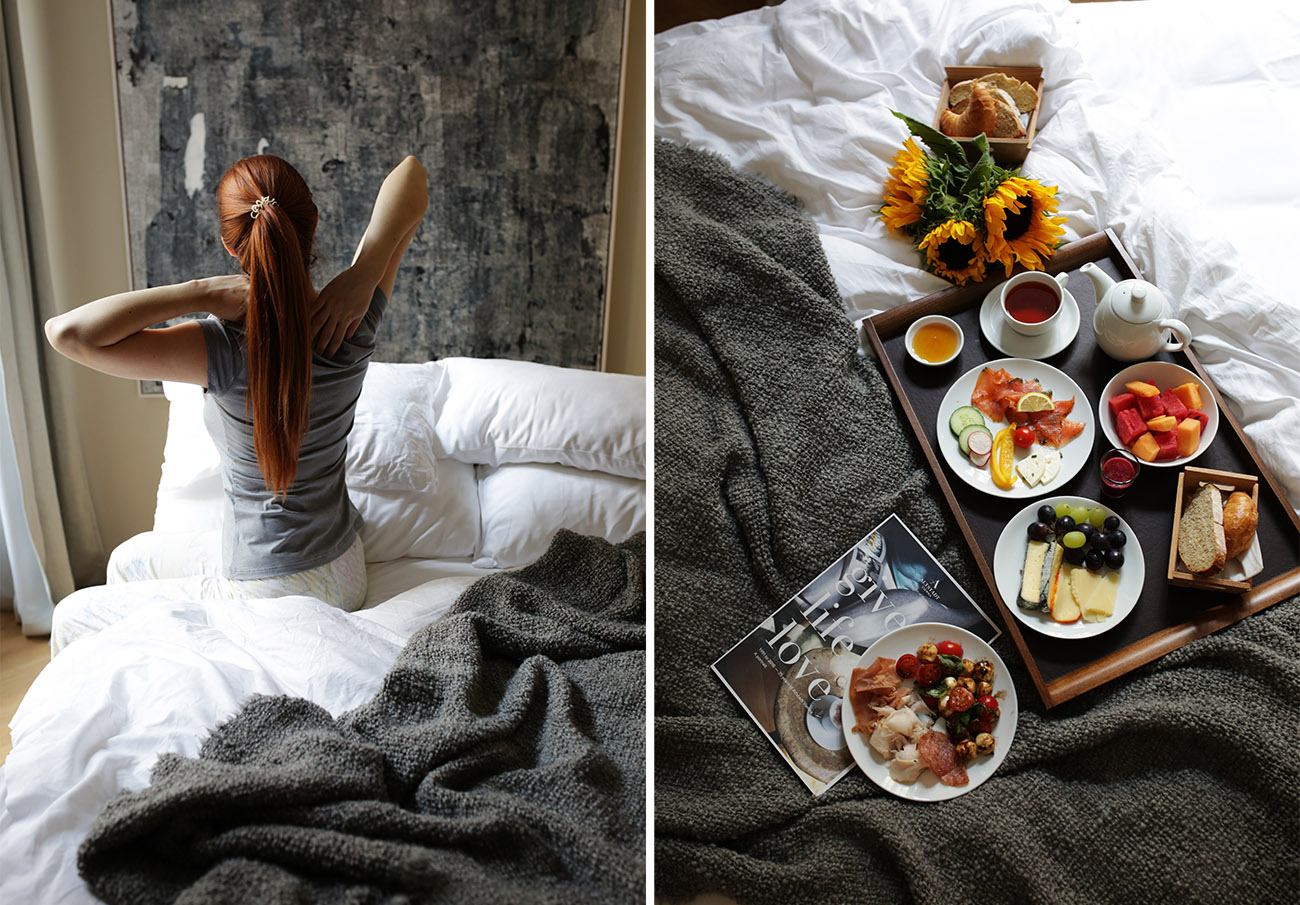 Also when I am at home, I get up, often have a little breakfast in the bed (unlike the morning these pictures are taken, when breakfast was a feast), and then dig into work. Most of my work happens in "home" office, wherever that home may be at the moment. I am very happy to have a job that is quite location-independent. I do social media marketing, I am a photographer and I also blog, so I can carry my job with me always and wherever I go. 🙂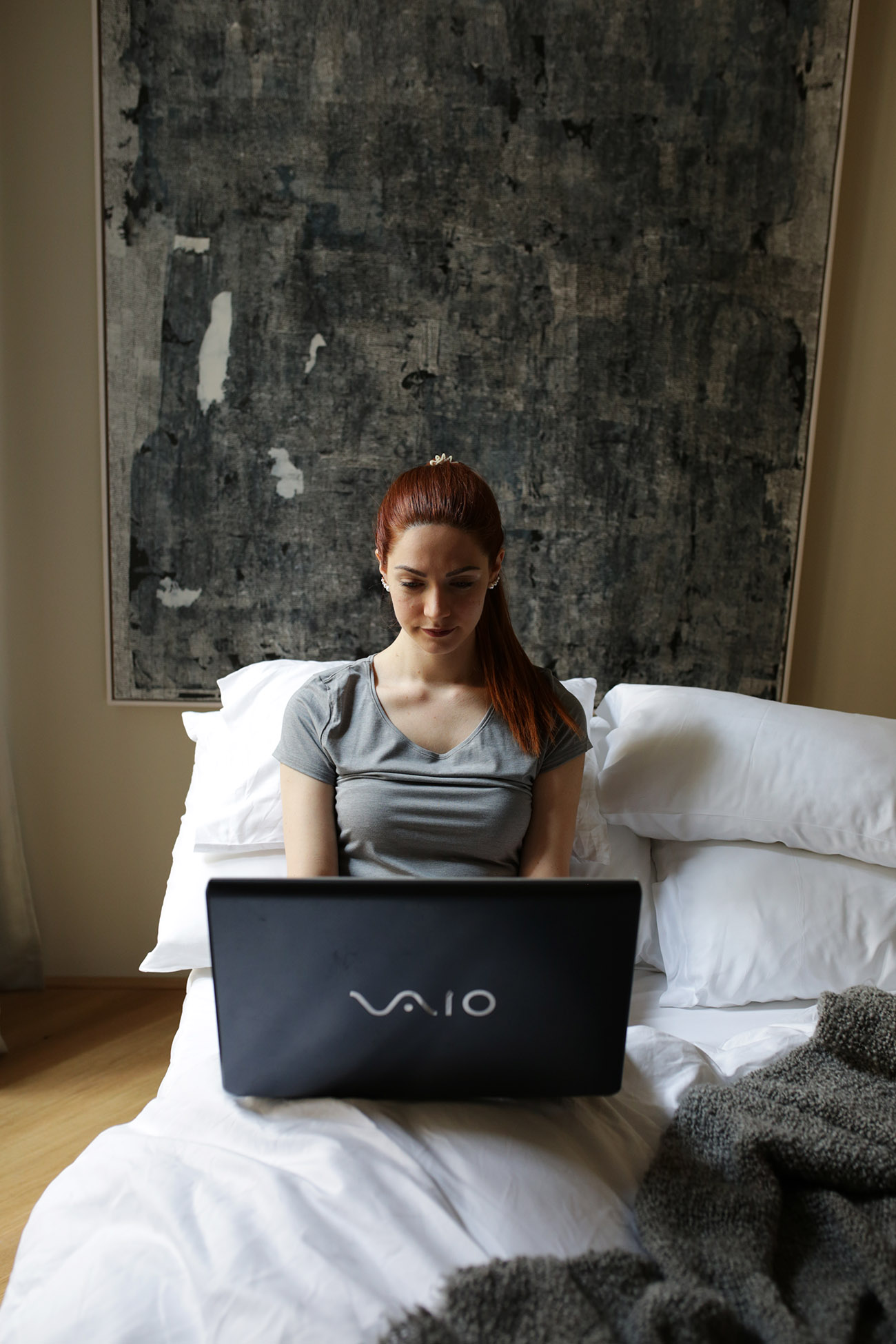 Then I headed over to the first district, to my usual photo walk (no, you cannot possibly imagine how many pictures of Vienna I have! :D). And to go for a coffee with my friend Alex.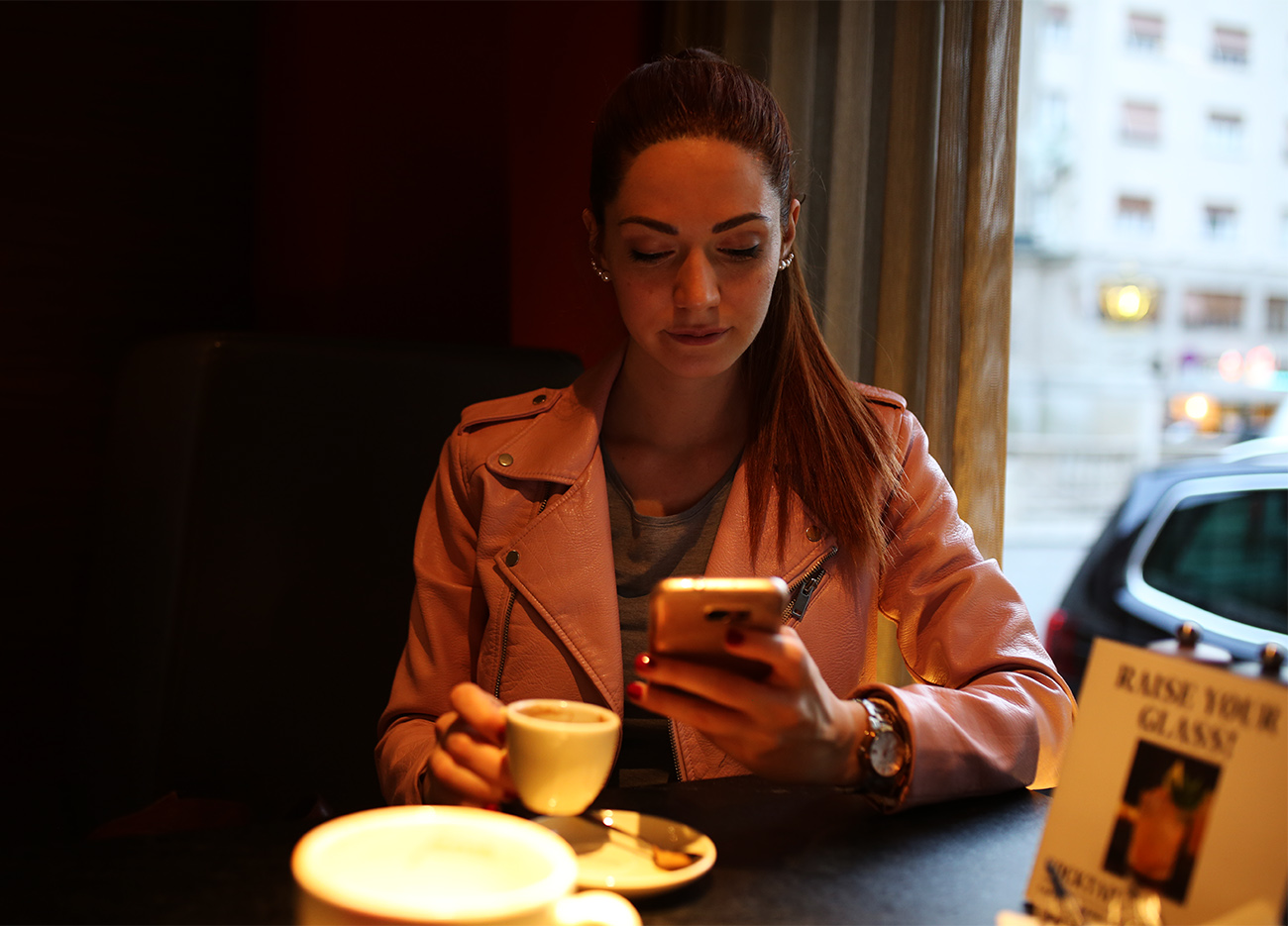 I Instagram and check social media all day long. #addict!
Alex was also my victim for the day – she had to take all these pictures of me. 🙂 Danke Alex, you are the best! <3
The day turned out to be quite grey, as you see. So nothing else was left, but to go for spontaneous shopping spree. What else can I say, but that the weather decided to match the shirt!

Shopping made us hungry, so next logical step was late lunch of course! We went to Miznon, for some delicious, delicious food. I had ratatouille and Alex had their well known roasted cauliflower.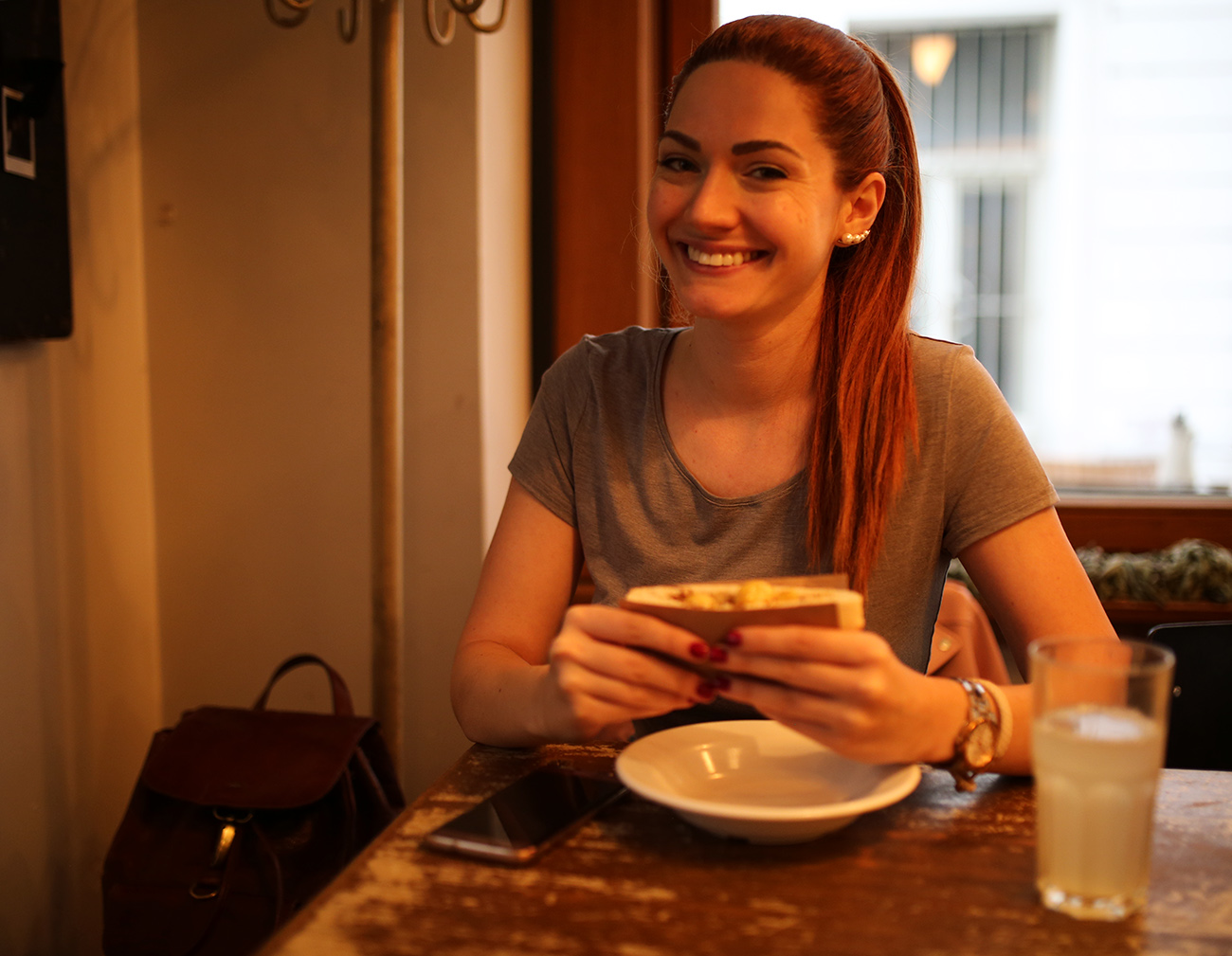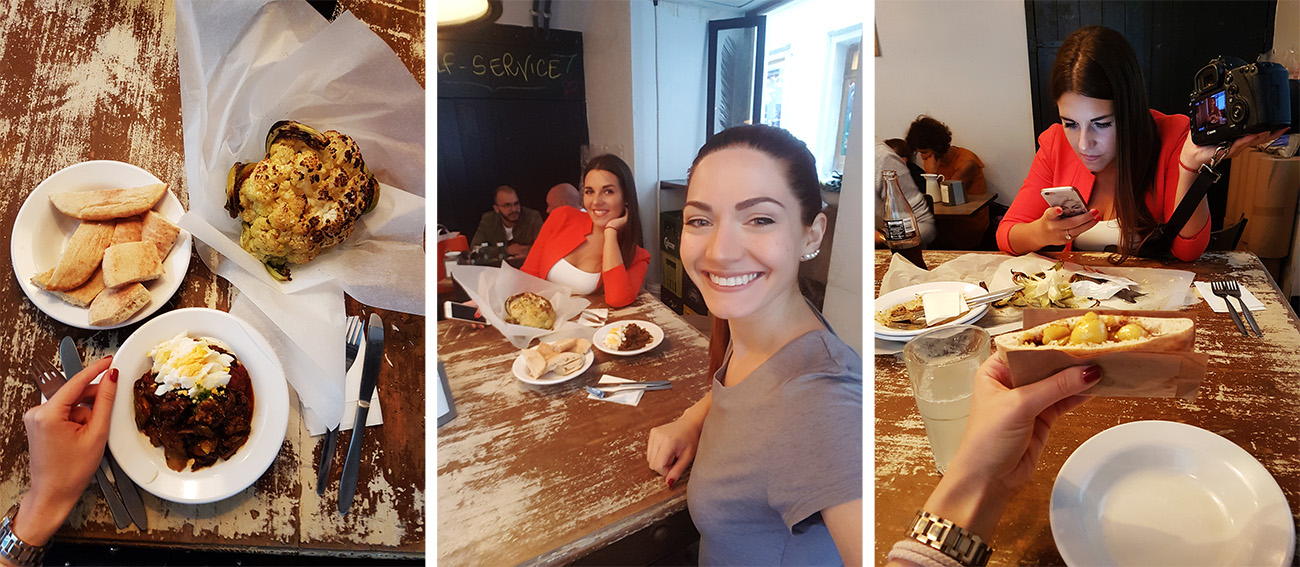 Afterwards, I was out and about, running around, also had a business meeting, that for obvious reasons I couldn't photograph. 😀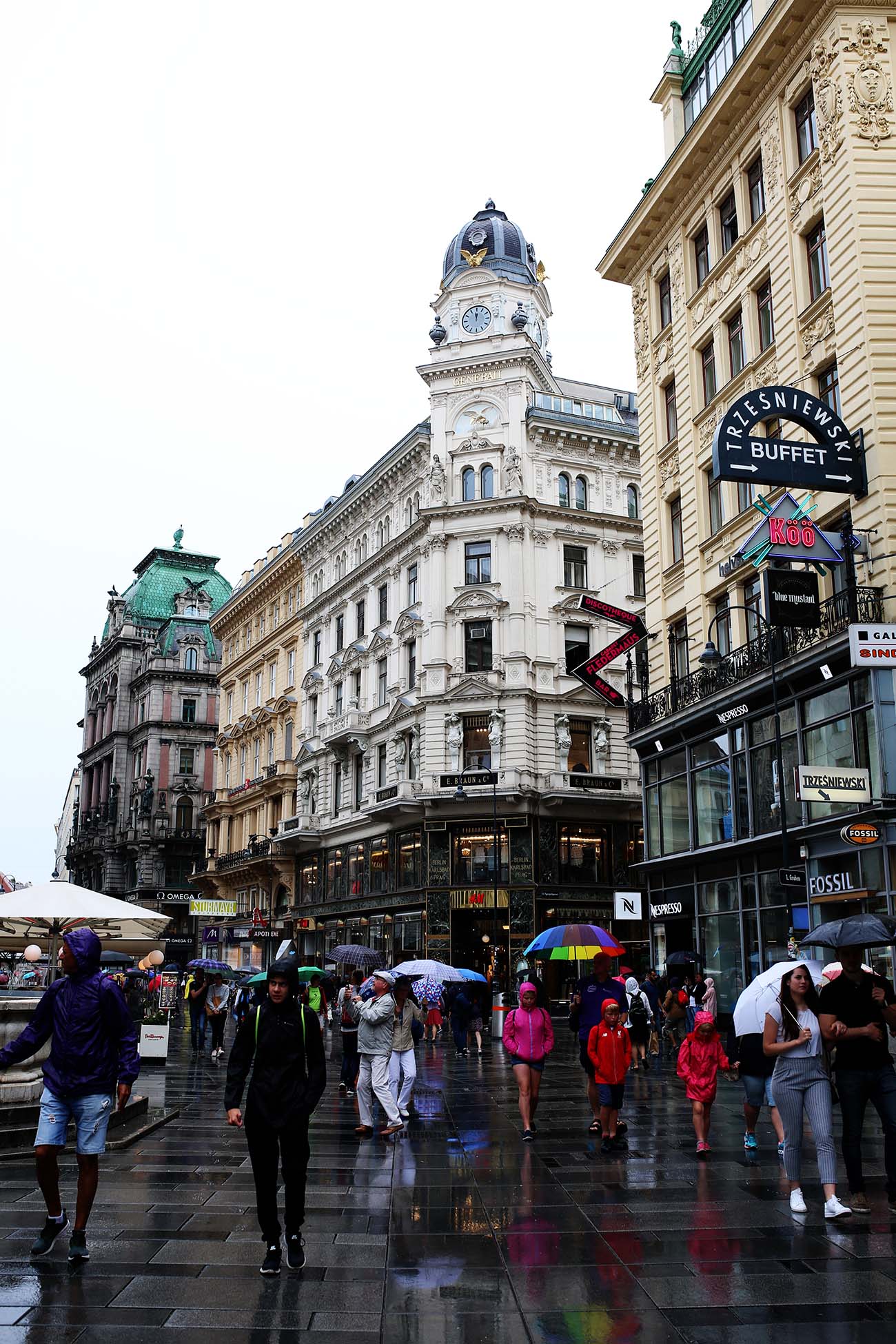 In the evening I met my friends for an ice-cream at Tichy! We did this to break the rainy spell!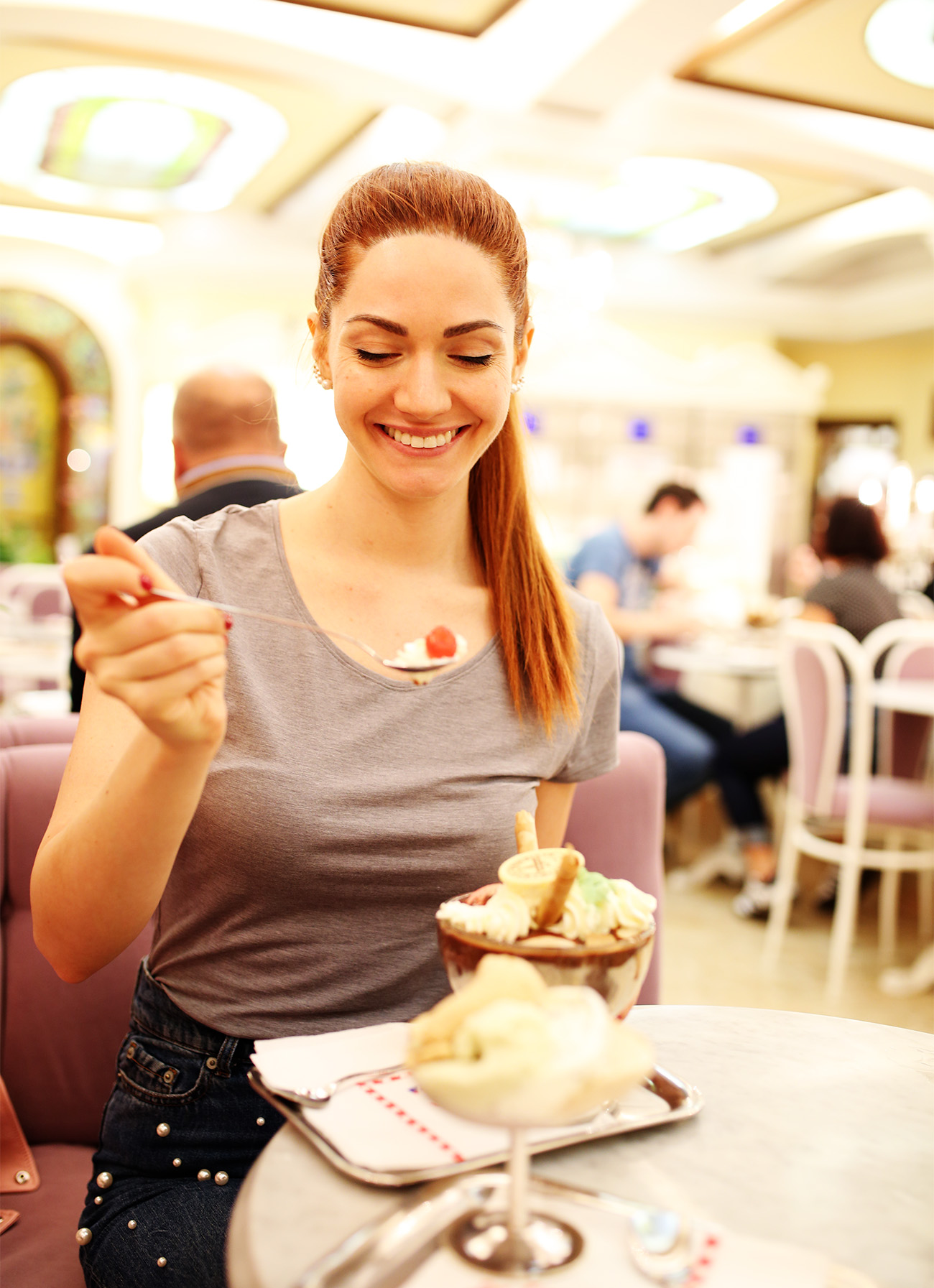 I wish I could show you that I also do sports, or go out to club. But the truth is – I am lazy for sports, and I can't stand clubbing… So yes, my ordinary day in GREY consisted of work, photo shootings, meetings, hanging out with friends and a lot of food!
It was a grey, but really pleasant day, made of activities that I fully enjoy! Even the rain. Wearing GREY shirt made this day even more cozy. This shirt might look ordinary, but it is anything but that. Feels so good on the skin, like the softest hug! It also matches pretty much any outfit, be it if you need to wear it while doing sports, running errands, go out with your friends…
Now it has been almost one month, since I start wearing GREY and I can really confirm that it is hard to take it off, because it really feels great on the skin! And as incredible as it sounds, but I really do feel that my skin became softer to touch than before. This is not the result of any lotion, or body butter, because even though I love buying, I totally dislike using them. And anything that makes my skin feel sticky. I will need to get the Grey Two shirt with long sleeves, because especially in winter, I always wear basic t-shirts underneath my clothes.
And if you want to become a GREY owner too, use my code "Austria25" to get 25% off  the purchase of models Grey One or Grey Two. The link to the online shop is here. <3 We all deserve to treat ourselves sometimes with a piece like GREY that is high quality, revolutionary, durable and on top off all that, that does good to our skin. Once you put it on, I am sure you, just like me, will agree with the slogan of the brand – "If I could have just one shirt, it would be GREY".
xoxo,
Una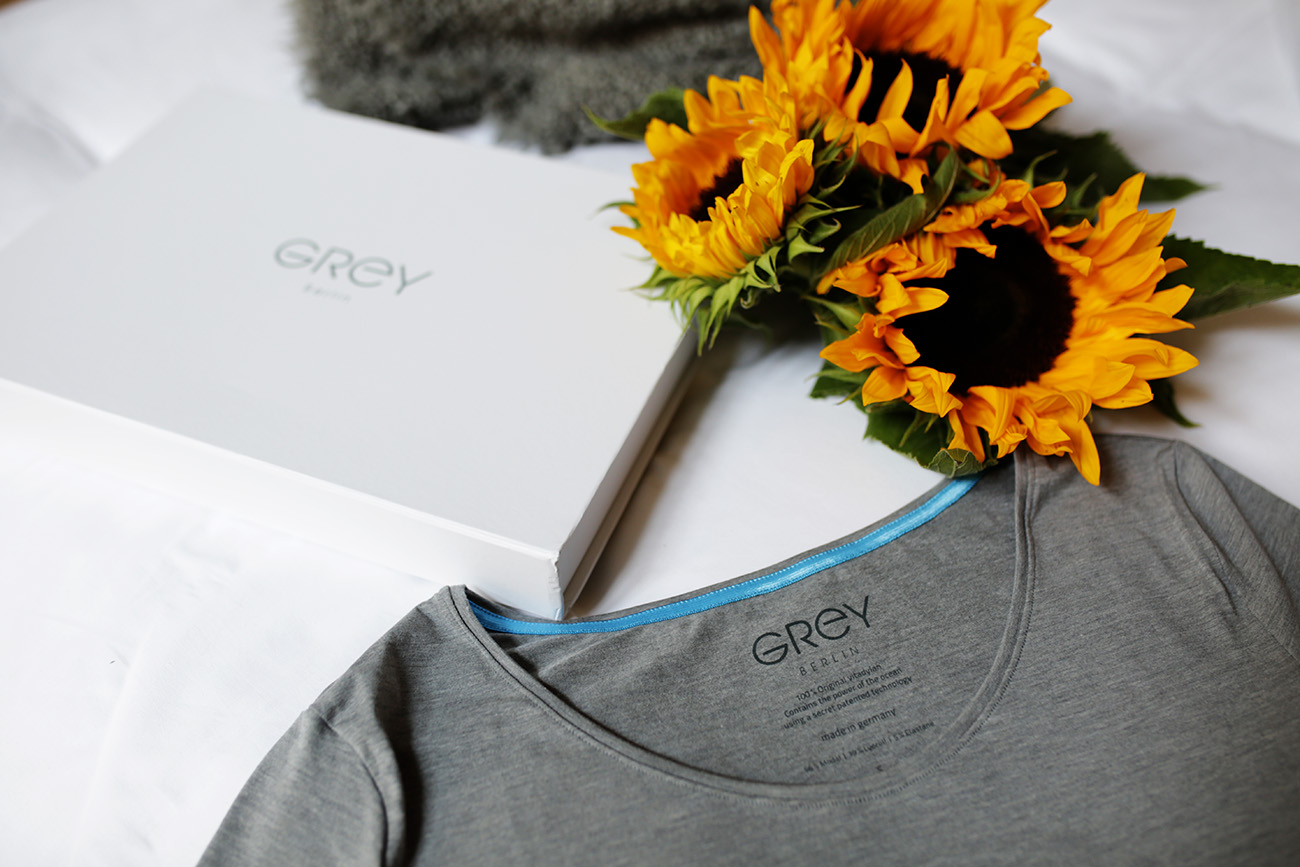 This post was done in a collaboration with GREY.