She is a food stylist, recipe developer and an artist in the kitchen. And a layer to be. She travels the world discovering new flavors. She is in love with spices and chickpeas. And stuffed bell peppers. Her name is Nikolina and she will reveal us all the gourmet, top foodie secrets of Brunnenmarkt. As a regular shopper on the most colorful Viennese market, with 6 years of experience (and counting), Nikolina is a true insider to follow around!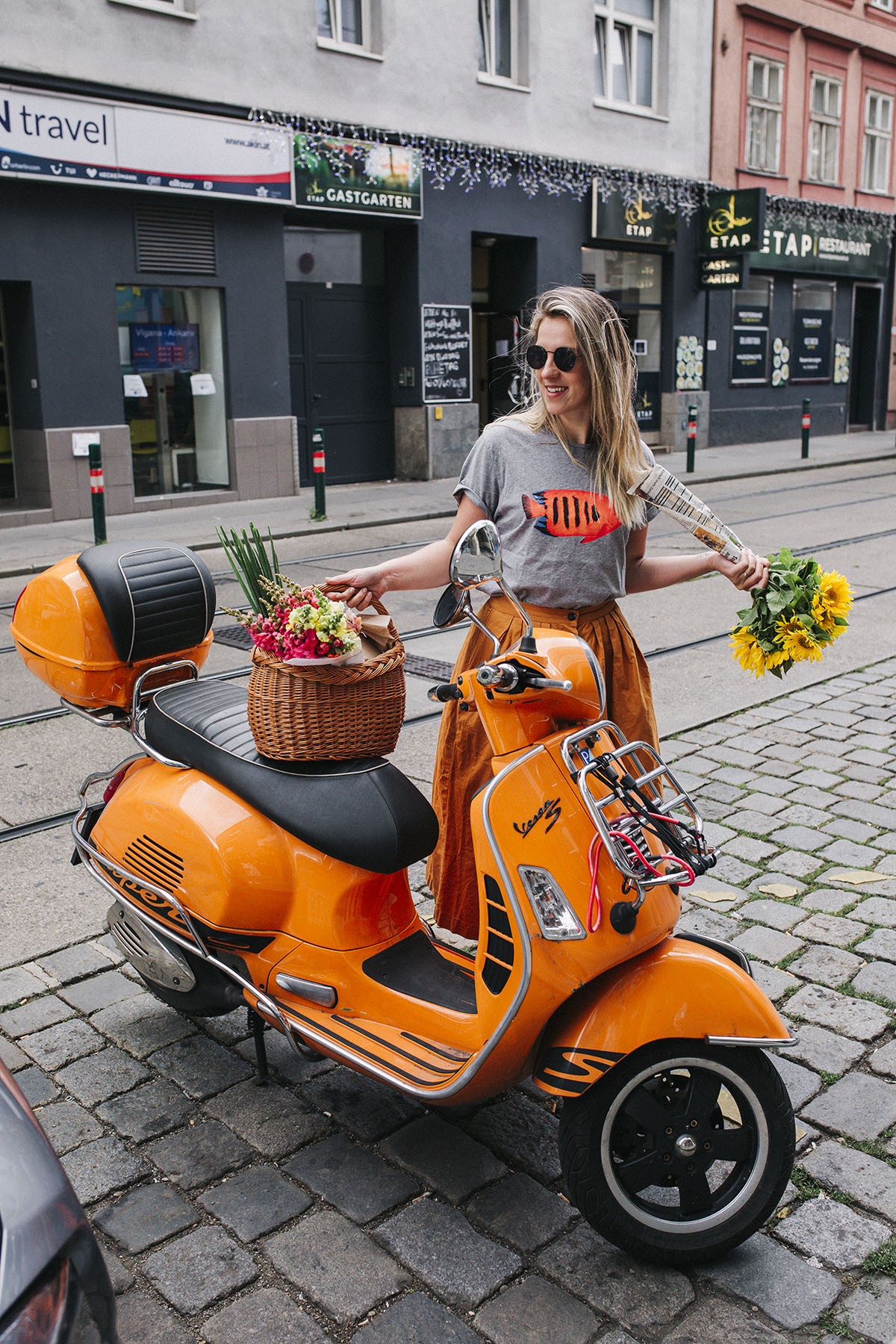 I met this outstanding foodie through Instagram, where she is known as Oklagiya (=meaning the rolling pin in Bosnian/Serbian). By the way, Nikolina originally comes from Sarajevo, Bosnia, but she moved to Vienna 10 years ago. I was stalking her Instagram (a must follow account!), admiring the mouth watering feasts and her passion for food/cooking related topics. Cooking and baking are actually one of my own hobbies, but in my friend's circle, no one really shares this interest. 😀 The love for food first connected Nikolina and me. It took us way too long to meet in person, but once we did, it felt like meeting a good, old friend.
It turned out that we had a lot more in common, than food related topics. Such as for example, that we both talk a lot. Really a LOT. I felt like – thank you life, for connecting me to a new soulmate! 😀 I could write an essay about this girl, but I will try to keep my long introduction under control.
So my idea was to follow Nikolina around Brunnenmarkt, capture her shopping experience and share all her ultimate foodie tips with you dear readers!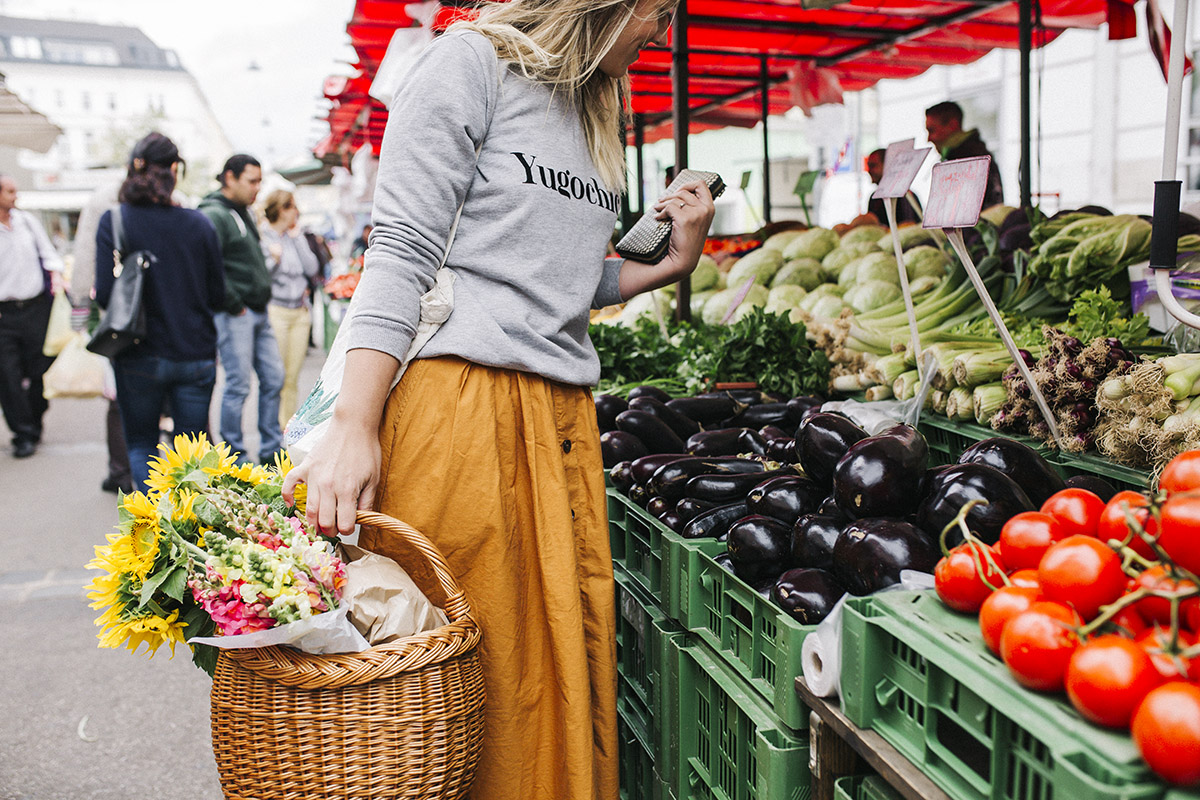 Needless to say, I had an absolutely wonderful morning at Brunnenmarkt following Nikolina on her usual Saturday market haul! I felt like I was in some tv show, like Anthony Bourdain, following true insiders and tasting around. I could definitely do this more often (if you are like Nikolina, an insider on some other Viennese market, email me :))! Our Brunnenmarkt hunt was crowned with a brunch at Nikolina's home, where I got to try some of her specialties and meet her husband Nikola (they are such soulmates, that even their names match! :)). At the end of this post you can see what our brunch consisted of and make it yourself!
Until then, meet Nikolina and discover all the best kept, insider secrets of Brunnenmarkt! And also Vienna and a lot more! xoxo, Una <3
>GOURMET SECRETS OF BRUNNENMARKT
When did you move to Vienna and start shopping at Brunnenmarkt?
I came to Vienna after high school, in November 2008. It´s a decade this year! :O And I am visiting Brunnenmarkt since 2012 after I moved and discovered my neighborhood, which is Yppenplatz & Brunnenmarkt.

What made you choose Vienna as your home?
Coincidence! I´ve never been in Vienna before, neither I thought about moving to Vienna. Don´t even ask for my German language skills back then. Not even a word.
I got a scholarship to go to the USA, but I gave it up, since I wasn´t ready to go so far away from home and leave my family, since my father was sick back then. London was my second choice, but Viennese University was much quicker with an answer and I had my high school bff who was pushing me to come with him, so I ended up in a student dormitory in 8. Viennese District before I even could imagine that.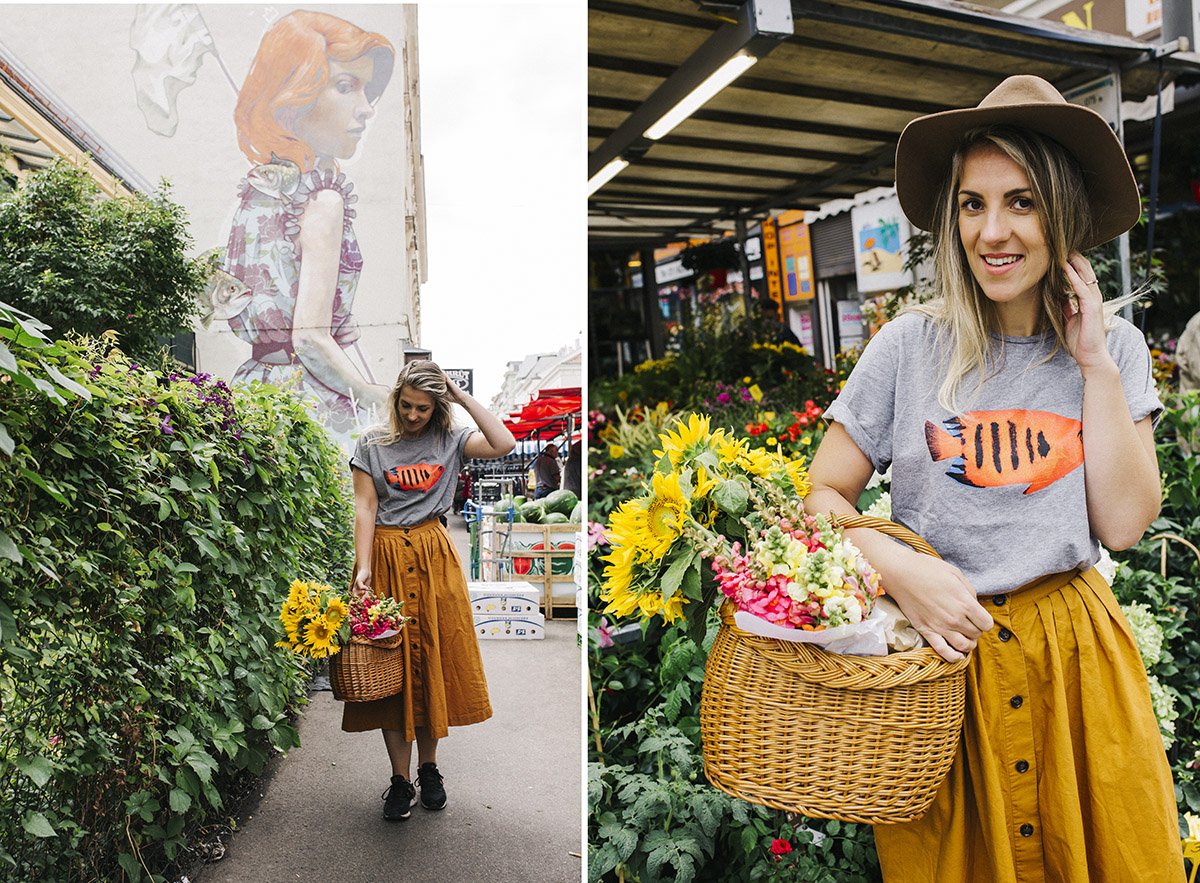 What makes Brunnenmarkt different, what is special about it?
I generally love farmers markets. They are my favorite places to visit when I´m traveling too. Brunnenmarkt is special to me, since I feel it like home, I know the people, I know where I´ll find all I need and which flowers my flower-grandma is bringing every Saturday. But what I think what makes Brunnenmarkt special and different from other farmers markets in Vienna is it´s offer. Variety of products, fair prices, bio fruits and veggies, fresh bread, homemade products, and most of all – it´s people. It´s like a world in a small, you can buy very best products from all over the world direct from people who are coming from those places, but found their home in Vienna and presenting their culture on a best way – through food and food products. What I also like about Brunnenmarkt is that there is no fancy walkers and buyers who are just there to take photos (ok,me doing that too, but I´m the boss there), it´s natural, spontaneous and simple market with high quality products.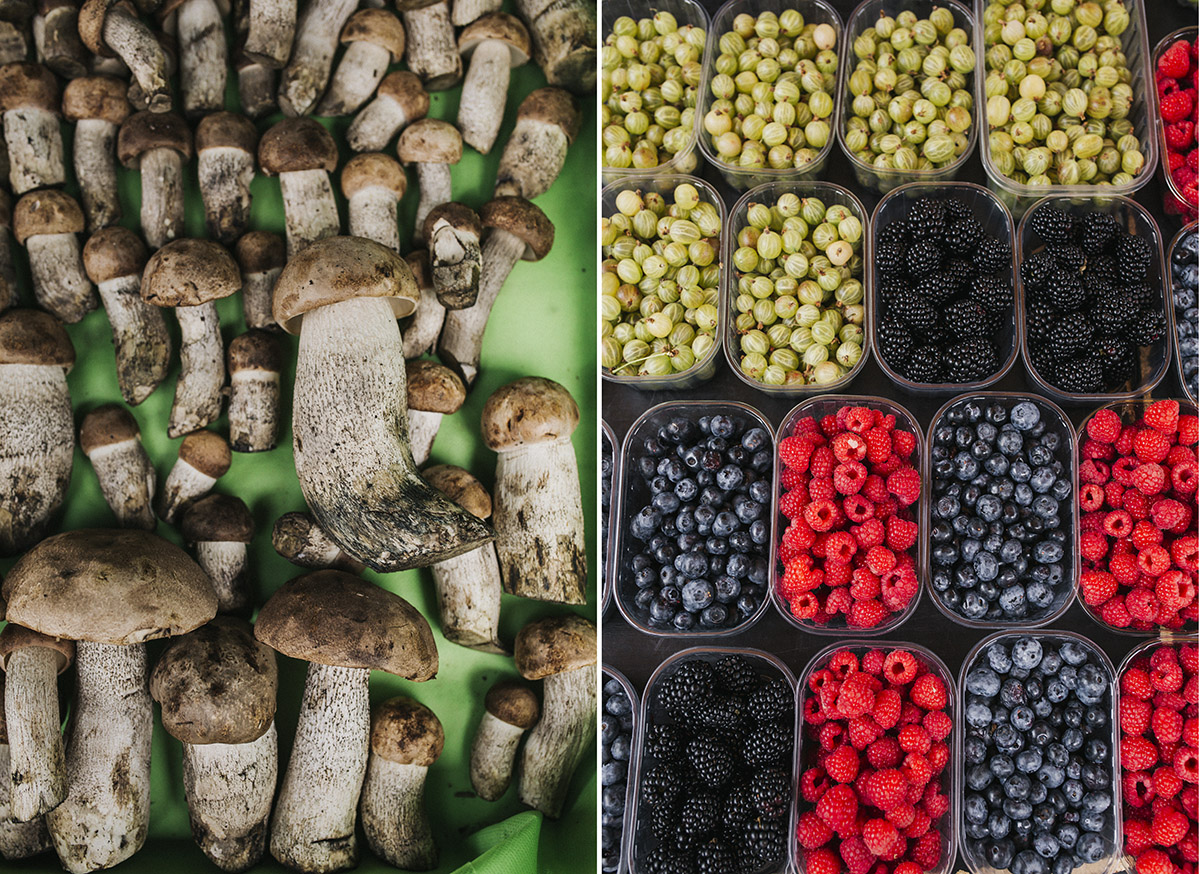 What are your staples at Brunnenmarkt – what do you usually buy?
First of all, spices. The same one I brought from Morocco, from Iran or anywhere else, when I spend them I can found here the same ones and I love that! Naan-bread is a must on Brunnenmarkt and a Gözleme from Turkish grandmas. Cheese, I buy a lot of cheese. Goat feta is something I always have in my fridge. Homemade products from people who are coming from the countryside every Saturday. Bread and fresh homemade pasta. Fish. Flowers. And of course fruits and veggies.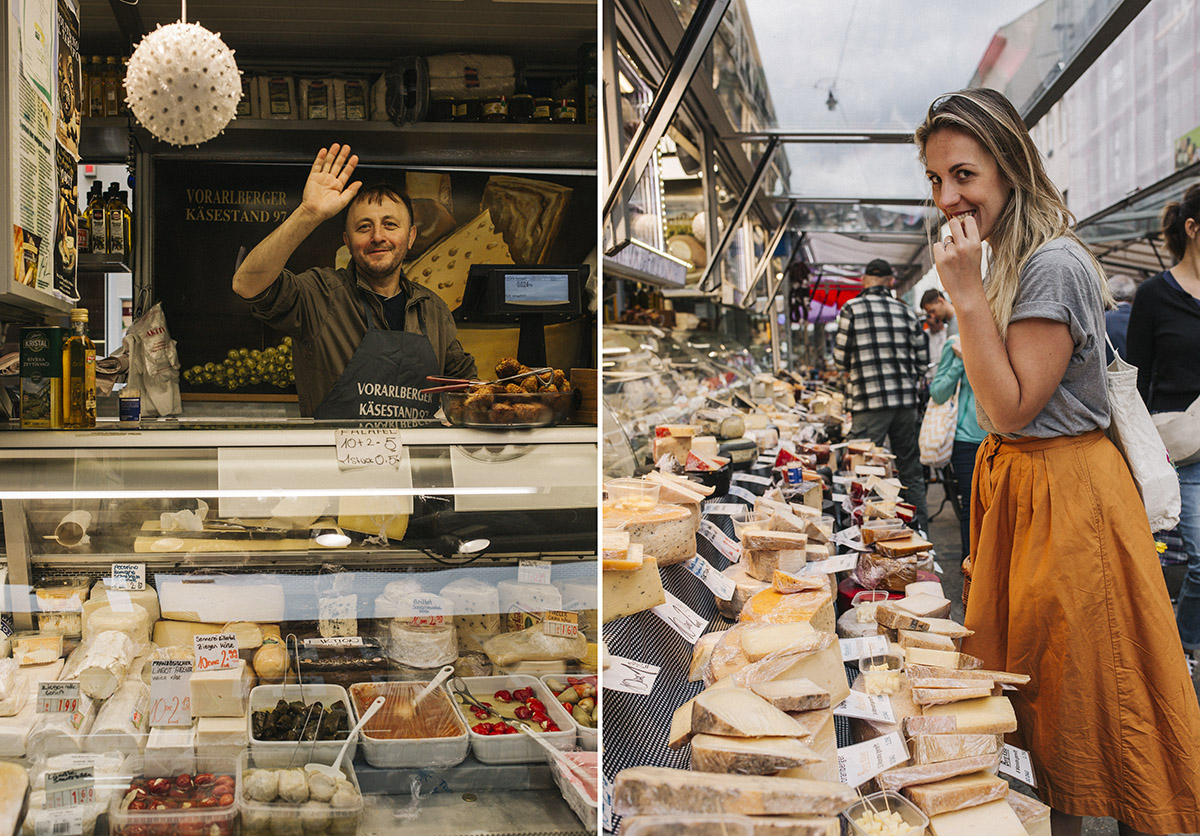 What about the prices – would you say that Brunnenmarkt is cheaper compared to the other markets or the supermarkets? Do you have some tips about what is especially affordable here?
For sure is cheaper! Sometimes I´m lazy and in a rush, so I go to the market instead to Brunnenmarkt. After I come home I realize I could buy a 1 kg of eggplant for the money I bought one piece in the market!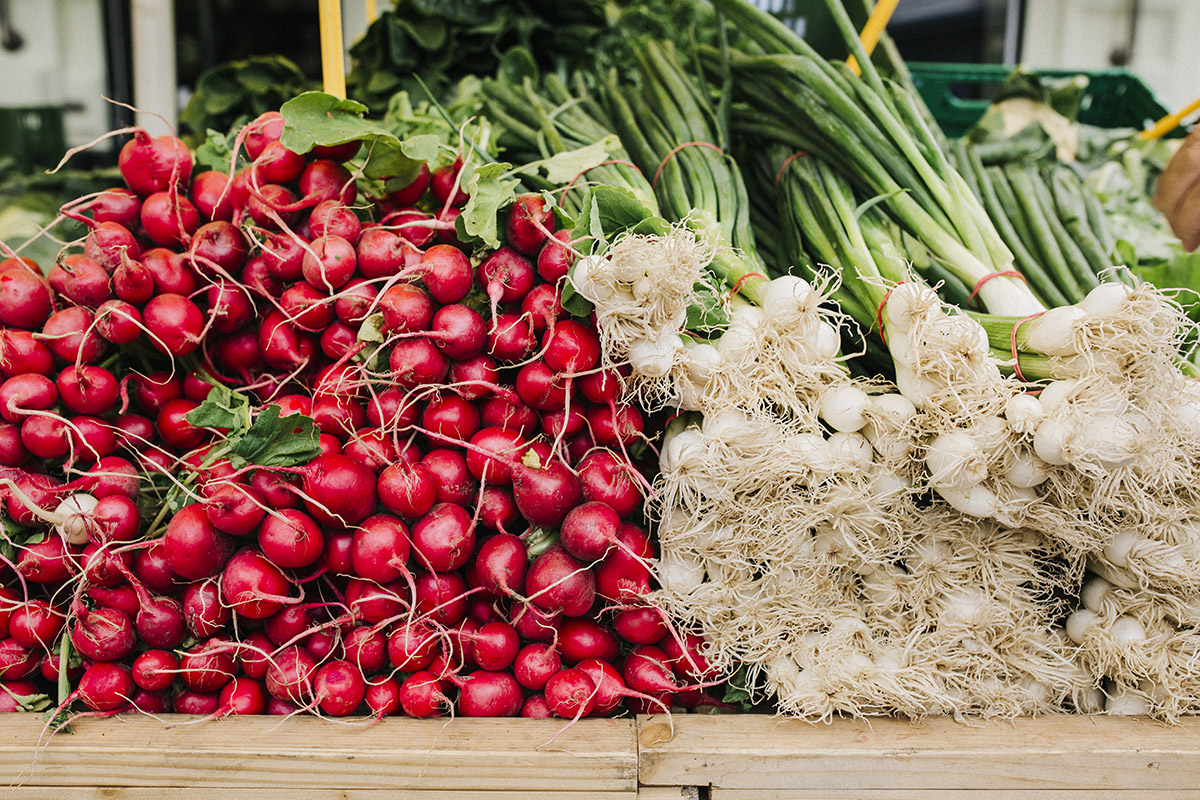 Now tell us your secret tips – what are the secret finds of Brunnenmarkt?
Homemade Naan-bread, date-marmelade, pomegranate-molasses, small turkish olives, fresh mushrooms, grandma´s home-made juices, black bean sauce, cheese with cumin and walnuts.


***FYI: You will find Naan Gaulachergasse and Friedmangasse. If you are entering Brunnenmarkt from Gaulachergasse, you will spot the Naan stand on the right side, almost as soon as you enter the market. This was one of the most requested questions on our Insta stories.
What about street food at Brunnenmarkt? What is a must try?
Gözleme & Falafel straight on the market, but I prefer each and every cafe/restaurant/ place  on Yppenplatz to eat after a shopping tour at Brunnenmarkt. They are usually using fresh products from the market which I find great! Also, each place has a terrace, what makes Yppenplatz a great place for meeting a friend over a drink or a meal.

Yppenplatz is easy to reach with the U6. Just take off at Joesefstaedterstrasse.
>A FEW MORE WORDS ABOUT OUR INSIDER AND HER VIENNA FOODIE TIPS
Where did your love for food came from?
I grew up in a gourmet-family. Each period of my life I was getting spoiled with a high quality foods by my grandmothers, parents and family. My family owes a famous restaurant "Toplik" in Sarajevo longer than 20 years, which I´m very proud of. Most of people are connecting my love for food with that, which might be true since I grow up with my parents building that restaurant and creating and improving it to become what has become today – a place where you have to come to eat if visiting Sarajevo.

And where do you find inspiration for cooking and creating recipes?
I started cooking and discovered it after I left home and started living on my own. My endless inspiration are my grandmother and my travels. Each time I travel somewhere, my first mission is to get into the kitchen of a local grandma.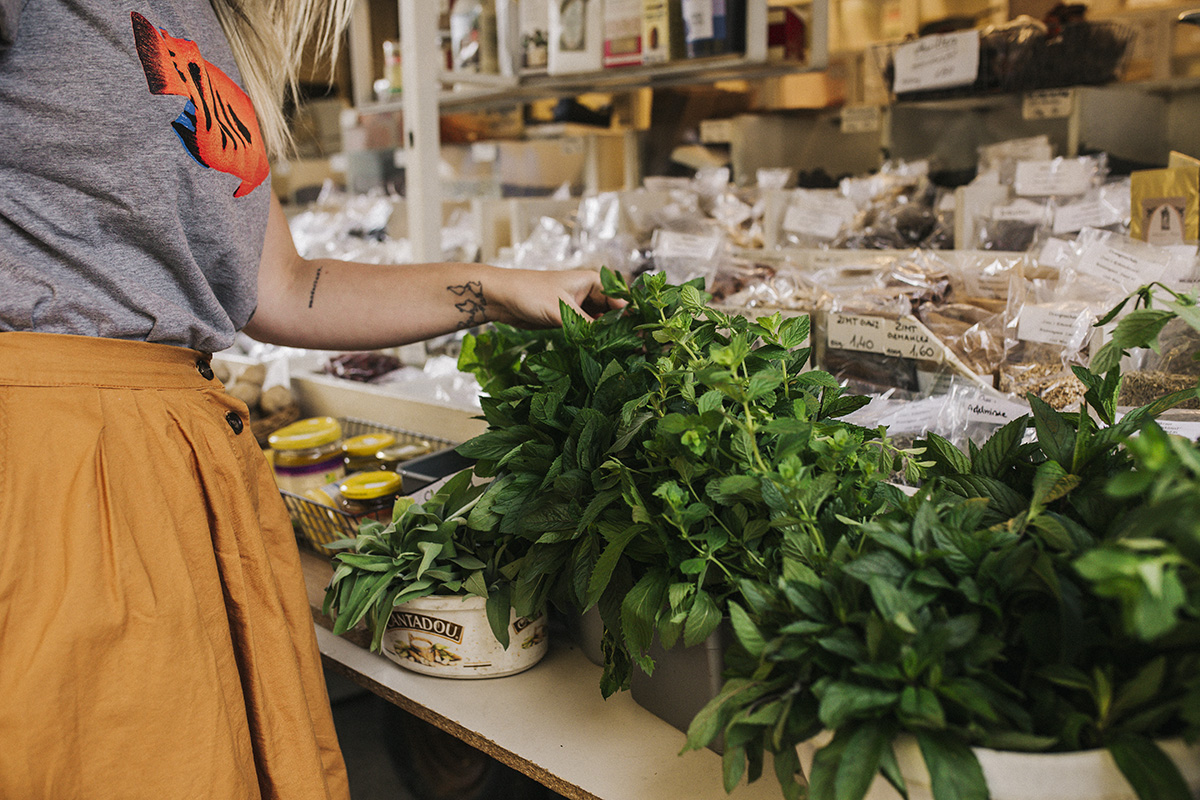 Any food dream for the future?
I have a list, but the next food dream which will become true for my upcoming birthday in October, is visiting a Hiša Franko Restaurant in Slovenia and eating food prepared by a Chef Ana Roš (check the episode of the serial Chef's Table on Netflix).
Your foodie hotspots in Vienna are?
Good fine dining – Labstelle, best Pizza – Mari, Disco Volante. When I miss my grandma's kitchen – Pita from Pitawerk, Ramen soups & best Korean sticky pork – Karma Ramen, Le Pho for the soup & spring rolls, Joseph Brot for breakfast, Verde 1080 – for the burgers, Ebi for sushi, Käsekreiner – all around the city. And my newest favorite foodie hotspot in Vienna is a place called Hilfer147, which was also my latest cooperation when it comes to food and menu. 
In the end, lets inspire our Vienna Insider readers for a top breakfast/ brunch with ingredients from Brunnenmarkt!
Naan, Goat feta Cheese, Fresh bio eggs baked sunny side up with Harrisa sauce, spiced chickpeas, black sesam & fresh cilantro; home-made hazelnut-dukkah spice-mixture (ingredients available at Brunnenmarkt).
This was one of my favorite blog posts ever, and I hope you enjoyed! I need to say a huge THANK YOU to my dear Nikolina, for answering so many questions, sharing her tips and for the unforgettable morning at Brunnenmarkt. I am sure that you will hear from this girl on our Vienna Insider, because there are so many fun and interesting things that I learned from Nikolina, and that will also be useful for you. Nikolina is really is a story herself. Until then, make sure to follow her on Instagram. And reach out in case you would like to collaborate with her [Email: oklagiya@yahoo.com]. <3
In the end, I will add a few more shots from Brunnenmarkt. <3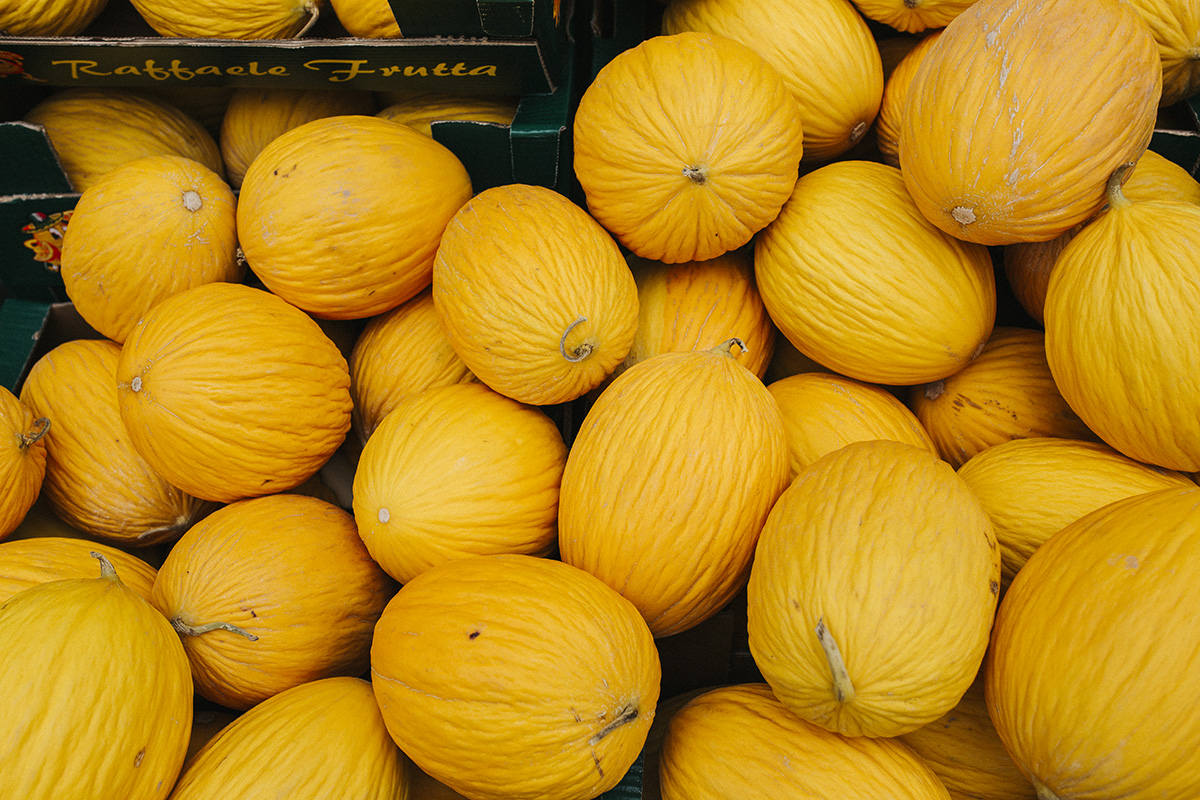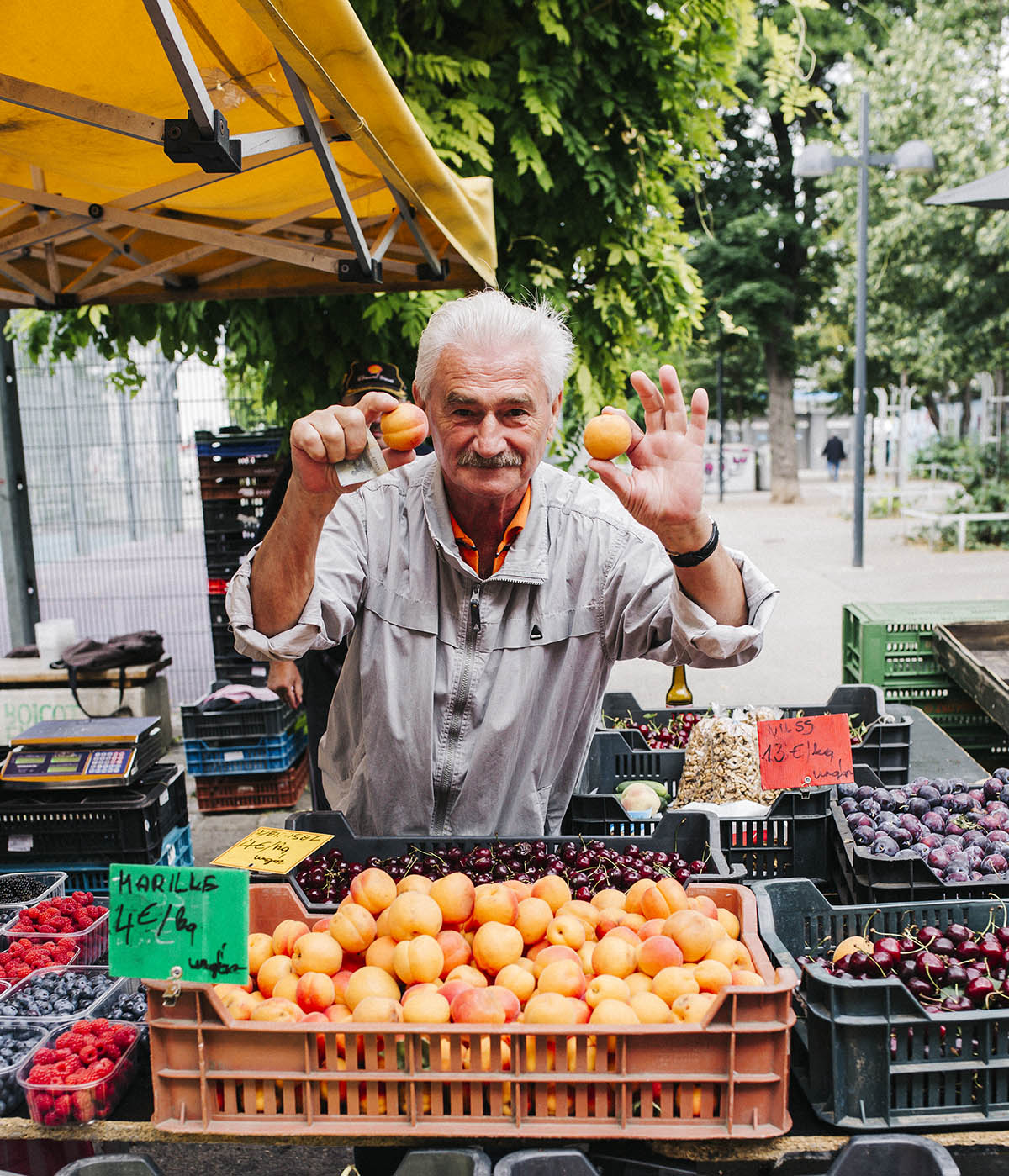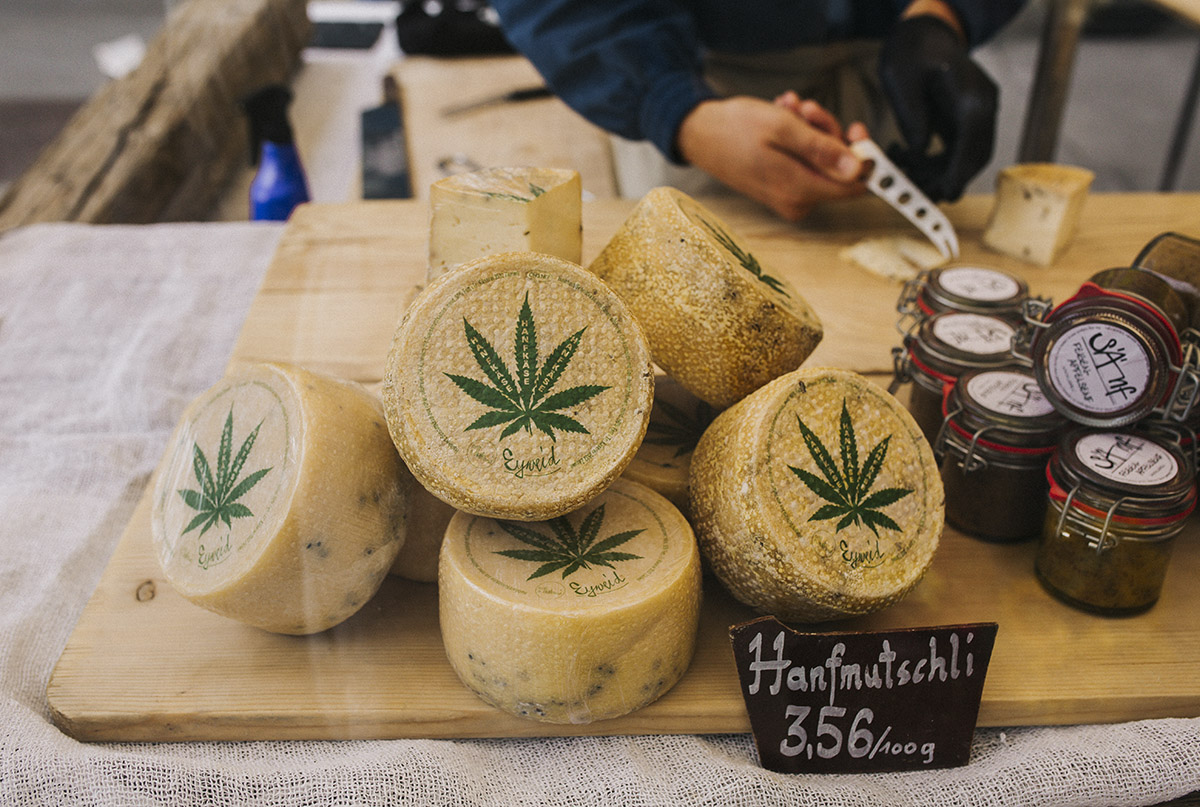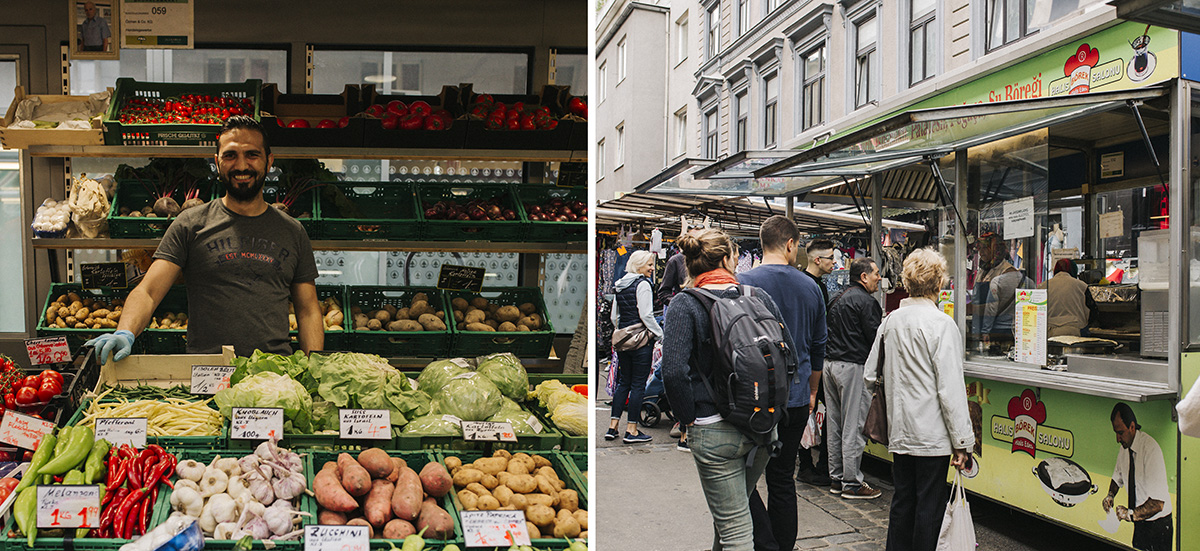 Do you notice how everyone was smiling at the market? I enjoyed taking these pictures so much. Thank you for the smiles everyone! <3
PS: On the right is the stand where they sell fresh Goezleme. So so good!