What says summer more, than ice-cream and picnic? Or even better – gelato and picnic? Ice-cream and gelato, those two are different, because only gelato is the authentic Italian specialty. It has a soul, the flavor that takes you to my favorite European country of them all. Due to work, and simply life, I can't go to Italy as often as I wish for, but sometimes Italy comes to me! This time it came in five sublime flavors of GROM, gelato I always eat in Italy, and that we can now all enjoy in Vienna. This post is an ode to GROM gelato and to Vienna's top picnic locations. Because isn't picnic one of the most fun and enjoying things to do, when stuck in the city on hot summer days?

I first need to share some of the facts about GROM gelato and its story with you, because this is something that makes me appreciate its flavor even more. It is 100% Italian, made of the best quality ingredients. And when talking about sorbets, the ingredients for them mostly come from (drumroll please!) – an organic Mura-Mura farm in Italy, that was founded by GROM owners. Mura-Mura is on my bucket list, and if you are curious about it, you can read more here. Back to GROM gelato, it has no added aromas, coloring agents or emulsifiers. It tastes creamy and genuine, making you feel like in Italy. There are five flavors available at the Austrian market at the moment – pistachio, chocolate, crema di GROM, raspberry and lemon sorbet.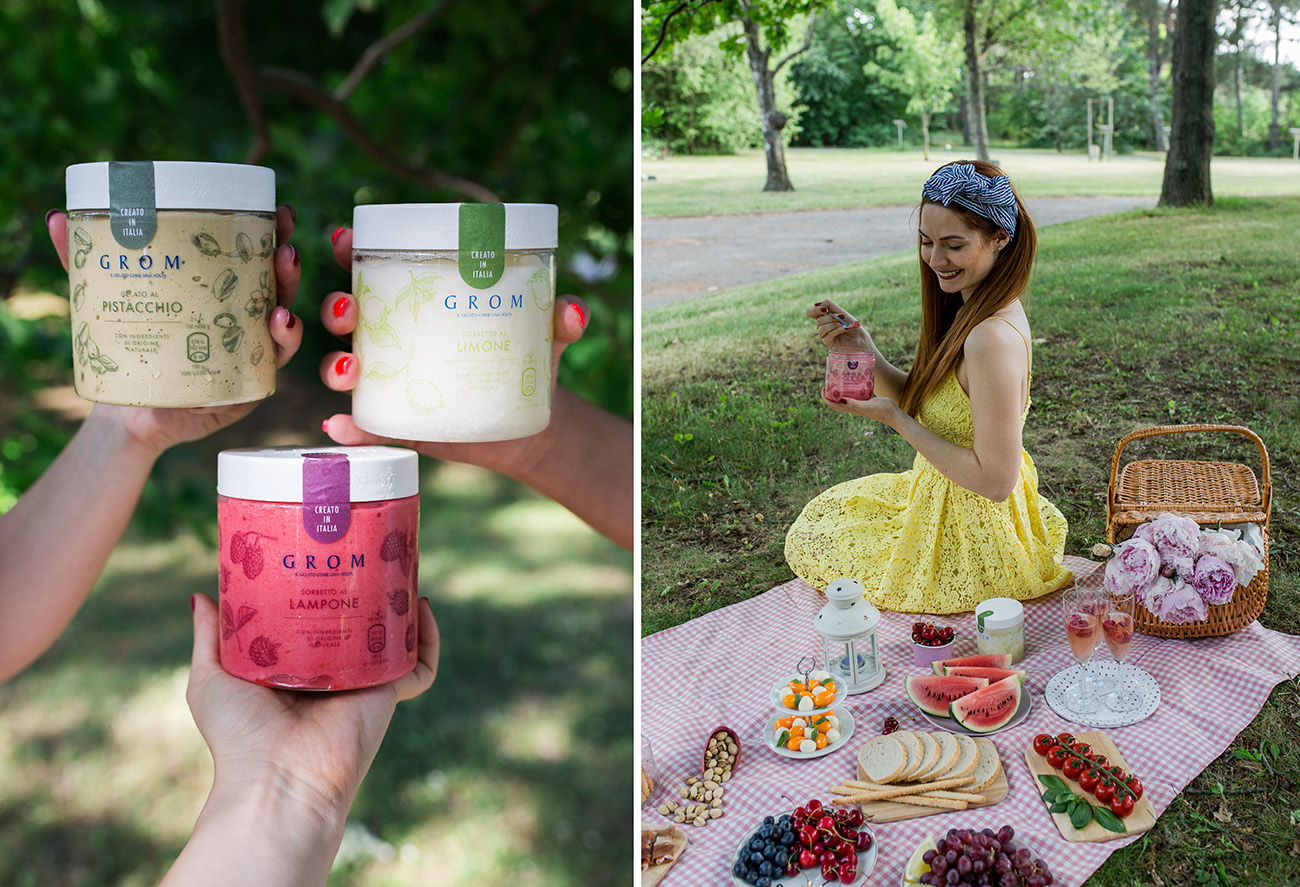 My ultimate favorites are pistachio (literally like pure pistachio transformed in insanely creamy) and crema di GROM (that was sold out everywhere I checked, so that is why you can't see it on these pictures), but it basically tastes like the most creamy, tasty vanilla gelato with delicate cookies. Chocolate is for those of you who really love the taste of cocoa, with a slightly bitter note. Lemon and raspberry are sorbets, so light and flavorful, like pureed fruits! If I had to choose one of those, I would go for raspberry, since it is one of my favorite fruits.  It is so hard to explain the taste, you simply have to give it a try!
At the moment, there is only pre-packed GROM gelato available in Austria in certain supermarkets (for all the exact info see the end of the post). However I hope someday we will also have a real GROM gelateria in Vienna, with dozens of magical flavors. If you go to Italy you simply have to try their apricot!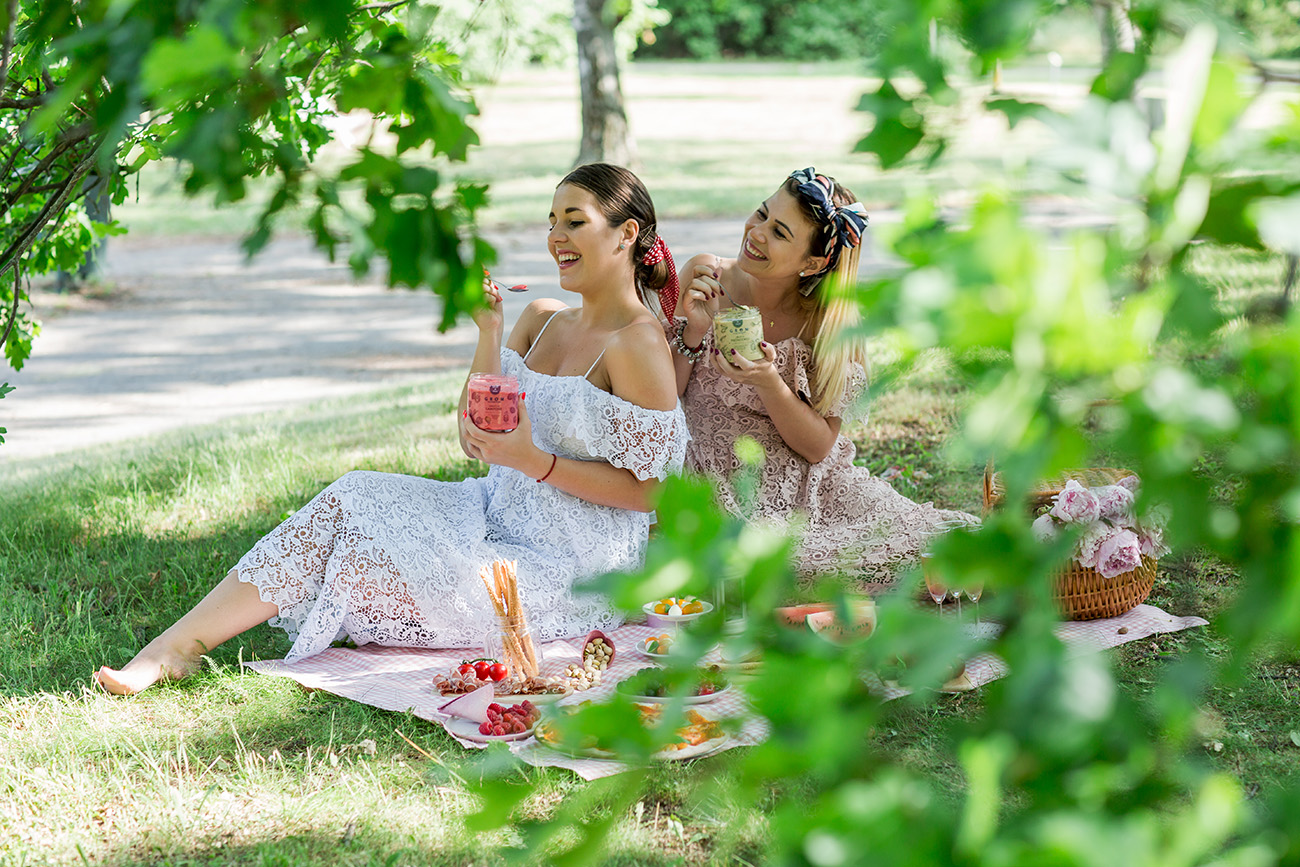 Now back to our picnic! There are various ways that you can approach when organizing a picnic. Just go spontaneously (like humans used to do in the pre Instagram era), or if you really want to make it special and Instagrammable, you should pick a theme. I know, now some of you do the eye roll, as this will make the whole thing a lot more demanding, a bit crazy, but also way more fun! All the fuss around organizing our Italian style picnic was for our girly crew the most fun part. Even though we ate our pizza cold, it was a pleasure to sit there, feeling like we were in a magazine, looking and snacking from our charming setting. That is the magic of all the small things, that can make even an ordinary day feel special and unforgettable.
"Life is short so eat gelato first" is the rule number one if you intend to this best treat ever to a picnic. As pros we had a hand fridge, but for the sake of the pictures and also pure craving, our gelato was the first to be eliminated. If your friends are major gelato fans, such as Anja, and Alex (the ultimate gelato addict!), and you are in charge for taking most of the pictures, you should make sure to have extra tubs, hidden back home, just to enjoy them for yourself. Because until it was my turn to pose with GROM, my favorites were scraped off! But no matter what Anja and Alex, I will always love you. 😀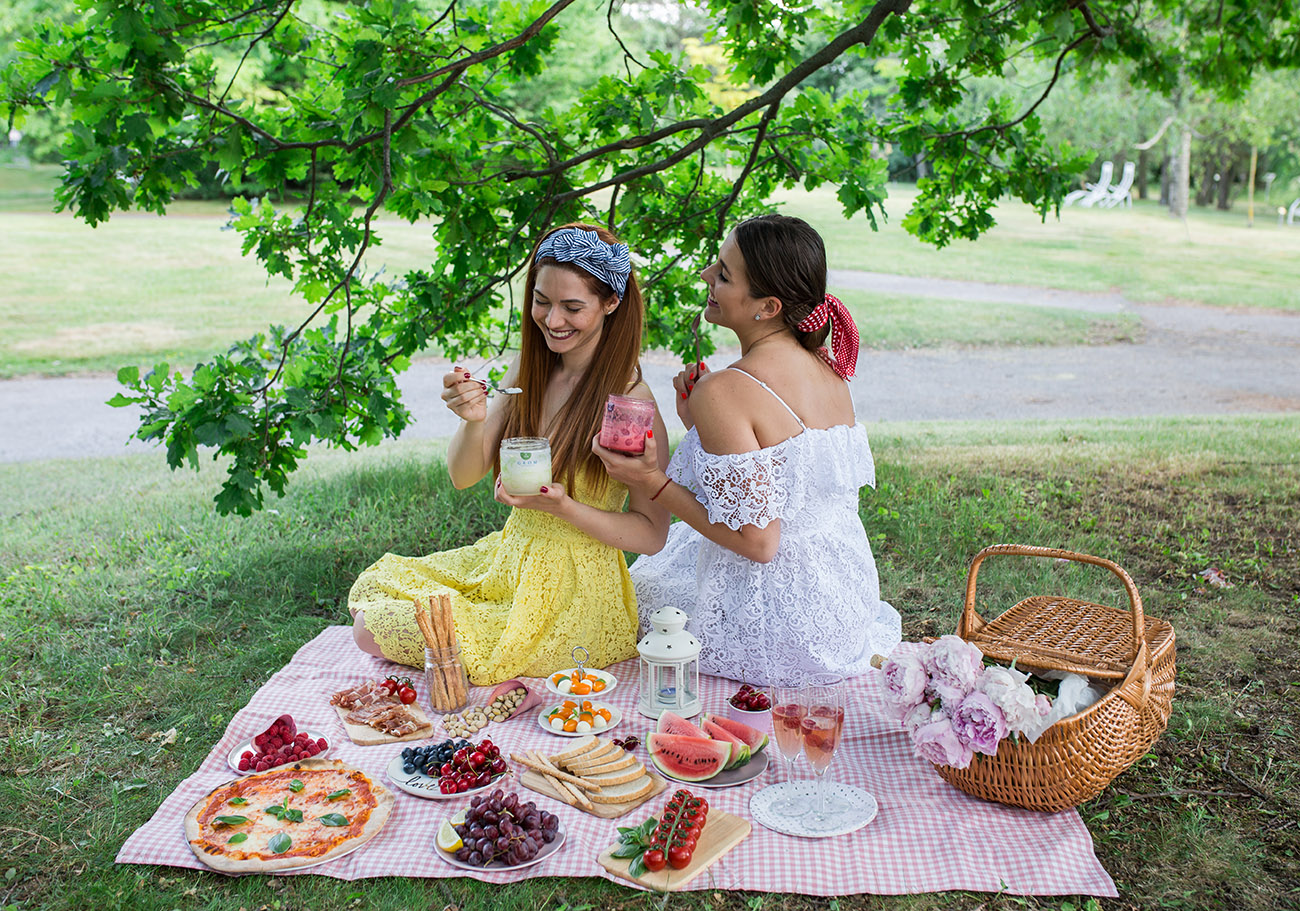 I hope that I managed to give you enough reasons why you should go on a photogenic picnic with your favorite people! And now it is time to talk about Vienna's top picnic locations! All the pictures you see here were taken in Kurpark Oberlaa, in the 10th district. It is a huge area, with small ponds, and many walking paths, just gorgeous. It feels like you were somewhere out of town in the woods, all you can hear is the birds sing and the water. We picked this location not only because we loved it, but also because it was peaceful for such a photogenic shooting. We didn't disturb anyone and no one disturbed us! 😀
When it comes to more urban picnic style, my favorite place is Burggarten. Prater is also quite central and green, and if you want to do it the most popular Viennese style, you should go for the Danube park (U1 stop Alte Donau). And another location very dear to me and also more insider, is Pötzleinsdorfer Schlosspark in the 18th district. If you have another tip on picnic location, please share them in the comments. 🙂
Summer in the city is not so easy to endure, but if you make the most of Viennese green areas, are in good company and good mood fun is guaranteed. And a spoonful of GROM that will make your mind wander to Italy also helps!
Tanti baci,
Una
This post was done in a friendly collaboration with GROM.
GROM ist in Top Out-Of-Home Locations und im exklusiv ausgewählten Lebensmittelhandel erhältlich, zum Beispiel bei Meinl am Graben, Billa Corso, Merkur und in ausgewählten Filialen von Spar Gourmet sowie MPreis.