Vienna's highest tourist season is right now – at Christmas time! So here is for you, our ultimate Vienna Insider Christmas Markets Guide! We update this post each year, with fresh information. In terms of offer and stands, pretty much everything is the same each year. Except for the prices that tend to increase, but well… 😀
No matter what we love the markets! They bring a very lively and festive mood to the streets of Vienna! The scent of cinnamon and punch is in the air, the lights are on, the whole atmosphere makes you smile and feel like being in an imperial, Christmas fairytale. December is all about street food and meeting friends at the markets to warm up with a glass of punch or mulled wine. And nothing goes without some decadent treats (discover our favorite treats in a separate post here). 😀
There are many many Christmas markets all over Vienna. Listed here are the ones we like and visit the most (they are however not ranked so make sure to read each section), but we often update this guide, so you can have a look every now and then! In case you are staying in Vienna just for a few days, it might not be possible (nor necessary to be honest) to visit all of the markets. But we hope this guide will help you find the right one for you. Enjoy this post and don't miss our Vienna Christmas market reports on Instagram! 🙂 Over there we show you the markets through videos and Insta stories, that we save in our highlights, so you can check them anytime! <3
1. Christmas Market & New Year's Market Schloss Schönbrunn
This is probably our favorite Christmas market so we had to mention it first. 🙂 It is very spacious, so you won't get ran over by the crowd. This market is a great choice if you want to purchase some nice souvenirs or delicacies. It also has a major imperial vibe! For more information, check our post about Christmas market in Schoenbrunn here. The great thing is that this market is open also after Xmas! So if you are spending the New Year's in Vienna, and after it, you can still enjoy the festive vibe. Also don't miss exploring the gardens behind the palace. Going in is also a must if you are visiting as a tourist!
November 18 – December 26, 2023
Daily from 10.00 am – 9.00 pm
December 24, 10.00 am – 4.00 pm, December 25+26, 10.00 am – 6.00 pm
Schönbrunn Palace, 1130 Vienna
www.weihnachtsmarkt.co.at
New Years' Market: December 27, 2023 – January 4, 2024, 10.00 am – 6.00 pm
Website Xmas Market Schoenbrunn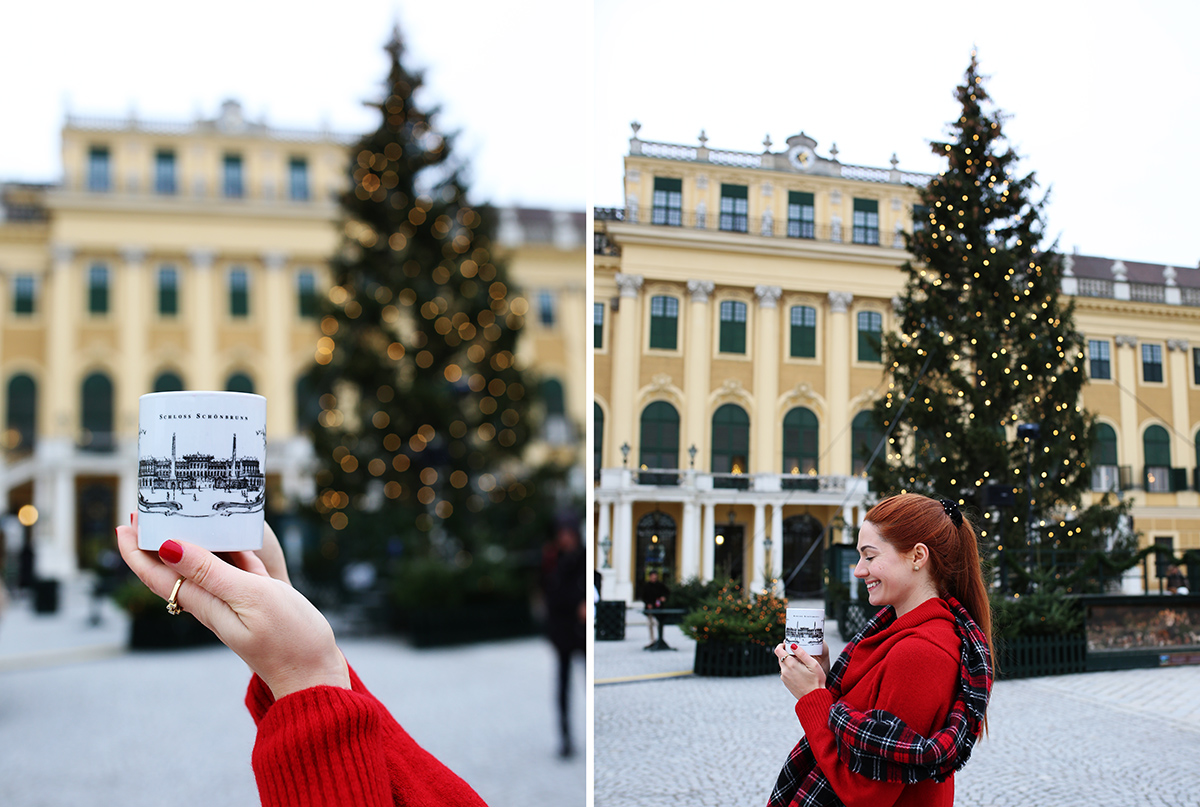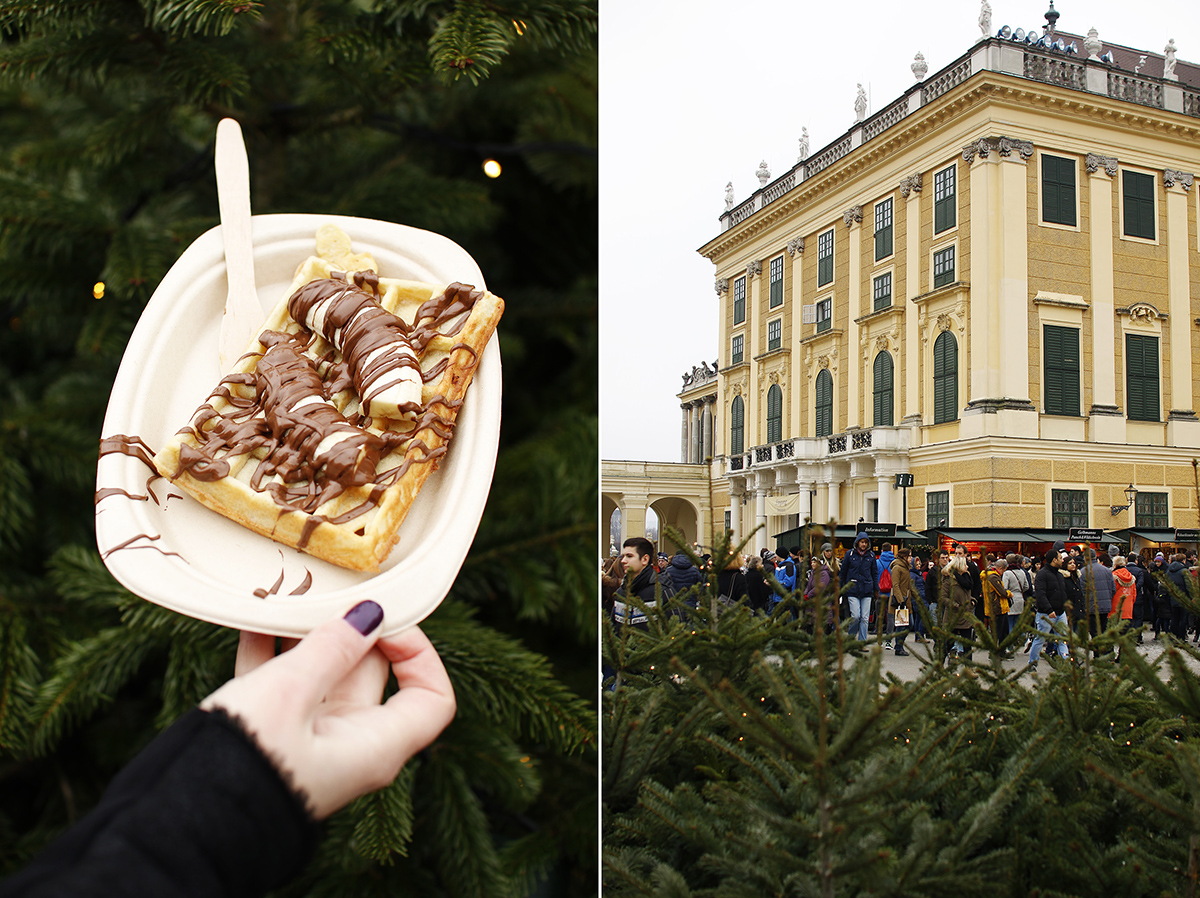 2. Christmas Market am Hof
This market is located in the first district, just a few streets away from the main tourist zones Graben and Kaertner street. It is a smaller market, where you can buy lots of souvenirs, they have a great choice of food (we suggest you to try the huge donuts called Bauern Krapfen with jam or a type of garlic bread Langos) and edible gifts, such as gingerbread cookies from Austrian region Bad Ischl (really good ones!). For more information click here for a post with more information about this market.
November 10 – December 23, 2023
Mo-Th 11.00 am – 9.00 pm, Fr-Su & hols. 10.00 am – 9.00 pm, food until 10.00 pm
Am Hof, 1010 Vienna
www.weihnachtsmarkt-hof.at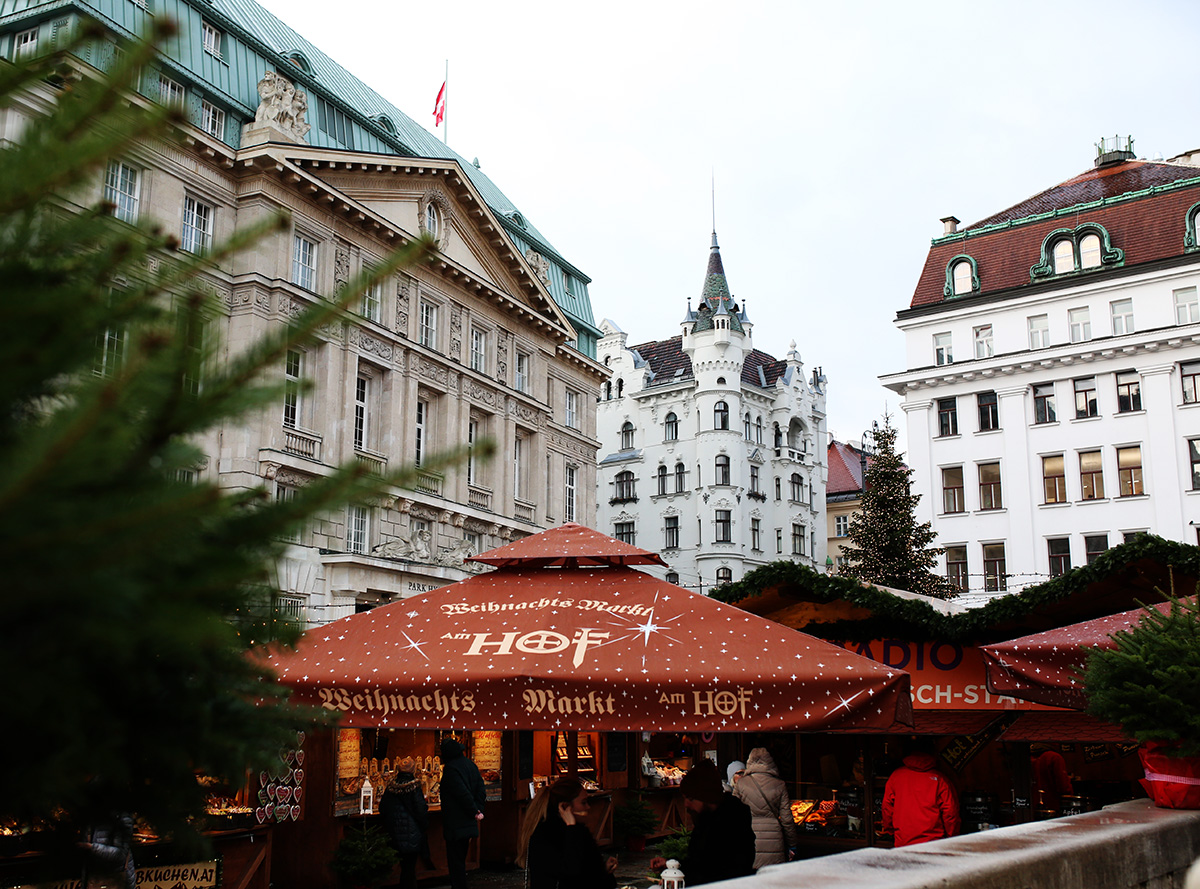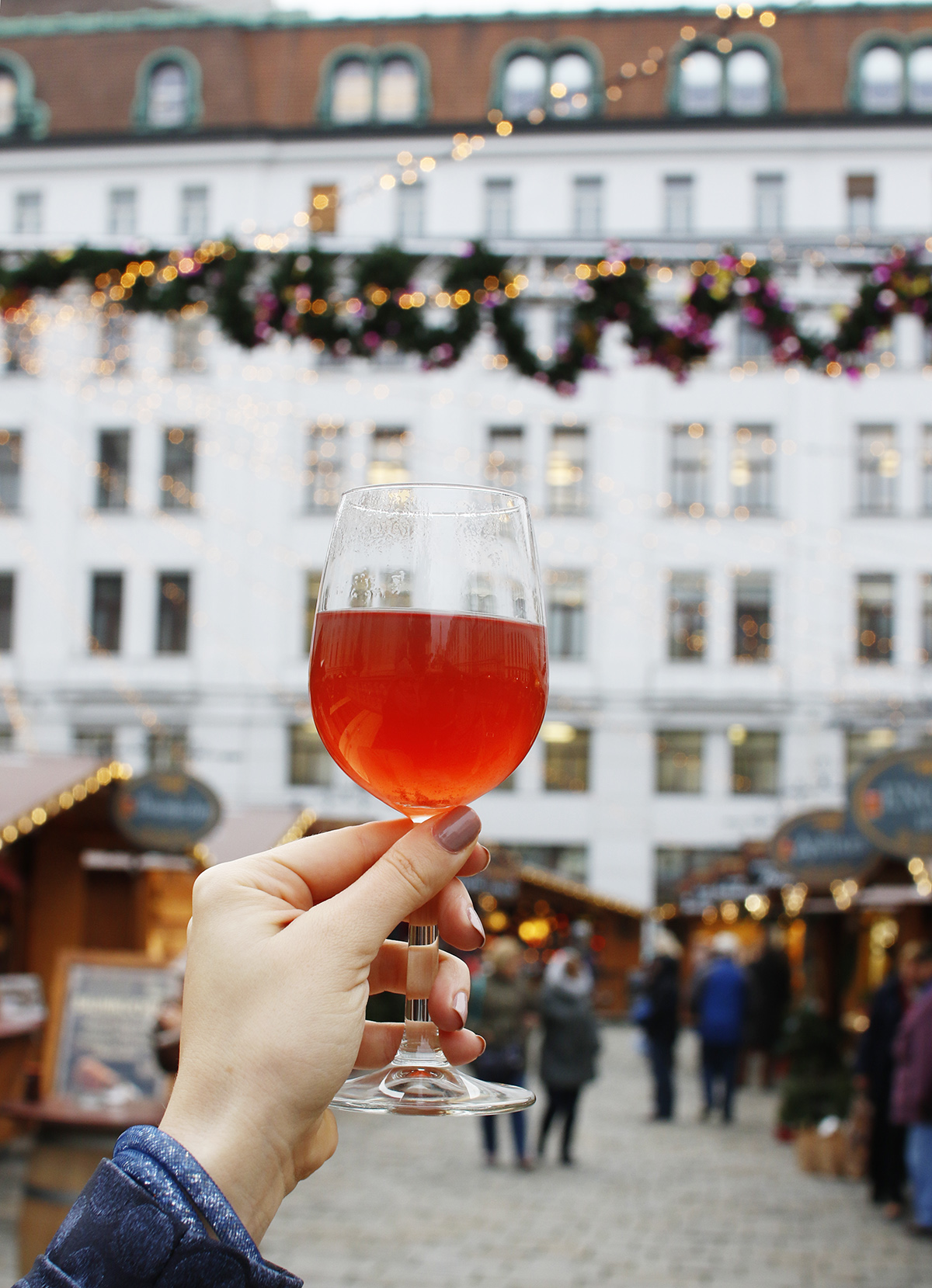 3. Old Viennese Christmas Market on Freyung
Just a few meters away from the market Am Hof, you will find yourself at the old Viennese Christmas market Freyung. Freyung market is the oldest Xmas market in Vienna, held there since 1772! It has a bit of a vintage vibe, it is cozy and nice. If you like shopping for souvenirs, this market is quite a good option. And if you want to try the Viennese oldest punch recipe (as the sellers claim), then Freyung it is! We like this market because of the surroundings and it is mainly not that crowded. It feels more insider!
November 17 – December 23, 2023
Daily from 10.00 am – 9.00 pm
Freyung, 1010 Vienna
www.altwiener-markt.at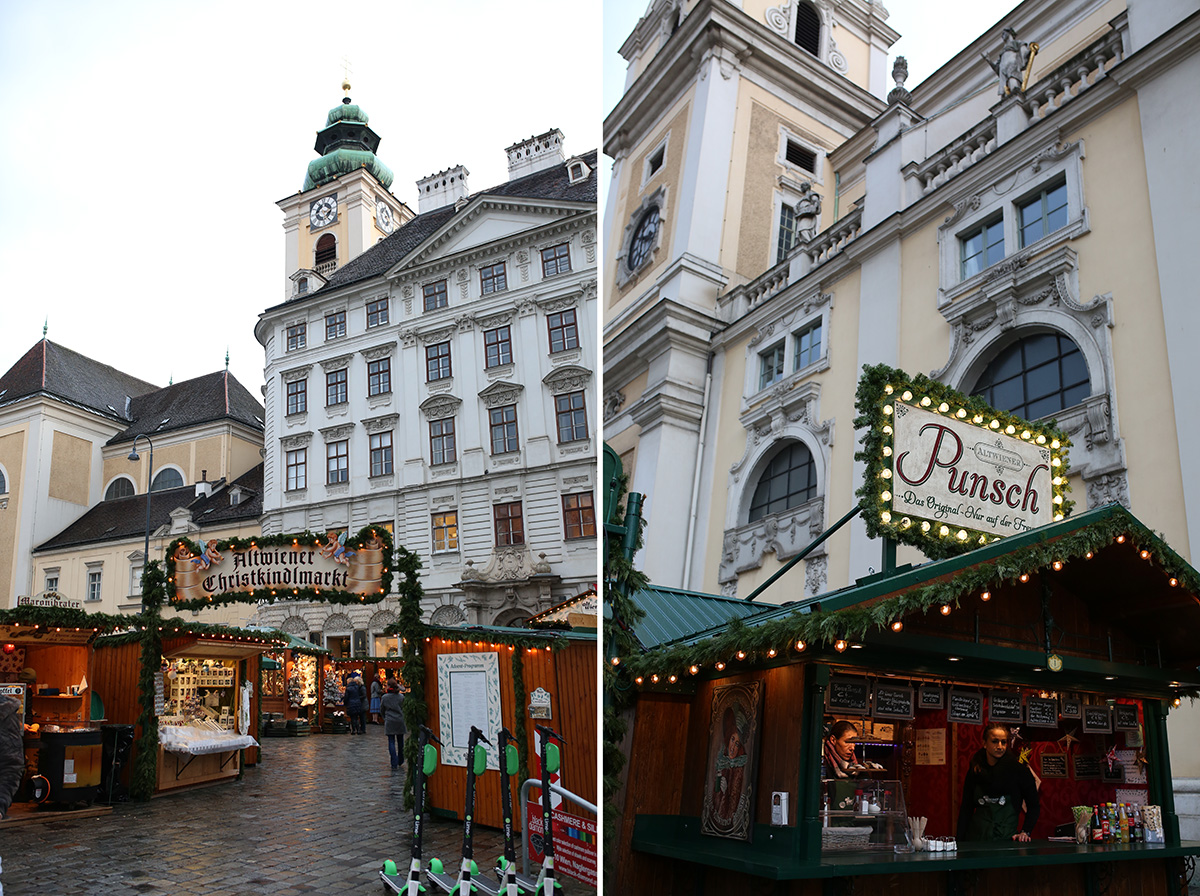 4. Christmas Market on Spittelberg
Spittelberg is the favorite market of most of our local Viennese friends. Well hidden from the tourists, in the seventh district, close to Museums Quartier, this market has a unique atmosphere indeed. The cobbled narrow streets and small wooden stands will make you feel as if you were in some other city, far away from the imperial Vienna. So if you are into off-the-beaten-path places and eager to see where the local Viennese people meet for punch, Spittelberg is the place for you. There are many food and drink stands here which differ from the usual ones on Christmas markets (as the one with gnocchi for example), and some nice souvenirs.
November 16 – December 23, 2023
Mo-Th 2.00 pm – 9.00 pm, Fr 2.00 pm – 9.30 pm
Sa 10.00 am – 9.30 pm, Su & hols. 10.00 am – 9.00 pm
Spittelberggasse, Stiftgasse, Schrankgasse, Gutenberggasse, 1070 Vienna
www.spittelberg.at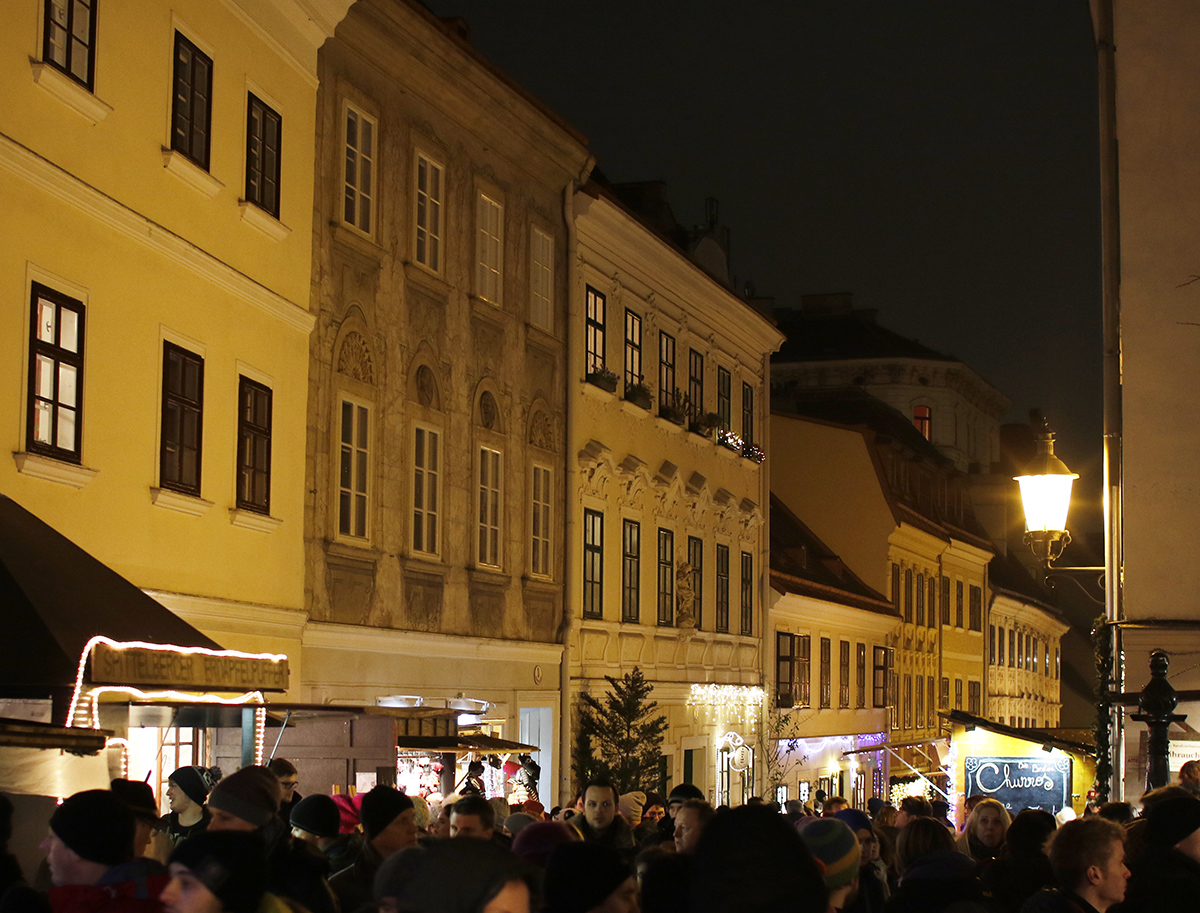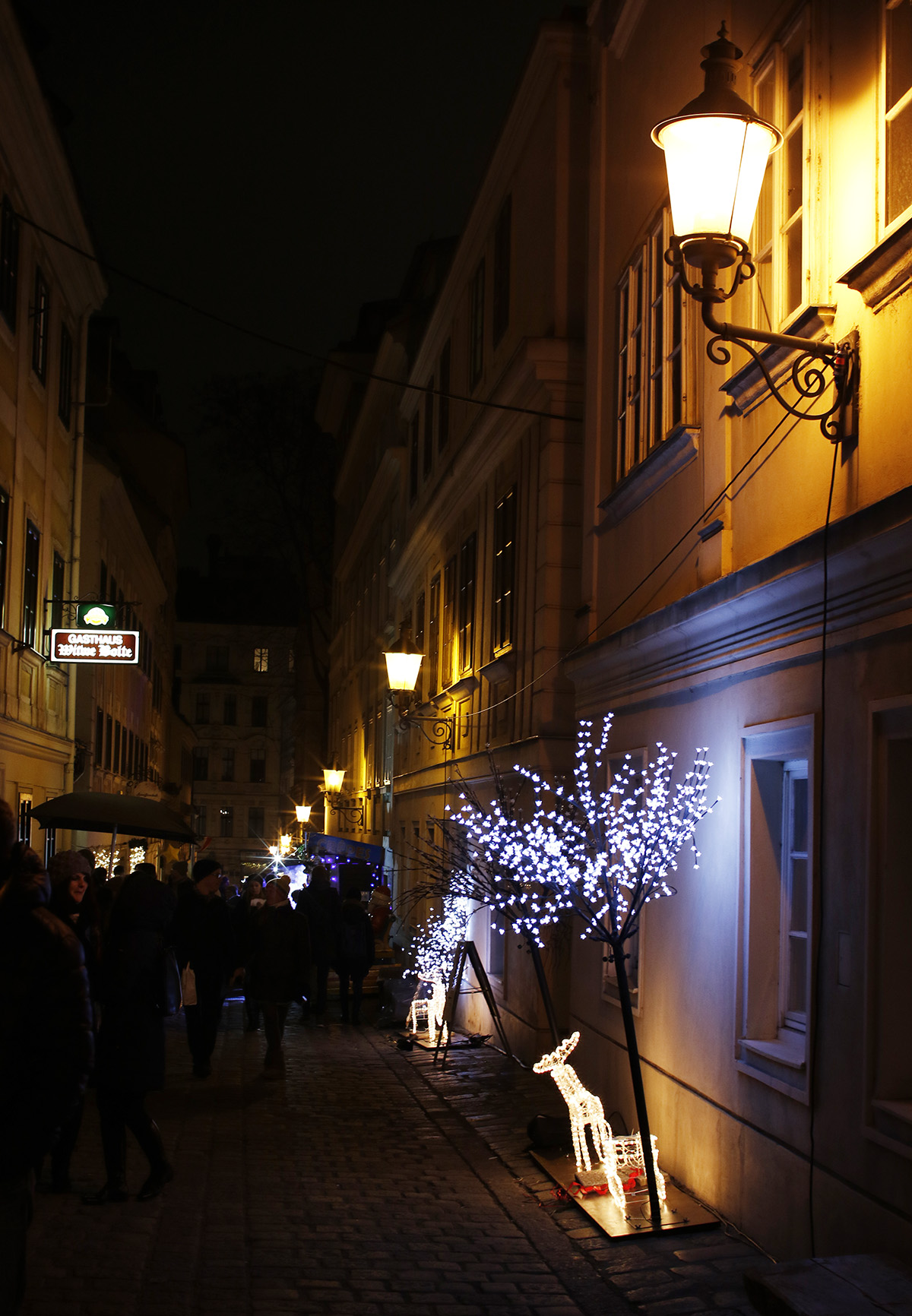 5.Viennese Christmas Market on Rathausplatz
Christmas Market in front of Rathaus, the Viennese city hall is for sure the most popular and colorful of all the markets around the city. Bling is everywhere you look around! And so are the people… 😀 In general we must admit that we were not big fans of this market, because it is super crowded.
You can find a bunch of souvenirs ranging from ornaments, toys, clothes, candles, sweets, everything you can think of. The largest Christmas tree in the city is also here and so is an ice rink! And the picture you can take of the Rathaus and the market is a classical Xmas postcard from Vienna! A must-snap!
Tip: If you want to walk around this market in peace, you should avoid weekends and visit during daytime.
November 10 – December 26, 2023
Daily 10.00 am – 10.00 pm
December 24, 10.00 am – 6.30 pm
Rathausplatz, 1010 Vienna
www.christkindlmarkt.at
Vienna Ice World at the Christmas Market:
November 10, 2023 – January 7, 2024, daily from 10.00 am – 10.00 pm
December 24, 10.00 am – 6.30 pm; December 31, closed
6. Art Advent – Art & Crafts on Karlsplatz
Christmas Market at Karlsplatz is the place to go if you like handmade, artistic souvenirs. And if you are with kids. At this market, you will find many stands where artists sell their crafts and art works, and on the other hand, it is perfect for kids as there is a playground with hay and farm animals. You will find more photos and information in a separate article we wrote here.
For us, the best thing about this market, is that all of the food offered is organically certified! The treat that we always get here is called Bauernkrapfen – Austrian style doughnut with jam. It is really delicious! There are also some stands with meat dishes, that we haven't seen elsewhere. Just to know, in case you are a carnivore. 🙂
Last year it was at this Xmas market at a stand called Zum Franz, where we had the best white mulled wine!
November 24 – December 23, 2023
Daily from 12.00 noon – 8.00 pm, food until 9.00 pm
Karlsplatz, 1040 Vienna
www.artadvent.at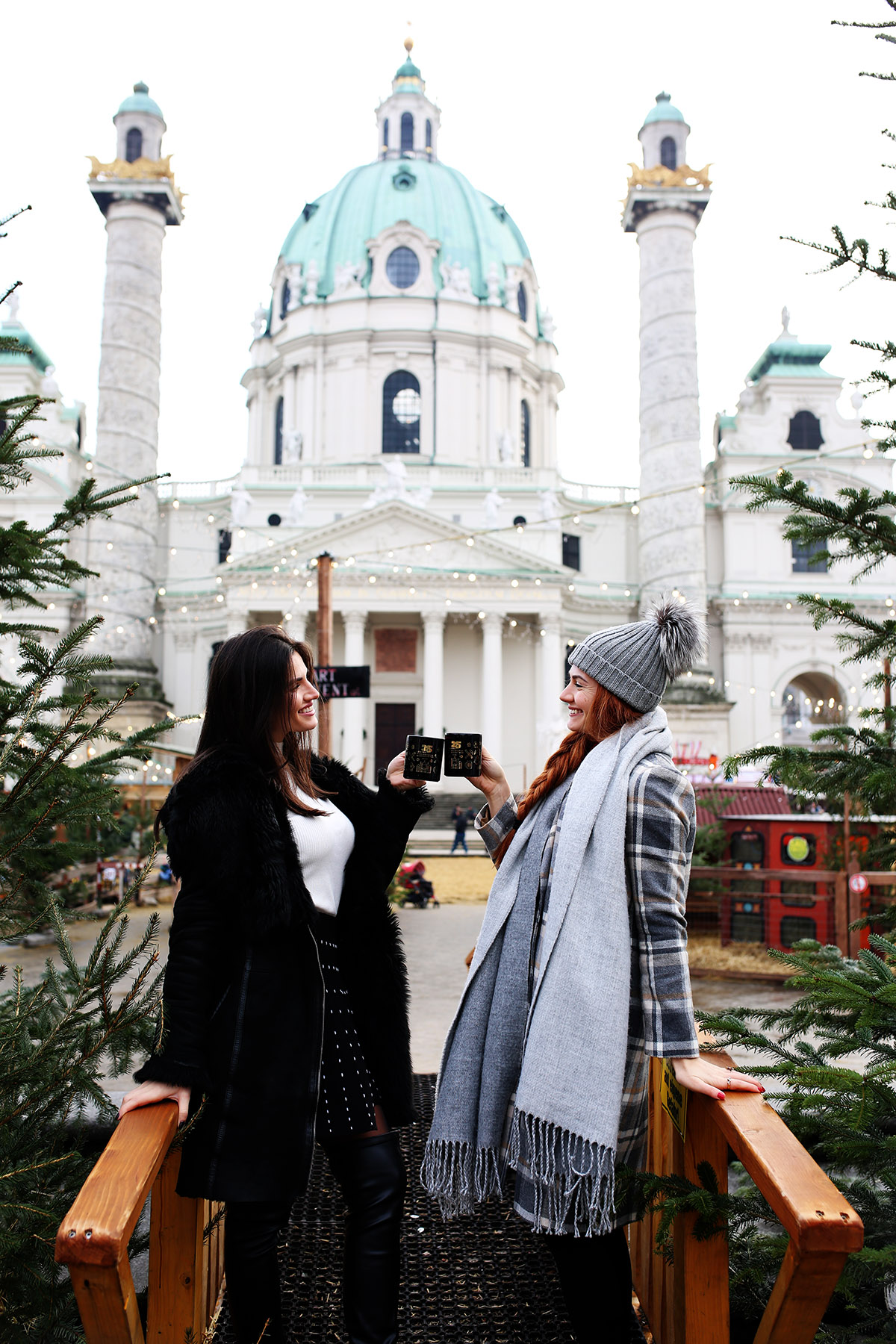 7. Christmas Village on the University Campus
Since last year this market belongs among our top favorites! What makes it different is the theme. It's motto is – Experience Austria! Awaiting there are many adorable stands with treats from different regions of Austria, as well as arts and crafts. This market is ideal if you like to taste around and snack (some things are even for free, but be moderate :D), as one of the wooden cabins is full of stands where you can try and buy all sorts of spreads, spices, cheese, cured meat and delicacies.
This market is very insider, and also great if you come with kids! There are several attractions where they can have a ride.
TIP: This market is the perfect choice if it is very cold outside, as some lodges are closed, so you can go in and warm up with a punch.
November 10 – December 23, 2023
Mo-We 2.00 pm – 10.00 pm, Th-Fr 2.00 pm – 11.00 pm
Sa 11.00 am – 11.00 pm, Su 11.00 am – 8.00 pm
Alserstrasse/Spitalgasse, Hof 1, 1090 Vienna
www.weihnachtsdorf.at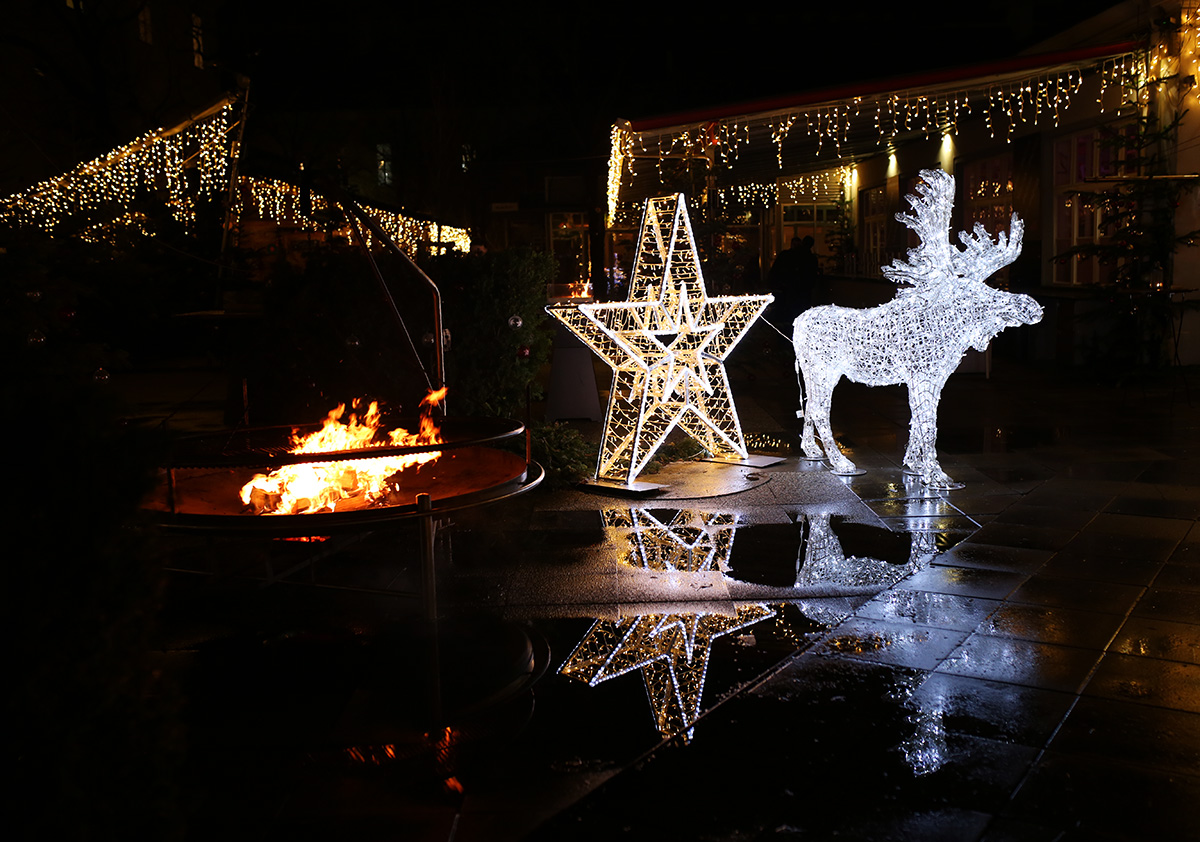 8. Christmas Village at Belvedere Palace
Just like at Schoenbrunn, there is a Christmas market in front of Belvedere palace too. It is not too big, but the stands are very elegant and nicely decorated.
Our favorite treat at this market – potato with melted raclette, served with pickles and Austrian cured ham. Belvedere is always gorgeous and if you are into the imperial vibes, you will love the atmosphere of this market.
November 17 – December 26, 2023
Mo-Fr 11.00 am – 9.00 pm, 10.00 am – 9.00 pm
December 24, 11.00 am – 4.00 pm
December 26, 11.00 am – 7.00 pm
Prinz-Eugen-Strasse 27, 1030 Vienna
www.weihnachtsdorf.at
New Year Market:
12.27.-12.31.2023
11.00 am – 7.00 pm, 12.31. 11.00 am – 6.00 pm
9. Christmas Village on Maria-Theresien-Platz
This Christmas village on Maria-Theresien-Platz is located between two most popular, twin museums in Vienna – the Art History and the Natural History Museum. Similar to the one at Rathaus in terms of offer when it comes to gifts and souvenirs, but food wise it differs in a way. We love having the soups served in bread here.
You will notice that there are several markets called Christmas Village. They are run by the same company so you can expect many things about them may be quite similar, i.e you may find the same brands that make souvenirs and sell food. So the one at Maria-Theresien-Platz, at Stephansdom, Belvedere and University Campus Altes AKH. You can inquire about them here.
It is just a few minutes walking distance from another market at Museums Quartier, which is very popular among young people. You can read more about this market in a separate post here.
November 15 – December 26, 2023
Su-Th 11.00 am – 9.00 pm, Fr & Sa 11.00 am – 10.00 pm
December 24, 11.00 am – 4.00 pm
December 25+26, 11.00 am – 7.00 pm
Maria-Theresien-Platz, 1010 Vienna
www.weihnachtsdorf.at
New Year Market:
12.27.-12.31.2023
11.00 am – 7.00 pm, 12.31. 11.00 am – 6.00 pm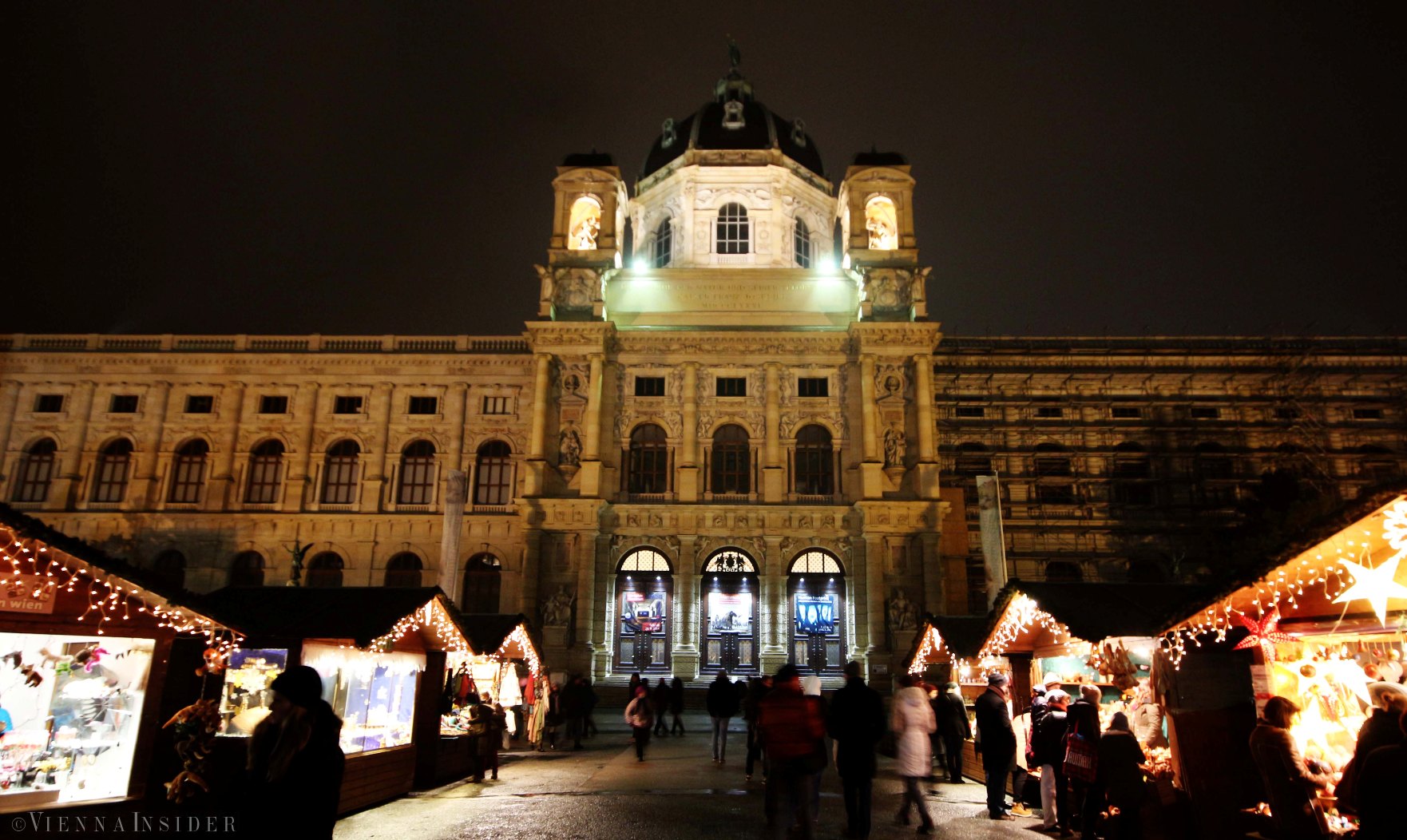 10. Christmas Market on Stephansplatz
Surrounding Stephansdom, in touristy beehive is guess what – one more Christmas market! 😀 Perfect for a little punch break, before you continue with a shopping spree or sightseeing. 🙂 If you are hungry, we recommend you to warm up with a goulash soup served in bread bun.
By the way, did you know that snow-globes were invented in Vienna? You will find them on many Xmas markets, but also here in front of Stephansplatz, you can get the ones made at the original, traditional Viennese snow-globes factory.
November 10 – December 26, 2023
Daily from 11.00 am – 9.00 pm
December 24, 11.00 am – 4.00 pm, December 25+26, 11.00 am – 7.00 pm
Stephansplatz, 1010 Vienna
www.weihnachtsdorf.at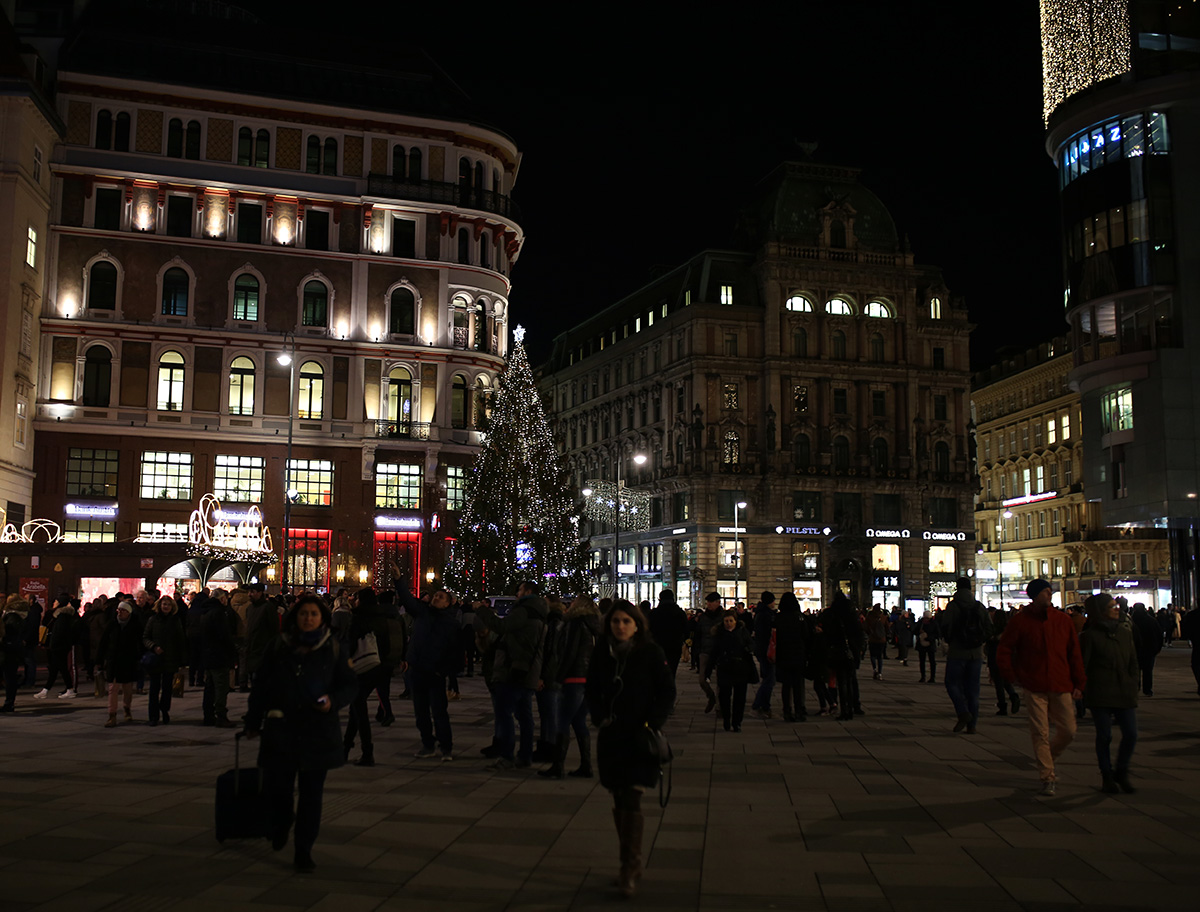 We are hoping you enjoyed our ultimate Vienna Insider Christmas Market guide! Stay tuned for some updates and enjoy this festive season. <3
Let us know in the comments, what is your favorite Xmas market in Vienna!
xoxo,
Una and Anja